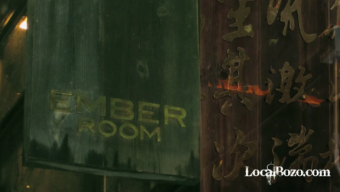 Ember Room
649 9th Avenue near 45th Street, Hell's Kitchen, (212) 245-8880
Getting There: 2,3, S to 42nd Street – Times Square
http://emberroom.com
Can a restaurant featuring two celebrity chefs consulting open and still be considered under the radar?  Evidently so, in the case of the recently opened Ember Room, which features a collaboration of culinary intellectuals, Ian Chalermkittichai and Todd English fusing Asian and American style barbecue innovatively.  The 140 seat eatery features inspired and inventive fare that manages to standout amongst the eye catching natural interior décor.
Designed by artist Roy Nachum (1Oak, 5 Napkin Burger), the restaurant exudes a certain calming vibe- from the unique, authentic distressed barn wood lining the walls, to the beautifully crafted custom-built grill oven, which greets patrons as they walk to their tables- the entire restaurant has a genuinely warm, cozy ambiance.  The main dining area features two sections- traditional tables on the far side of the restaurant as well as four large, community style tables just past the open kitchen.
As Nachum should be praised for the eatery's layout, the chefs deserve similar kudos for their work with the menu.  While Ember Room makes subtle attempts to reinvent staples like a "rotisserie chicken sandwich" ($12) and the "chopped sirloin burger" ($14) for pickier eaters, the "big slap bbq pork belly" ($9) and the "chocolate baby back ribs" ($11) were the absolute standouts, awakening some taste buds in our palettes that may have been asleep for years.  Licking the remaining sticky, dark chocolate sauce from our fingers became an exercise that we anxiously awaited, noting it implausible that such a combination would work so deliciously.  Moreover the stone wok concocted "Korean BBQ beef fried rice" ($14) side dish, more than held its own to compliment our evening's main dishes, and filled in any portions where our pangs of hunger remained.
The menu also features a savory looking "whole roasted suckling pig" (market price- call ahead) for fervent pork lovers and some deliciously textured "BBQ short ribs" ($23), wherein the flavors of both American and Asian cultures are incredibly prevalent.  In our first visit to the restaurant, the tastes and smells rivaled each other for our attention, as both proved no slouch, and the service was absolutely remarkable.  Ember Room is stocked with talent in the front and back of the house, which is evident by the presentation in the restaurant's design and dishes, and the prevailing sentiment that you're having dinner in a place that welcomes you.
LocalBozo.com was fortunate to sit down with Ace Watanasuparp of Chace Restaurant Group to discuss the opening of their newest creation, Ember Room.  Watch the video above as we go inside the restaurant with Ace and discuss the idea behind the creation of Ember Room, the natural, earthy feel it exudes, and what each chef brings to the table in merging the cuisines from two cultures.
Related Articles
Share
About Author
(0) Readers Comments