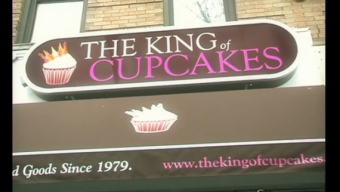 King of Cupcakes
240 7th Avenue, Park Slope, Brooklyn, (718) 369-0466
Getting Here: F To 7th Ave
King of Cupcakes
No matter who you are or where you come from, you have a sweet tooth and there is no use denying that. There are some treats that really overwhelm us and we eventually succumb to our desire for it, whenever our sweet tooth craving hits. In recent years, New Yorkers have been craving a classic treat- the cupcake. The new breed of cupcakes is a far cry from what you remember eating as a child. No longer are they the tiny puffy pastry, covered with thin toppings of either vanilla or chocolate icing. These bad boys are now huge, and are literally made with any type of sweet confection that you can dream up. The new cupcakes are so big in fact, that many require two people to finish just eating one of them.
Park Slope, Brooklyn's King of Cupcakes reigns supreme over the new wave of these rotund pastries. Co-Founder Sean Rich believes that there is no limit to what you can put inside or on top of a cupcake. Their menu of cupcakes is large and is constantly changing. But on any given day you can sample anything from banana cheesecake to pear caramel cupcakes. The Park Slope neighborhood is filled to the gills with families with small children. So when it comes to choosing a perfect location to set up shop, they could not have done any better. LocalBozo.com and our host Clara Heller were invited into the King of Cupcakes castle to meet with Mr. Rich and discuss all of the exciting new cupcake styles they are working on. The King of Cupcakes is an excellent example of a small business with a great niche that is taking risks to make it in a crowded New York food scene.
-Alan Smithee
Related Articles
Share
About Author
(0) Readers Comments