LocalBozo.com Weighs in on the Decade's Finest Films
A
s Halloween looms over this coming weekend, LocalBozo.com urges you to forget all of those big budget remakes. The best horror films over the past few years have been low budget indies and foreign fare. Let's face it: Hollywood has run out of ideas for horror films. Instead of coming out with original content, Hollywood is taking the easy route- the remake. Of course making a film is a big business and if a formula works, you stick with it.  The remake is clearly a proven formula. The problem is that these remakes are created void of the great characteristics that made the originals work so well. As an audience we have to stand up and stop coming out in droves for these remakes because as long as the box office numbers are up, Hollywood will keep churning them out. So to redirect your attention away from the remake, we have put together a list of five must see horror films that are completely fresh and original.  These are undoubtedly the best horror films to be released this decade: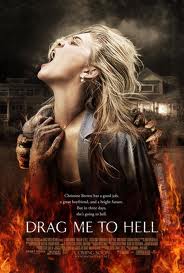 5) Drag Me To Hell- (2009) Director- Sam Raimi
Starring: Alison Lohman, Justin Long, Lorna Raver and Dileep Rao
Okay so this might technically be a Hollywood film, but hey, at least it's not a remake. This is the only film that falls in that category, but it is too good not mention. Sam Raimi returns to his horror roots and it really pays off.  Drag Me To Hell is a glossed over version of Evil Dead that really packs in the scares and quite a few laughs. Raimi does a great job of building up the tension from the opening sequence and doesn't let go until the finish.
Premise: Christine Brown (Alison Lohman) is a loan officer at a bank. In order to get the assistant manager job she refuses to grant a loan extension to an older gypsy woman named Mrs. Ganush (Lorna Raver). Subsequently, Mrs. Ganush places a curse on Christine and within three days she will descend into hell for eternity. Can Christine break the curse?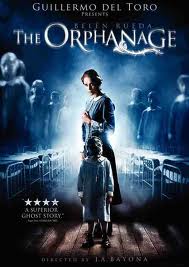 4) The Orphanage- (2007) Director- Juan Antonio Bayona
Starring: Belen Rueda, Fernando Caya and Roger Princep
This Spanish film by director Juan Antonio Bayona is a beautifully shot ghost story that is both eerie and cerebral.  The film itself focuses more on story than actual "jump" moments, but this is the type of film that sticks with you long after you watched it.
Premise: Laura (Belen Rueda), her husband Carlos (Fernando Cayo), and their adopted son Simon (Roger Princep) move into a new home, which happens to be the orphanage where Laura was raised.  Simon reveals that he has met some 'friends' in the house and Laura writes these 'friends' off as imaginary. As they plan to reopen the orphanage, Simon goes missing. Laura and Carlos desperately search for their child as Laura begins to believe there is a ghostly presence said orphanage. In order to find her son she must solve the mystery of the orphanage.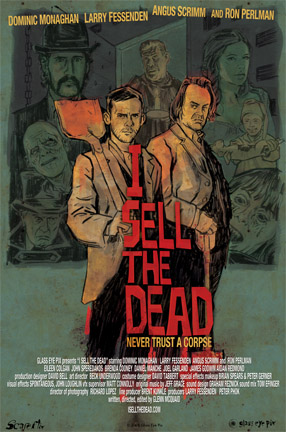 3) I Sell The Dead- (2008) Director- Glen McQuaid
Starring: Dominic Monaghan, Ron Perlman, Larry Fessenden and Angus Scrimm
This film is truly unique and original.  The setting is reminiscent to the atmospheric films of Italian director Mario Bava. Innovative storytelling, solid acting, and a great set design all combine together to create a fun and creative horror film. The film is injected with just the right amount of humor (think Fright Night) to keep the story moving. It is a real treat for horror fans.
Premise: Arthur Blake (Dominic Monaghan) recounts his life of grave robbing to a priest (Ron Perlman) hours before he is to be put to death. He tells the story of how he and Willie Grimes (Larry Fessenden) made a living off of selling all types of corpses. Can his life be saved before he meets the guillotine?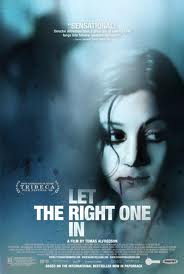 2) Let The Right One In- (2008) Director- Tomas Alfredson
Starring: Kare Hedebrant, Lina Leandersson and Per Ragnar
This Swedish gem provides a fresh twist on vampire films.  With the "Twilight" franchise literally sucking the life out of the genre it's great to see a film like this. Thoroughly original, dark, and twisted with a great story, it is an amazing piece of filmmaking. The Hollywood remake is currently in theaters, but we implore you: do yourself a favor and see the original. This film would have been the number 1 if I didn't have an affinity for the horror films of the 80's (even though this film is set in the 1980's).
Premise: Oskar (Kare Hedebrant), a shy 12-year old boy who is bullied by the kids his age, develops a relationship with a strange young girl named Eli (Lina Leandersson) who moves in next door. Eli teaches Oskar to stand up for himself but she is hiding a dark secret.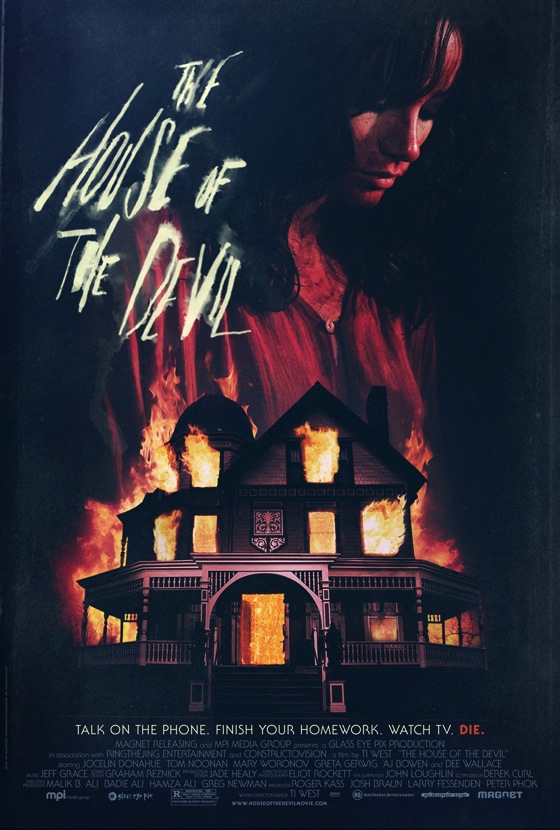 1) The House Of The Devil (2009) Director- Ti West
Starring: Jocelin Donahue, Tom Noonan, Mary Woronov and Greta Gerwig
One of the best horror films made in a long time, this movie is a perfectly paced ode to the early 80's horror film. This film replicates that era so well that if you didn't know anything about it you would believe it WAS an early 80's horror film.  The House of the Devil conjures up all of the elements of that period and packages them into a Polanski-esque thrill ride. It is quite simply a perfectly executed horror film.  Ti West has a bright future ahead of him.
Premise: College student Samantha Hughes (Jocelin Donahue) is fed up with dorm life and wants to live on her own. When she finds the apartment of her dreams she realizes that she can't afford it, so Samantha takes a babysitting job that can change everything for her. A creepy house, a walkman, high rise jeans, pizza and devil worshippers. What more could you ask for in a horror film?
- Seymour Winterbush
Related Articles
Share
About Author
(0) Readers Comments