Aldea
31 West 17th Street near Fifth Avenue, Flatiron District, (212) 675-7223
Getting There: 4,5,6,L,R,W,N,Q to Union Square- 14th Street
Aldea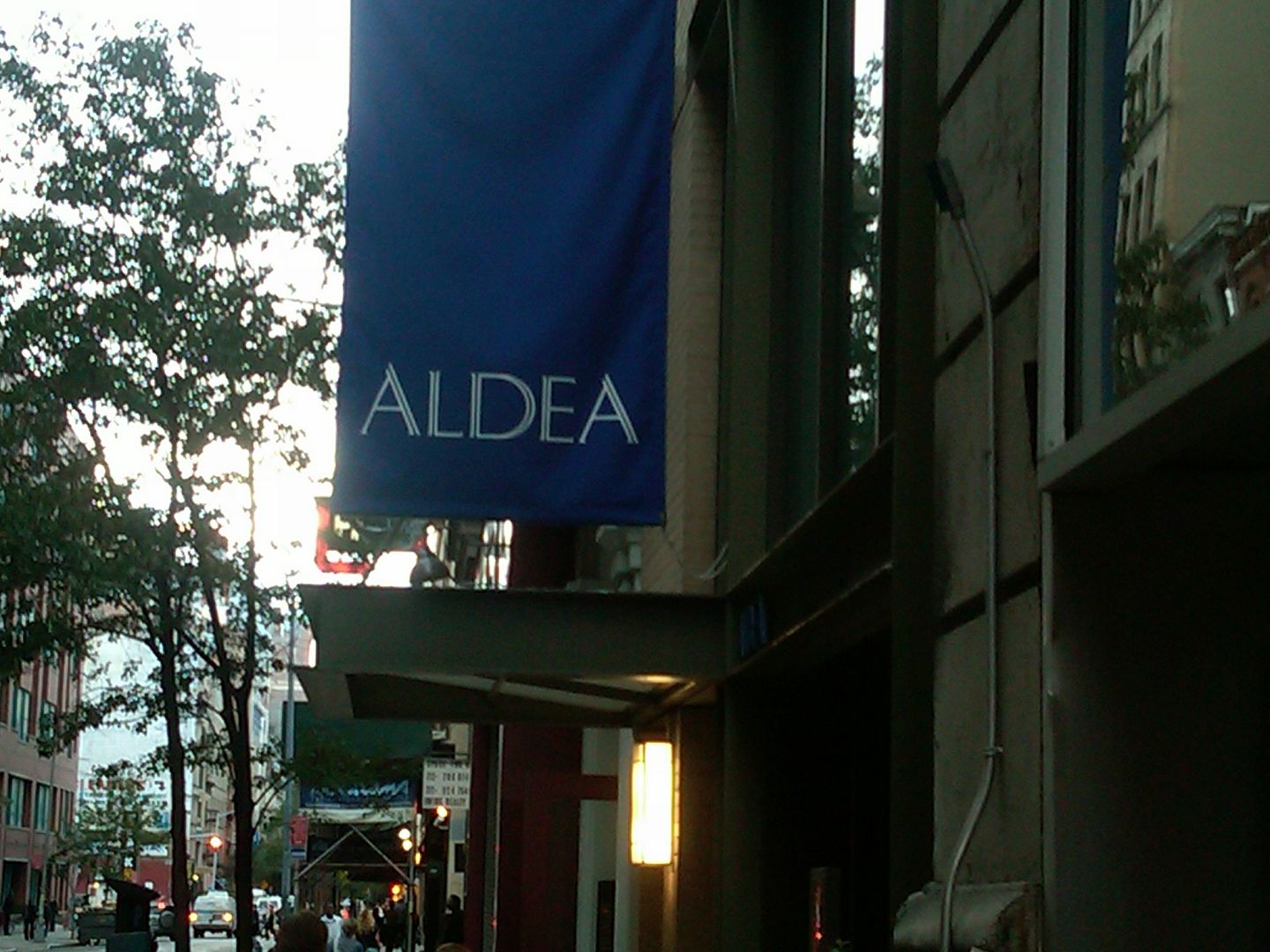 A relatively selective menu with only four meat and four seafood options can tend to stifle picky eaters.  But a menu that's diminutive works appropriately when the fare is fantastic.  Such is the case at Aldea, where the entrée options are light, but each is meticulously prepared and inventively chosen to deliver mouth-watering results.  An intimate table near the open-faced kitchen set the stage for a truly superb dining experience, as LocalBozo.com finally secured a reservation at head chef George Mendes' restaurant.
Upon entering Aldea, the Portuguese infused hot spot right near Union Square, we are greeted by a narrow walkway to the back of the restaurant, where the chef is greeting an adjacent table.  The egg shell white leather seats making our rectangular wooden table into L-shaped booth are an elegant and comfortable welcome after a long workday.  Also of note are long plastic tubes hanging from light fixtures above our heads- a nice touch in illuminating our cozy table.  Quickly, we were delivered some delicious bread (traditional warm white rolls and cornbread), which we learned was replenished tastefully throughout the meal.  Passing on some of the delicious sounding small bites (sea urchin toast $10  and the cured foie gras $18), we settled upon our server's suggestion and tasted the shrimp alhinho appetizer ($15)- a small portion of large tender shrimp covered in a saucy red mixture of saffron, garlic, and pimentos.  Needless to say, as we doused the bread in the sauce repeatedly, we made the right selection.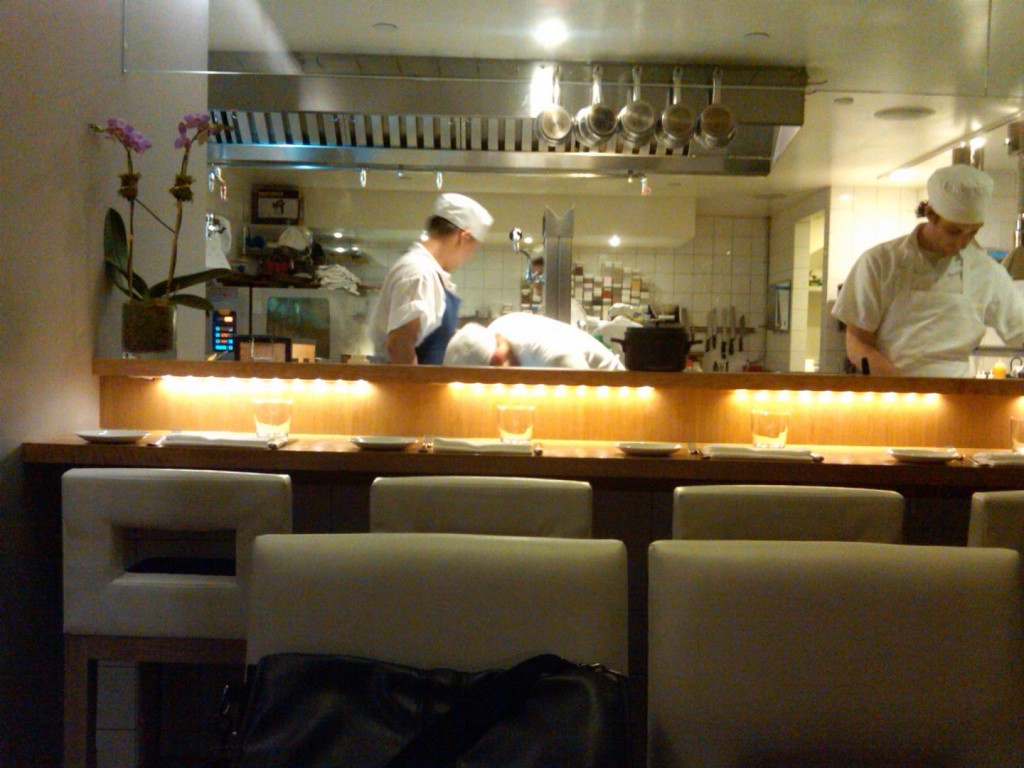 Choosing some entrees that were outside our typical comfort zone, we tasted the Bev Eggleston's pork belly ($26), chunky strips of incredibly savory pork with a sweet maple glaze, on a bed of fresh radish & mustard greens, sided by de-shelled clams.  Similarly, a portion of mussels accompanied the wild striped bass ($28), a perfectly cooked, flaky filet covering a broth of tomatoes and leeks.  Each of the items were perfectly presented- to the point that we felt a tinge of guilt for destroying such artistic beauty.  The arroz de pato ($25) is perhaps the restaurant's most popular item- a paella featuring duck confit and chorizo, in a sea of rice, olives, and duck cracklings, for the more advantageous diner.
Aldea is an extremely fast paced restaurant and an early reservation to the empty restaurant only made our eyes roll faster when the place filled up in fifteen minutes.  The team of chefs are working collaboratively to ensure the food is delicious but that the tables are also turned over, but you wouldn't have known it by the patience shown by the entire waitstaff.  While we were unfortunately in and out of the restaurant in about an hour, we'll be sure to take in more of the experience the next time.  And there will definitely be a next time.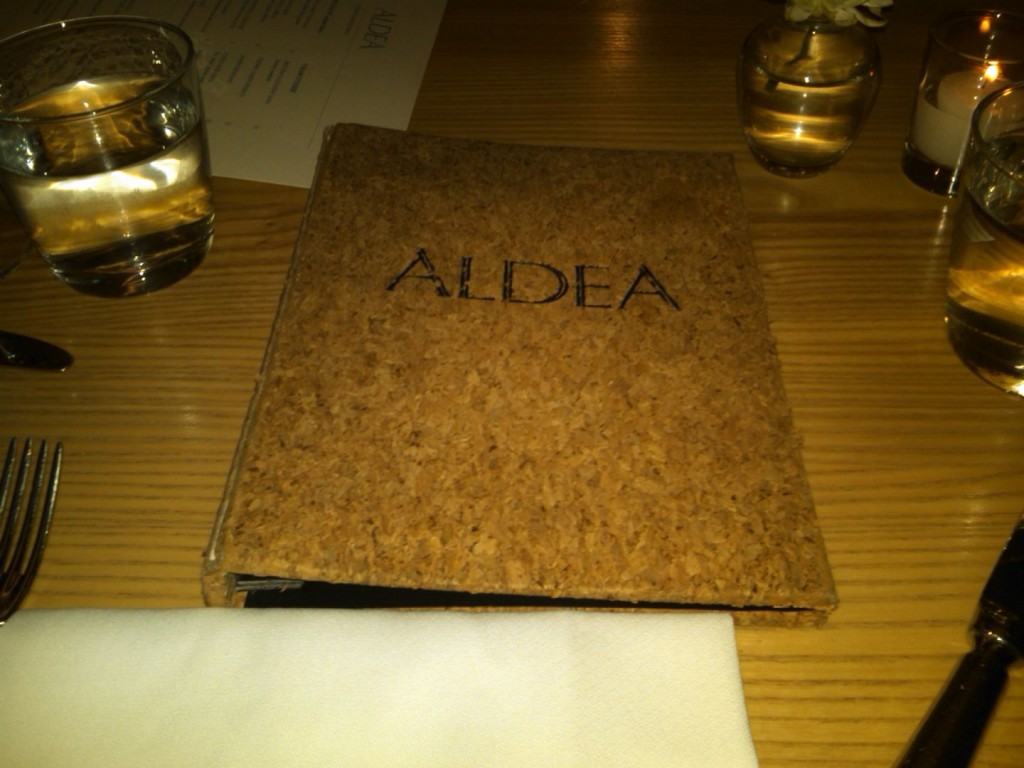 Related Articles
Share
About Author
(0) Readers Comments