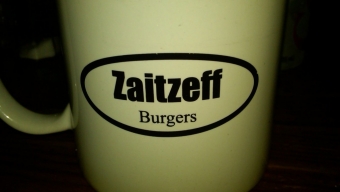 Zaitzeff
72 Nassau Street at John Street, Financial District, (212) 571-7272
Getting There: 2,3,4,5,J,M,Z,A at Fulton Street or Broadway/Nassau Street
18 Avenue B, between 2nd & 3rd Street, Lower East Side, (212) 477-7137
Getting There: F, V to Lower East Side- Second Avenue
Restaurant Review: Zaitzeff
A gem of a burger spot that's almost impossible not to get to from any neighborhood in Manhattan?  Zaitzeff, with its non-descript, black awning, features every basic characteristic that we look for in a premium burger spot.  The different menu options are listed on an enormous chalk board.  You order your meal, customized exactly how you'd like it, right at the counter.  And you can even sit down and enjoy a beer while you devour it.
Inside, the eatery isn't much.  Some elongated wooden tables and chairs fill out the main dining area, with just enough space for a small line to form at the front counter to order.  From the front of the line you can see the cooks working, as the sights and smells of fresh hand cut French fries sizzling in cast iron skillets, envelope your senses.  The front counter is lined with different domestic and imported beer choices, and a wine rack features some basic pairings for whatever you decide.
But alas, the food here is the true drawing point, and while the menu features salads, organic chicken, and even a BLT, the burger is king.  Each of the sandwiches are served on Portuguese muffins, a nice change of pace from the tired hamburger bun or potato roll.  Prices vary based on the size of the cut (served in quarter or half-pound sizes or in sliders) and meat selection (sirloin, Kobe beef, turkey, or veggie), but range from $8.50 to $15.50.  But trust us, the quarter-pound option is a fine size.  Topped with lettuce, tomato, and grilled onion, the Kobe beef burger was a perfectly seasoned and admirably cooked hamburger.  Most of the burger's juice was sopped up by the aforementioned muffin, but the burger was neither soggy nor sloppy, until of course we topped it with ketchup.  Side offerings include cheese, bacon, fresh avocado, and sautéed mushrooms and range from $1.25 to $2.00 per topping, and although the burgers are not necessarily cheap, you get what you pay for- a premium, delicious tasting burger.  The fries at Zaitzeff are also a perfect side dish because at only $5, you are handed a bulbous portion that can comfortably feed three people.  And with the option of Idaho French fries, sweet potato fries, or a combination of both, the lightly salted but freshly prepared basket is an outstanding compliment to the flavorful burger.
Living outside of the neighborhood and unless you are gainfully employed down there, the Financial District does not often offer much reason for repeat visits.  That is, until you taste a burger at Zaitzeff.
Related Articles
Share
About Author
(0) Readers Comments