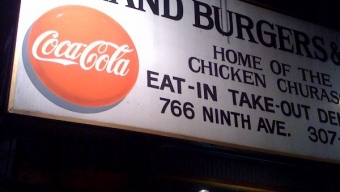 Island Burgers & Shakes
766 Ninth Avenue and 51st Street, Hell's Kitchen, (212) 307-7934
Getting There: 6 to E at 50th Street
http://island.ypguides.net
During a recent editing session with the LocalBozo crew, hunger was calling us like nobody's business.  Normally, we grab a sandwich or a slice and then get right to work. But on this day, the burger craving came a-calling and we happened to be in the Hells Kitchen section of Manhattan where chances of finding a solid burger are few and far between.  I had to use my inner Chi (yelp) to satisfy this burger thirst. And like a phoenix rising from Arizona, there she was: Island Burgers & Shakes.
Restaurant Review: Island Burgers & Shakes
Island Burgers is first and foremost a burger joint.  This place is no frills and that's a good thing.  There are no french fries on the menu, which might seem jarring to some- to not have fries as a side option.  Yes, fries compliment the salty goodness of that all American burger, but truth be told they are often not good and not necessary.  The side options at Island Burgers & Shakes are kept uncomplicated and we decided to go with a simple chips and guacamole plate ($6). It was wise that we did, because the burgers are the true star.
We went with the classic cheeseburger, cooked medium-rare. Here's a little side note, if you go to an actual burger joint and not one of those chains: you should always order your burger medium-rare.  We consider a burger to be in the same category as a fine steak- and yes, Island Burger was a mighty tasty burger. The standard "Cheeseburger" ($ 8.75) is offered with a variety of cheeses (white cheddar, swiss, monterey jack, mozzarella, boursin, American, & bleu). But if you really want to taste the meat, go with the traditional neon American that we all grew up with.
Juicy- a Biggie Smalls track yes- but also the way I gauge if a burger cuts the proverbial mustard or not.  This one does, and by leaps and bounds.  The first bite is always your tell tale sign. Your teeth graze the meat and an amazing whirlpool of juices simply fly into your mouth. Island Burger's burger, in its medium-rare state represents this to a T.  It is in fact a religious experience.
Besides the meat patty and cheese that come on the burger, the fix-ins are simple, but quite fresh.  You get thick cut pieces of lettuce and tomato, and my personal favorite, a small pile of bread and butter pickles, which are great on or off the burger. So please for your sake, venture past the tired burger and fries combo platter. They will usually leave you disappointed.  Head over to Hells Kitchen, grab a pint of Schlitz, and dig into a solid NYC Burger, at Island Burgers & Shakes.
Related Articles
Share
About Author
(1) Reader Comment