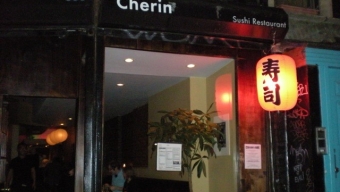 Cherin
306 East 6th St and 2nd Ave, (212) 388-1348
Getting There: L to First Ave; 6th to Astor Pl; R/N/W to 8th St
Cherin
While dining out for sushi in Manhattan is typically an expensive venture, LocalBozo.com is proud to bring you a gem of value in a city shrouded with over-priced alternatives. Enter Cherin, an outstanding sushi find tucked away on East 6th Street in the East Village, which unites a narrow inviting space, with an even more inviting deal. Patrons need not be in their 70's to enjoy the "Early Bird Special," (M-F 5pm – 8pm) a traditional money-saver, generally under twenty dollars. We especially like the "$12 dollar deal," which includes 9 pieces of freshly prepared Sushi or Sashimi and an accompanying roll of your choice.
Critics may be hesitant to taste discounted sushi, but the inventive flavors created by the chefs at Cherin ultimately demand your respect, and leave your wallet fatter. We recommend the "Spicy Scallop & Cucumber Roll" ($3.50) which proves to be a delicious contrast between the heat of the sauce, and the cool fish and vegetables in both temperature and taste. We also like the "Sushi Surfer" ($4.95) combining banana, eel, and a crunch, doused in unagi sauce for a similarly unique flavor. What's exceptional about Cherin's offerings is that the Chefs utilize less rice and larger pieces of fresh fish, which is unusual for modern sushi establishments.
Perhaps the most impressive feature of Cherin, however is their stance on alcohol. Although they do in fact have a liquor license, they allow customers to bring in their own booze, which further helps any customers on a budget. Forget to bring a nice varietal or a six-pack of domestic beer? No problem. Cherin also offers a beer list which includes delicious Japanese bottles of Kirin, Sapporo, or Ashi, all of which are reasonably priced at $3.00 each.
The only downside that we have found can be excessive table waits during peak hours, which is to be expected inside of a cozy East Village standout. But considering that seemingly every menu item at Cherin is at least $2 dollars cheaper than most Manhattan sushi eateries, we were willing to wait. Cherin's BYOB policy and savory innovative rolls make this restaurant a standout for any eater, and the affordable pricing allows even the most tightly fisted penny-saver to head home completely satiated.
Related Articles
Share
About Author
(1) Reader Comment