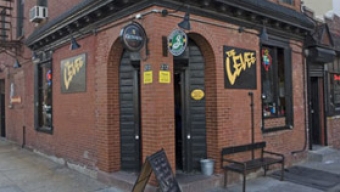 The Levee
Williamsburg, Brooklyn North 3rd and Berry
Getting There: L to Bedford- Walk to North 3rd, and south to Berry Street
On a dark and stormy day, a few of the LocalBozo guys were in Williamsburg for what I like to call "Saturday Drink." The rain, she was a-pouring and it was time to duck into a watering hole to imbibe some spirits. But which one? One of the best things about Williamsburg is the number of different bars to party in.
It was really pouring hard. The type of rain that makes you question how gravity works. So we were forced to make a game time decision. Luckily we were right around the Bedford Avenue area and I've been told that this local place, The Levee was, "My type of Bar." This frightened me somewhat, knowing what "they" think of me. I had a feeling I would walk into the bar and there would be three geriatric men, with a total of six teeth collectively.
But alas my fears were put to rest and, thus began one of the best "Saturday Drinks" of all time. Call it a "Hipster Beer," I don't care- I have been drinking Pabst Blue Ribbon since college. It's very cheap and tastes fine to me, just like any other domestic beer. Why spend six dollars a pint, when all I want to do is get a good day drunk on. So this is where the Levee and I see eye to eye. A can of Pabst (which they serve in a sweet Koozie), costs right around three dollars during normal hours (it might have been two dollars, sorry once again I was drinking). Great price- nice and cheap. But, during Happy Hour, the price drops as low as a dollar. Coupled with $3 shots (We shot Jameson), a value like that can keep the LocalBozo Crew in a bar for hours on end.
The beer prices are great, but that's not all that makes The Levee a prime Williamsburg dive bar. They are known for serving "Cheese Balls" on the bar instead of pretzels, which pair really well with the copious amount of Pabst cans we were slugging down. And the layout of the bar is perfect for fans of what a real bar should look like. The front of the bar, which retains the look of yesteryear is covered in wood paneling and brick. The back area has some tables for larger groups, some arcade games, and an outside area that could easily double as a beer garden during the summer (even though the bar is directly across the street from Radegast Hall, an awesome, but far pricier place in its own right). Jukeboxes, are of extreme importance to the LocalBozo Crew because they really do compliment a well rounded, drinking experience. It is safe to say that the Levee passes this test too, with flying colors. From KISS to Iron Maiden, they had it ready to play. And nothing in this world goes better with cheap beer than a Juke Box blaring "Detroit Rock City."
We would also be remiss if we didn't mention the Australian bartender who was quick with a fresh can of ale, while at the same time giving us "Buy Backs" for being there so long. Since the buy back is dying in NYC, this was very cool. It was refreshing to see that even some dive bars still have class, in a scene currently being overrun by greedy too cool for school types.
- Alan Smithee
Related Articles
Share
About Author
(1) Reader Comment