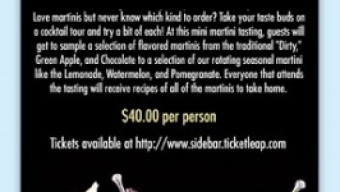 There is no better place to network than in Manhattan, where thousands upon thousands of go-getters are out hustling for a new job or a new romance literally every second of every day. Looking for a new event to get out of the house on a weeknight and meet some likeminded people? CocktailSeries.com acts as a channel between classy tasting events and energetic thrill seekers in multiple settings around the city.
Working with scenic spots like the sky high rooftop at Hudson Terrace and down to earth bars like the Village Pourhouse & SideBAR, CocktailSeries.com caters to even the most casual New Yorker. The events are built around tastings (Beer Garden Fridays, Italian & French Wines, and even Mini-Martinis, etc.) which from our experience is attended mostly by working professionals- i.e a tremendous opportunity to network and meet new people for both work and play.
The wine event that we attended was jam packed with guests, crowding around the many tasting tables and hovering around the table of cheeses, for wine pairing. Most importantly, the events are affordable with prices as low as $20 for some events and others at $40. Each event lasts between 2 & 3 hours which gives you more than enough time to hand out some business cards & maybe even take a few phone numbers. All in all, each event is a casual social experience with a modern flare. We've taken the liberty to present some of the upcoming events below. So if you like wine, liquor, or beer, or even if you like meeting new people (imagine that), just browse the site at CocktailSeries.com to see what strikes your particular fancy.
-Jane Van Arsdale
| Date | Time | Place | Event |
| --- | --- | --- | --- |
| 7/09/10 | 6:00-9:00 | Hudson Terrace | Beer Garden Fridays- Allagash / North Coast |
| 7/14/10 | 6:30-8:30 | SideBAR | Wine Series of the World: France |
| 7/16/10 | 6:00-9:00 | Hudson Terrace | Beer Garden Fridays- Blue Point |
| 7/23/10 | 6:00-9:00 | Hudson Terrace | Beer Garden Fridays- Victory |
| 7/30/10 | 6:00-9:00 | Hudson Terrace | Beer Garden Fridays- Magic Hat |
Related Articles
Share
About Author
(0) Readers Comments