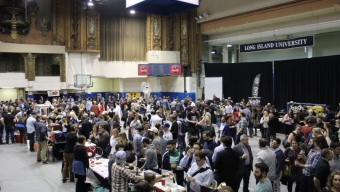 The explosion of the craft beer industry over the last decade has allowed hundreds upon hundreds of new artisanal brewers to enter the mix, brewing and branding batch after batch of their creative and inspired concoctions.  In celebration of all things beer, more than three dozen different breweries would gather at Fort Greene's Long Island University on Wednesday night, to officially kick off the spring tasting season in style.  Instead of graphing calculators and protractors however, guests were given a tasting glass for this class to usher in the 7th Annual NYC Brewers Choice.
Hundreds of festive revelers would gather inside of the gymnasium space at 1 University Plaza, just a stone's throw from the historic and original Junior's Restaurant situated across the street.  Only the most expert suds-enthusiasts were likely to recognize some of the small-batch craft brewers inside, but bigger names like Captain Lawrence and Ommegang were also situated right nearby, doling out taste after taste of familiar brews.  Fortunately, there was also plenty for guests to chew on as they paraded from table to table to again fill up each recently slugged down pour.
Attendees rummaged through a copious amount of deliciously creamy cheeses from Murray's Cheese , salted meats from La Quercia and some piping hot meaty tacos from Palo Santo and Chef Jacques Gautier, one of the area's friendliest local culinary faces.  Though most of the brewmakers were locals, it was also great to find the likes of California's Alpine Beer Company's "Windows Up" deliciously crisp IPA, and some really tasty offerings from Two Roads Brewing Co. from Connecticut, Oxbow Brewing Co. from Maine and New Jersey's own Carton Brewing, always a favorite of this humble writer.  After slugging down a handful of refreshing oysters from the nearby raw bar, we dug into a few repeat pours from Guinness, tasting their brand new "Irish Wheat" for the very first time.  The golden pour drank more like a Hefeweizen than a traditional Witbier with a sweet banana nose but the medium body and clean finish yielded some really nice results.
With some warmed up Sigmund's Pretzels in our hand, we made the rounds sipping on some more of the local flavors.  Big Alice Brewing delivered a slightly sweet and intensely flavorful "Peppermint Stout" that proved the ingredient isn't solely reserved for the holiday season.  Similar in stature, Peekskill Brewery's rich "Good Morning America" was equally notable, an oatmeal coffee stout that seemed infinitely drinkable, especially when paired with B.B.D.'s sensational "Boneless BBQ Sandwich," whose heaping portion left our hands covered in thick sauce.  And of course, no trip around the space would be proper without a stop at Brooklyn Brewery's table where their perpetually fulfilling "Sorachi Ace" was forced to play second fiddle to the limited release of the brewmaker's "Cloaking Device," a chocolate-forward, oaky and earthy porter that combined, works much better than you'd think based on that description.
In all, we worked our way through a seemingly endless array of beers and ciders where KelSo, Three's Brewing, Rockaway Brewing Co. and Gun Hill were standouts among the dozens being served.  With a house DJ working the mix and plenty of food offerings to go around inside of a nicely- sized and versatile event space, there were no waits for beers, no pangs of hunger and no shortages of folks to schmooze with inside the 7th Annual affair.  And though the beer is always the drawing card, the event in its totality is what keeps festive guests returning year after year.
- Jane Van Arsdale
Related Articles
Share
About Author
(0) Readers Comments