The number eight is synonymous with good luck. The figure itself, a symbol of two circles joining together, is an appropriate one to commemorate the eight-year anniversary of the LUCKYRICE festival, a traveling celebration of the food, festivities and atmosphere of vibrant Asian culture. Coinciding with Chinese New Year, this year's affair- the Lunar New Year's Eve Bash- would be a particularly memorable one during the 'Year of the Rooster'- where 88 lucky eventgoers would gather inside of the posh Bowery Hotel at 8pm (sense a parallel?) to dig into eight delicious dishes for 88 minutes. Then, the doors would open wide for a celebration of epic proportions, with the Epicurean Cocktail Feast welcoming some 888 guests inside during a cocktail party featuring some of Manhattan's most respected mixologists.
The dulcet sounds of live singing welcomed a few dozen early arrivers into the Bowery Hotel ballroom space on Friday evening, where cocktails from Bombay Sapphire and an array of dishes were laid out and replenished on two circular tables in the center of the room. Each dish being served was carefully selected, representing eight distinctive good luck foods. Mouthwatering shrimp, pork and vegetable dumplings (wealth), plated inside of miniature serving baskets were lacquered with deliciously salted soy sauce before being quickly gobbled up by the parade of hungry eaters. Cartons of traditionally long and uncut noodles (longevity) were grabbed equally as quickly, littered with crunchy and fresh vegetables. Even the chilled raw oysters (good fortune) proved to be popular, despite the winter weather outside, though it was the array of cake pops and orange macarons (sweetness) that left us most satisfied.
Dumplings (Wealth)
Peking Duck (Unity)
Fish (Prosperity)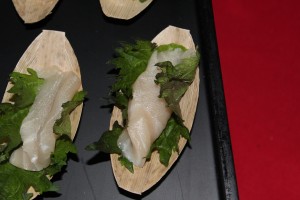 Desserts (Sweetness) & Oranges (Luck)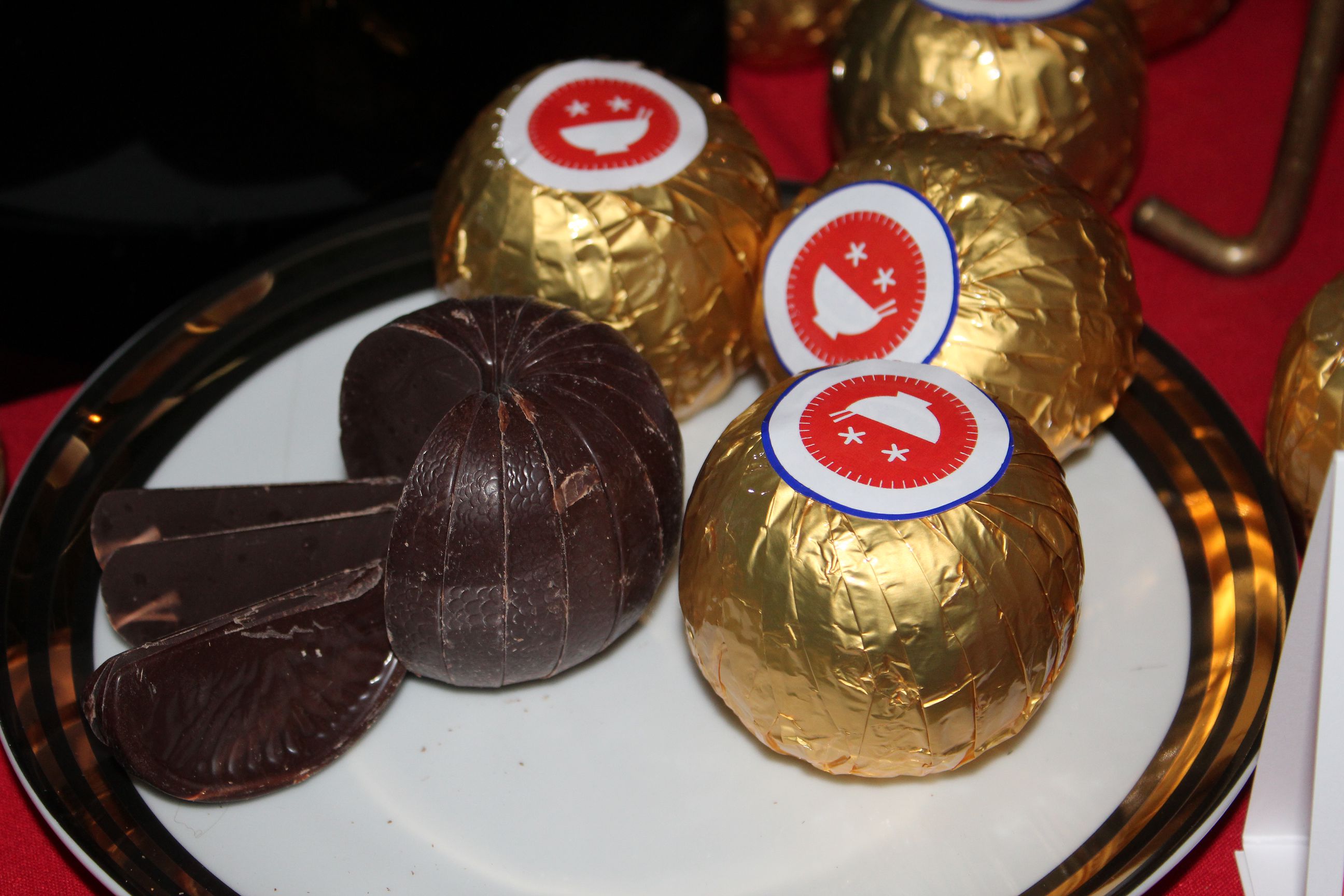 Eggs (Fertility)
Noodles (Longevity)
Satiated by the many delicious eats, the 'Edible Wonderland' came to a close and it was now time to indulge in some celebratory cocktails where the likes of Sanatorium, Lumos and Fifty Restaurant were slinging their own interpretive styles using Asian flavors and ingredients.  Our mouths watered at the sheer sight of Maharlika's Filipino-inspired "Ube Bramble," a chilled purple colored concoction that meshed the evening's sponsor Bombay Sapphire gin with some lemon juice, pandan syrup and ube syrup.  Deliciously sweet and refreshing, the festive team was slinging these and passing them out quickly to the waiting hands of the newly arriving guests.
Brooklyn cocktail haven Extra Fancy meanwhile simply ignored the winter weather outside, doling out "Frozen Bombay and Tonics" along with a "Lucky Rickshaw," a tasteful drink with some cognac, sherry and tangerine bitters.  Best in show however was Murray Hill haunt PS450, with an awesome mix dubbed "A Drink Has No Name."  The gin based cocktail utilized a tangy blood orange puree, lemon juice and simple syrup with just a touch of 'creme de cassis,' a sweet, dark red liqueur.  Their chocolate infused "Lucky Number BA" was a slight runner-up though, with Bacardi Rum the staple, topped with cayenne and lychee syrup.
The ballroom space at the Bowery Hotel was littered with well dressed clientele, each grabbing cocktail tastings at every turn and cupfuls of crunchy oriental-mix crackers, positioned every couple of feet around the room.  The 8th Annual festival to commemorate LUCKYRICE was again a wildly successful one – exposing local New Yorkers to some of the city's most esteemed mixologists, with a decidedly-Asian twist on traditional liquor drinks.  One evening a year, hundreds of guests are encouraged to sip and sample around the space of a classy venue and revel in the party-like atmosphere that only LUCKYRICE can provide.  After all, during Lunar New Year, everyone it seems, does get lucky.
- Dave Gendelson 
Related Articles
Share
About Author
(0) Readers Comments