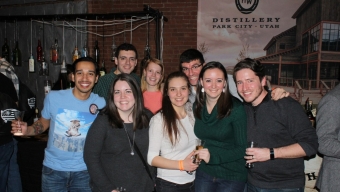 Blog: Beer Bourbon BBQ 2017 - The People
What happens when you combine sixty beers, forty bourbons and a boat load of cooked up pig? Hundreds upon hundreds of excited revelers, that's what. Last Saturday, the first stop in the national roadshow that is the Beer, Bourbon & BBQ Festival returned to New York City as has become a featured affair each January. Spacious west side venue The Tunnel would once again play host to the festivities, arming guests with a commemorative glass tasting glass and plenty of room to move around from station to glorious station.
Attendees who have frequented the annual event know what to expect – a ton of everything: people, booze, pork, etc. But it's imperative to keep moving throughout as even a four hour event does seem to fly by quickly- and as such, there's no time for dillydallying. Loading up on some tasty 'cue was essential during our first steps inside for the evening session, aptly dubbed 'The Whole Hog Pickin' Session,' where local outposts like Butcher Bar of Astoria ("Grass Fed Beef Chili") and Slice Astoria ("BBQ Meatballs") were quick to replenish the constant flow of dishes at their respective tables. Elsewhere, traveling pitmasters from the likes of Kloby's Smokehouse ("Bread Pudding," "Sweet Bourbon Ribs") and Handsome Devil handled the brunt of the menu, with the latter delivering an outrageous array of "Brisket and Cornbread," "Ribs," "Chicken Wings" and plenty more. The guest of honor of course- 'Porkus Maximus' would be a whole hog roasted with piping hot meaty goodness being slapped on a plate and doled out to the awaiting mass of hands near the front of the venue.
Blog: Beer Bourbon BBQ 2017 - The Food and Drink
With a nice base of swine-based dishes, we began making moves around the space for samples of delicious beers and bourbons. We've grown accustomed to seeking out some old favorites at events of this ilk so slugging down the refreshing likes of Harpoon's "UFO White" and Abita's "Purple Haze" – two excellent and distinctive varieties- was a no brainer. But exposure to brand new styles is also a major drawing card for the Festival and with that in mind, we stumble onto some new flavors of note. First, New Holland Brewing Company's "Dragon's Milk" was a richly delicious vanilla and cream-heavy imperial stout that was dark in color, but sipped incredibly light. Some might scoff at the dark chocolate and bourbon notes in a beer of choice, but this one worked quite nicely.
Sierra Nevada is a brewery that we're intimately familiar with. Perhaps that's what made drinking their "Beer Camp: Golden IPA" so refreshing. The 2017 seasonal brew offered up the light clean fruits that we've grown so fond of in new brews- i.e. pineapple, mango and light honey- but the hops here were also pronounced, holding true to the style. Well balanced with a dry finish, we left particularly impressed by the brand's latest offering. Equally impressive was the malt-heavy sweetness of the "Kentucky Bourbon Barrel Ale," courtesy of Alltech's Lexington Brewing and Distilling Company. We would probably be best served with just one to two of these, but the aroma and flavors herein (caramel, coffee) were a pleasing change of pace for us.
After sipping on some Widow Jane 10 year aged bourbon and a couple of cocktails from Four Roses (the 'Four Roses Lawrenceburg Cooler' was excellent), the evening managed to become a bit of a blur- though we can frankly recall chatting with the friendly representatives at Downeast Cider House and the folks at Tsingtao on more than one occasion. We'd also be remiss not to mention the "Delirium Red," which always seems to do the trick for us with a slight bite that just borders on sour. Slightly sweet in a way that would compare with a sparkling dessert wine – and the perfect beer to close out another wildly popular and immensely successful Beer, Bourbon & BBQ Festival, not just for the event planners, but for another satisfied – and completely satiated- customer.
- Dave Gendelson 
Related Articles
Share
About Author
(0) Readers Comments