Blog: Thrillist Empire Oyster
Whether you shuck 'em and slurp 'em down raw or tastefully prepare them alongside some other fresh ingredients, there's no wrong way to enjoy an oyster. Bringing the best of local selections alongside some of the area's best chefs proved to be a no-brainer on Saturday afternoon as New York City events site Thrillist once again played host to 'Empire Oyster.' The 2016 version would be hosted inside of Williamsburg's indsutrial Villain space, a pop-up of sorts that matches the creativity and spirit of the neighborhood. With live music at the forefront and a selection of tasty beers being poured courtesy of Blue Point Brewing Company- along with some serious swag- at two different bars, the three hour event seemed to fly right on by. But not before we managed to stuff our faces with a variety of different freshly shucked shellfish.
Although the drizzling rain was certainly an irritant, we managed to find a quick respite once inside the artsy space, where the place was jam-packed with festive revelers just after the affair's 1pm start time.  The promise of nearly ten different restaurants creatively utilizing oysters in their dishes coupled with a litany of freshly iced varieties available for the taking proved to be a strong drawing card for Thrillist, a company that's really begun to hit their stride in the local events space.  Moreover, guests could take their turn alongside growers by shucking shells themselves, where thousands upon thousands of oysters would be utilized during the course of the afternoon.
The day began with a flurry- Seabird served up a mouthwatering "Oyster Pancake" deliciously deep-fried and served with a touch of tartar sauce and pickled coleslaw for temperature contrast.  The one bite sample was richly outfitted with squid ink sauce to add to the subtly fishy (in a good way) flavors therein.  Just steps away, we seriously dug Swine's "Oyster Ceviche," a complex dish held within the confines of a singular half-shell.  Adorned with words like 'gremolata,' 'annatto,' 'pomelo' and 'limoncello' (we know that one!), the delightfully clean serving proved to be an easy slurp, with the fresh and tangy additions serving to complement the oyster's brilliant brine.
From chilled and tangy to piping hot and complex, we swooned over Murray Hill favorite Dock's Oyster Bar whose Cajun shellfish sauce drowned a smattering of peppers onions and tomatoes in a bowl of "Oyster Etoufee" and L&W Oyster Co.'s "Crispy Oyster Taco" which was perhaps the day's most sought after dish.  Each Long Island oyster was smoked and flash fried and stuffed in a black bean tortilla with apple jicama slaw and a drizzle of creamy roasted garlic aioli.  And the L&W staff continued to hustle all afternoon long to replenish the taco trays as guest hands competitively vied for the next batch.

The "Smoky Raw Oyster" from Schiller's Liquor Bar was our hands down favorite, despite efforts from The Fat Monk and Soju House to wrest the voting chip from our judgmental fingers.  Topped with smoked coleslaw, a touch of tartar sauce and a genius sprinkling of bacon bread crumbs, the Schiller's team meshed a truly excellent dish with an outgoing and charismatic style that made it easy for guests to vote for.  But because the entry from Schiller's was so savory, we reached our max quickly thereafter.  And after three hours of dancing, eating and slugging down ice cold beers, it was time to head back out onto a rainy Brooklyn street, but not before crowning Schiller's Liquor Bar as 'Empire Oyster's' one true king.
- Jane Van Arsdale

Food Highlights from Thrillist's 'Empire Oyster'

Seabird: "Oyster Pancake" – Pickled coleslaw, tartar sauce & squid ink sauce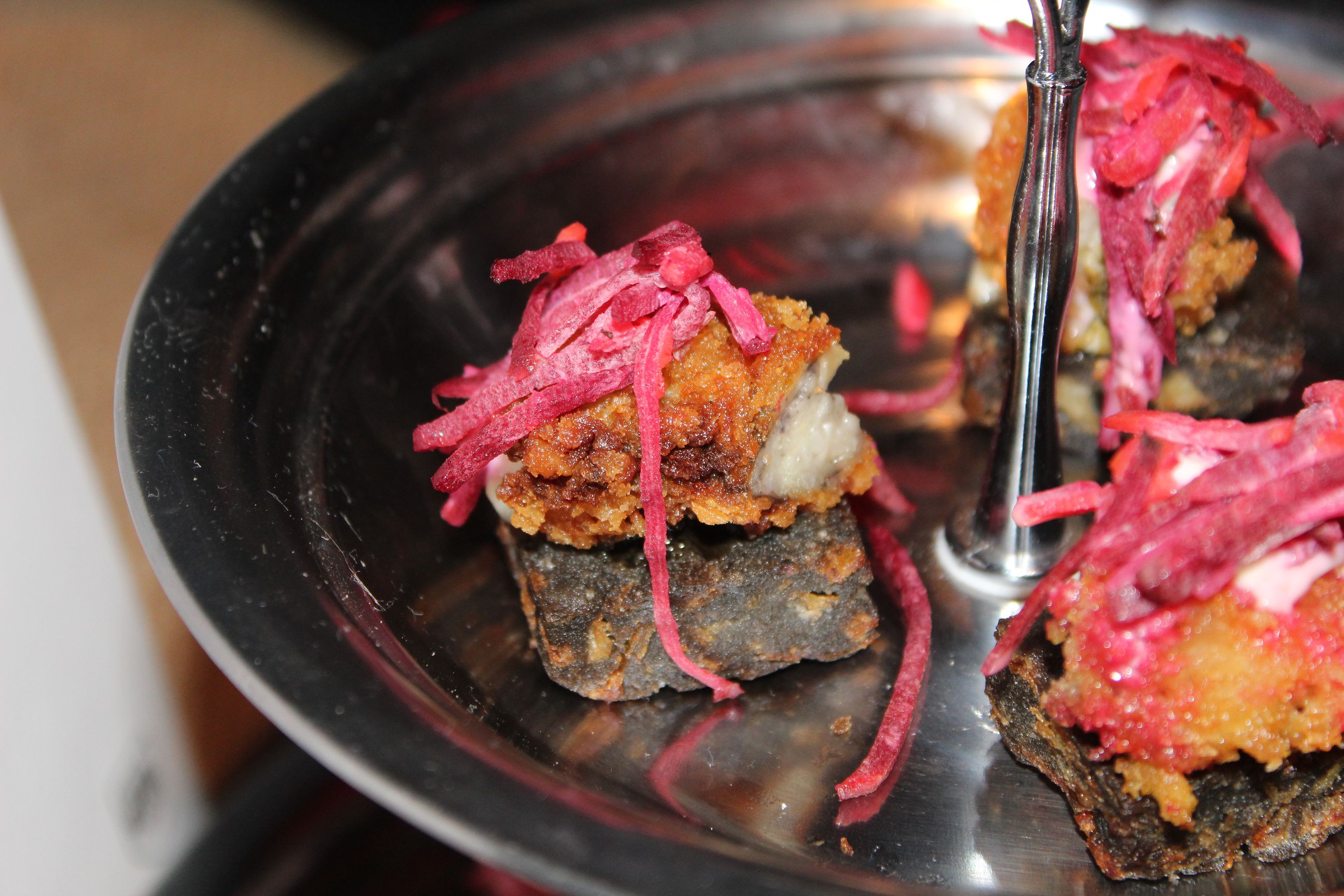 Swine: "Oyster Ceviche" – Limoncello, gremolata, and annatto

Dock's Oyster Bar: "Oyster Etouffee" – peppers, onion, celery, roasted tomatoes, Cajun shellfish sauce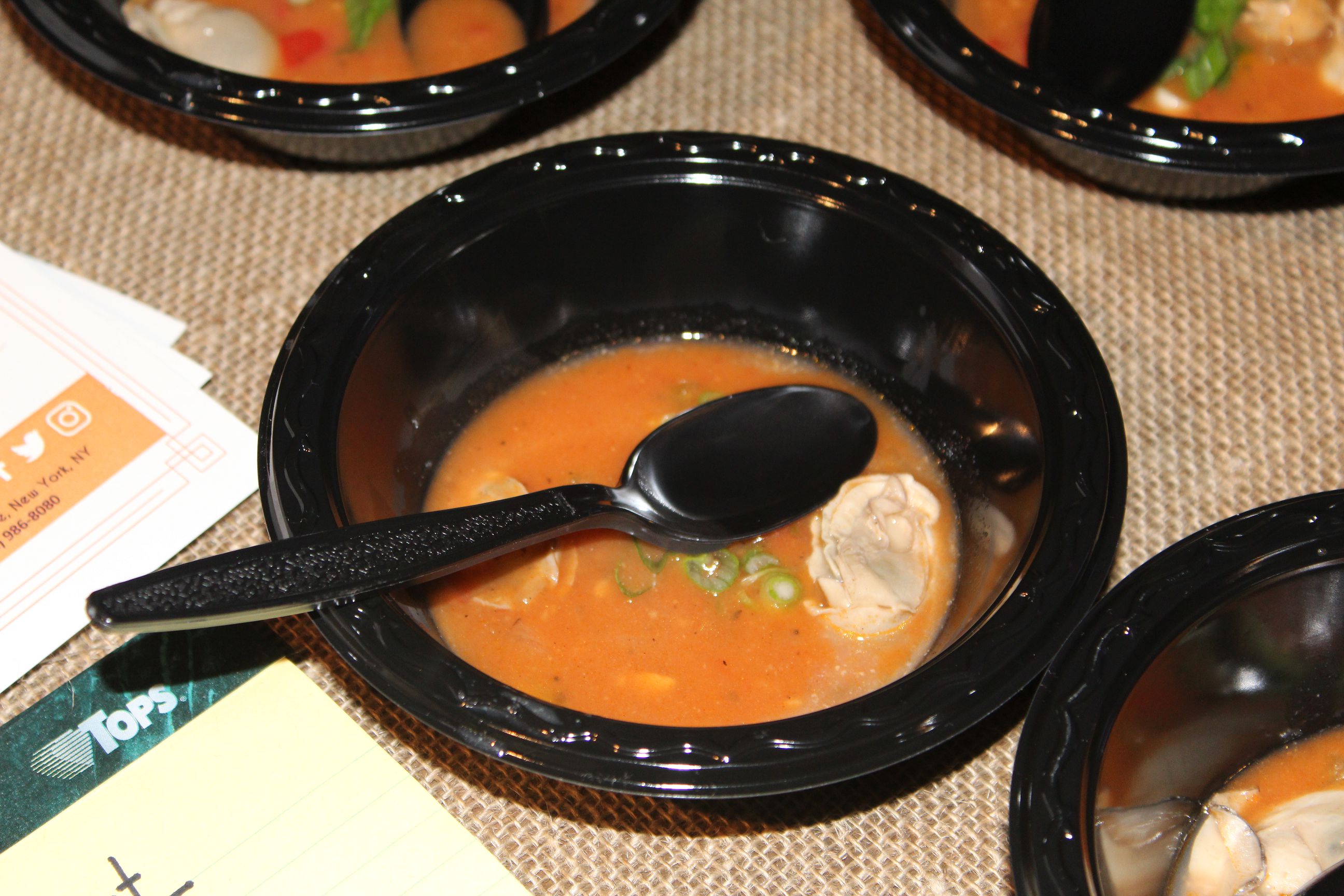 Metropolis: "Smoked Oyster with Thousand Island Mignonette"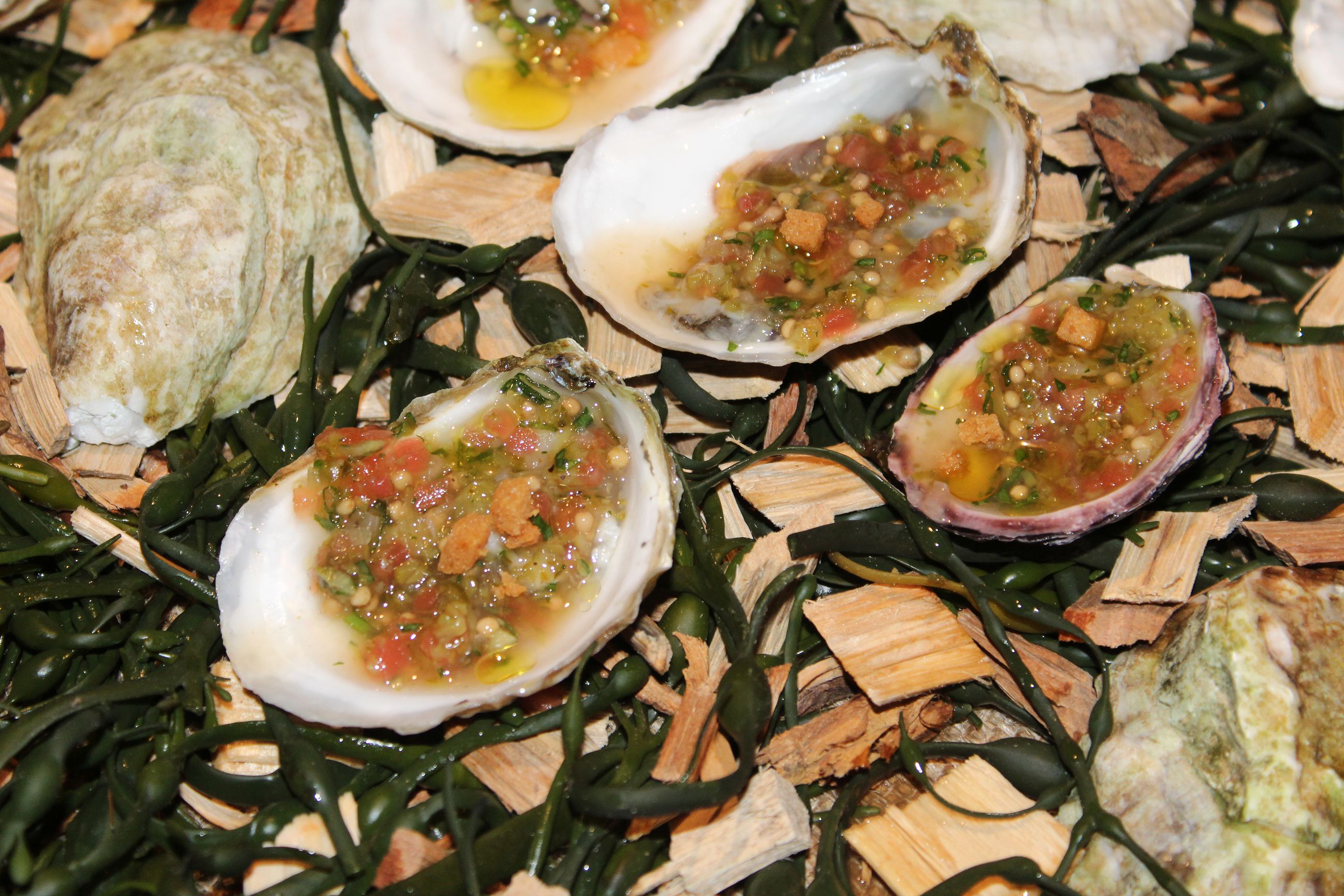 Schiller's Liquor Bar: "Raw Oyster" – Smoked coleslaw, BBQ Sauce and Bacon Bread Crumb

L&W Oyster Co.: "Crispy Oyster Taco" – Smoked and Fried Long Island Oyster with Apple-Jicama Slaw and Roasted Garlic Aioli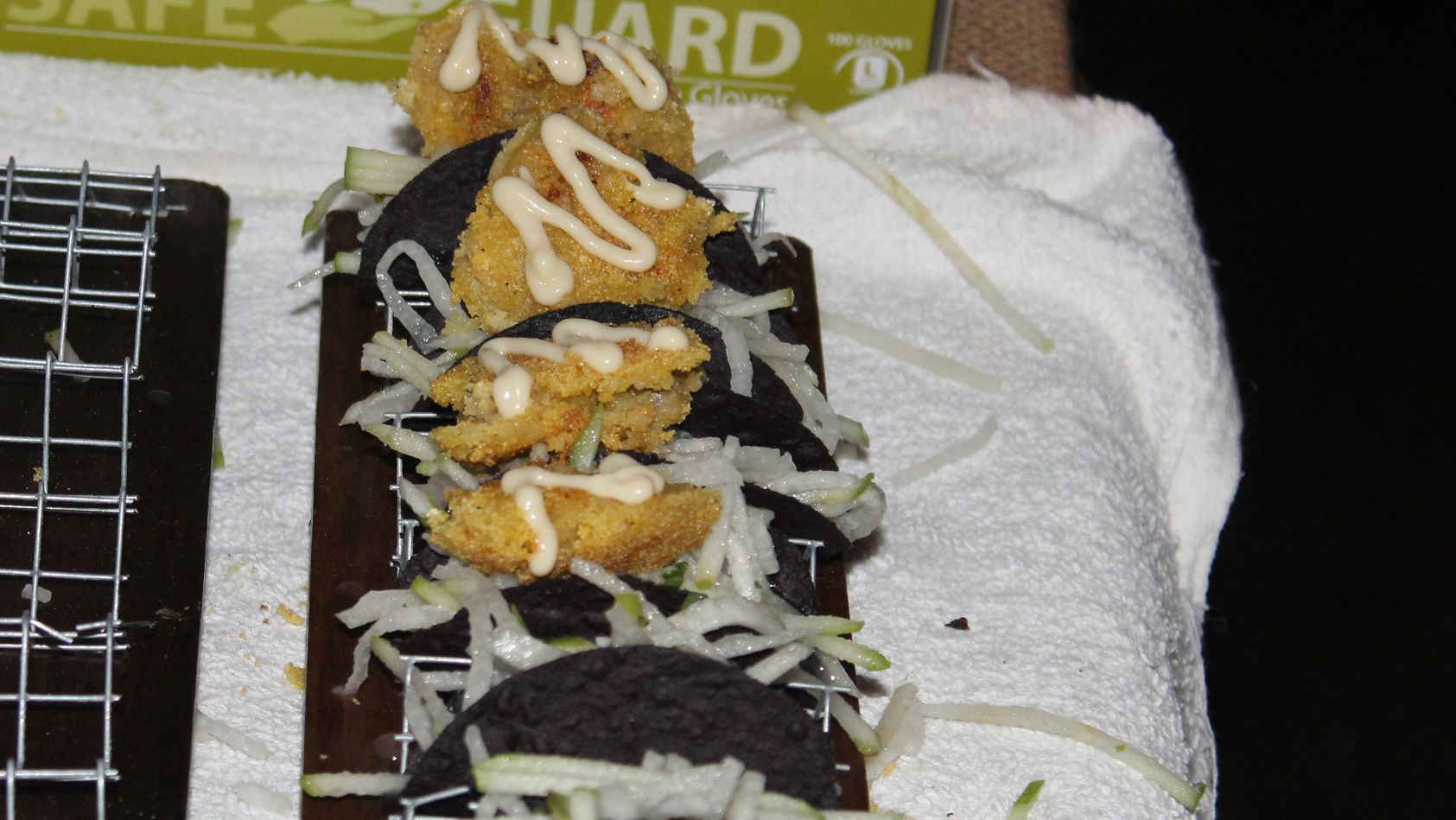 The Fat Monk:  "Long Island Oyster Escargot" – encrusted with parsley and pernod butter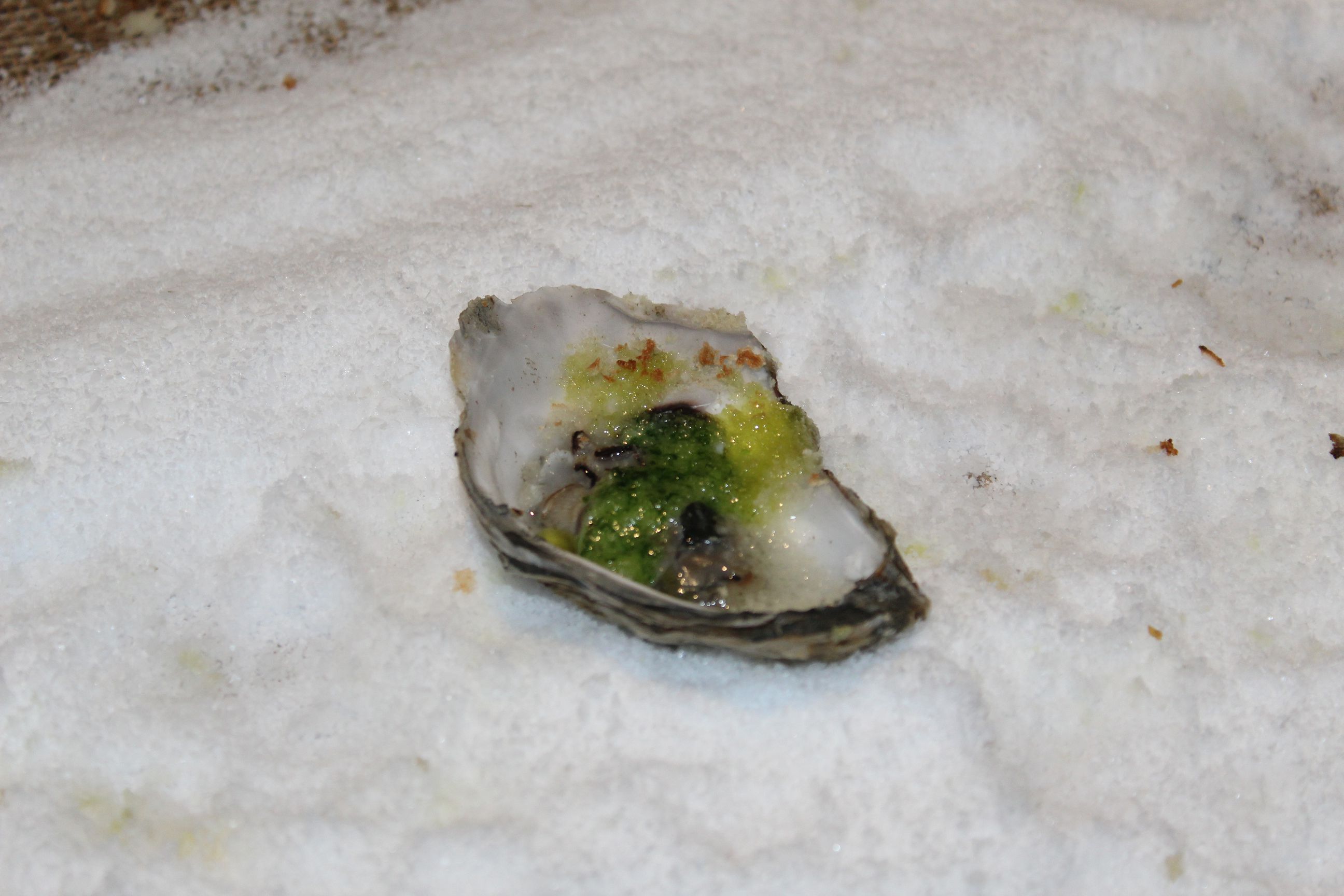 Littleneck: "Oyster Ceviche" – Leche de Tigre, cucumber, fine herbs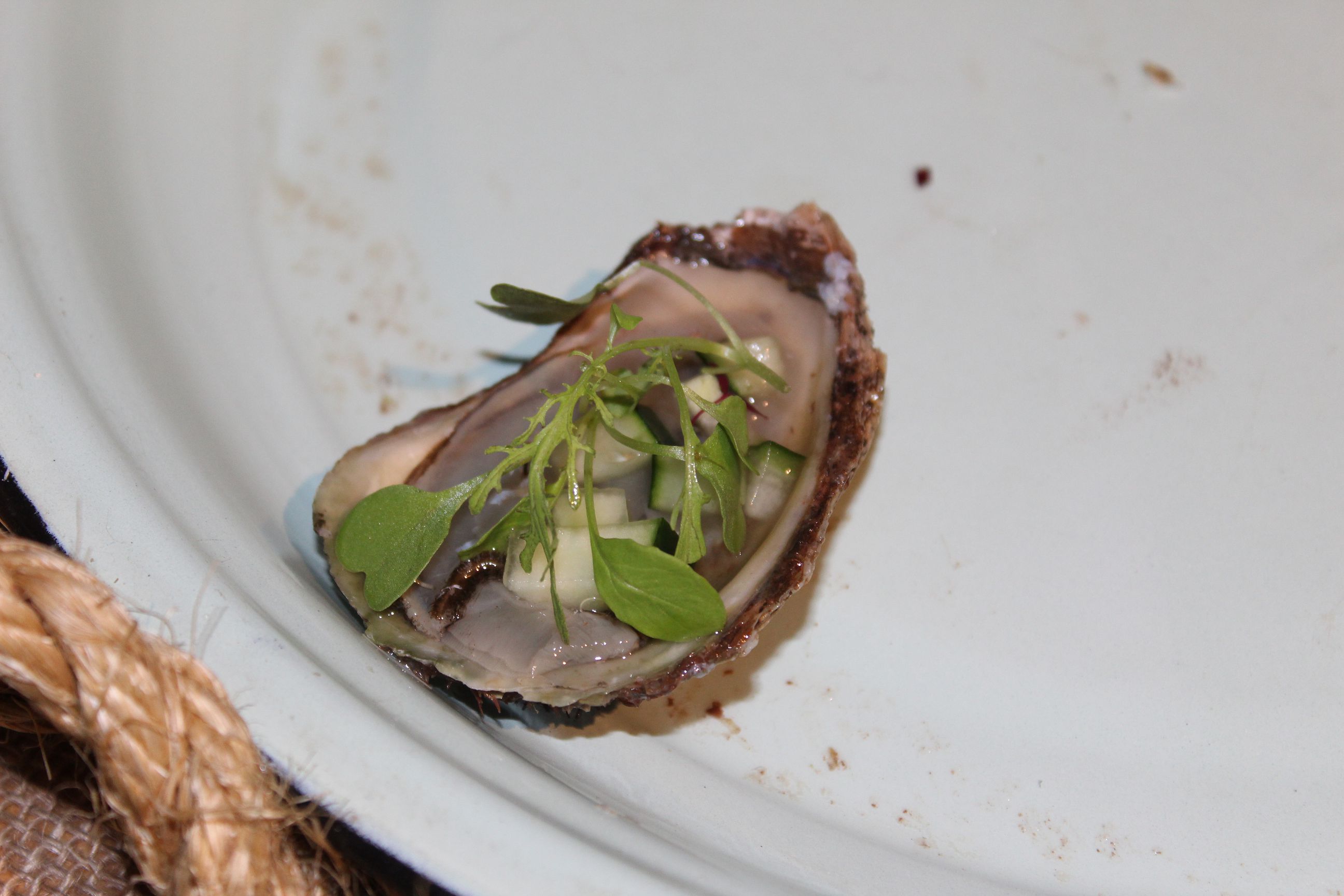 Soju Haus: "Kumamoto Oyster Salad" – with Korean vegetables and sauces

Related Articles
Share
About Author
(0) Readers Comments