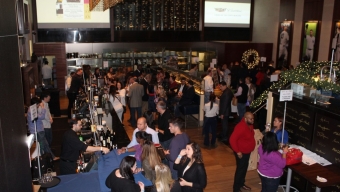 Blog: NY Autumn Wine Festival 2016
Situated inside of the multi-level space of NYY Steak in midtown, the NY Autumn Wine Festival triumphantly returned with two action-packed sessions on Saturday afternoon, as eventgoers waved a somber goodbye to the final pleasant-weather day of 2016.  Fortunately, 150 different wines and the promise of two-and-a-half tasting hours lay ahead of guests willing to eschew the warm weather in favor of the walk around experience that paired tasty wines, savory bites and live music during the scheduled afternoon and evening sessions.  And as usual, guests were also given commemorative stemless glasses as keepsakes from their visit.
In the shadows of the Rockefeller Center Christmas Tree and skating rink, guests lined up outside the doors of the posh New York Yankees steak house, where massive pictures of Jeter, Posada and Rivera would look down upon the hundreds of guests spitting and swirling the many varietals of wine inside.  Though the event promised light fare, the restaurant's array of Italian cured meats, aged cheeses, tasty "Roasted Tomato and Mozzarella Flatbread" and some of the most delicious "Mini Sliders" (with a tomato-chorizo relish and a gooey fontina cheese) that we've enjoyed in recent memory, definitely exceeded our initial expectations.  With the wine list curated by Tribeca's Vintry Fine Wines, there would be no wrong move for attendees be it with a pour of bubbly, a big red wine or an aromatic white.
With our trusty event map in hand, we immediately headed to the restaurant's second floor space, where pours of wine from the finest in the Finger Lakes called out to us almost immediately.  Dr. Frank Vinifera Wine Cellars produces some of the finest white wines on the east coast, so it was no surprise that a small line immediately formed in anticipation of the 2015 "Dr. Frank Gewurztraminer," a slightly sweet mineral-fueled wine with a spicy finish.  But as any 'lover of the Lakes' knows, Doc Frank makes a heck of a "Dry Riesling," and the 2015 varietal was insanely crisp and pleasantly floral- a well-balanced take on the typically sweet style.  Just a few short feet away, our empty glasses then stumbled onto some Greek wines, from a maker otherwise unfamiliar to us.
The "Malagouzia" from S.S. Logothetis is a steal at roughly $12.99 a bottle, but even more so- the bright green and yellow colored wine yields a tropical fruit and melon flavor that would be ideal in summer months but is still suitable for the winter when paired with spicy foods.  The wines have been around for nearly a decade, but you'd never know based solely on the brand's mom and pop feel and the friendly folks pouring the five different bottles into the outstretched hands of thirsty guests.  With wine in hand, there were plenty of vendors on site peddling their different goods and allowing attendees a taste of their offerings.  From olive oil samples at The Virgin Olive to rich and creamy servings of Finlandia Cheese to a couple of John Wm. Macy's crunchy CheeseSticks and the always decadent array of LiLac Chocolates, there was no shortage of delicacies for each guest to try.
The wines predictably ranged from good to great, with styles from California (Noble Tree Estate 2014 "Cabernet Sauvignon – Wickersham Ranch"), Chile (Don Tony Perez 2014 "Gran Reserva Syrah"), Illyria (Wines of Illyria's 2014 "Stone Cuvee") and even Brooklyn ("Ma Lung Winery's "Essika") joining the likes of French and Spanish wines to round out a really nice portfolio during the afternoon session.  Sure, we may have made a couple of additional visits to purveyors like Yankee Folly Cidery and KAS Krupnikas to sip on some honey flavored liquor- but in the end, it was the wine that was the drawing card.  And as per usual, the selection was top notch inside one of Midtown's most lavish and modernized steakhouses.
- Dave Gendelson 
Related Articles
Share
About Author
(0) Readers Comments