With more than 300 different bottles of Spanish wine piled into the magnificent IAC Building on West 18th Street, the 23rd Annual 'Spain's Great Match' again effortlessly brought together some of the country's finest winemakers (and some of New York City's top importers) for a spectacular evening of tastings. Hundreds of well dressed guests spread themselves out inside the sprawling first floor layout, where the smells emanating from massive bowls of paella were rivaled only by the choice selections of wines from each region of Spain. Whether your preference be a bubbly, a white or a red varietal, there was plenty from which to sample, and also, enough tapas related fare from participating New York City restaurants to ensure that every attending guest would leave the evening satisfied.
It was purple lips and teeth galore as the end of the night drew near, with red spill stains from party revelers leaving their marks on tables situated around the sizable room. Such is the end result of folks swishing and swirling such an array of different flavors. But some three hours earlier, the affair had been an entirely tasteful one, where a pamphlet would serve to guide each eventgoer from table to table, armed with just an empty glass and a hungry appetite during the journey from region to region.
Between tasty food samples from notable local restaurants like La Vara and Casa Mono, guests utilized the many pours of wine to wash down small samples from groups like Olives From Spain, Cheese From Spain and of course, Iberico Ham From Spain, whose thinly sliced but richly fatty pluckings were downright lip-smacking for the masses.  Seeking out some sparkling wines to kick off the evening, we went wild for the Cavas being poured from bottles like the Pares Balta "Blanca Cusine 201o" and the Vicente Gandia "El Miracle Rose Cava NV" (which retails at just $9.99).  Our favorite thought was the delightfully bright yet smooth and dry Perelada "Cava Stars Brut Nature 2014."  Pleasant and complex, the tiny bubbles were flavorful and effervescent with each subsequent poor.  Celler Barcelona's "Brut NV" was also quite nice, a flavor that we'd liken to cider with a sweeter apple-centric profile.
Among our favorite reds, none shone more than the  $70 Torres "Mas La Plana Cabernet Sauvignon 2010," a full-bodied and earthy wine that was particularly polished.  Perhaps just hitting its maturity- though some would argue to age this one for another decade or so- the flavors ranged from pepper and vanilla to rich chocolate and citrus, and the long, spicy finish was of particular note within each dynamic sip.  Other offerings like the "Faustino V Riserva 2010″ ($17.99, Rioja), the "Beronia Crianza 2013″ ($16, Rioja) and the "La Montesa 2013″ ($21, Rioja) were memorable in their own rights, proving one needs not to break the bank to enjoy a delicious Spanish wine.
With our glasses now filled, it was time to re-fuel and a "Blood Sausage and Country Bread Cappucino" from Salinas Restaurant and Tapas Bar proved to be an especially savory, if not overly-experimental option.  With a frothy almond praline foam, the textural contrast here was unique, richly paired with bold red wines nearby.  Dishes from Andanada, La Fonda del Sol and bites of anchovy from Tia Pol (all photos below) were each standout style fare in their own right but it was Battery Park City's Amada that hit a home run for our mouths.  The eatery's "Pochas Riojanas" was a tangy and balanced bowl of hot white bean and meaty chorizo stew.  Perfectly seasoned, each slurp was savory without being overly heavy and the accompanying anchovy here was an excellent touch to an already scrumptious soup.
While this year we hit the wine first and tastings second, the pairings we indulged in were simply sensational.  And though I've never been to Spain ('but I kind of like the music'), a two hour jaunt around the IAC Building space gave guests in the house a look at the authenticity of the region, the passion of its people and a glimpse of the delectable styles of food being served- making a next day phone call to our nearby travel agent a no-brainer.  Next stop, Ribera del Duero!
- Dave Gendelson

Food Highlights from Spain's Great Match 2016

Txikito, La Vara & El Quinto Pino: "Garbanzos con Morcilla, Acelgas y Caldo de Roncal" & "Alcachofas a la Navarra" – braised chickpeas with blood sausage, swiss chard and roncal broth and Navarran artichoke with leek, white wine, jamon and oreja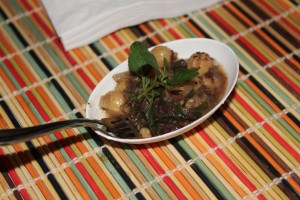 Iberico Ham From Spain
Amada: "Melocotones con Vino" & "Pochas Riojanas" – Macerated Stone Fruit, Goat Cheese Espuma, Toasted Almond, and Bean & Chorizo Stew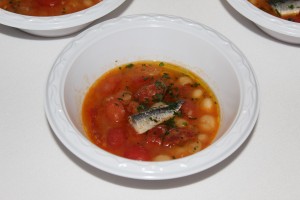 Salinas Restaurant and Tapas Bar: "Capuccino de Morcilla" & "Ensalada de Lacon Fresco y Pochas al Gelee de Moscatel" – Blood Sausage and Country Bread Cappuccino, Almond Praline and Pork Shoulder, White Bean, Pickled Garlic, Cornichon, Sherry Vinaigrette, Moscatel Gelee

Andanada: "Mouse de Salmon, Judias y Melocotones" & "Lomo y Berros" – Salmon Mousse with String Beans and Peach Salad and Beef Loin and Watercress Roll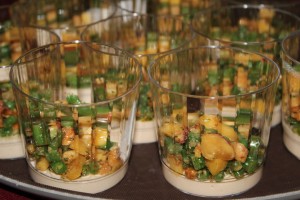 Donostia: "Alubias con Txipirones"
Olives From Spain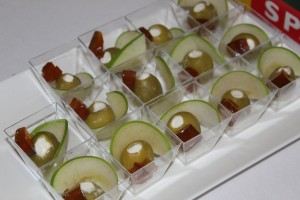 Cheese From Spain

Barraca: "Churros de Guirlache," "Churros de Pastel Ruso" & "Churros Aragoneses de Frutas" – Almond and Caramel Filling, praline, candied dried fruit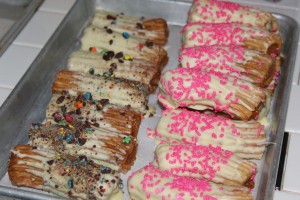 La Fonda del Sol: "Pulpo en Escabeche" & "Montaditos de Hongos" – Pickled octopus with smoked potato puree and roasted mushroom and goat cheese montadito

Tia Pol: "Tortilla Spots" & "Montadito de Berenjena" – tortilla espanola, guindilla pepper, white anchovy and toasted baguette, eggplant, and piquiilo pepper

Socarrat Paella Bar: "Paella de Carne" & "Arroz Negro" – short ribs, chicken, chorizo, mushroom sofrito and snow peas and shrimp, calamari, scallops, fish, piquillo pepper, squid ink

Casa Mono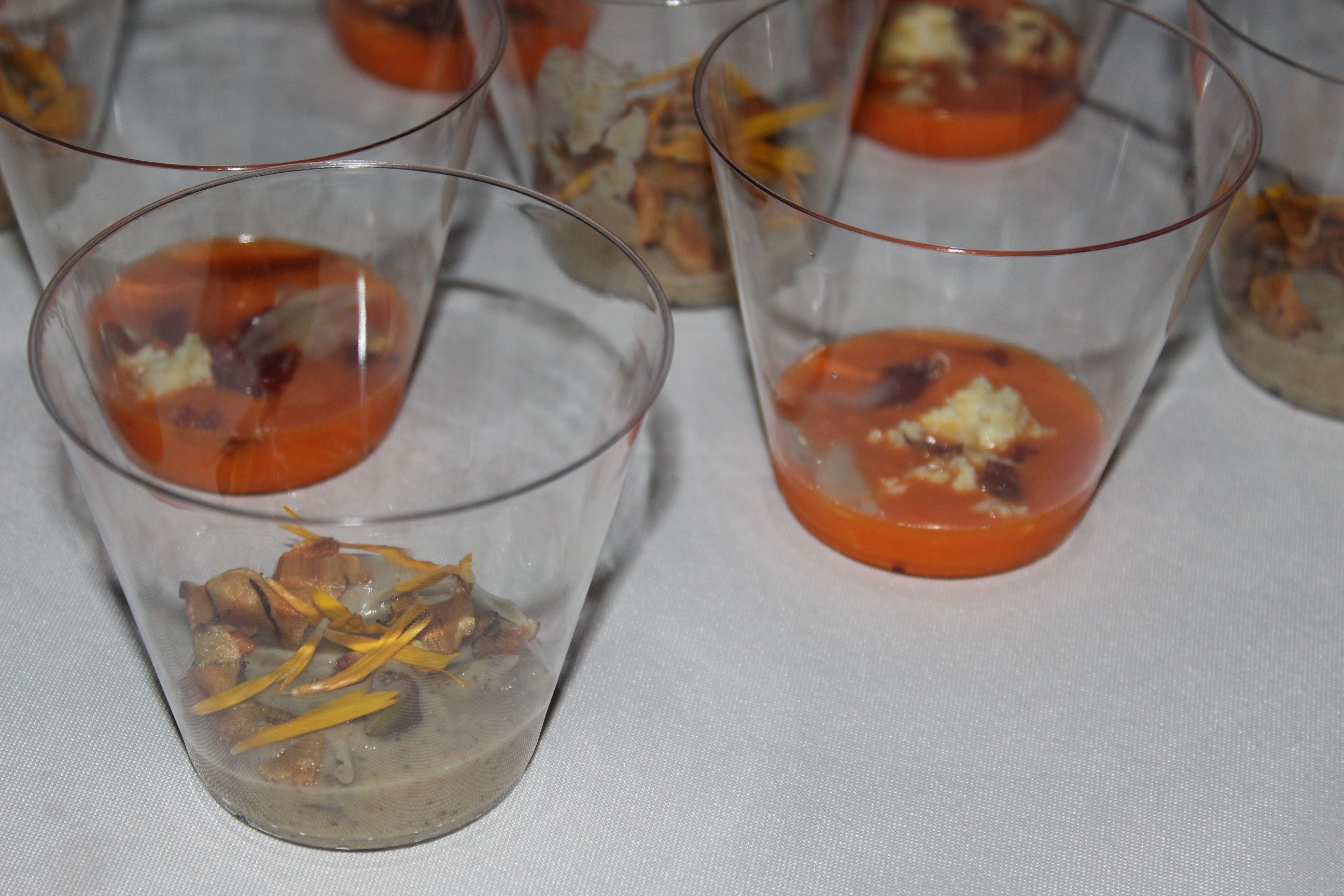 Related Articles
Share
About Author
(0) Readers Comments