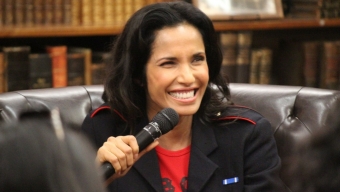 Blog: Padma Lakshmi at Strand Bookstore
She's been a model and mom, philanthropist and advocate, and for the last ten years she's been among the primary reasons that audiences tune into the Bravo network's long running food series "Top Chef." The Indian-born Padma Lakshmi was in New York City on Tuesday evening for a different reason altogether- as an author. To celebrate the release of her comprehensive new book "The Encyclopedia of Spices and Herbs" (available now), Lakshmi was joined by the co-founder and Editorial Director of Cherry Bombe, an online outlet that caters to women and a love of food, Kerry Diamond, inside of Strand Bookstore's Rare Book Room for a discussion in front of a room filled with starstruck fans.
The hour long discussion was fueled mostly by the enthusiasm of a passionate crowd who hung affixed on every word of Lakshmi's. To her credit, the way that Padma articulates her love of flavors is almost poetic, with each word dripping from her mouth literally sounding delicious. Though this is Lakshmi's second book release of the calendar year- her memoir "Love, Loss and What We Ate" was released back in March- "The Encyclopedia" is hardly meant to be read cover to cover. Advised Lakshmi, "I want this to be a manual. I don't want this to be something pristine. Put it on a shelf in your kitchen. I hope the book is splattered with food." And later, "If you go to a store [bring the book with you; point at something] and say, 'where is this?'"
The book itself is quite literally an A-Z guide not only for selecting and using spices appropriately, but there's also a slew of beautiful photographs, history lessons and advice for stocking one's kitchen appropriately. And while the conversation always seemed to return to the thoroughly written literature, Padma couldn't help but add some of her candor to the evening's proceedings.
* On seemingly everyone becoming a 'foodie' – 'I think it's great.  That's how I really feel.  But there is this little bitchy part of me.  I know you know all these filters and can make your hot dog look super juicy.  I kind of love it and I kind of roll my eyes about it.
* On the inclusiveness of food culture – 'Food has become so fetishized in our culture.  It's the sex of today's media that is non-threatening.  It's one of the things you can do with everyone you know because every creature eats.  It's just the thing of today.  It's what sports used to be.
* On Top Chef and how the show has created some of this culture- 'You rely on us to communicate out loud, the experience of that dish.  What it tastes like and what it feels like.'
* On her favorite spice – 'Sambar powder.'
"The Encyclopedia of Spices & Herbs" by Padma Lakshmi is available now.  Pick it up at Strand Bookstore!
- Jane Van Arsdale
Related Articles
Share
About Author
(0) Readers Comments