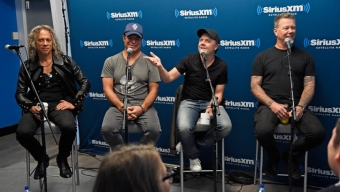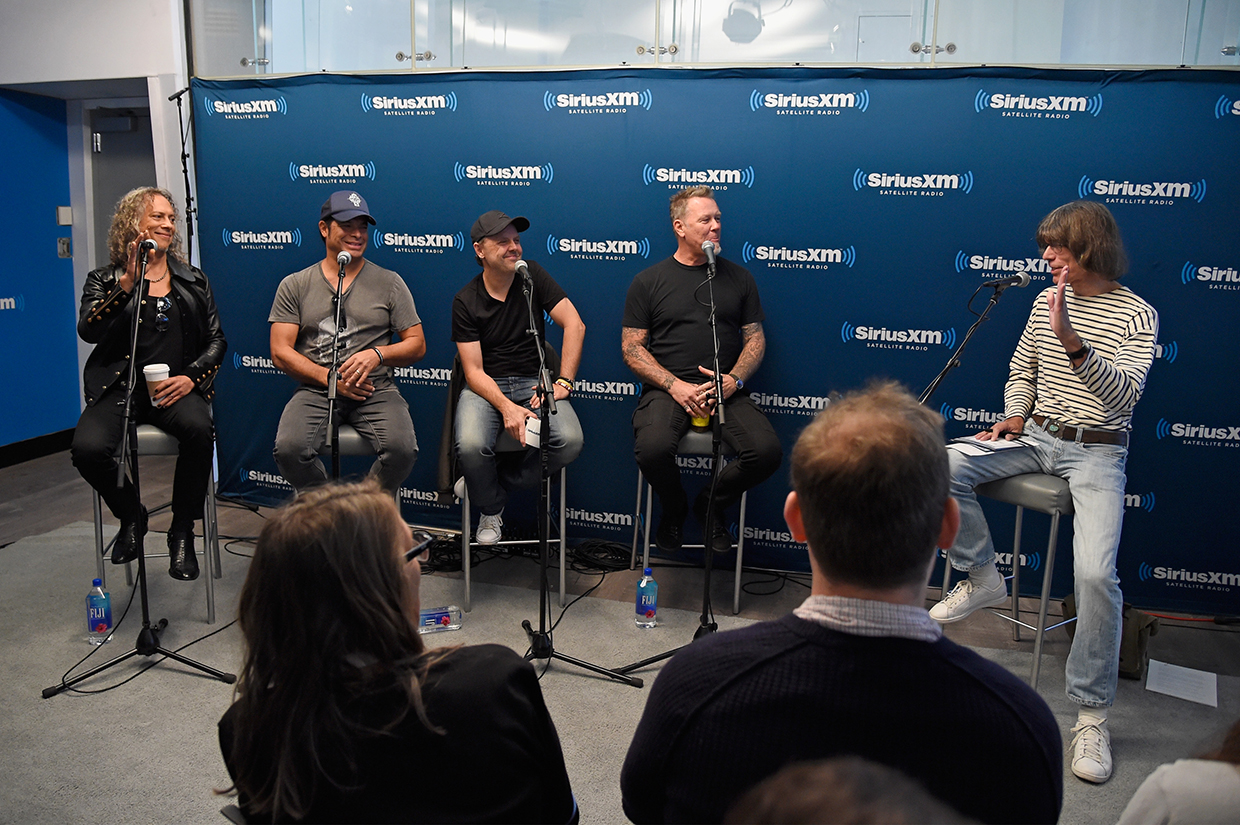 (Photos by Kevin Mazur)
Fresh off of a blistering but abbreviated performance on Saturday in Central Park as part of the 2016 Global Citizen Festival- and straight from a three song set and extended interview in Howard Stern's studio- the four members of Bay Area thrash metal legends Metallica, camped out in front of a gathering of lucky fans as part of the SiriusXM Town Hall series on Monday morning. For roughly an hour, a few dozen lucky listeners were regaled with stories from the band's past, peppered the group with questions and talked a bit about the band's tenth studio album "Hardwired…To Self-Destruct" due November 18th.
The session was even more of a promotional tool for the band whose 'Mandatory Metallica' channel begins running live to coincide with the airing of the Town Hall Special on Wednesday, November 16th- in celebration of the new album's release. Hosted by longtime rock journalist and Rolling Stone contributor David Fricke, the sixty minute interview session was certainly an informative one for fans who learned firsthand of the admiration and respect that the four musicians have for one another. Applause rang out immediately as James Hetfield, Lars Ulrich, Robert Trujillo and Kirk Hammett entered the diminutively sized glass cube studio, inside which some two dozen loyal fans would patiently surround the group.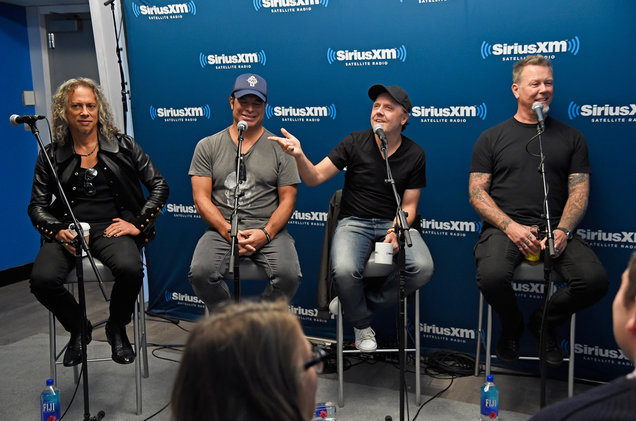 Though the band took turns answering the typical fan questions- young bands they now endorse, funny stories when being approached by overzealous metalheads and the ability to go back in time and change their paths- Fricke masterfully directed the conversation toward more interesting dialogue.  While each member took turns at the helm, it was unsurprisingly Hetfield and Ulrich that steered the ship for the most part, often causing much of the room to erupt in laughter.  Among the many nuggets gleaned from the conversation, we learned of Fricke's affinity (and the band's agreement) for the group's much maligned collaboration with the now deceased Lou Reed on 2011′s commercially panned "Lulu" and plenty of intel on the new album and its creation.  But perhaps the most glaring piece of information taken from the session was watching the Metallica's ease with each other- their respect for each other as musicians and their genuine enjoyment during an otherwise tireless week-long run of promotional commitments.
The interview was a far cry from the squabbling band featured in 2004′s "Some Kind of Monster," where Metallica's future was clearly in question.  And today, eight years removed from their last studio album, it's possible that Metallica is as most cohesive as it's been a 35 year history replete with lineup changes, struggles with dependency and constant critiquing from fans who claim their images and styles have gotten softer.  If the newly released title track and subsequent "Moth Into Flame" are any indication, though older, the collective Metallica hasn't lost a step in carrying the torch as heavy metal innovators.
"Hardwired…to Self-Destruct," the tenth studio album from Metallica gets released on November 18th.  You can listen to the full SiriusXM Town Hall with Metallica streaming on their OCTANE channel and on 'Mandatory Metallica' (Channel 40) beginning on November 16th.
- Dave Gendelson
Related Articles
Share
About Author
(0) Readers Comments