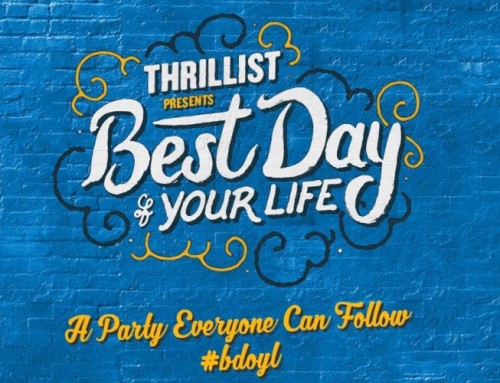 When you hear the name of an event entitled "Best Day of Your Life," that sets up a pretty high expectation of how the day should go.  Can it really live up to the name?  The team at Thrillist NY was certainly poised to find out by inviting a slew of guests to Brooklyn on Saturday for an afternoon of eating, drinking and experiencing some of the borough's finest spots.
Within five minutes of arriving to the event in Williamsburg, I started hearing someone shouting, "Who wants Joe's Pizza?" I look over, and people were giving out unlimited, free slices of the New York City staple. At that moment, I knew it was going to be a good day. Perhaps, the best.
Blog: Thrillist - Best Day of Your Life
Poised for a memorable afternoon, our team checked into Rough Trade at 1 pm to grab our badges and we were off to the races.  Our day-long food journey is outlined for your reading pleasure below.
Almost immediately we made a beeline for The Meatball Shop. As we walk in, one of the staff members asks, "Are you here for the balls?" Why yes, yes we are.
On the Menu:
"Classic Beef Meatball with Classic Tomato Sauce and Freshly-Milled Polenta"
The only natural next move was to hit up Crif Dog. Oh, those dogs. If I had only not been there earlier this week.
On the Menu:
"Regular Dog" with Unlimited Free Toppings (ketchup, mustard, relish, sauerkraut, raw onions)
Choice of a Drink
"Tater Tots"
We then head to Schmackary's for cookies the size of our faces. What a pleasant surprise to get to build our own cookies, although I think we went a slightly overboard on the toppings.
On the Menu:
"Birthday Cake Cookie"
Choice of Chocolate Frosting, Vanilla Frosting or Marshmallow Fluff
Unlimited Toppings of Sprinkles, Oreo Crumble and Fruity Pebbles
Time for drinks. We walk over to Black Bear Bar, and we're escorted to a back room where "Mustang Sally" is blaring. Hard alcohol and karaoke, an aggressive 4 pm, but when in Rome …
On the Menu:
Back on the food prowl- given that our outlet once named 
Rosarito Fish Shack
 the
finest "Fish Tacos"
in New York City, we were excited to see what they had in store for us. When we walk in, someone calls us over and pours us an margarita. Unfortunately the restaurant had run out of their
"Not White Fish Ceviche"
 with some thirty minutes left in the event leaving a slightly bad taste in our mouths, one that was quickly quelled by the tangy and ice cold frozen cocktail.
On the Menu:
"Rosarito Margarita"
"Not White Fish Ceviche"
Disappointed and ceviche-less, we picked a food spot next and The Burger Guru did not disappoint. The back patio was a nice spot to take a break and eat our sliders and milkshake.
On the Menu:
"Short Rib Burger"
"Black and White Milkshake"
It made sense for our final stop of the day to be filled with pork. The Gibson, a classic whiskey bar, was hosting a pig roast, and it was a great way to end our Thrillist journey and longest Saturday of the year.
On the Menu:
"Pig Roast"
"Bourbon Sweet Tea"
Unfortunately, we missed out on some great spots –
Shelter – "Empanadas," Josh Cellars wine pairing
The Heatonist – Custom Bloody Mary Bar
Falcon Laundry – "Beef and Tomato Jam Sandwich," Jalapeno-spiked tequila cocktail
Kent Ale House – "Truffle Bacon Popcorn," Brooklyn Brewery beer
Output – "Fresh Sliced Fruit," San Pellegrino cocktail
The after party took place from 5-7 pm at Diviera Drive and included a special performance by electronic music duo, The Knocks, and a steady flow of drinks.
Props to Thrillist and the event sponsors – Brooklyn Brewery, Josh Cellars, T.G.I. Fridays, Timberland and San Pellegrino – for pulling off their 4th Annual "Best Day of Your Life." It was very well organized, a fun concept, and we are certainly looking forward to the next best day of our lives when summer 2017 rolls around.
- EB Atler

Related Articles
Share
About Author
(0) Readers Comments