With nearly a dozen New York City purveyors assembled, it became increasingly difficult to answer the bell on Sunday afternoon where lifestyle website Thrillist would host the 2016 'Taco Knockout' inside of the spacious Eventi Hotel. The 4th Annual TKO would welcome hundreds of revelers to load up on mixed drinks featuring Jose Cuervo tequila and ice cold cans of Modelo Especial and eat their way around two massive rooms before selecting the day's finest creation. A live DJ and drummer would be on display throughout the afternoon where a day of eating would eventually erupt into a festive dance party to the delight of the attendees on hand.
Strange as it may seem, traditional ingredients like chopped beef and cheese were mostly excluded from the festivities. In their place, chefs whipped up a variety of styles utilizing the likes of duck, turkey, pork belly, fish and even lamb as their protein of choice, surrounded by a litany of flavor-inducing ingredients.  Meanwhile, 'The Fear No Nachos" station allowed guests to build mammoth plates of with diced fried chicken, pork, bison bacon and even ostrich meat, layered with toppings from pickled cabbage and roasted corn to diced pineapple, cheese curds and ghost peppers.  With so many different tacos from which to choose, we never managed to even sniff out the "Nachos" table, aside from posing for photos nearby with a real-life 'Taco,' parading around the space and snapping selfies with excitable eventgoers.
Armed with a coin to vote for our favorite of the day's tacos, we began by slugging down pours of "The Mexican Mule" and "The Classic Cuervo Margarita" before setting out for the tasting tables.  Among our first stops was  at resident Eventi Hotel restaurant L'Amico where Chef Laurent Tourondel served up some deep fried "Crispy Black Bass Tacos" with layers of smashed avocado and a drizzle of charred tomato salsa.  The temperature contrast of chilled crunchy red radish straws and pickled cabbage enhanced the piping hot hunks of nicely seasoned fish encased in a soft corn tortilla.  Speaking of enhanced, Robert Austin Cho of Kimchi Smoke utilized a spicy smoked kimchi to really bring out some intense flavors from his 12-hour smoked brisket.  The "Austin Cho Tacos" showcased a sweet bourbon-chipotle sauce and a creamy remoulade to add some sweetness and richness to the already complex flavor profile.
Part of what made many of the restaurants stand out was a particular ingredient to complement each taco like Ho' Brah, A Taco Joint's  use of a blueberry BBQ sauce to highlight some deliciously beer-braised pork carnitas in their "Low Country All Star" (crowned the eventual TKO 2016 Champion) and Choza Taqueria's utilization of roasted guinea hen and a mole-spiced tortilla to serve their savory "Taquito de Guinea," two of our favorites from early on in the friendly competition.  Other places opted to eschew the idea of a taco altogether as Black Tree BK's "Duck Banh-Bao Taco" dished out some liver mousse and confit within a soft white sticky bun and The Nugget Spot's "Nugchos" served the equivalent of corn-coated chicken nuggets decorated with some Mexican flavors.  Heck, Empanada Mania would sandwich a full-on deep-fried chicken empanada inside of a crispy blue corn tortilla shell inventively.
For our money, the complex flavors unveiled by Swine's decadent "Pork Belly Taco" with lobster mousse and Campeon's "Smoked Turkey Taco" lacquered with a hearty mole poblano sauce were our favorite offerings, though narrowing our selection down to the day's best surely was a challenge.  As we continued to debate our choice, nearly a dozen dancers emerged near the DJ booth with faces adorned in 'Day of the Dead' style makeup, backed by a couple of stilt-walkers dancing in the background.  Guests stood marveling at the performance art taking place in front of their eyes, undoubtedly continuing to slurp down the afternoon's final drinks being poured while the lively music blared overhead.  After downing eleven different tacos (and a countless number of cocktails), we began to be inspired by the music ourselves – but alas, our stomping feet were better used to usher us out of the hotel altogether as the Thrillist Taco Knockout once again did its job.
- Jane Van Arsdale

Food Photos from Thrillist's 'Taco Knockout 2016′

Kimchi Smoke:  "Austin Cho Tacos" – Smoked Brisket, Smoked Kimchi, Bourbon Chipotle Sauce, Remoulade on Flour Tortilla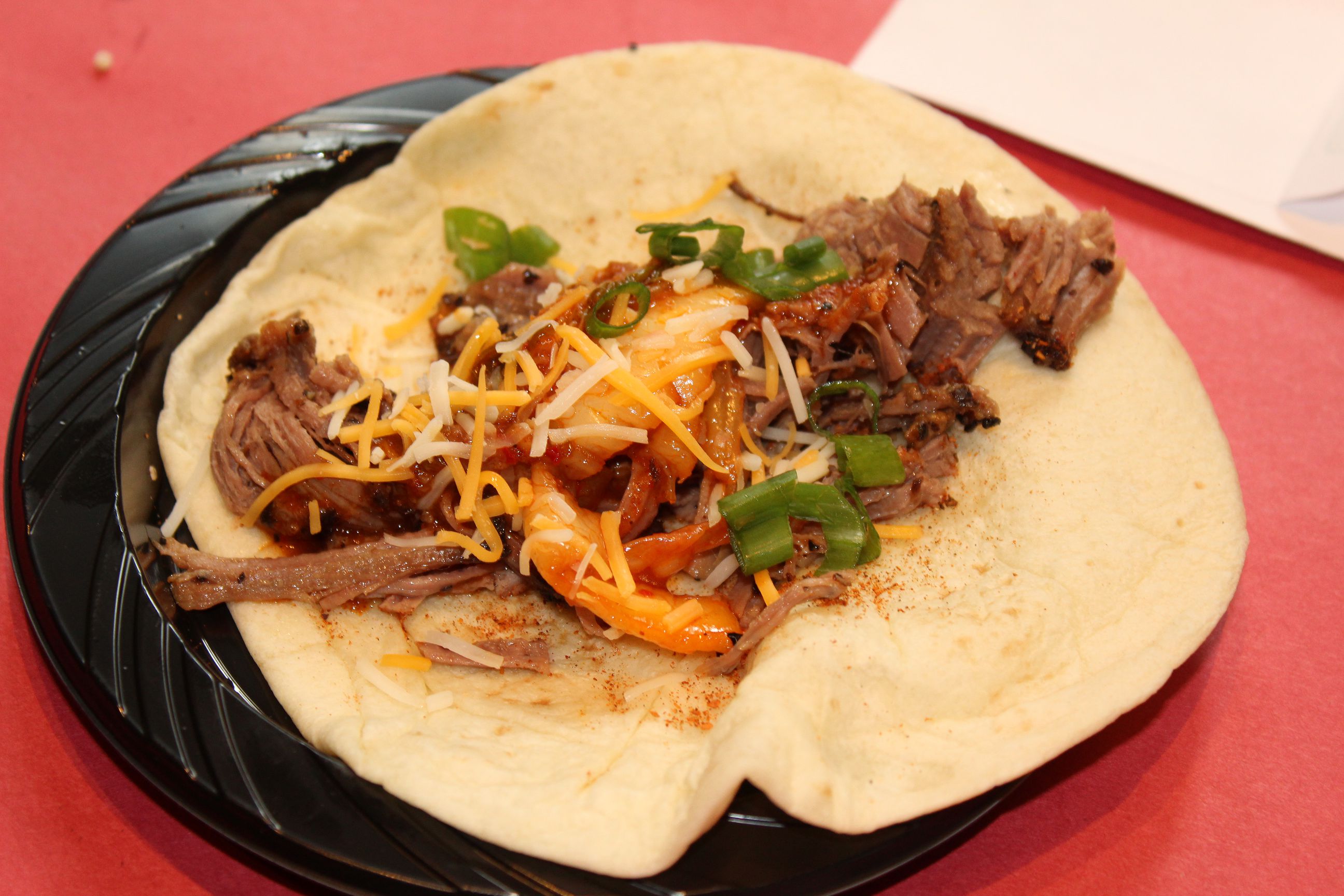 Campeon: "Smoked Turkey Taco" – Slow-Cooked Turkey with Mole Poblano Sauce, Tri-Colored Mayo Slaw, Avocado, Crispy Sweet Potatoes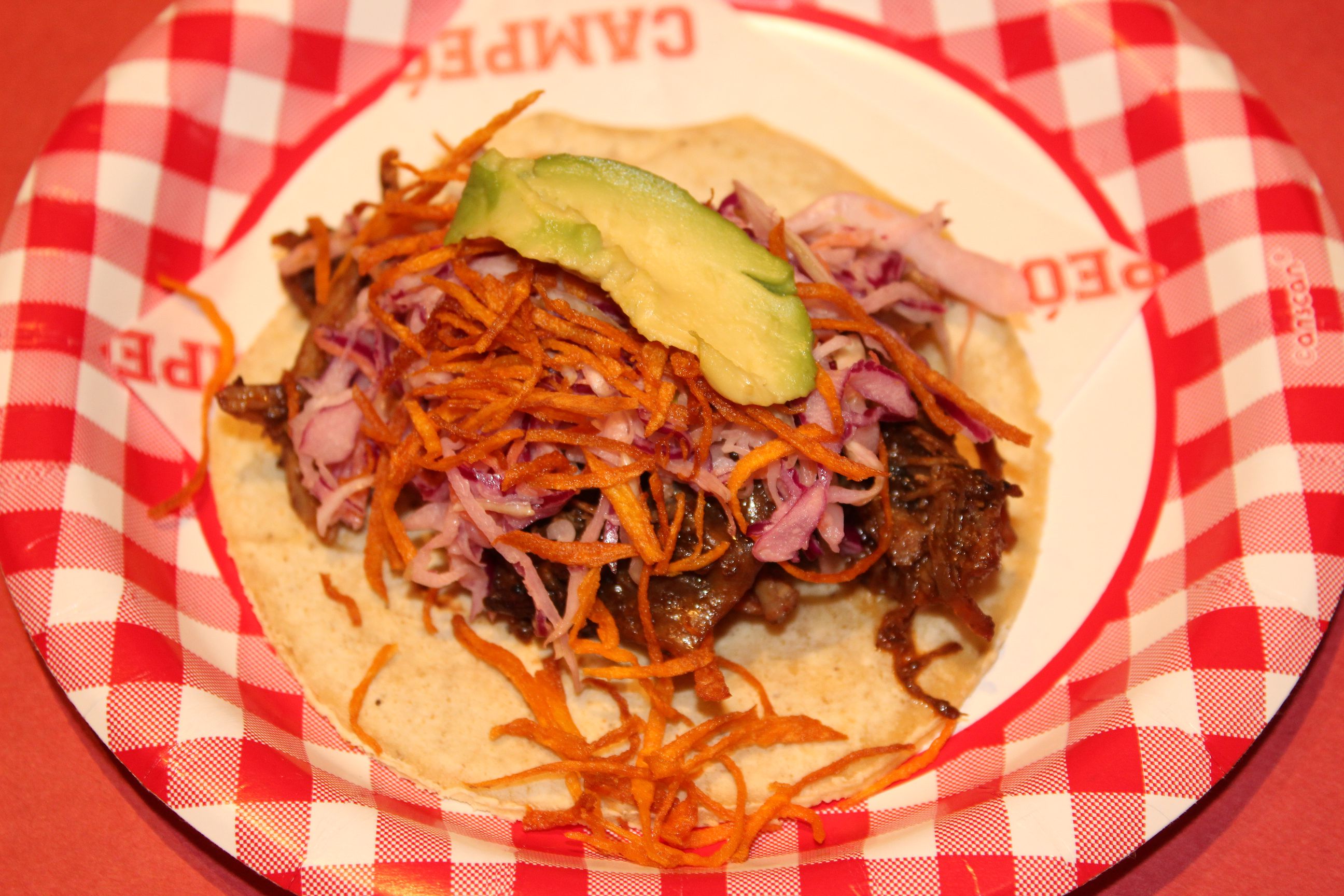 Tres Carnes:  "Smoked Short Rib Taco" – Coffee and Garlic Rubbed Short Ribs with Cilantro Chimichurri, Lime Crema and Pickled Cucumber Pico de Gallo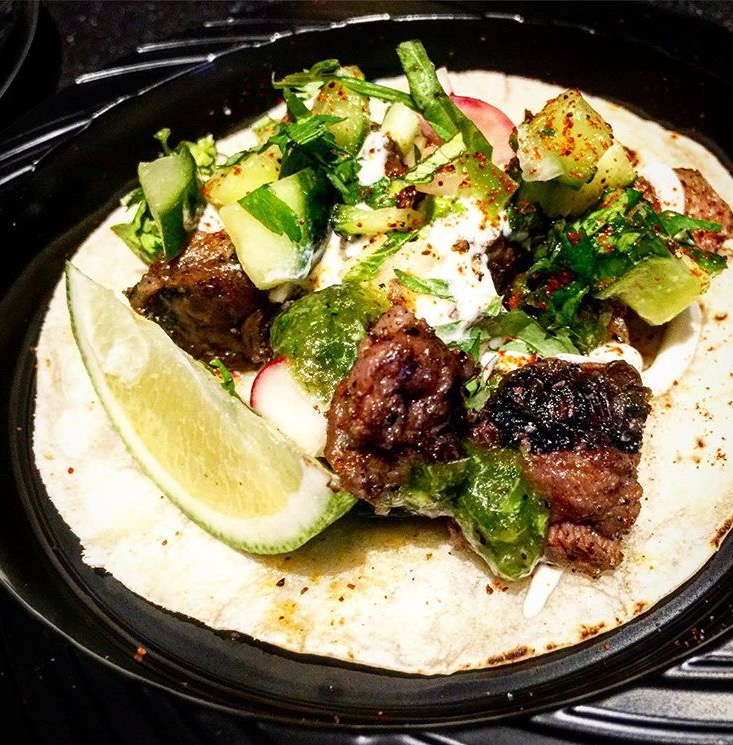 Ho' Brah, A Taco Joint:  "Low Country All Star" – Beer-Braised Pork Carnitas with Blueberry BBQ Sauce, Pickled Red Onions, Oaxaca Cheese and California Coleslaw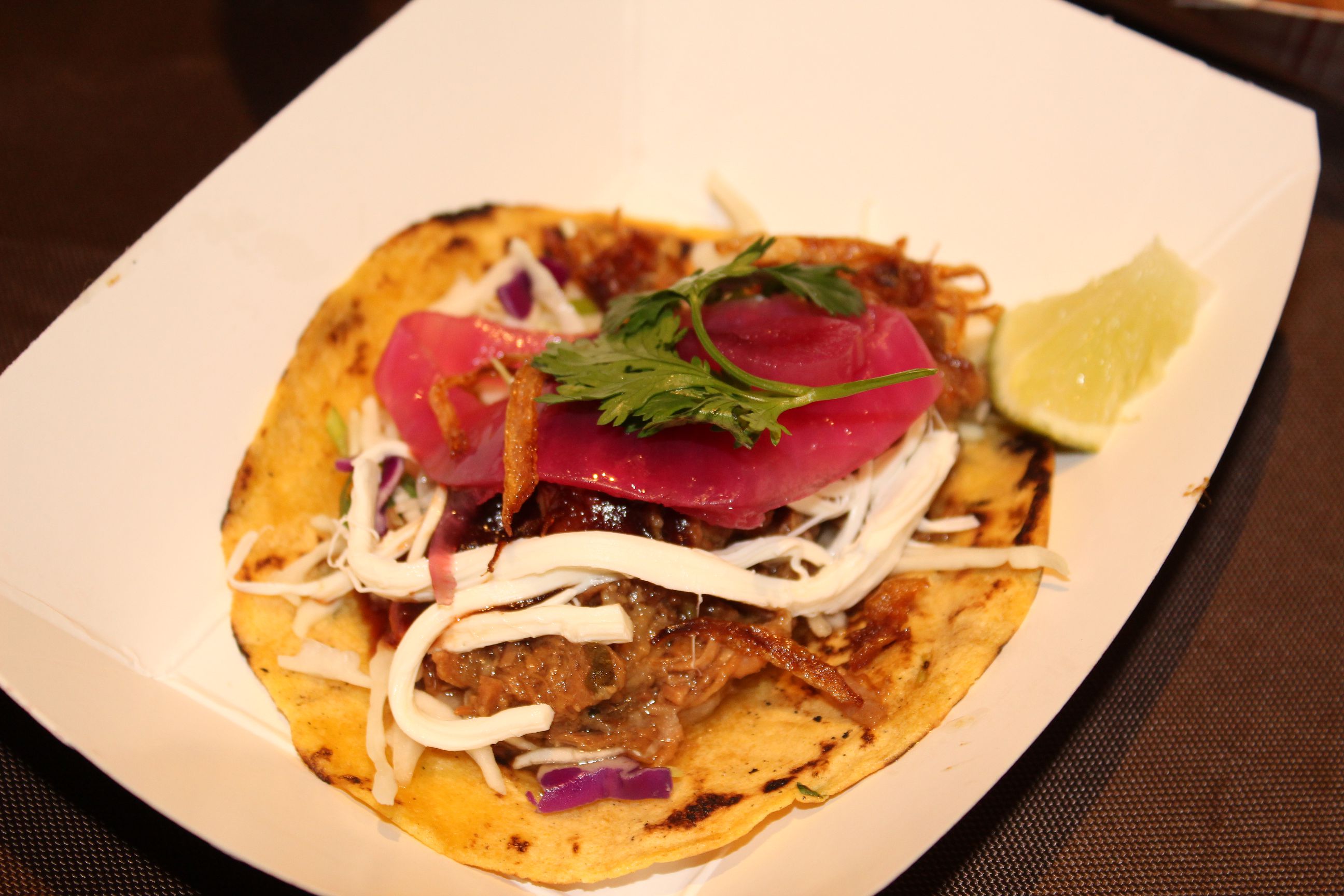 Anejo Tribeca: "Gyro Taco" – Lamb Meatball, Chipotle Harissa, Tzatziki, Pickled Red Onion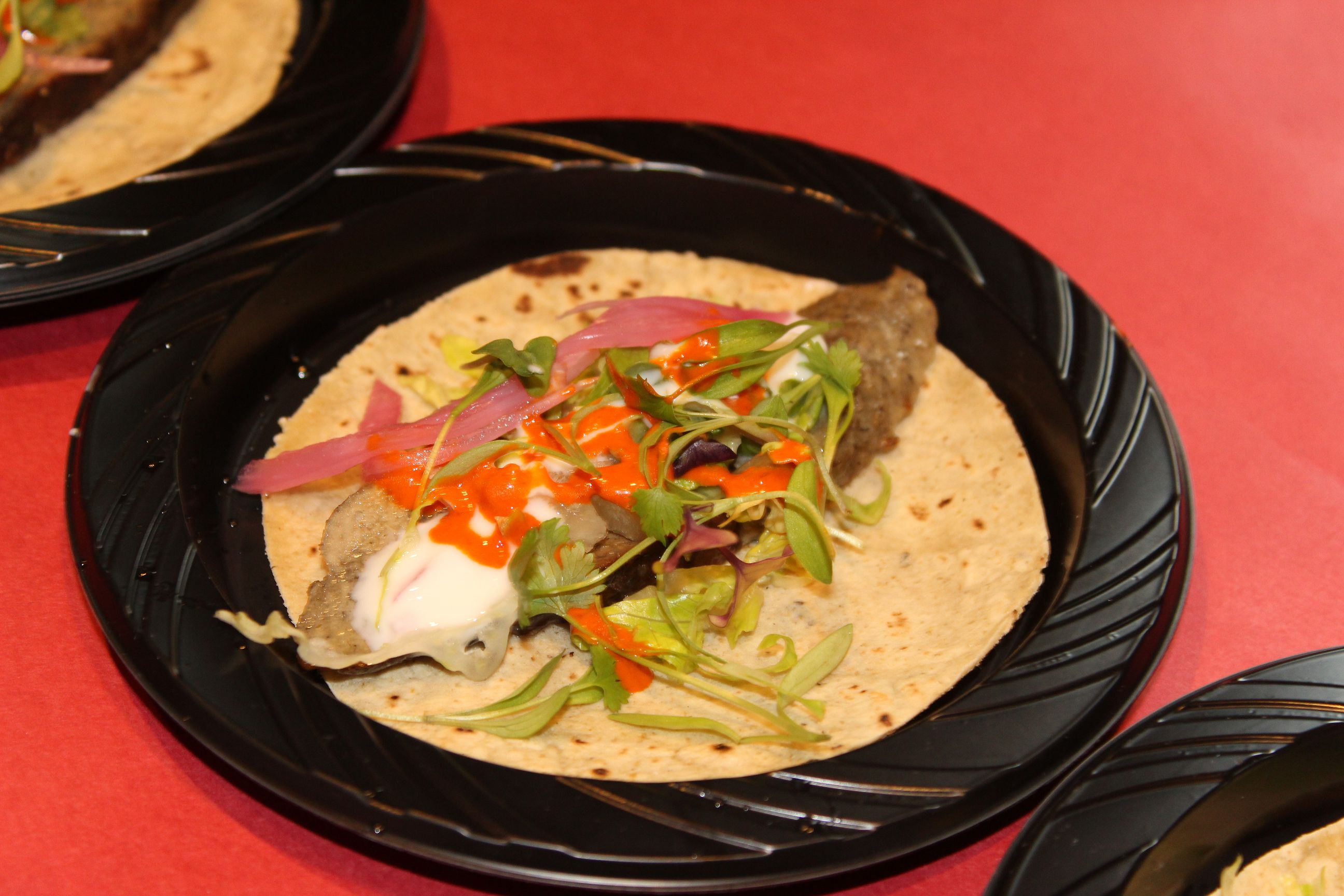 L'Amico: "Crispy Black Bass Tacos" – Crispy Black Bass, Smashed Avocado, Charred Tomato Salsa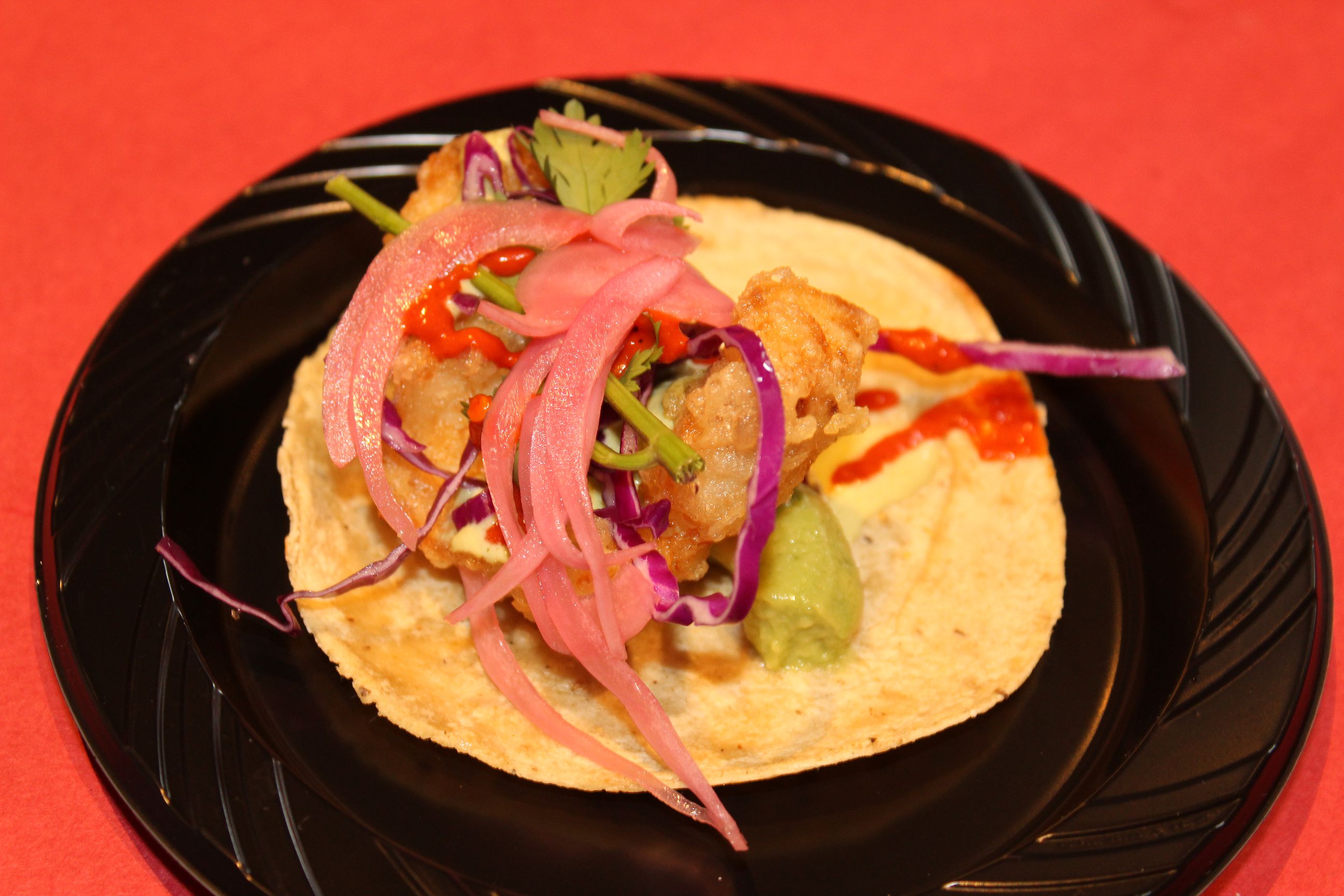 The Nugget Spot: "Nugchos" – Yellow Corn-Coated Chicken Thigh, Deep Fried, Pico de Gallo, Nacho Queso and Roasted Jalapeno Ranch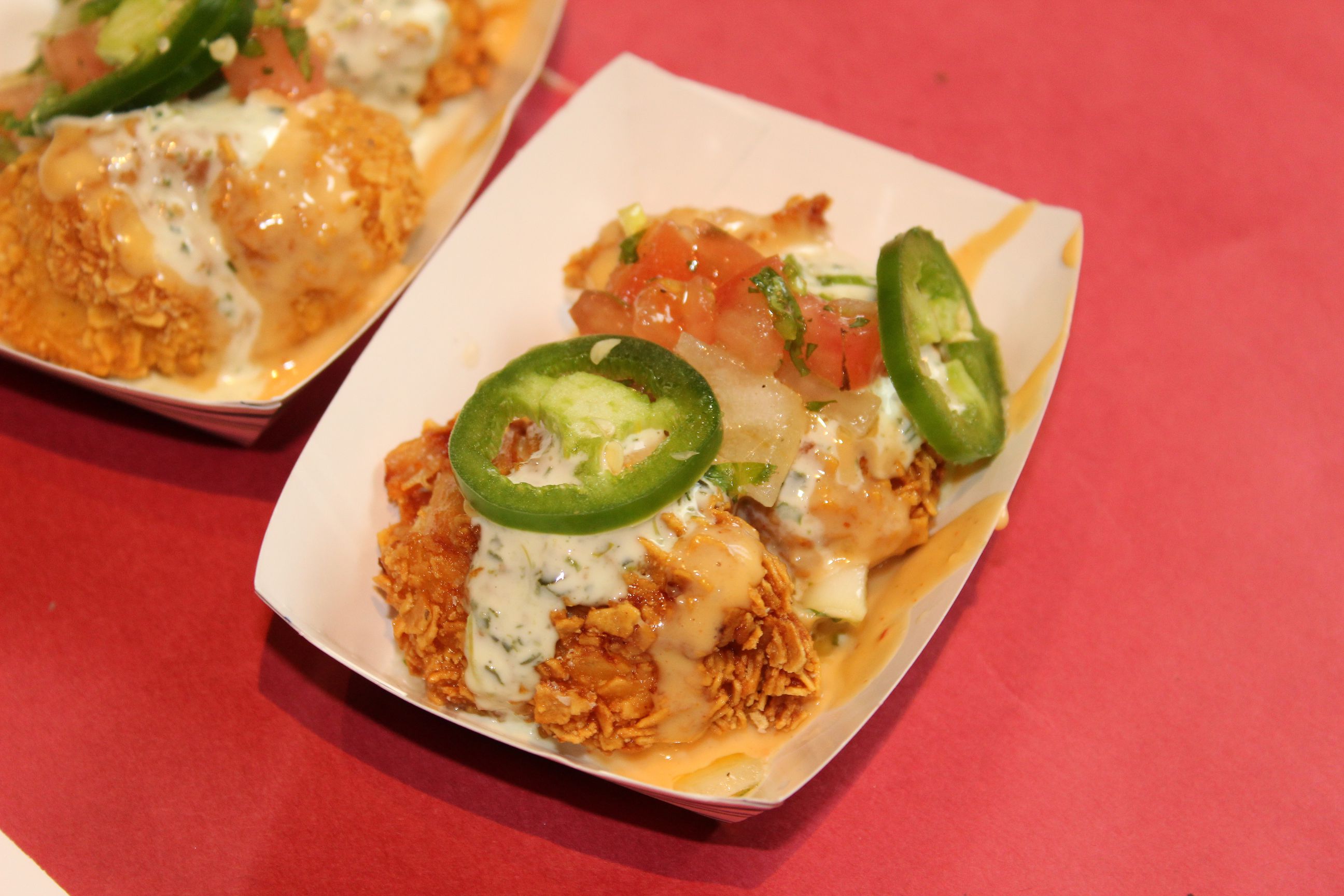 Swine: "Pork Belly Taco" – Pork Belly, Lobster Mousse, Finger Lime, Poblano Relish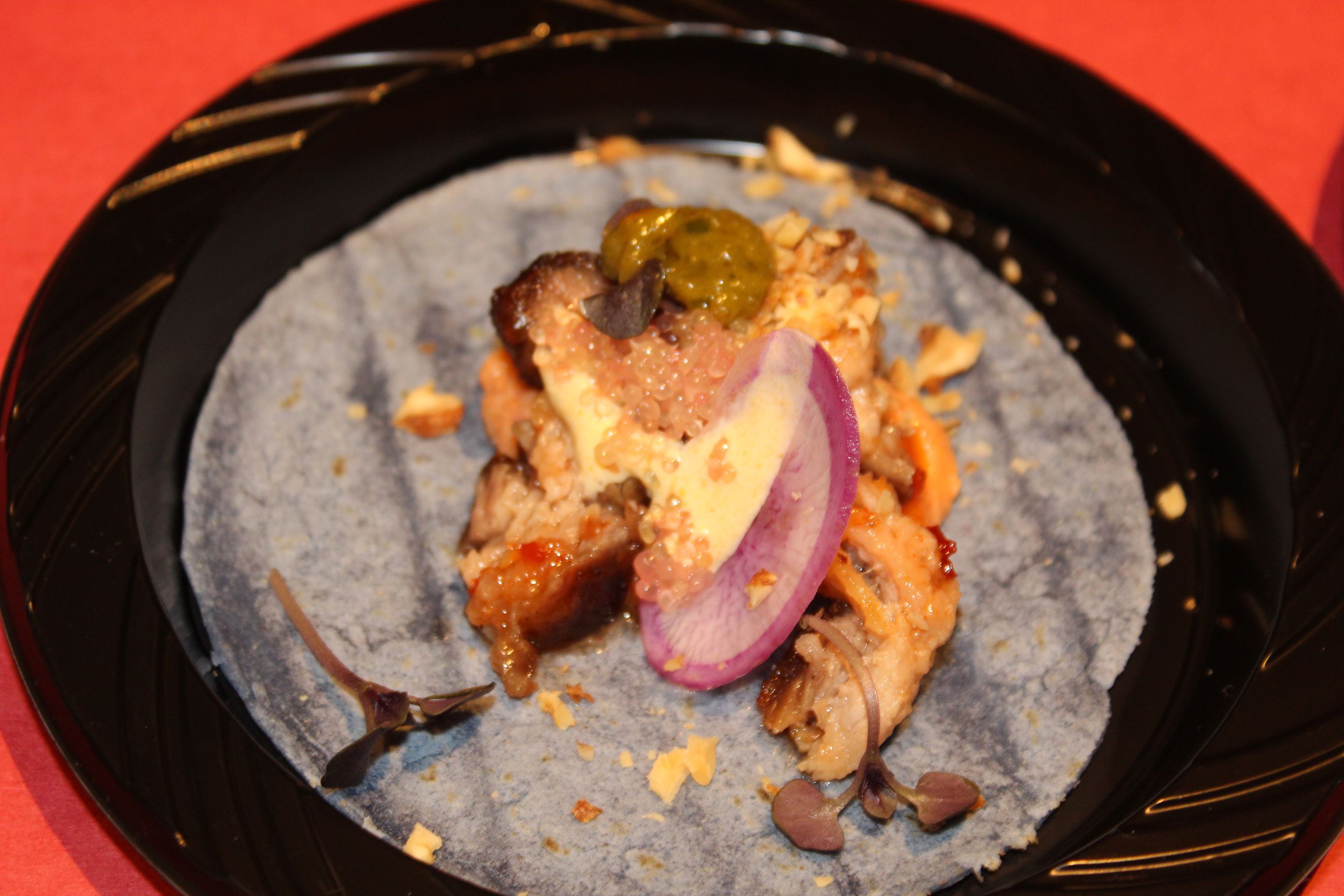 Choza Taqueria: "Taquito de Guinea" – Guinea Hen Rostizado, Mole-Spiced Tortilla, Queso Frito

Empanada Mania: "Chicken Taconada" – Chicken Breast and Colby Jack Cheese Empanada, Crispy Corn Tortilla Shell, Pico de Gallo, Chipotle Drizzle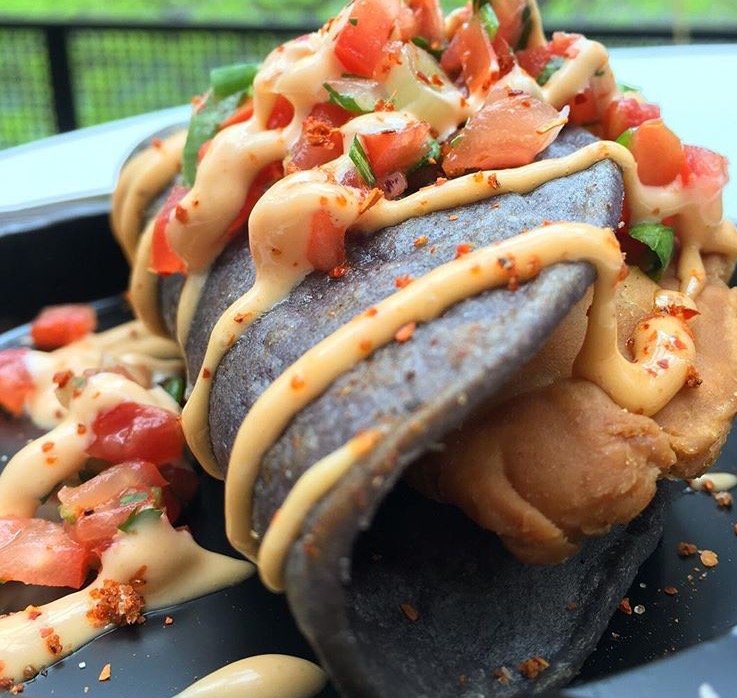 Black Tree BK: "Duck Banh-Bao Taco" – Liver Mousse, Rillette, Leg Confit, Spicy Aioli, House Pickles, Cilantro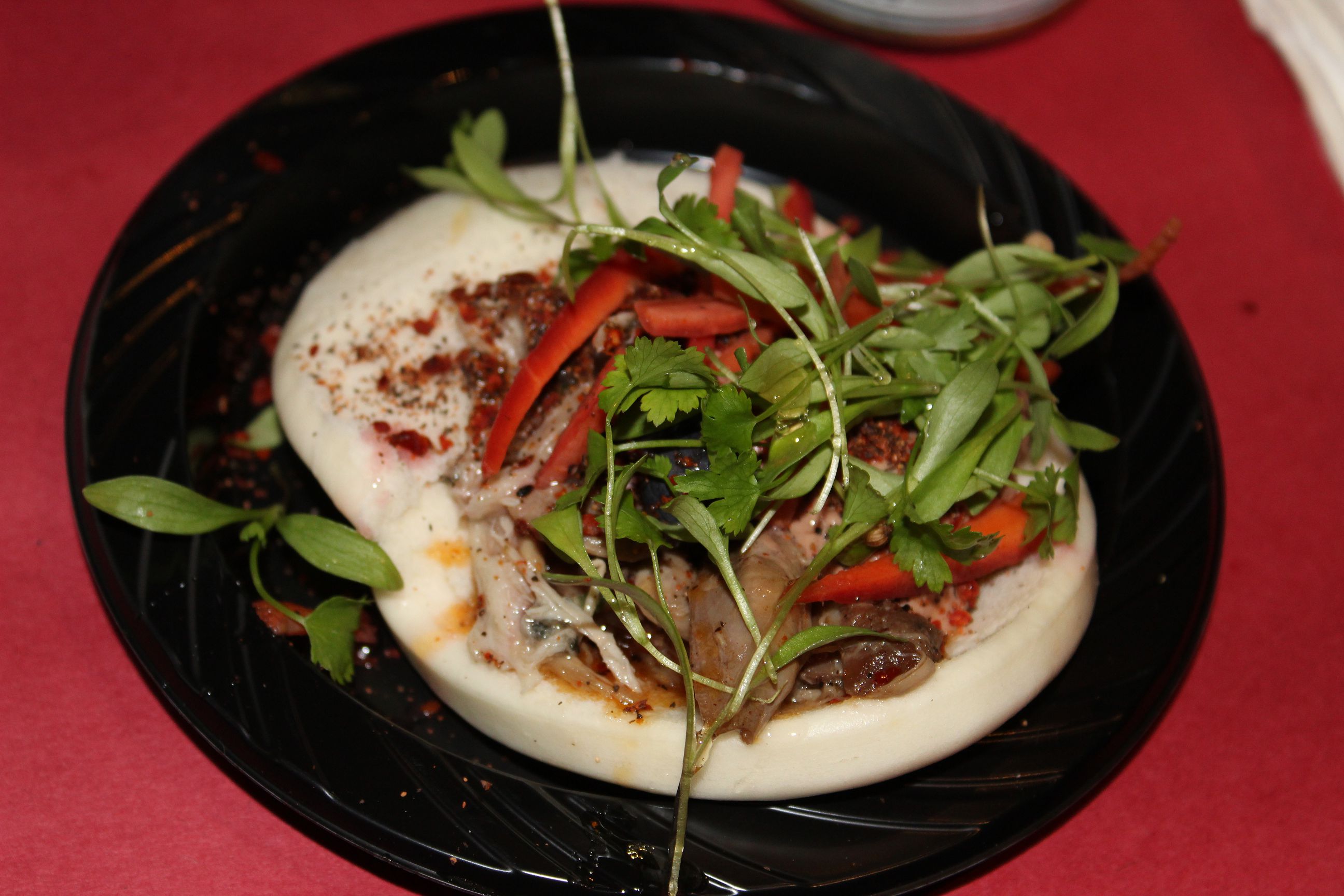 Related Articles
Share
About Author
(0) Readers Comments