They can be served piping hot or as refrigerated leftovers, perfect for breakfast or to be devoured in a stupor at a local diner in the wee morning hours after an evening on the town. And they can be equally as delicious when made in their most basic fashion or when they are layered with different ingredients created by some mad scientist of the culinary world. This past weekend, five different purveyors from Manhattan and Brooklyn would gather inside of a cozy corner space on the Lower Easy Side, each vying to be crowned winner of 'The Big Cheesy,' an affordably priced cooking competition with the top prize being named the day's best grilled cheese sandwich.
Hungry guests would file into each of the hour long sessions on Saturday and Sunday from 11am to 7pm showing the sheer versatility of the flexible comfort food. Coupled with beers served by Goose Island Beer Company, the $30 value for unlimited servings of savory sandwiches was virtually unbeatable given the differing styles and concoctions being plated during each action packed hour. Though finding seating inside of the diminutive space initially proved a bit challenging, part of the charm of the afternoon was ponying up to a nearby nook and digging into one of the competition's five offerings. Best of all, many of the vendors were virtual unknowns to the NYC everyman allowing most of us to be exposed to these talented chefs and their staffs for the very first time.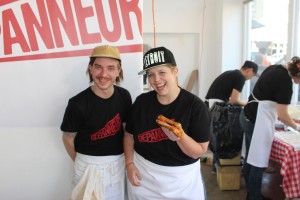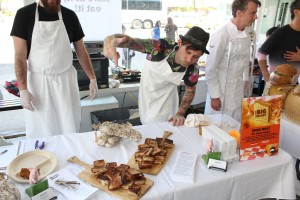 Williamsburg's Depanneur for instance, unleashed the very style of grilled cheese that we typically opt for with "The Spectacular Speck Tacular." Using three styles of cheddar and slices of heirloom tomatoes, the sandwich was enhanced by hunks of crispy cured speck. The salted meat and gooey blend of cheese dripped out along the toasted sourdough loaf, barely able to house the deliciousness that lay inside it's very bun making the very first sample that we enjoyed an early odds on favorite. Just steps away meanwhile, the "Panavia Tornado" courtesy of Bushwick's The Wheelhouse made our decision more of a battle than we would have previously thought. Drizzled with a sweet balsamic vinegar, the sandwich offered up smoked mozzarella and provolone, picked red peppers and a basil pesto with bits of pancetta inside of a Parmesan crusted ciabatta roll. The combination was probably the richest of the afternoon with such an array of ingredients fighting for the attention of our tastebuds with each passing chew.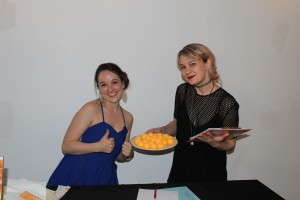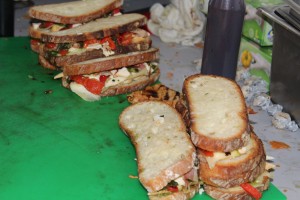 Artisanal of Murray Hill was the restaurant that stuck closest to the script of a traditional grilled cheese sandwich. "The Classic Artisanal" blended a whopping five different cheeses including Gruyere, fontina and Beaufort deliciously pressed into sandwich form just aching for a hot bowl of tomato soup for dipping. While the team from Artisanal offered the unmistakable and timeless version, Campbell Cheese & Grocery and Ends Meat prepared styles that were so packed with tasty accoutrements, they may not have been considered 'grilled cheeses' at all. At Williamsburg's Campbell Cheese, their "Jalapeño Ham" was loaded with sliced ham and spicy jalapeño slaw, decorated with a creamy berbere mayo spread. Not to be outdone, Ends Meat of Sunset Park is typically known as a salumeria- so it was no surprise then that their offering, "The Lonza Ranger," contained a coriander and juniper cured loin of pork and a spicy and spreadable salami. Granted there was also a preponderance of Saxelbys Cabot cheddar and alpha tolman cheese thrown in to balance the meat-fueled helping, served on a Danish wheat porridge Pullman loaf.
Yours truly and our house photographer were noticeably torn as we scored points for style, ingredients and adherence to the general idea of a 'grilled cheese' in its truest form. Superseding all however, was taste and with that in mind Deppaneur would take home this writer's vote and The Wheelhouse would earn similar praise from our assistant staffer.  Votes would be tallied at each session throughout the weekend, but lets be honest- each of the five restaurants were equally worthy of praise because most guests would leave the sessions with smiles on their faces and every single person filing out of the space at 168 Bowery most definitely would leave entirely full.
- Jane Van Arsdale

Food Photos from The Big Cheesy 2016
Depanneur:  "The Spectacular Speck-Tacular" – Crispy Speck, Three Farm-Fresh Cheddars & Hudson Valley Heirloom Tomatoes on Toasted Sourdough

Ends Meat: "The Lonza Ranger" – Saxelby's Cabot Cheddar and Alpha Tolman Cheese, Lonza: Coriander & Juniper-cured Pork Loin Aged 6 Months, Calabrian Style Spicy Spreadable Salami & Chicken Shmaltz on Danish Wheat Porridge Pullman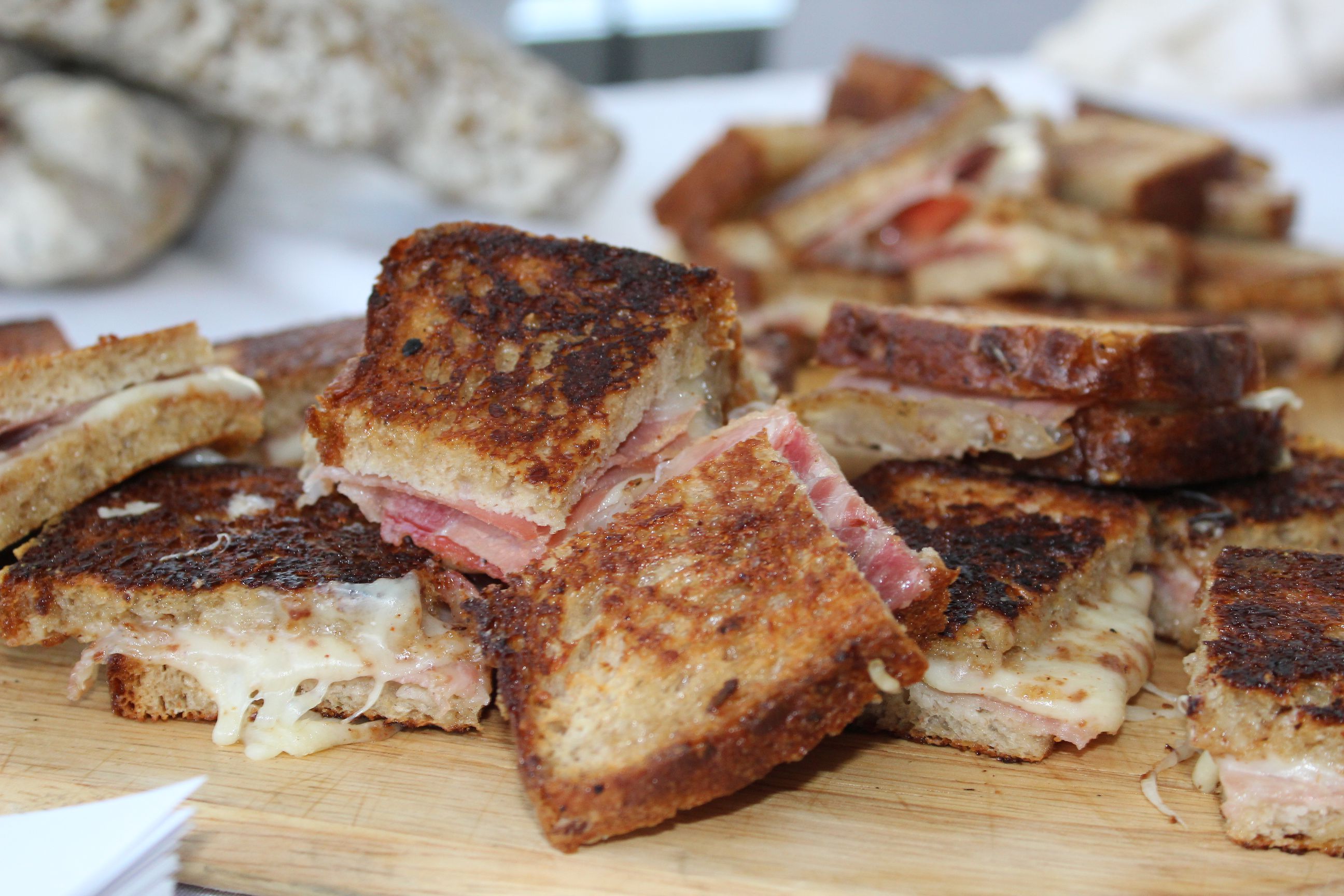 The Wheelhouse:  "Panavia Tornado" – Smoked Fresh Mozzarella & Provolone, Pickled Fire-Roasted Red Peppers, Basil Pesto, Balsamic Glaze & Pancetta on Parmesan-Crusted Ciabatta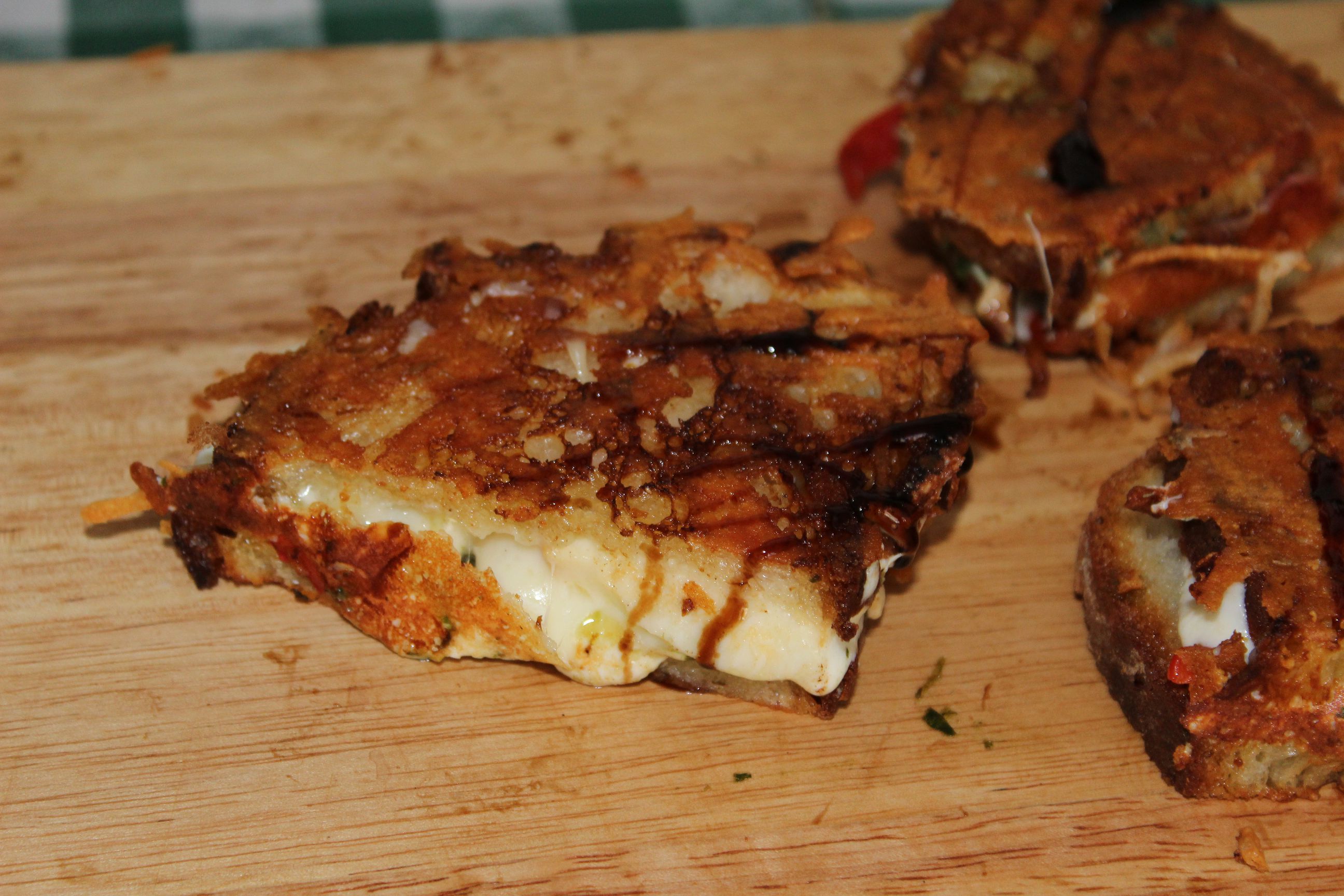 Campbell Cheese:  "Jalapeno Ham" – Berbere Mayo, Jalapeno Slaw, Ham, Cheddar and Gruyere on Ciabatta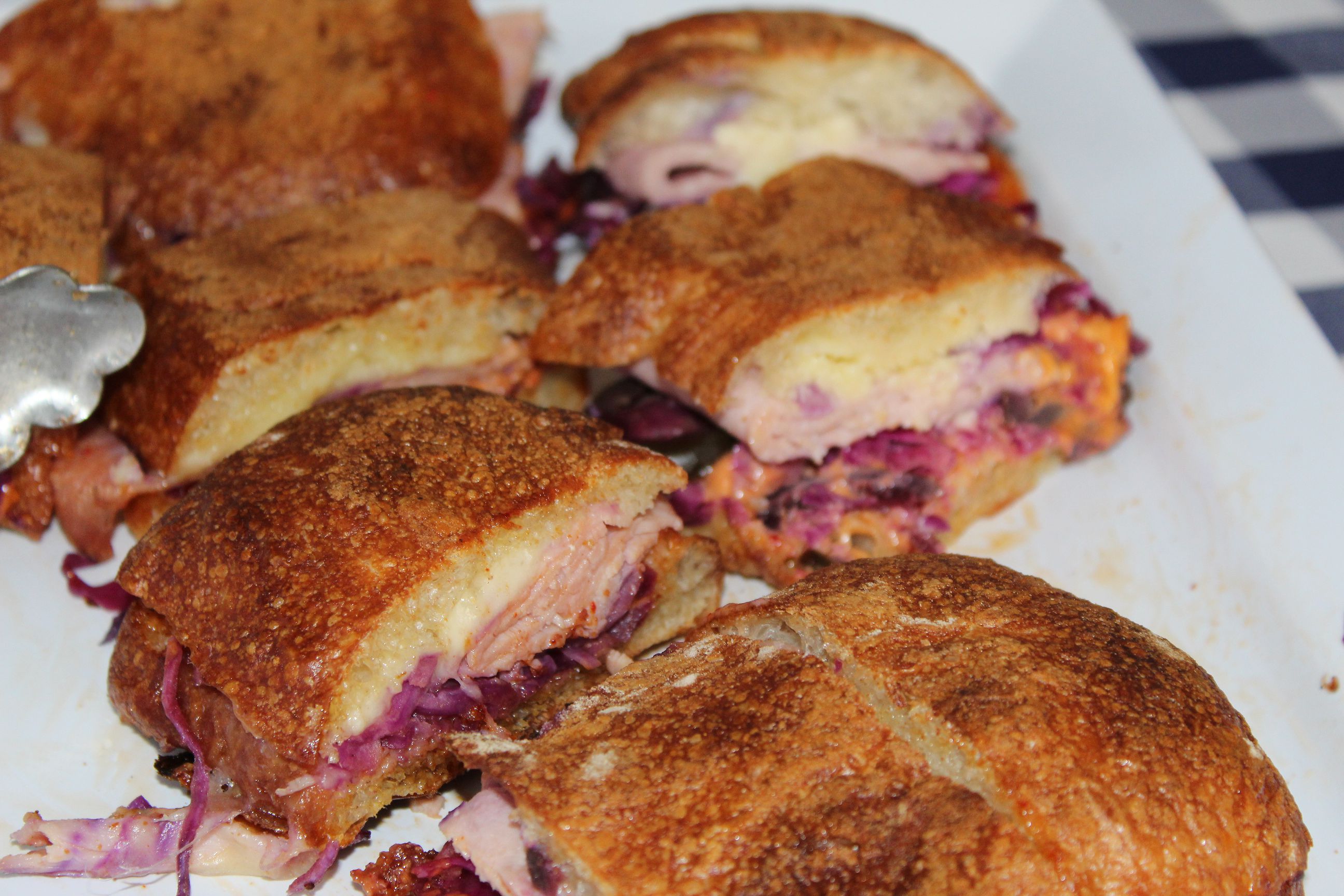 Artisanal: "The Classic Artisanal" – A Blend of Gruyere, Comte, Fontina val d'aosta, Hoch Ybrig & Beaufort

Related Articles
Share
About Author
(0) Readers Comments