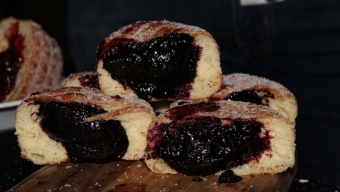 Blog: TONY Dough Fest 2016
In recent years, New York City has played host to niche food tasting experiences of all kinds- ones boasting everything from burgers and briskets to Brunches and soups.  It's only fitting then that in the home of such excesses, a donut-based festival emanate from our friendly confines.  With that in mind, Time Out New York would spend much of Saturday taking over the usually clubby atmosphere of Chelsea's chic Marquee space for three separate sessions in celebration of Dough Fest, a ninety minute tasting experience that combined some sugary eats, refreshing drinks and a smattering of dancing drag queens to boot!
We joined a line filled with guests in anticipation of the day's first session, slated to kick off at 10:30am.  Though the start time may have been a bit early for slugging down shots of Bailey's Irish Cream or bottles of Tsingtao beer, the venue's dim lighting set amid the backdrop of a playlist filled with familiar hip-hop jams did plenty to make us forget about the fact that daylight still awaited us outside at the end of our ninety minute food tasting.  A curated showcase of selected doughnut shops and bakeries would await patient folks, though the sheer array of pastries being offered would prove challenging for even the hungriest of attendees to taste everything being plated.
Six local purveyors would be on hand serving up doughnut halves, holes and even full-sized offerings inside a the two floor space, surprisingly crowded considering the weekend morning's early start.  Guests immediately flocked to Underwest Donuts, where the shop located in a car wash on the West Side Highway would serve two of the day's finest options from the get go.  First, the "Carwash," a marvelous mixture of lavender and vanilla doughnut cake, carefully outfitted with three different color stripes was essentially brilliant.   Each fluffy bite was subtly sweet without being tooth-chattering and was light enough to enjoy without feeling gluttonous.  Equally as satisfying was the store's "Maple Waffle" offering, definitively sweeter than its predecessor, but charmingly garnished with bits of waffle crunch and a tiny waffle triangle atop a nicely glazed circular doughnut.
Speaking of maple, The Doughnut Project of the West Village served up a "Maple Bacon Bar," a thick white glazed cake topped with a thin and crispy strip of bacon.  The familiar flavor combination of salty pork and syrupy cake was especially satisfying, despite the presence of other notable offerings "The Bronx," an olive oil and black pepper decorated cake and "The Costanza," an decadent yellow doughnut salted by a chocolate exterior and adorned with buttered pretzel, potato chip and ritz cracker crumbles.  Fortunately, the friendly team from SweetLeaf Coffee was located right nearby with pours of their "Rocket Fuel" to pair with many of the rich desserts being doled out.  The powerful and other-worldly concoction meshed cold brew iced coffee balanced with a touch of Vermont maple syrup, milk and a splash of Bailey's for an additional kick in the pants.
As attendees stood in the center of the action on the first floor watching the house DJ work the mix all afternoon long, several folks dressed in drag would perch themselves on either side of the room overhead, providing some eye-catching fodder for guests to watch as they dunked their assortment of Mike's Donuts into some coffee or scarfed down a "PB&J Donut" courtesy of Leske's Bakery.  Of the samples that we inhaled during the afternoon, our hands down favorite was the two-bite sized "Brown Butter & Fleur De Sel" served courtesy of David Burke Kitchen.  Sized perfectly to enjoy one (or four), a thick layer of rich frosting was spread evenly over the top of the soft and delicately dazed mini-doughnut, managing to taste both complex yet still dangerously light.
With time in the day running down, we capped our afternoon off by grabbing two of Orwasher's Bakery's "Sugar Donuts," both overloaded with heaping amounts of fruit-fueled jelly.  The "Black Raspberry" style showcased some Beth's Farm Kitchen Jam literally oozing out of the center of the soft yellow cake, sprinkled traditionally and liberally with tiny beads of white sugar.  Each mouthwatering bite brought us closer and closer to our breaking point and a final napkin wipe of jelly from the face was the metaphorical waiving of the white flag for the afternoon.  The temptations inside "Dough Fest" were literally too much to bare and seemingly just as soon as we had arrived both hungry and excited, it was time to head out- now filled to the brim and completely amped up on sugar.  Fortunately for us, it was barely even lunch time- and the rest of our weekend in Manhattan still lay ahead.
- Jane Van Arsdale

Food Photos from Time Out NY 'Dough Fest' 2016
Underwest Donuts:  Passion Fruit, Maple Waffle & Carwash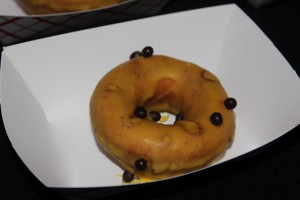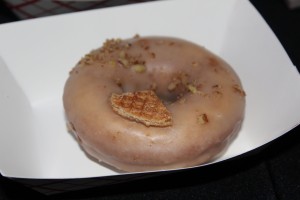 Mike's Donuts: Variety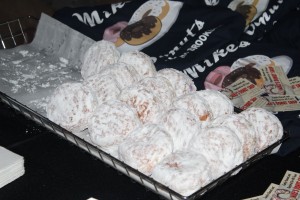 David Burke Kitchen:  Spiked Raspberry Limoncello, Brown Butter & Fleur De Sel

The Doughnut Project:  Bacon Maple Bar, The Bronx & Costanza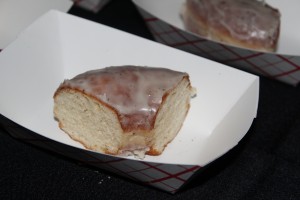 Orwasher's Bakery: Black Raspberry Sugar Donuts & Strawberry Sugar Donuts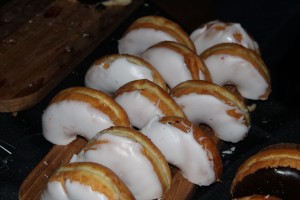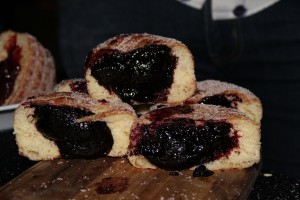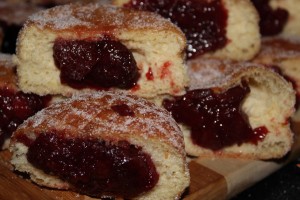 Leske's Bakery:  PB&J Donut, Donut Holes with Tsingtao Beer Cream

Related Articles
Share
About Author
(0) Readers Comments