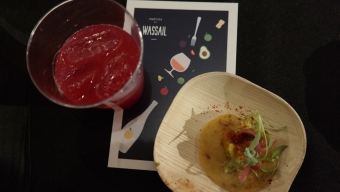 The line leading into La.Venue was filled with scenesters ready to turn a blustery March evening into a celebration of the changing season with the help of Edible Manhattan's Good Spirits. Inside the warm and rustic-industrial two-room event space, dozens of local New York City restaurants and liquor purveyors were preparing to serve food and cocktail pairings that largely reflected the upcoming warmer months, while providing enough hearty fare to appease even the hungriest of eaters.
"Good Spirits" has become one of Manhattan's most anticipated events in recent years, mostly because of the quality of restaurant participants the folks at Edible have been able to recruit.  Thursday evening's festivities were again no different as guests noshed on delicious offerings like Almond's "Cured Ham with Sherry Honey Glaze and Pickled Chili," a lightly spicy bite of freshly sliced cured ham and Monument Lane's similarly balanced "Bourbon-braised Pork Shoulder," topped with spicy pickles in a way that would make a mean sandwich combination. Nearby, The Wren, known mostly as one of Manhattan's finest cocktail bar, plated a "Tomatilla Braised Pork" with salsa verde, pickled onions and crispy jalapenos. These three plates showed off great culinary range despite their similar ingredients, and their cocktail pairings were just equally as noteworthy. Brooklyn Gin's "Blood Orange and Rosemary Gin and Tonic" was a spritzy and refined version of the classic. The Wren's "Emerald City" was one of my favorite cocktails of the night, made with gin, dandelion-cilantro syrup, jalapeno and lime juice.  Though a bit on the sweet side, the jalapeno and cilantro garnish created an herbaceous nose that cut through and complimented the blend.
One of our favorite (and hardest to grab) plates of the night was one that actually didn't require a plate at all. L&W Oyster Co.'s "Tiny Oyster Tacos" highlighted a smoked and cornmeal-fried Virginia oyster with a bit of apple-mint slaw and roasted garlic aioli. Had it not been for the lineup awaiting each batch, we might have tried to snag a second of these. We paired ours with Owney's Rum – made at an all-female run distillery – with a dash of bitters. Next to the summer friendly oysters was a warming "Lamb Merquez" from Bustan NYC. We happily grabbed some crusty bread from Orwasher's Bakery to help soak up the spiced black beluga lentils and white bean and spinach stew, deciding that hearty dishes like this one was one redeemable quality of the cold weather month.
With that in mind we sought out one more warm dish,  and waited for Louie+Chan's "Madeira Braised Beef Cheeks" that quite literally disappeared as soon as they were placed on the table. Atop a creamy bed of lemon-scented polenta, the tender beef cheek fell apart delicately but had a bracing amount of spicy fried garlic. Meanwhile at the next table over, Dizzy's Club Coca-Cola offered up a "Katchkie Farm Pork" over a bed of jambalaya, a filling bite appropriate for the jazz club. The pairing from Cocktail Courier, a service that delivers cocktail recipes and ingredients to your door, was the "Dizzy Little Mule." A play on the classic Moscow Mule, Cocktail Courier pepped things up with passion-fruit puree and Guajillo chile. More sweet than spicy, this would be an easy and impressive drink to make at your next warm-weathered party.
Our other favorite "put-it-on-the-summer-drink-list" offering was Suerte Tequila's Blue Agave Nectar and Grapefruit Juice."  Simple, refreshing, and pretty to boot, this drink was a more refined and slightly more adventurous Greyhound (replacing tequila for vodka) for those looking to take it out of neutral. It was paired with the equally as pretty lightly cured "King Salmon Crudo" from Neuman's kitchen. With sunflower gremolata, grapefruit citronette and fennel, I was worried that the salmon would be overpowered by the spicier aspects of the dish. I was delightfully surprised to find that these flavors were mellowed, maintaining and highlighting the integrity of the fish. And I don't even like fennel. The Penrose also managed to let salmon shine with their delicious "Poke" served with Asian-inspired shishito peppers and topped with puffed rice that provided a necessary crunchy texture to balance the tender fish. While not technically its pairing, we also enjoyed Manhattan Cricket Club's "Tommyrotter Collins" with lemon, agave, and mace blade to cleanse our palate before moving towards the dessert offerings of the night.
The most delightfully sweet beverage we had was Nobletree Coffee's "Dromedaire Cuvee Iced Coffee," prepared with Rapadura sugar butterscotch. A vertically integrated company, Nobletree grows and sources its own beans but unfortunately does not yet offer the delicious beverage we enjoyed in stores…yet. Across the room, Royce's Chocolate provided a delightful array of sweet-tooth satisfying chocolates, including their "Nama Champagne" and "Nama Macha" melt-away chocolates. Their most addicting offering was a white chocolate covered potato chip, which maintained its crispiness under its candy coating. We snagged the very last "Shiny Apple Cupcake" from Prohibition Bakery, a tiny sweet bite made with moonshine and spiced apple cider, topped with a crispy lace of cheddar cheese. We ended the night on a less sweet but equally comforting note with Redfarm's "Chiht-Cha Toddy" made with George Dickel Rye, Benedictine, honey, ginger, lemon and Osmanthus Oolong Tea. Herbacious, spicy, and sweet, this drink is perfect for a cold day or a day with a cold. It was also perfect for toasting another successful night before headed back out into the lingering winter cold.
- Mallory Sullivan
Related Articles
Share
About Author
(0) Readers Comments