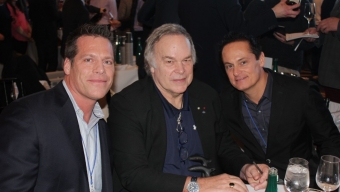 Blog: Matter of Taste 2016
As if the views of the Columbus Circle fountain from the 36th floor of the Mandarin Oriental hotel weren't quite exquisite enough, they managed to be enhanced by a chic and refined tasting event happening right inside the posh ballroom space.  Presented by Robert Parker's Wine Advocate, 2016′s "Matter of Taste" would bring together some of the world's most widely lauded winemakers and more than 180 different wines- each of which is rated RP 90 points or higher- for an unparalleled grand tasting affair.  Though wine pairing dinners at some of Manhattan's finest restaurants would certainly punctuate the excellence of the annual weekend, Saturday afternoon would culminate in four hours of delicious wine tasting, where an empty wine glass and a commemorative tasting booklet would go hand in hand in guiding guests direction around the spacious setting.
The wines specifically chosen to be poured at "Matter of Taste" were carefully rated and selected by nine Wine Advocate Reviewers, including Robert M. Parker, Jr. himself- among the world's foremost authorities on critiquing terrific wines.  It is Mr. Parker's impressive reputation in fact that draws so many incredible wineries from around the world to New York City for the weekend, where wines from Portugal, Australia, France, New Zealand and Argentina are poured alongside some of the finest in the States.  We arrive just minutes after the day's 2pm start time to an already crowded ballroom.  Inside, the roomful of well-dressed oenophiles are alternating between chatting extensively with each winemaker and jotting notes down inside their tasting guides.  Here, there's more swirling and spitting than we're accustomed to seeing in Manhattan, a testament to the expert level of the clientele that attend "Matter of Taste," who seem to really enjoy discussing the wines more and more as the day unfolds.
Standing within earshot of these conversations proves to be most beneficial for the more casual wine drinker- the common folk who might opt for 'something white' or 'something red' rather than to understand the facts about growing climates and temperamental grapes that many of the folks inside seem to salivate over.  Fortunately though, these attendees are more than willing to share their suggestions and to guide other guests toward can't miss tastings- and most often, their palates are right on the money.  For instance, we would have likely been drawn to the M. Chapoutier table based on their incredibly high RP rankings (95 and above for each of their four wines) but at the urging of a friendly neighbor, we quickly sought out the 2012 "Ermitage Pavillon," (RP 100) an exceptionally delicious French Syrah/Shiraz blend from the Rhone.  Entirely approachable, the easy-drinking red was both delicate and smooth from its decisively smoky nose through its lingering finish.
Considering our unabashed love of Pinot Noirs, it was nice to spot the familiar label of Sonoma's Sojourn Cellars along our route.  Though their 2013 "Gap's Crown Vineyard Pinot Noir" (RP 95) is among our favorite California reds, their 2013 "Durell Vineyard Chardonnay" (RP 95) was equally as tasty.  Pleasantly full-bodied and replete with big pear flavors, this was another very approachable wine, especially for those who typically might eschew oaky Chardonnays; there were scant traces of such barrel aging here.  Redefining our typical palates for Pinot meanwhile, Patagonia, Argentina's Bodega Chacra poured their superb 2013 "Chacra Cinquento y Cinco" to the utter delight of our mouths and bellies.  Each zesty sip yielded a silky smooth flavor profile, well balanced between ripe red fruit and nice acidity despite being relatively young, as most others around us would also note.
Between tastings, guests were treated to a bevy of breads and cheeses appropriately spaced throughout the room allowing for savory pairings with the distinctive wines being poured.  The fare, coupled with bottles of Badoit sparkling water, would also ensure that despite all the delicious imbibing, attendees would be able to maintain their composure during the course of the memorable afternoon.  While we thoroughly enjoyed the likes of pours from Chile (2012 "Calyptra Sauvignon Blanc Gran Reserva," RP 91), Napa Valley (2011 "Bond Vecina," RP 94) and Germany (a fantastic 2007 "John. Jos. Prum Wehlener Sonnenuhr Aulese," RP 94), two standouts came from Australia and fittingly, France.
First, an immaculate 2010 "Shiraz Hill Of Grace" (RP 99) made by Henschke was perhaps the day's most well-balanced wine.  Deliciously dark fruits dominate the otherwise spice-filled pour, a full bottle of which retails at roughly $600 but pays for itself in its seemingly long endless finish.  To conclude our tasting experience, the 2009 "Chateau Ponet-Canet" is rated a perfect RP 100 for good reason.  Classically full bodied, the nose ranges from deep red cherries to cocoa to a subtle bouquet of spices while the complex taste unleashes a nice array of sweet vanilla richness amid another long satisfying finish.  Timeless.  A small pour of the finest port that we've ever enjoyed (2003 "Taylor Fladgate Classic Vintage Port," RP 95) left us completely satiated, not wanting to lose the lingering taste that our palates savored.
With nearly 200 highly rated wines from which to choose, only the most truly discerning of guests would bother searching for the flaws in so many impeccable bottles.  For the rest of us though, it was about reveling in tasting some of the very best wines ever produced, learning a bit more about the craft that goes into making them from the masterful winemakers themselves and enjoying the picturesque background setting of New York City's west side landscape with a smile from ear to ear.  It may have been a "Matter of Taste," but on Saturday afternoon all of our senses were feeling sublime.
- Jane Van Arsdale
Related Articles
Share
About Author
(0) Readers Comments