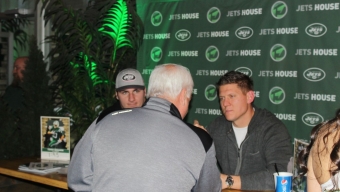 The main hub of New York City's most established sports bar franchise was fully adorned in green this weekend as pigskin fans from around the Tri-state area flocked into Manhattan to celebrate the 3rd Annual fan festival known as Jets House. Friday and Saturday would offer fanatical followers of Gang Green a multitude of different sessions to mingle with different players during interactive meet and greet sessions, grab autographs and take home some great prizes, all while reliving some of the team's most iconic moments inside of Chelsea bar The Ainsworth. With the Broncos and Panthers slated for battle in just under a week's time, it was nice to revel in the season's success of one of our local teams, who would barely miss out on the postseason despite a vastly improved 2015.
The Saturday afternoon session was packed from the get go, where fans young and old quickly gathered in line to meet kicker Nick Folk and fullback Tommy Bohanon, each of whom were stationed at the Jets House autograph booth.  Guests were received warmly and the players made sure to give ample time to the 'next man up' approaching their table.  Mere steps away, two beautiful cheerleaders from the New York Jets Flight Crew would be equally as engaging, with green and white pom poms in hand, happily smiling for photos with many excitable eventgoers.   Alternatively, attendees would have the option of hoisting on a Jets helmet and posing with a football in a nearby photo booth or standing beside the actual championship trophy from Super Bowl III, the one so famously earned by the guarantee of the legendary Joe Namath.
Game day fare was fittingly offered buffet style where the likes of mini hot dogs and chocolate chip cookies surely satiated a crowd hungry to over-stuff their rabid football-led appetites.  Those of us of age meanwhile were treated to a smattering of deliciously prepared signature cocktails, served up by the restaurant's talented staff of bartenders. Be it a delicious upside down Corona bottle jutting out from an ice cold margarita or a tasty "Jets Game Day" drink that meshed Midori Melon Liqueur and Jim Beam Apple , The Ainsworth's reputation for serving delicious drinks was never in question.  Grabbing green wax dipped rocks glasses as keepsakes courtesy of Makers Mark was one particular highlight- the other was the utilization of a virtual reality headset to experience a game day setting like never before. Used by the players to re-create an authentic in game experience, fans stood in awe as they enjoyed panoramic views of a stadium atmosphere all around them, coming out of the home team's tunnel with Jets players and throwing to an open receiver at practice as if they were a member of the actual team.  It was the kind of demonstration that would have most gaming and sports fans salivating, and it's one that the forward thinking Jets are currently using to prepare their players for an upcoming game even when away from the field.
Around the room, fans would spend time marveling at the display of player jerseys and team helmets and chatting with former superstars like Wesley Walker, who could be seen signing footballs for fans far too young to realize his stature.  Meanwhile, a lineup of jersey-clad attendees would form in front of a Jets prize wheel where an array of prizes could be won by guests with just a simple spin.  In fact, more than a few lucky winners could be seen walking around the room with "You Can't Catch Sunshine," the memoir of New York Jets receiving legend Don Maynard as a result of their turn on the wheel.  In all, the afternoon allowed us as fans to get a little bit closer to some of our favorite players throughout the weekend where the current roster and Jets former players would converge to give back to the avid fans that have unconditionally supported them year after year.  And for fans like us, just having the opportunity to share a room with them is as exhilarating as watching the team win.
- Dave Gendelson
Related Articles
Share
About Author
(0) Readers Comments