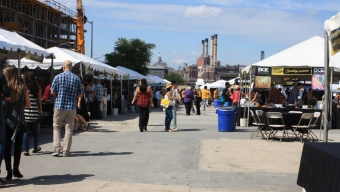 Celebrating it's 6th glorious year, Taste Williamsburg Greenpoint returned to 90 Kent on Sunday afternoon, in a festive fundraising effort to support the new Northside Town Hall event space. The sprawling outdoor venue- billed as "block-party esque"- allowed for picnic tables, more than fifty local food and beverage purveyors for patrons to peruse and even a friendly game of cornhole courtesy of the good folks at Brooklyn Brewery. In true block-party style, guests were welcomed by the sounds of contemporary bluegrass, lots of sunshine, and of course, a drink or two (or three, or four…). With the summer hot spell finally broken, it was only fitting that the day be spent eating and drinking in excess to get ready for the winter months.
Having a leisurely four hours to get our fill, we did a lap around the U-shaped set-up to scope out the participating restaurants, but not without collecting provisions along the way. Upon entering, guests were handed a booklet of a limited number of food and drink vouchers to be redeemed, in choose-your-own-adventure fashion. And choose wisely, we did. The first stop of the day was to the Espelòn tent where bartenders were serving up a "Es-Pom-aloma," a refreshing and dangerously light tequila cocktail with pomegranate and lime. This would not be our last stop to this tent.
Looking around, it was obvious that the heavy hitters of the day were very quickly established. Immediately, OddFellows Ice Cream- serving four of their most popular flavors- and The Brooklyn Star- bringing back last year's crowd favorite- a mouthwatering "Fried Chicken & Cheddar Cheese Waffle Cone"- had lines of at least 10-15 people deep at all times.
Across the lot, Two Door Tavern was serving up the creamiest "Mac n' Cheese" that ran out not once, but four times due to sheer demand before the chefs finally had to throw in the towel. Crowdpleaser Pies n Thighs offered a "Mini Chicken Biscuit" with hot sauce and honey butter that made an excellent nosh between drinks. Between all of the dashing back and forth in the lot, staying hydrated was key. Le Barricou, boasting the hottest drink of the day, was next on the list. Their "Foggy Dog"- a birdseye chili infused gin with grapefruit- provided a consistent burn, which somehow proved to be comforting when the clouds and wind rolled in soon after. This paired beautifully with the rich "Pâté de Campagne" with stone mustard from Le Fond.
As a comfort food lover, there was no shortage of noshes for us to fill our mouths with. Fabbrica doled out warm "Casoncini," an empanada of sorts, filled with spinach and cheese and topped with a basil sauce. These greasy fritters cut through the wheat of Brooklyn Brewery's "Lager" in a pleasant way. Thanks to Phin & Phebe's, one tasting ticket got us not one, but three scoops of ice cream. If that wasn't enough to fill us up, MP Taverna came in strong with a spiced hearty "Lamb Slider" and Le Barricou dished out one of the most beautifully plated offerings of the day (no easy feat in a sea of hundreds of hungry hipsters) with their "Fried Artichokes" alongside some colorful, edible flowers. They were as delicious as they were pretty. And we were pretty full.
Walking around, it was notable that a lot of restaurants used this event as their inaugural showing to the neighborhood and were very excited about such a showcase. The Camlin for instance with their "Deviled Egg and Chicharrones" and Lillia, with a "Sesame Bread Topped with Ricotta, Calabrian Sausage and Grilled Zucchini" were two immediate standouts, joined by relative newcomers like Oleanders, Zona Rosa and The Heyward, each of which has been warmly welcomed to the borough.
After making the rounds to more than thirty different booths, the sky opened up unceremoniously. In true community fashion, restaurants and bars ushered attendees behind their tables and underneath the shelter of tents to wait out the blustery storm. In a stroke of luck, we ended up "stranded" in the largest, centrally located tent- fortunately, the one which hosted most of the day's liquor. To keep spirits up, Tito's Handmade Vodka was passing around liberal amounts of their mint heavy summery cocktail to the crowd's utter delight. Patrons and vendors alike cheers-ed with each other and mingled under the tents, sending summer off on it's last, food-filled legs.
It was great to see so many people come out to support the Williamsburg Greenpoint community, and to see big guns like The Randolph, The Meatball Shop, and Maison Premiere lend their time and resources to a great cause. Every food or drink booth brought their story and their personality to the event, which made for a melange like only Brooklyn can do. The rain unfortunately signified the end of the tasting event, and while everyone trickled out a little earlier than hoped, nobody wound up leaving with dampened spirits.
- Emily Ziemski
Related Articles
Share
About Author
(0) Readers Comments