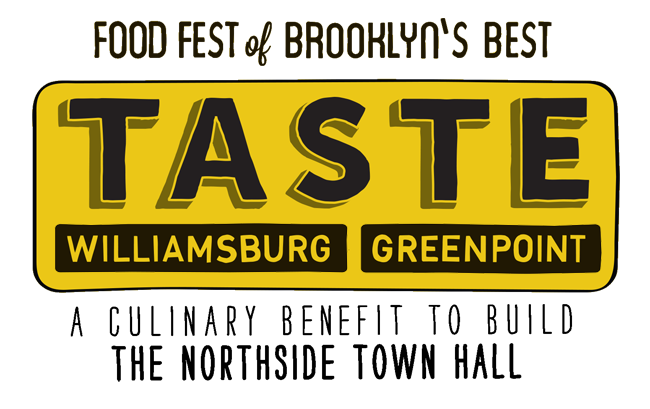 Brooklyn's biggest block party is set to close out Summer 2015 in a big way.  The 6th Annual TASTE Williamsburg Greenpoint event returns once again with a massive culinary feast with proceeds to benefit The Northside Town Hall.  With the help of more than forty local bars, restaurants, breweries and more, TASTE's reasonably priced tickets are sure to be some of the most sought after in all of September.  Fortunately for you, we've got your scoop right here.
Though we're days away from Sunday, September 13th, the forecast looks bright for the fully outdoor event, where hundreds upon hundreds of revelers will indulge themselves in food and drink tastings.  Tickets range from $35-$85, depending upon your level of appetite during the five hour affair, all of which kicks off promptly at 1pm.  For your efforts, the funds raised during the afternoon goes directly to the restoration and renovation of the former Engine Company 212 Firehouse, which will be utilized going forward for community, cultural and artistic events and an assortment of local happenings.
With some live music pumping in the background, guests will be stuffed to the gills by the likes of some of Brooklyn's most notable eateries.  Williamsburg staples like The Bedford, The Meatball Shop, MP Taverna and Juliette are set to be flanked by the likes of Huckleberry Bar, Dirck the Norseman, Delaware and Hudson, Brooklyn Star, Fritzl's Lunch Box and many many more.  Plus, you'll wash down ice cold drinks from Bruce Cost Ginger Ale, Brooklyn Oenology, Natural Wine Company and of course- Brooklyn Brewery.  With such a cavalcade of cuisines, there's sure to be something for all tastes at the 21 and over event, which only comes to town once a year.  At an unbeatable value- and with a startling amount of participating restaurants, the 2015 TASTE Williamsburg Greenpoint is poised to be the biggest one yet, as it celebrates it's 6th anniversary.
- Jane Van Arsdale
Related Articles
Share
About Author
(0) Readers Comments