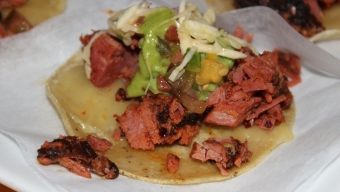 Blog: Harvest in the Square 2015
For the last twenty years, 'Harvest in the Square' has helped to support Union Square Partnership's initiatives toward the upkeep and beautification of Union Square Park and the neighborhood that surrounds it. The area's most grandiose food tasting meets fundraising extravaganza sources local ingredients from the Union Square Greenmarket allows the many chefs and restaurants that encompass the surrounding streets to prepare an endless array of inspired dishes from every style imaginable- and serve them to the waiting masses under a massive erected tent on West 16th Street. The one night only feast happens just once a year and on Thursday night, hundreds of revelers and scene-seekers would come out in droves to wish 'Harvest in the Square' another happy birthday in person.
Once guests have checked in to the event, the sheer size of its grandeur can be a little bit daunting. The sprawling space is adorned with table after table of notable restaurants and their hustling teams putting the finishing touches on any remaining prep and plating work in anticipation of the busy night that lay ahead. In all, nearly 50 of the neighborhood's restaurants would emerge as participants alongside different varietals of red and white wines, a handful of spirits purveyors and Brooklyn Brewery, fittingly pouring both their "Brooklyn Oktoberfest" and "Greenmarket Wheat" selections into the outstretched hands of thirsty beer lovers.
With a multitude of culinary styles being served, even the pickiest of eaters is sure to find plenty from which to choose at an affair of this size. Meat eaters undoubtedly indulged in savory fare from the likes of Morton's Grille ("Signature Prime Burgers"), BLT Prime ("Coffee-Rubbed Hanger Steak") and Strip House, where Chef Michael Vignola's dry-aged "Meat & Taters" dish, equipped with a smoked potato aioli, was the best in show. Pescatarians meanwhile were left to salivate over delicious dishes from Blue Water Grill ("Hamachi Crudo, Yuzu, Mint & Chili") and Barbounia ("Seared Yellow Fin Tuna with Tomatoes, Cucumbers, Citrus and Mint"), though the butter lacquered "Mini Lobster Rolls" served by Burger & Lobster were equally as satisfying.
As the general admission ticketholders filed into the space, the evening was just starting to pick up. With a house DJ working the mix in the background, groups of attendees posed for pictures at the nearby photo booth in between working their way through the crowded but not overly packed room. Since wine pourers were placed intermittently throughout the space, guests were never forced to wait long for the red or white glass of their choosing. Finger Lakes wineries like Dr. Konstantin Frank and Fox Run poured slightly sweet samples of "Gewurztraminer" and "Dry Riesling" to cool down the otherwise warm weather evening when chilled samples of different gazpachos from Almond and Adalya, though certainly delicious, just wouldn't do the trick.
Among some of our other favorite dishes, Union Square Café's "Spicy Pickled Mussels," were served inventively with sweet corn atop a crispy potato 'croquette.' The flavors here- with the fresh mussel and piping hot potato starch- combined to deliver a rich and complex taste, despite only being the size of a single bite. Big Daddy's meanwhile has really made a name for themselves with the creation of their "Chicken and Waffle Sundae." The deliciously deep fried and generously portioned serving is doused in a maple sriracha sauce and served inside of a traditional ice cream cone. It's become among the most widely lauded and anticipated offerings at food events all over town- and with good reason; it's comfort food at its finest. Finally, relative newcomer Florian served up a traditional and delectable "Meatball," layered in a thick red tomato sauce and topped with shreds of parmesan cheese. The tender old-world Italian style sphere was cooked perfectly, served piping hot, and was incredibly tasty covered in its "Sunday Gravy."
From notable restaurants like The Gander and Gramercy Tavern to relative newcomers like Black Barn Restaurant, which had literally opened the evening prior, Thursday evening's 'Harvest in the Square' was again a complete success for the Union Square Partnership. Packed with revelers happy to do their part for the organization- and get generously fed for their donations- there was an overwhelming sentiment of neighborhood pride being cultivated under the sizable white tents. Even Shake Shack and Blue Smoke honcho Danny Meyer could be spotted inside, chatting with guests and indulging a bit himself. The Union Square area is special for so many reasons to New Yorkers- and for one night a year, 'Harvest in the Square' always seems to but that feeling in perfect perspective for a fortunate few hundred eventgoers with the eats, the culture and the people that make up the neighborhood.
- Jane Van Arsdale
Food Highlights from 2015 Harvest in the Square

Tarallucci & Vino: "Bruschetta"

Dough: "Assorted Seasonal Donuts"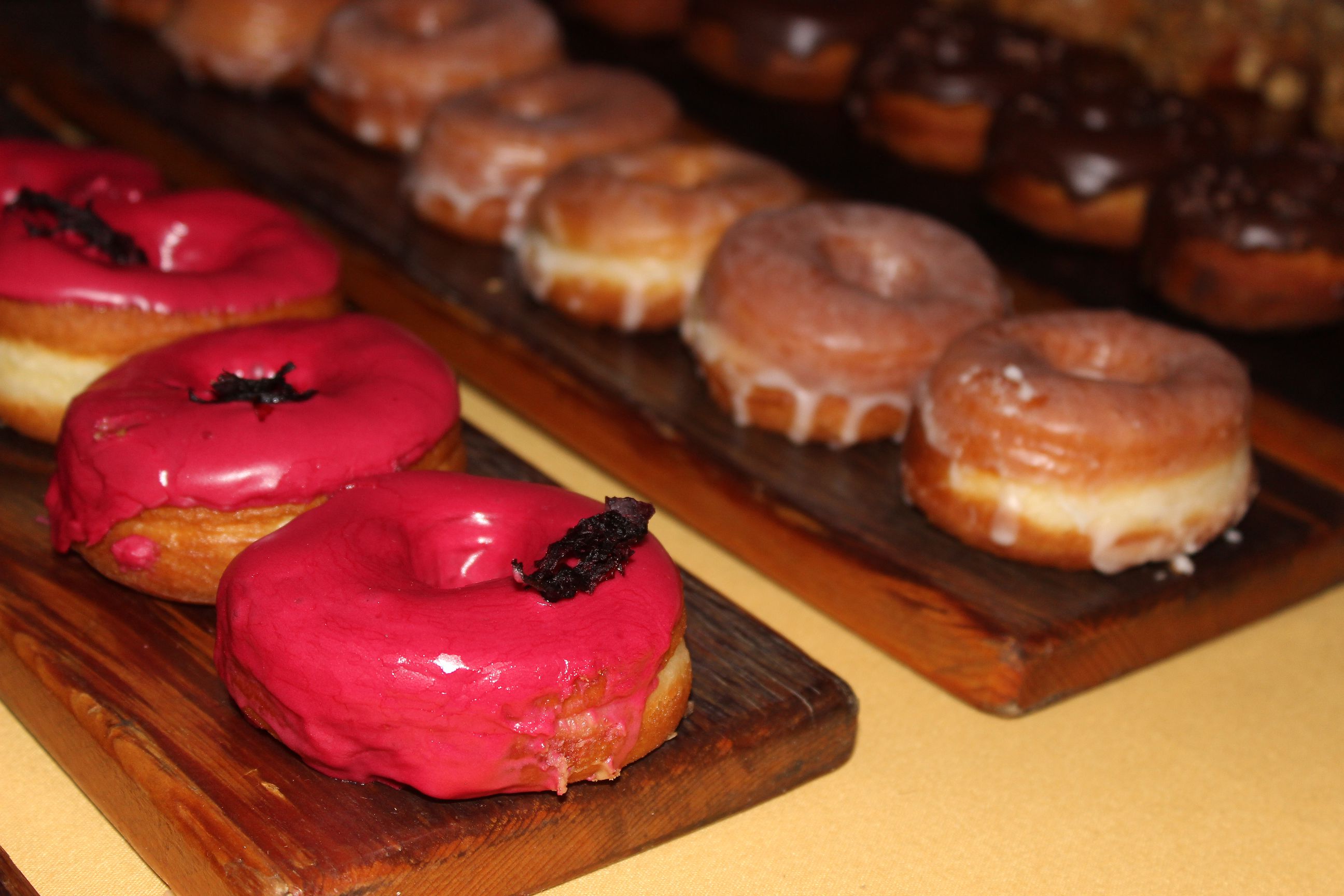 Cocoa Store NYC: "Mini Dark Chocolate Pizzetta, Banana, Lemon & Roasted Marshmallow"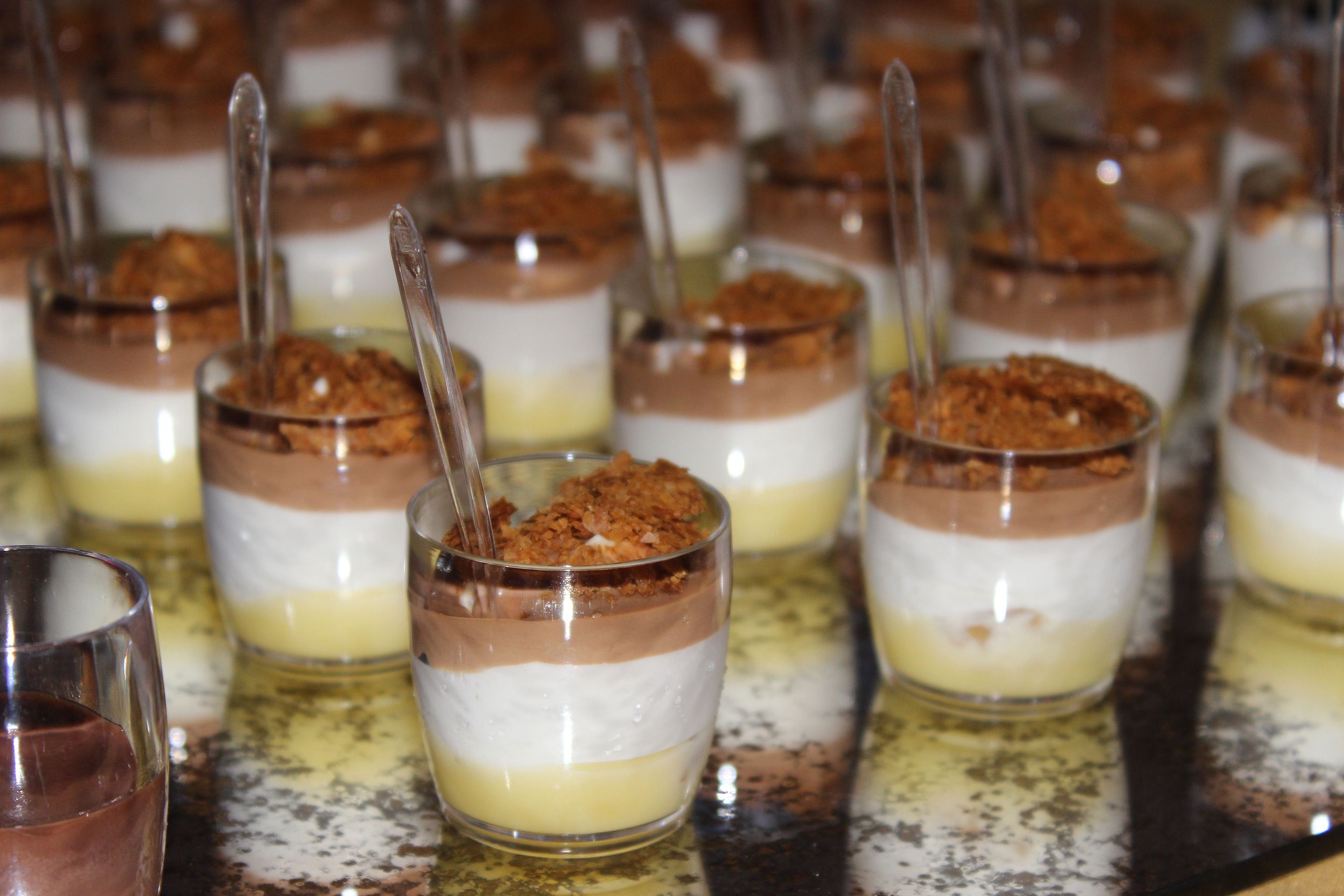 Florian: "Meatballs with Sunday Glory"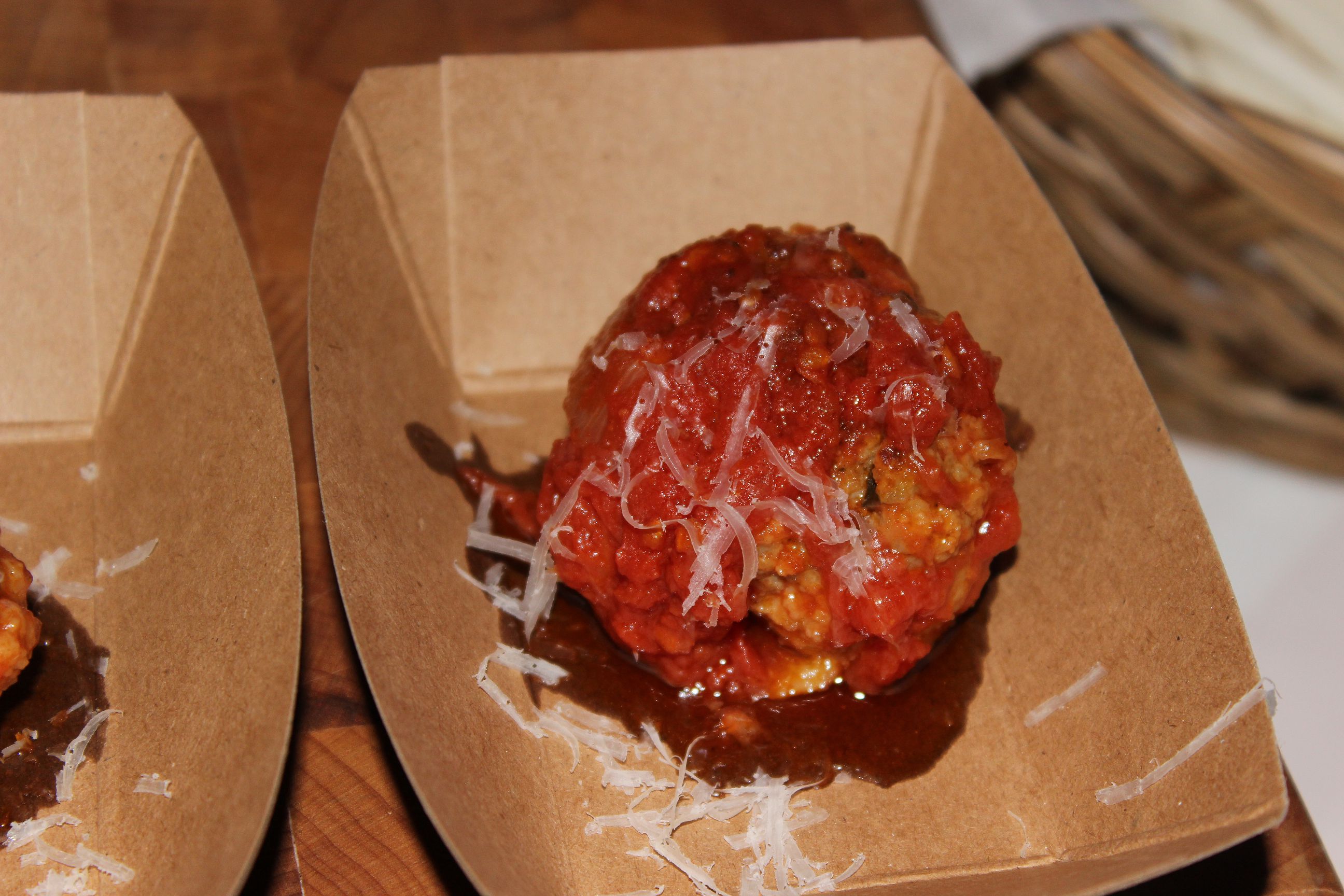 The Fourth: "Greenmarket Corn Soup"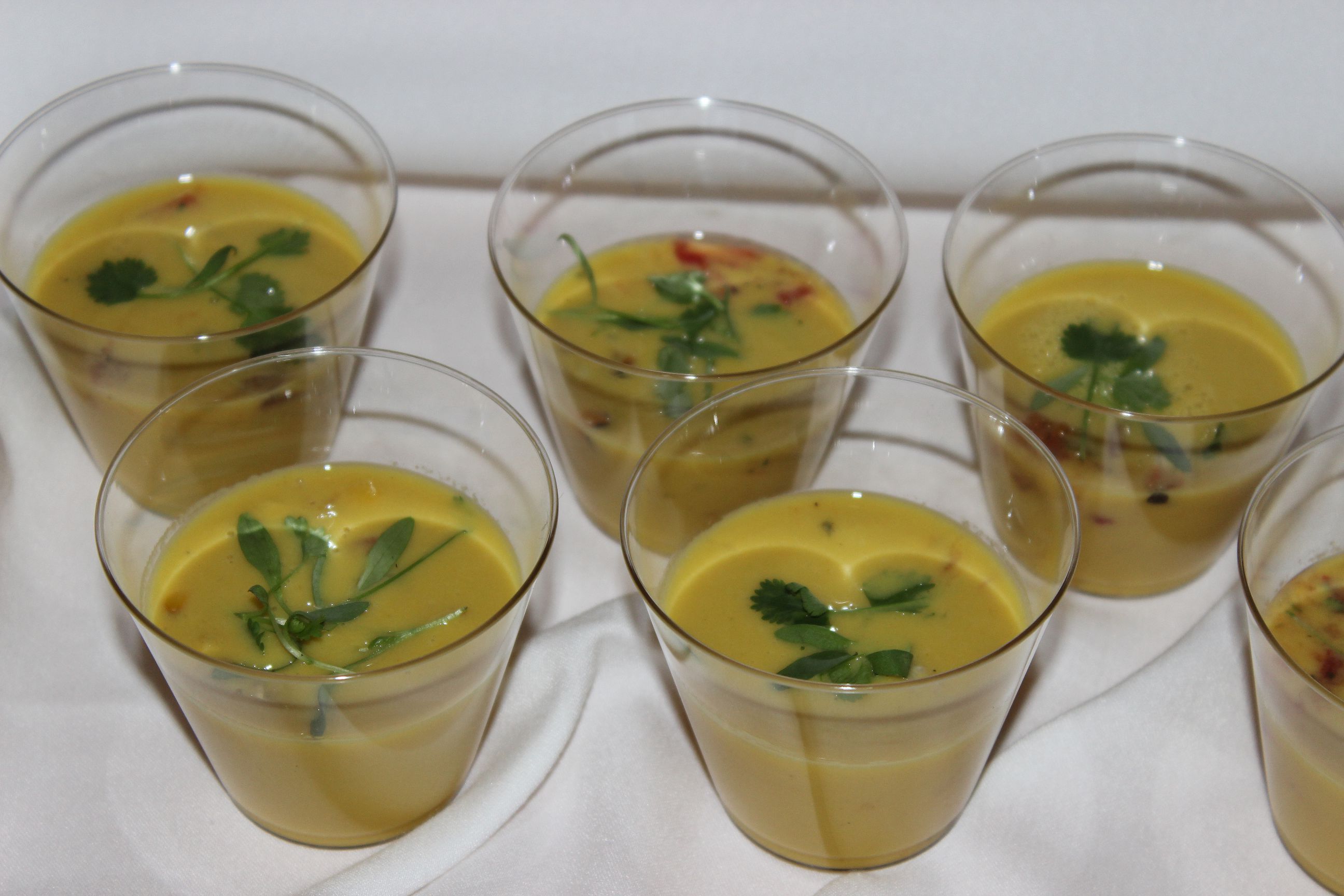 Botequim: "Bolinho de Bacalhau"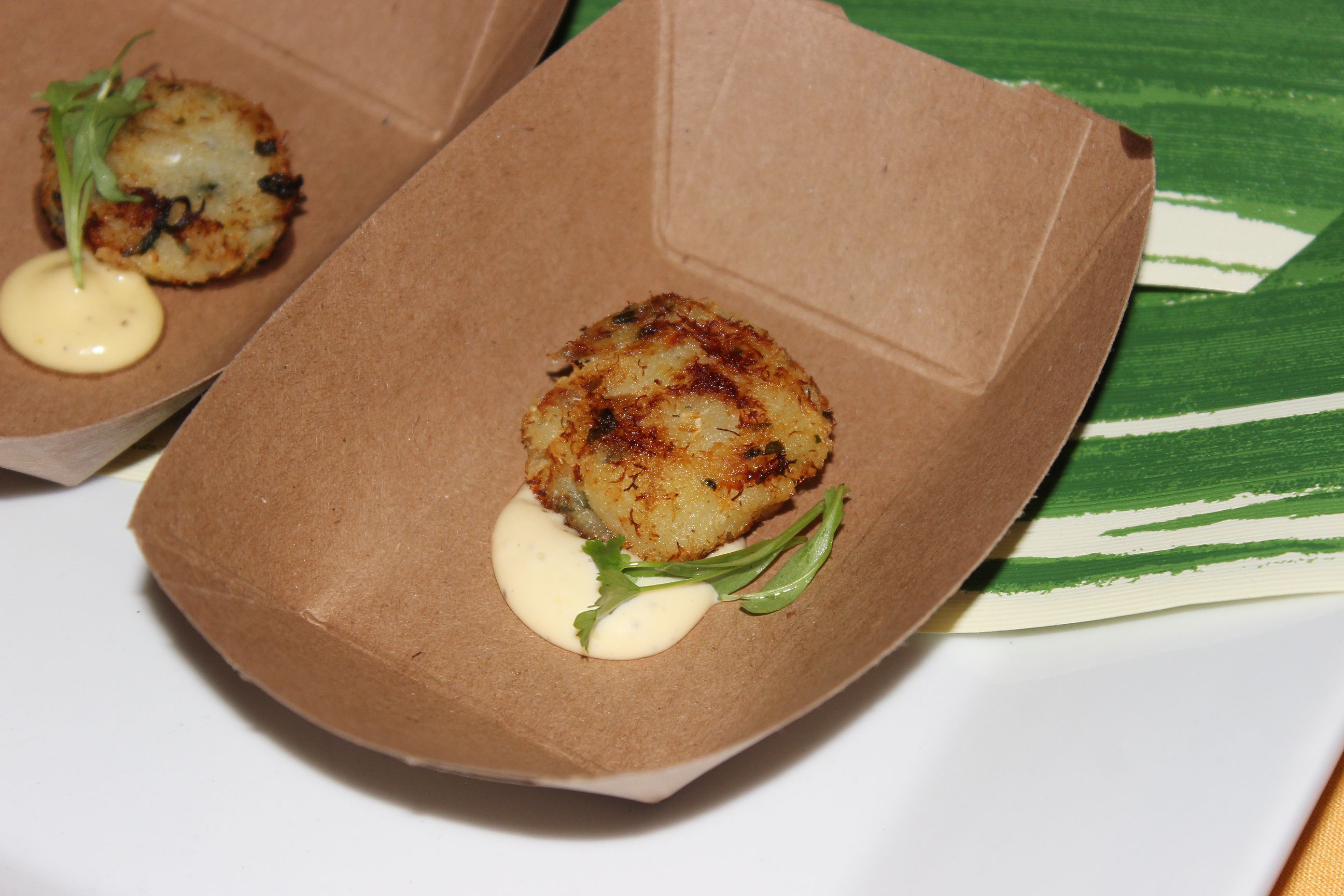 The Gander: "Grilled Corn & Heirloom Tomato Salad with Pickled Onions"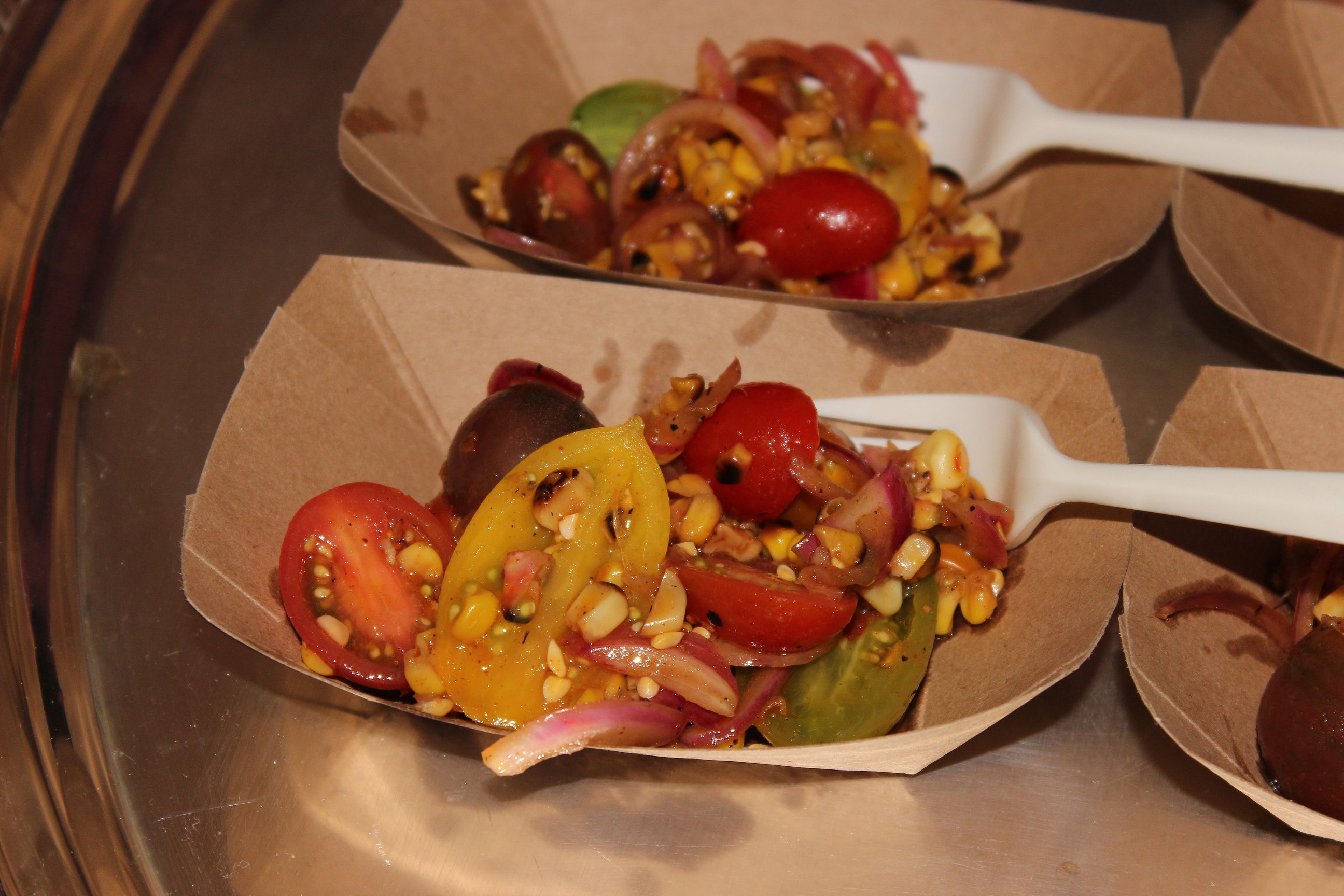 Tocquevlle Restaurant: "Crispy Chickpea Cake"
Burger & Lobster: "Mini Lobster Rolls"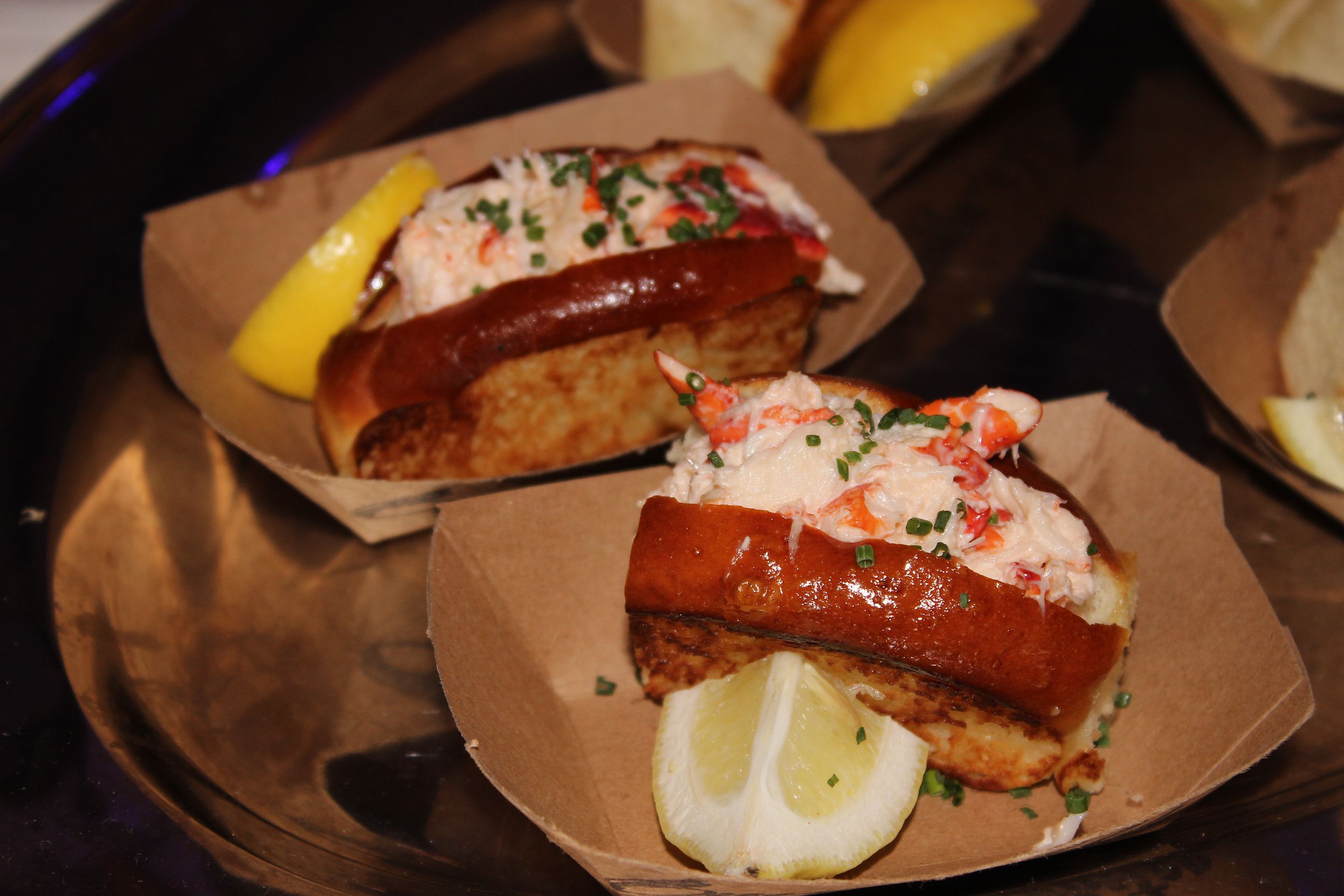 Tasca Chino: "Shrimp Dumplings with Garlic, Sundried Tomato & Paprika"

L'Express: "Montrachet Goat Cheese Tart"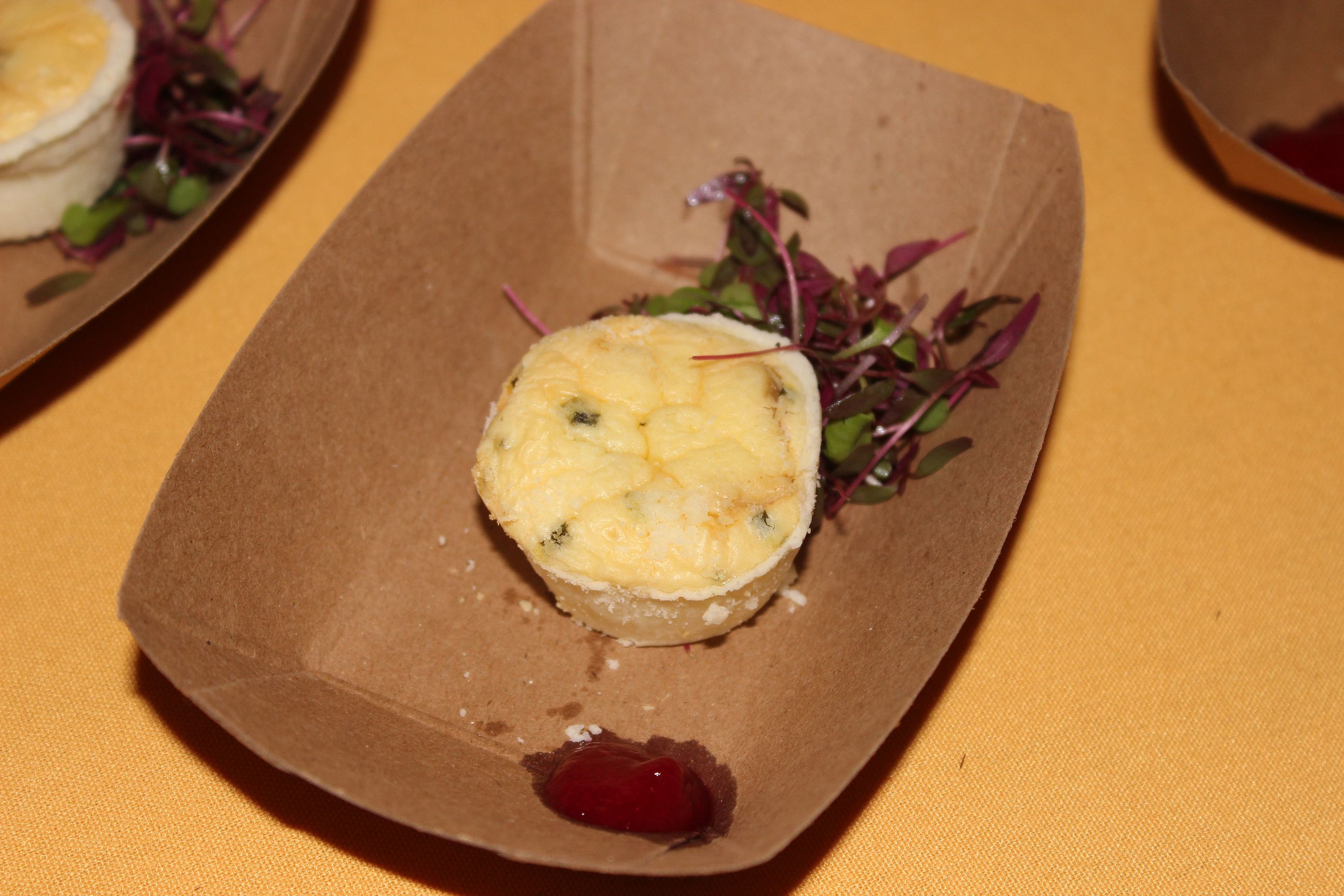 Gramercy Tavern: "Duck Liver Mousse Crostini with Pickled Cherry"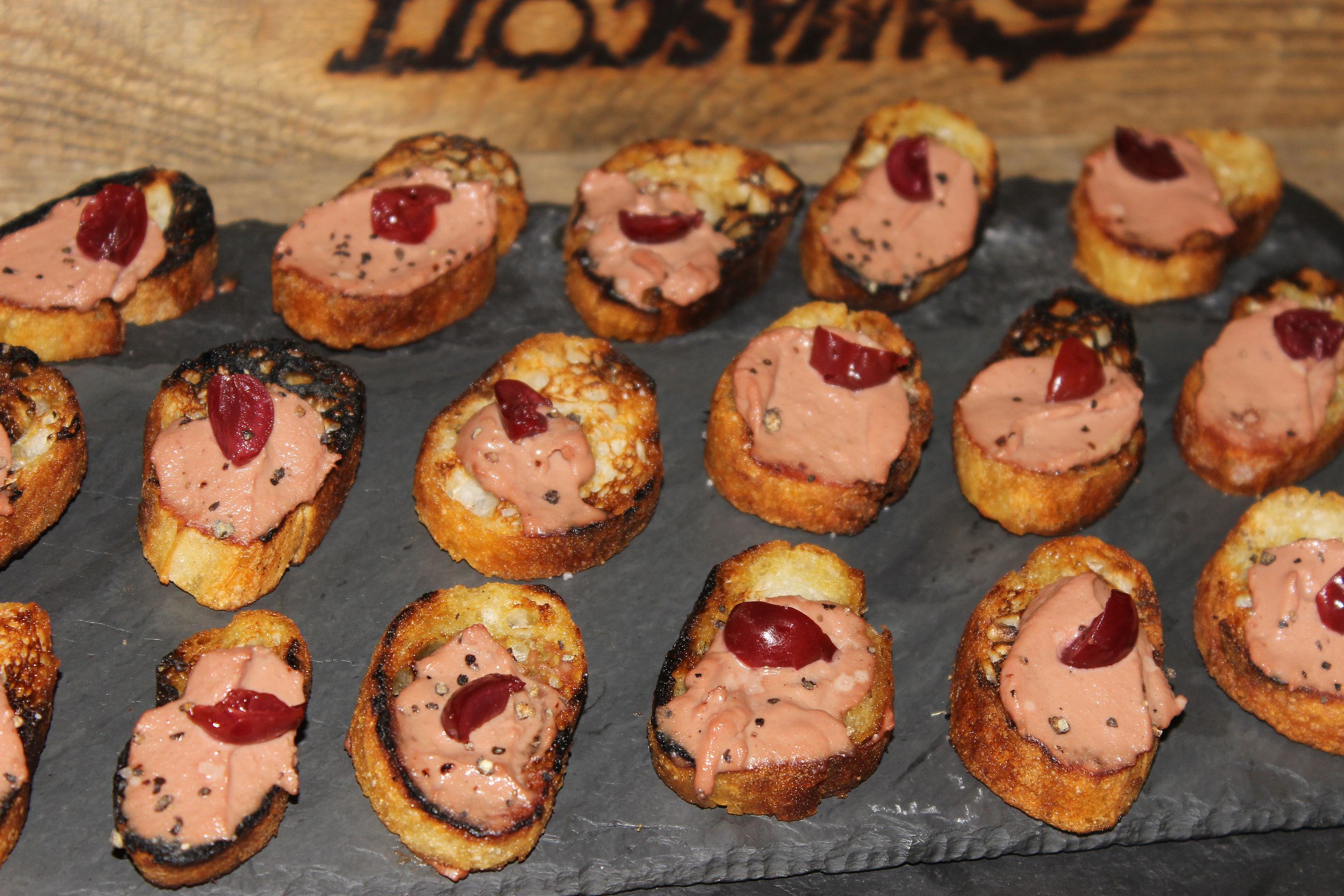 Blue Smoke: "Duck Ham with Figs and Pickled Blackberries"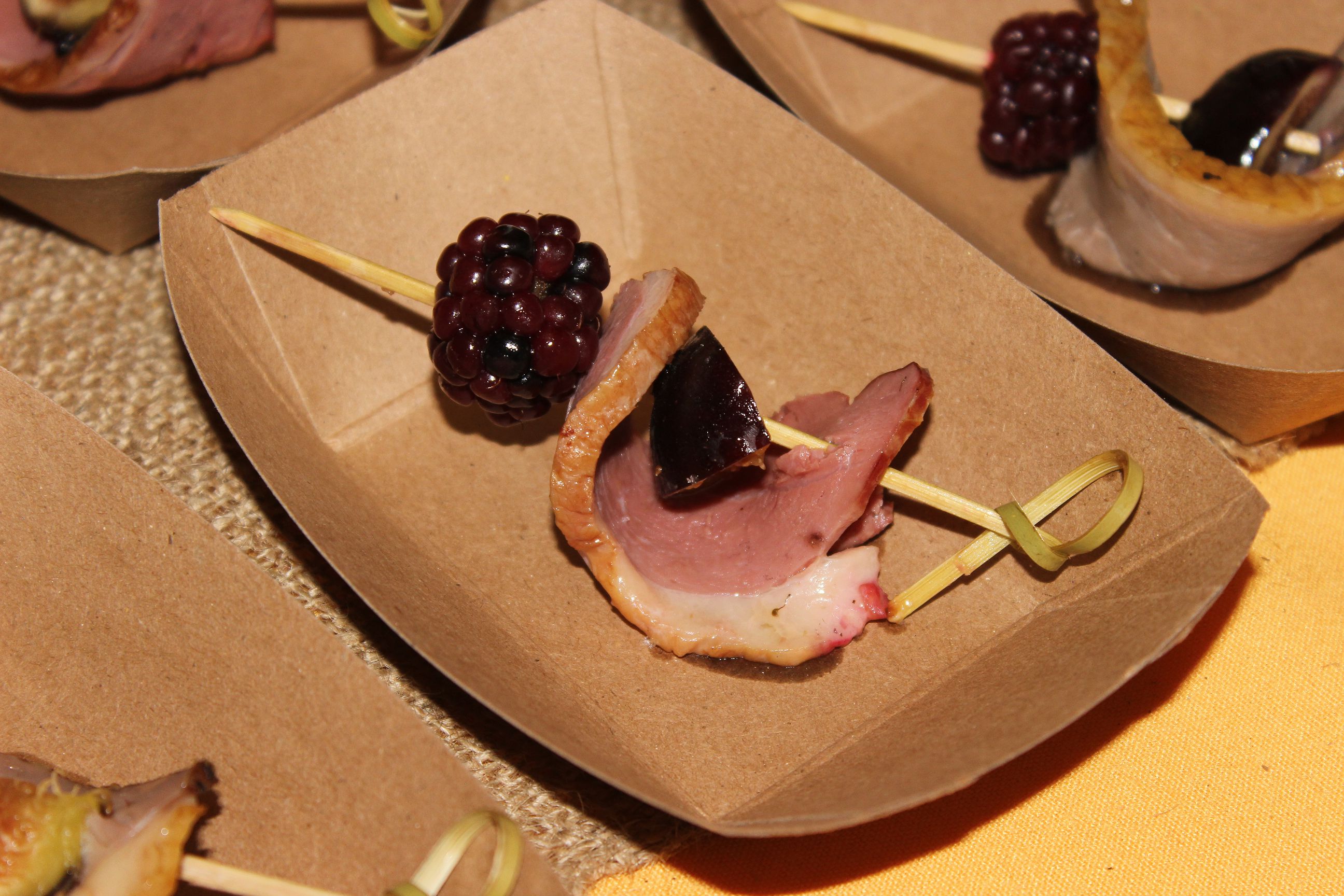 Aleo: "Shrimp Risotto"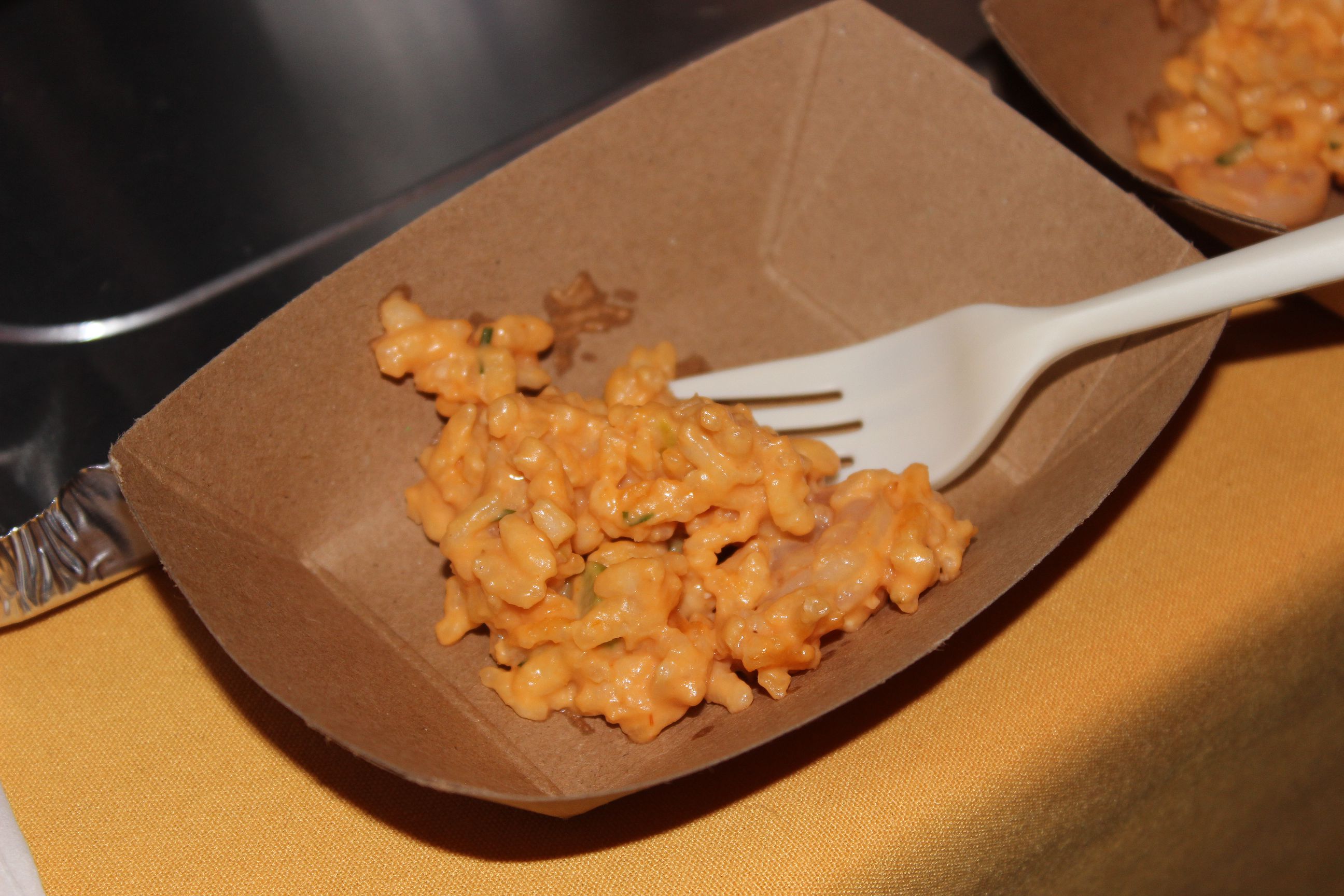 Union Square Cafe: "Spicy Pickled Mussels, Potato 'Croquette,' Sweet Corn"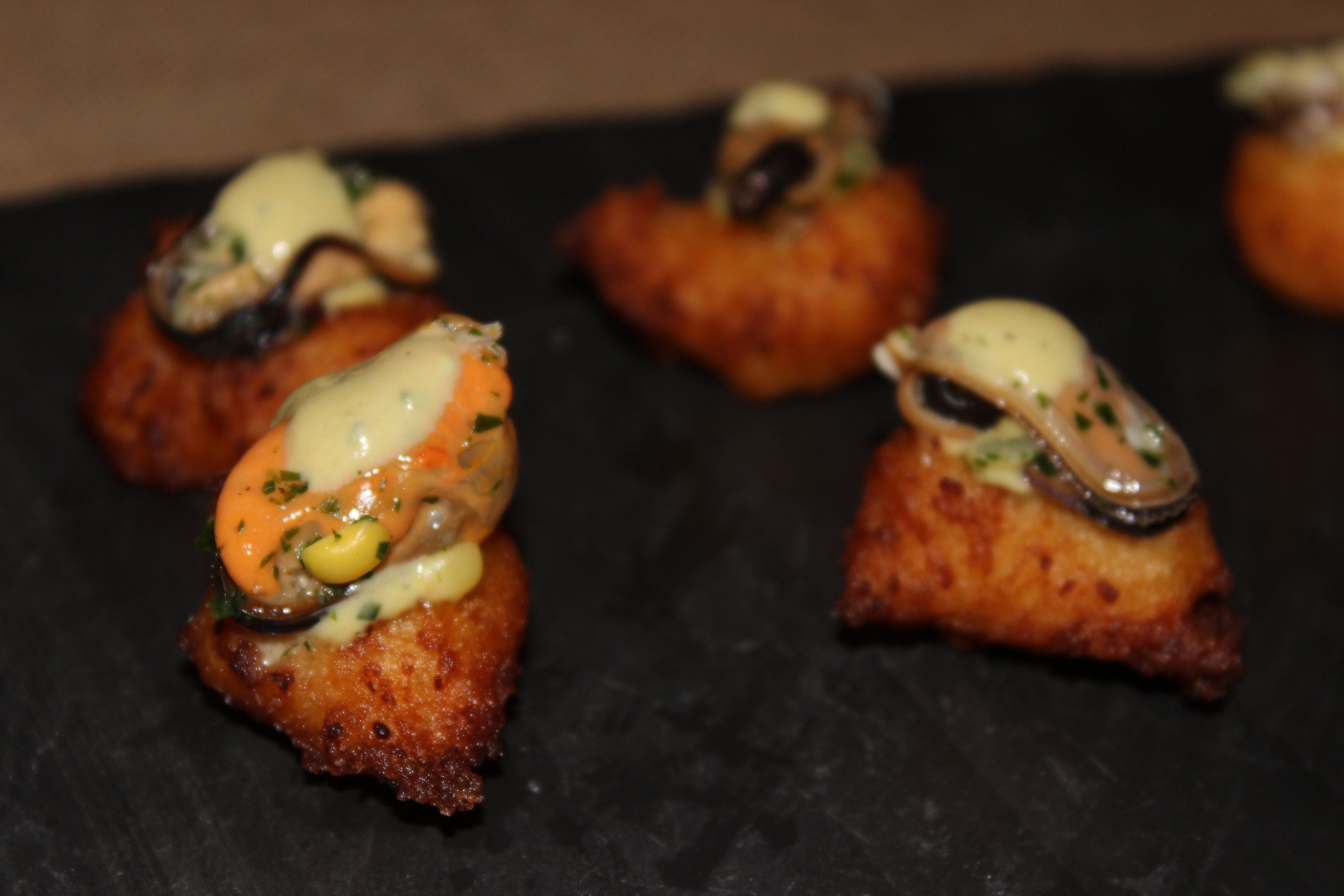 Laut: "Satay Chicken with Fragrant Peanut Sauce"

Croque Monsieur: "Roasted Squash, Bechamel, Brie" & "Jambon de Paris, Bechamel, House Blend of Cheeses"

Strip House: "'Meat & Taters': Dry-aged NY Strip, Smoked Potato Aioli, Crushed Pumpernickel & Mustard Vinaigrette"

Big Daddy's: "Chicken & Waffle Sundae with Ruby Greens, Broc-Slaw & Maple Sriracha Sauce"

All'Onda: "Corn and Stracciatella Crostini"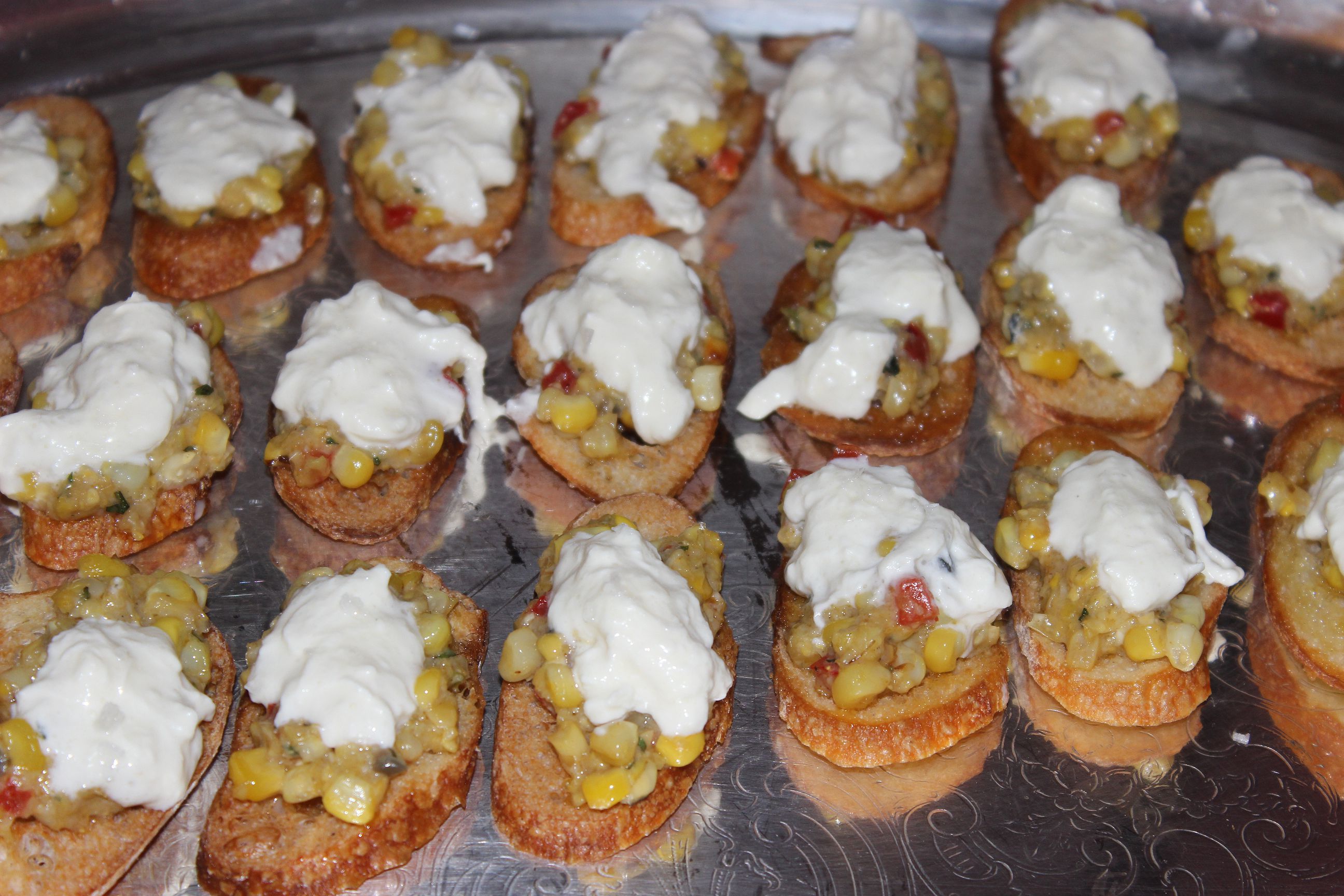 Junoon: "Murg Tikka Mirza Hasnu on Beet Papdi, Radish Kachumber & Guava Chutney"

Hill Country Chicken: "Harvest Pie Assortment: Pecan, Pumpkin & Whiskey Buttermilk"

Dos Caminos Park Avenue: "Short Rib Salbutes"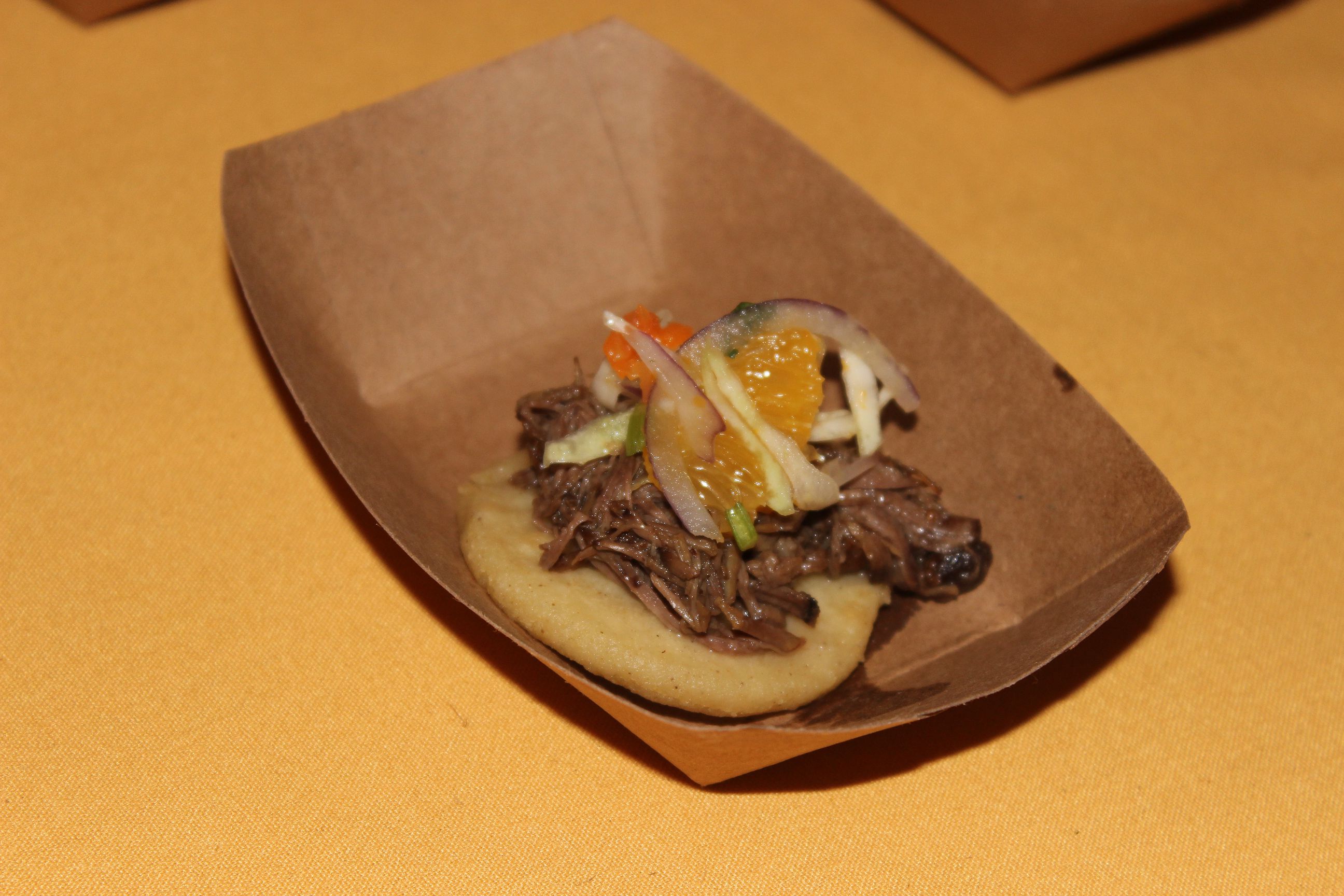 Breads Bakery: "Apple Babka"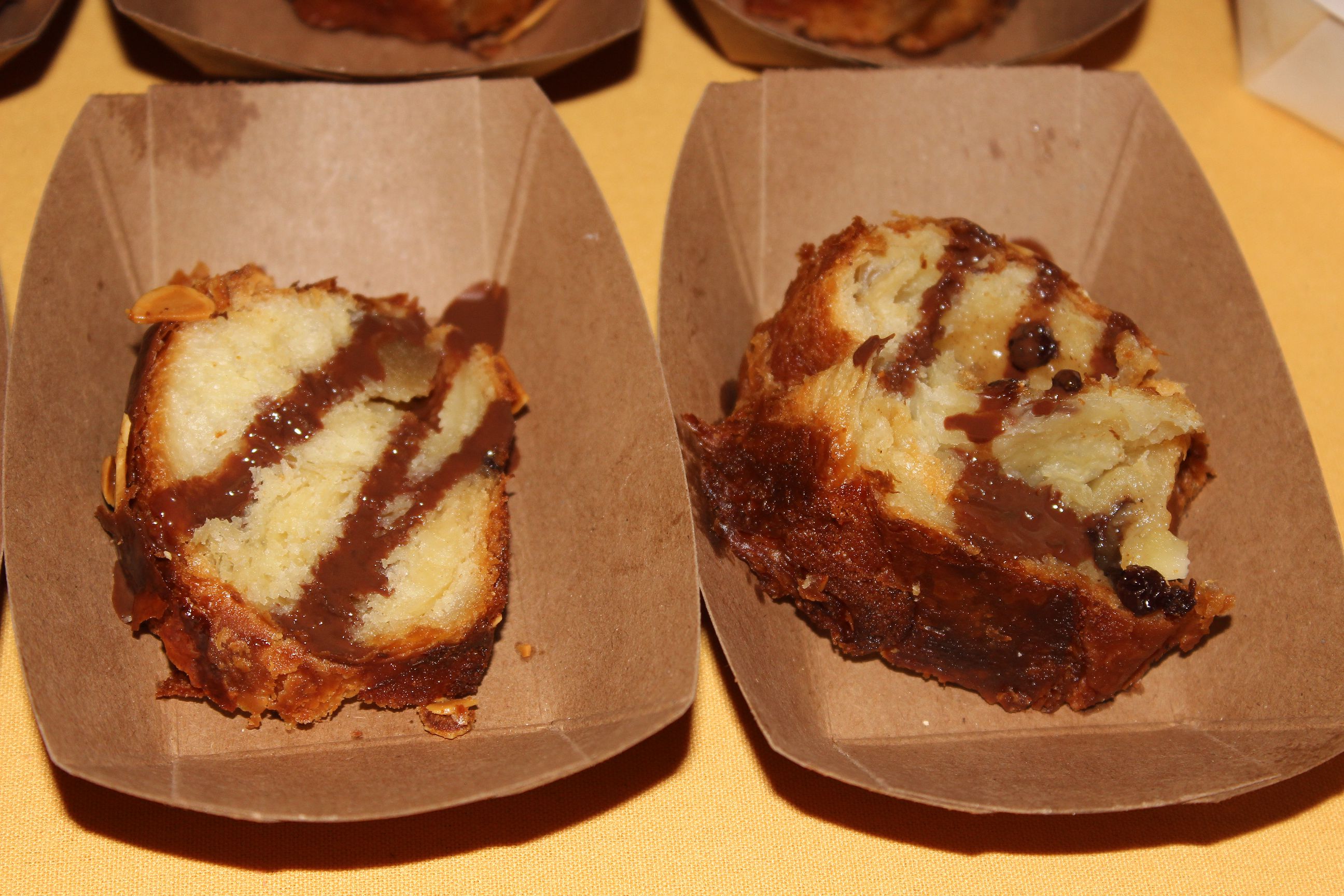 Blue Water Grill: Hamachi Crudo, Yuzu, Mint & Chili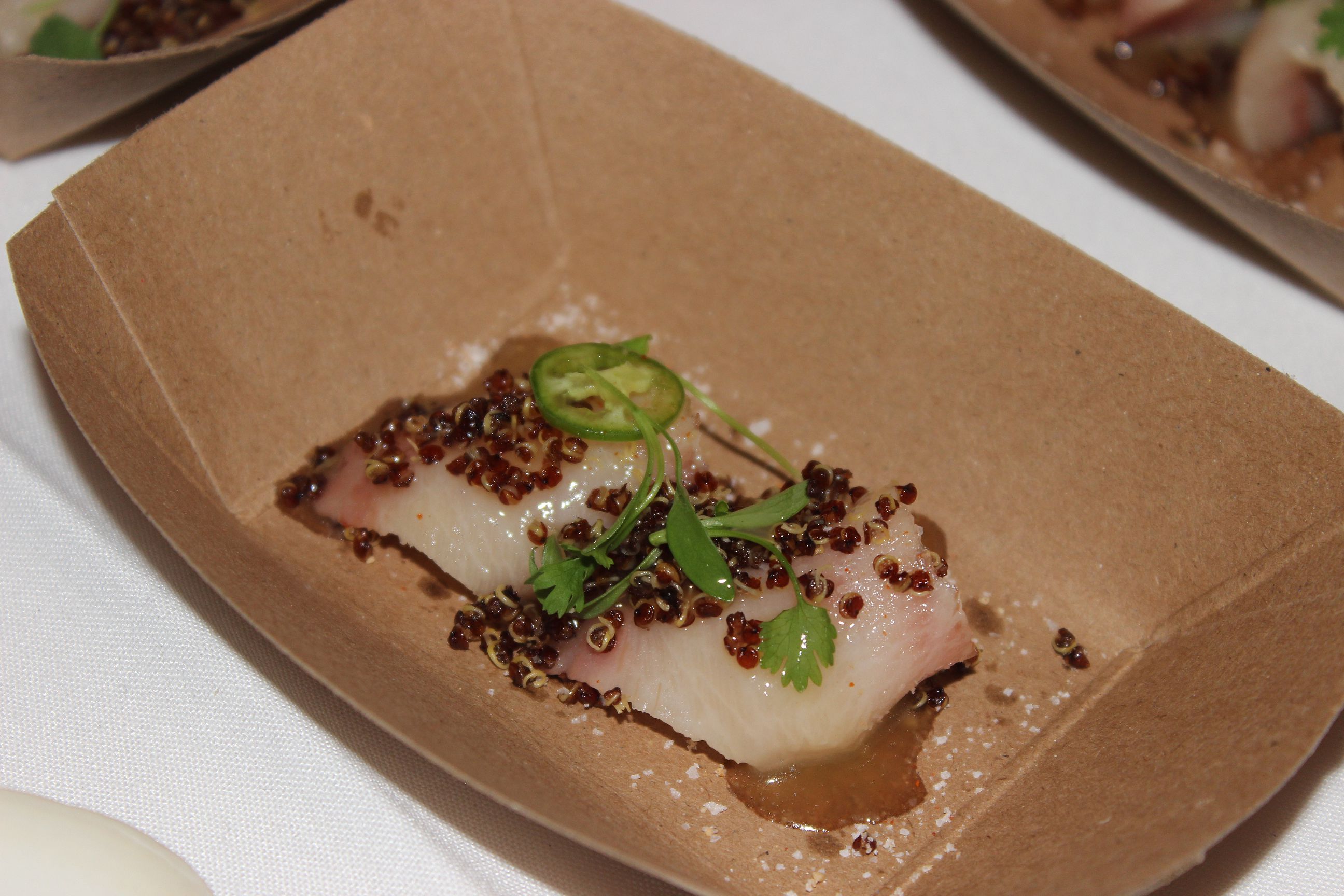 BLT Prime: "Coffee Rubbed Hanger Steak with Jalapeno Compound Butter & Green Onion Julienne"
Horchata de Nueva York: "Elote- Mexican Street-Style Corn on the Cob"
The House in Gramercy Park: "Heirloom Tomato & Charred Watermelon Salad with Buffalo Mozzarella"
Whole Foods Market Union Square: "Beetroot Rasam Soup" & "Carrot Parsnip Burger"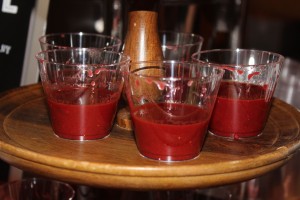 Union Square Ballroom: "Jumbo Lump Cram Cakes Slider with Roasted Sweet Pepper Tartar Sauce"
Almond: "Gazpacho Verde with Peekytoe Crab Meat"
Barbounia: "Seared Yellow Fin Tuna with Tomatoes, Cucumbers, Citrus & Mint"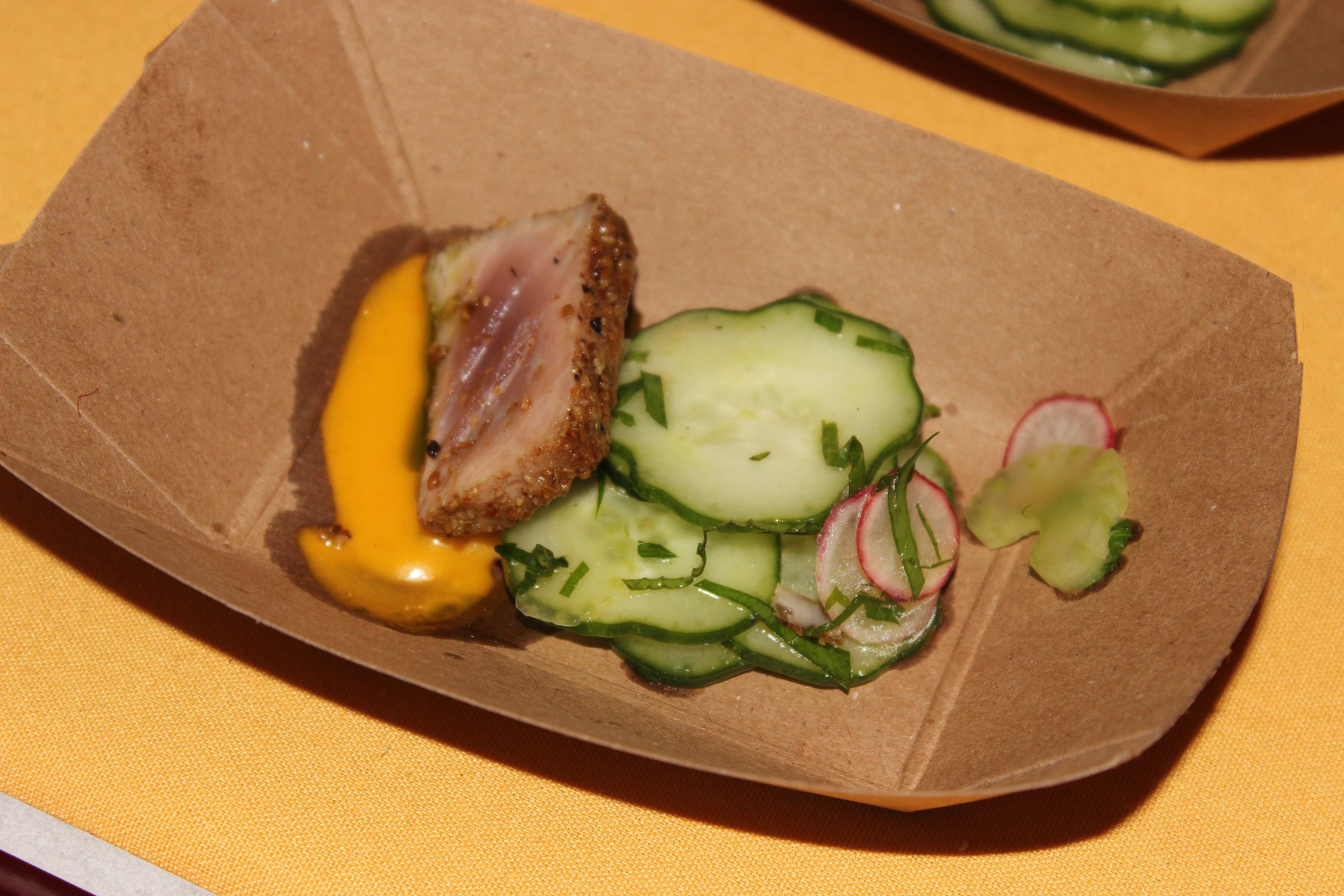 Ngam: "Red Curry with Farm Fresh Squash, Eggplant, Thai Basil, Chicken with Jasmine Rice"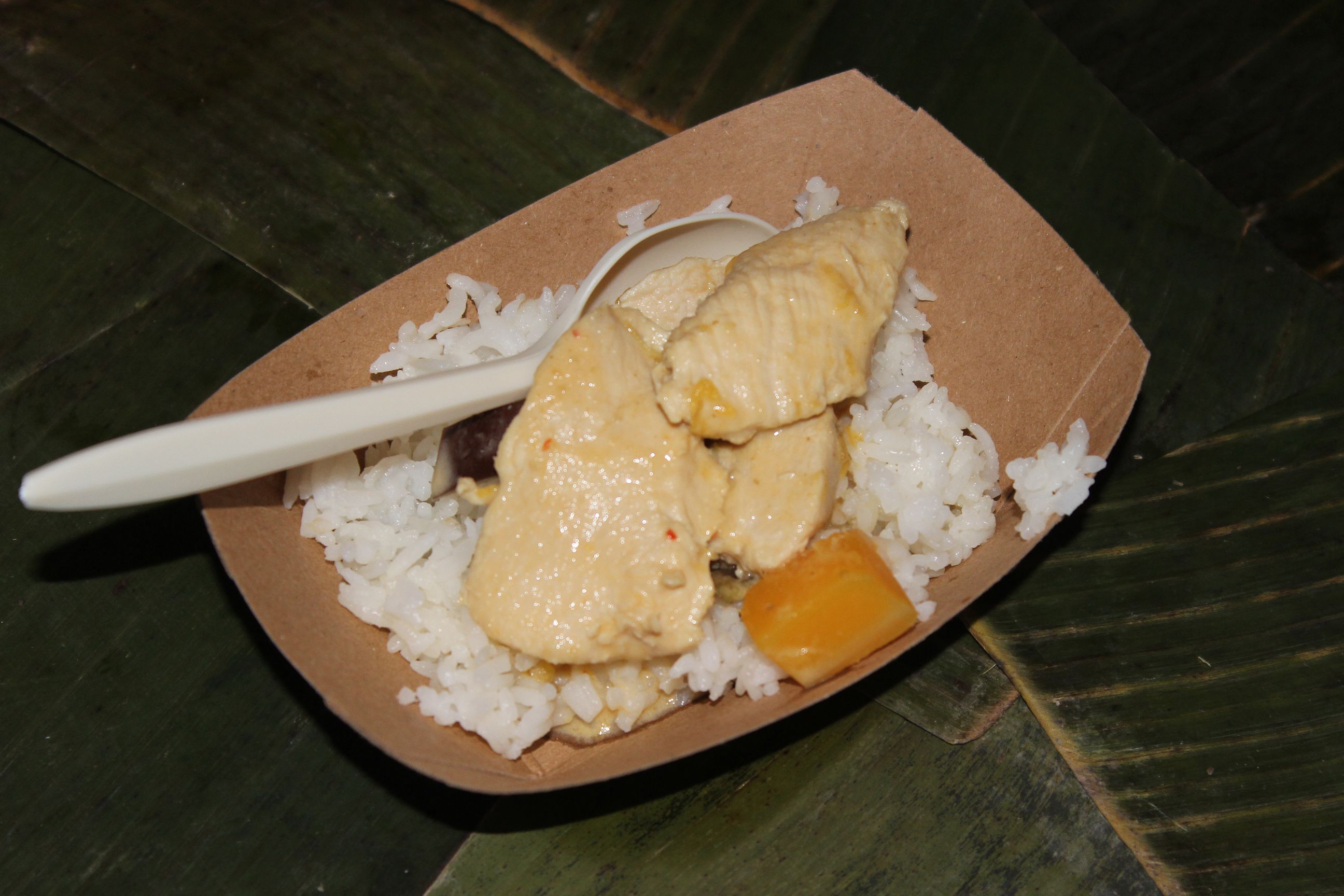 Rosa Mexicano: "Tacos de Carnitas, Guacamole en Molcajete with Home-made Chips and Salsa"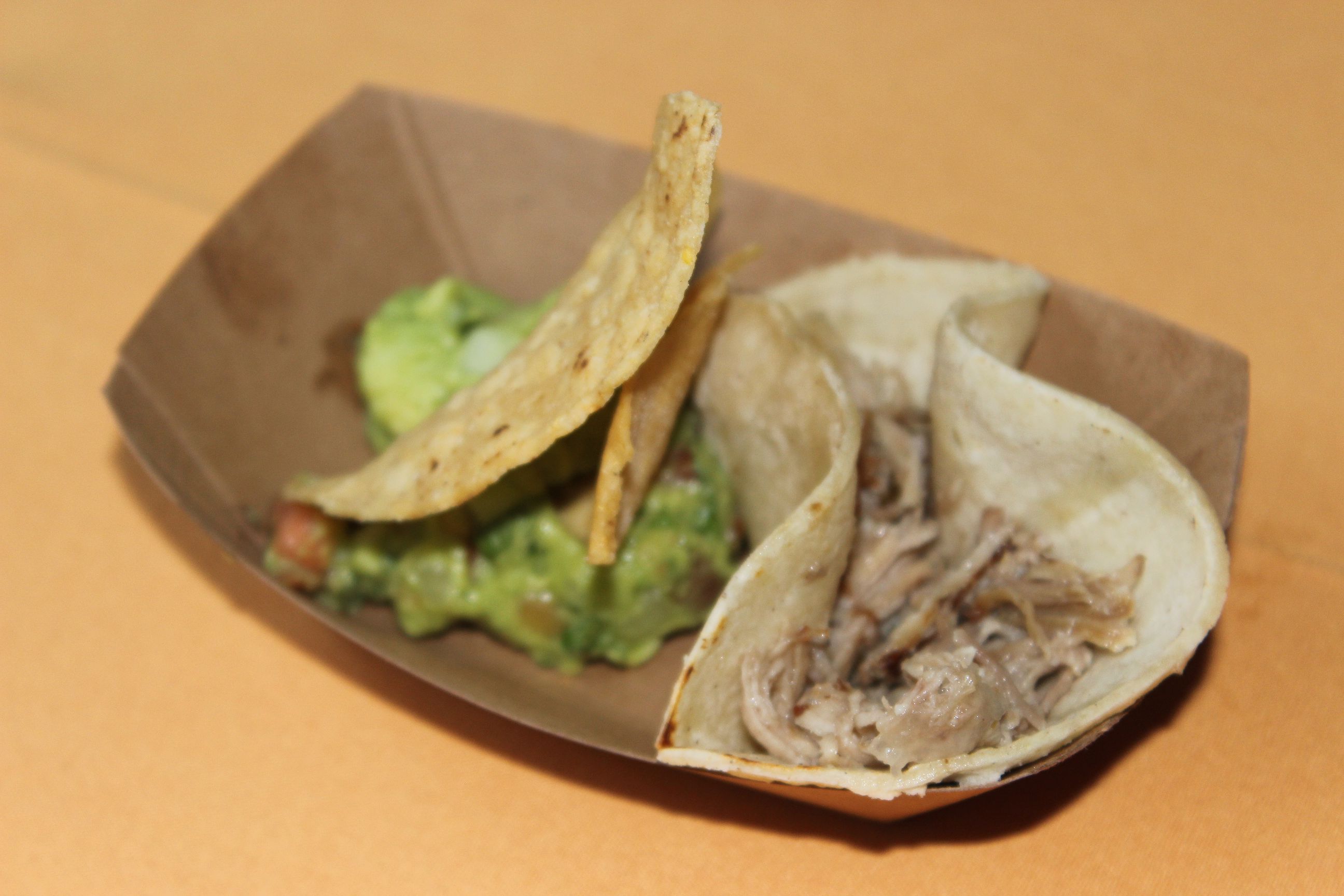 Morton's Grille: "Signature Prime Burgers"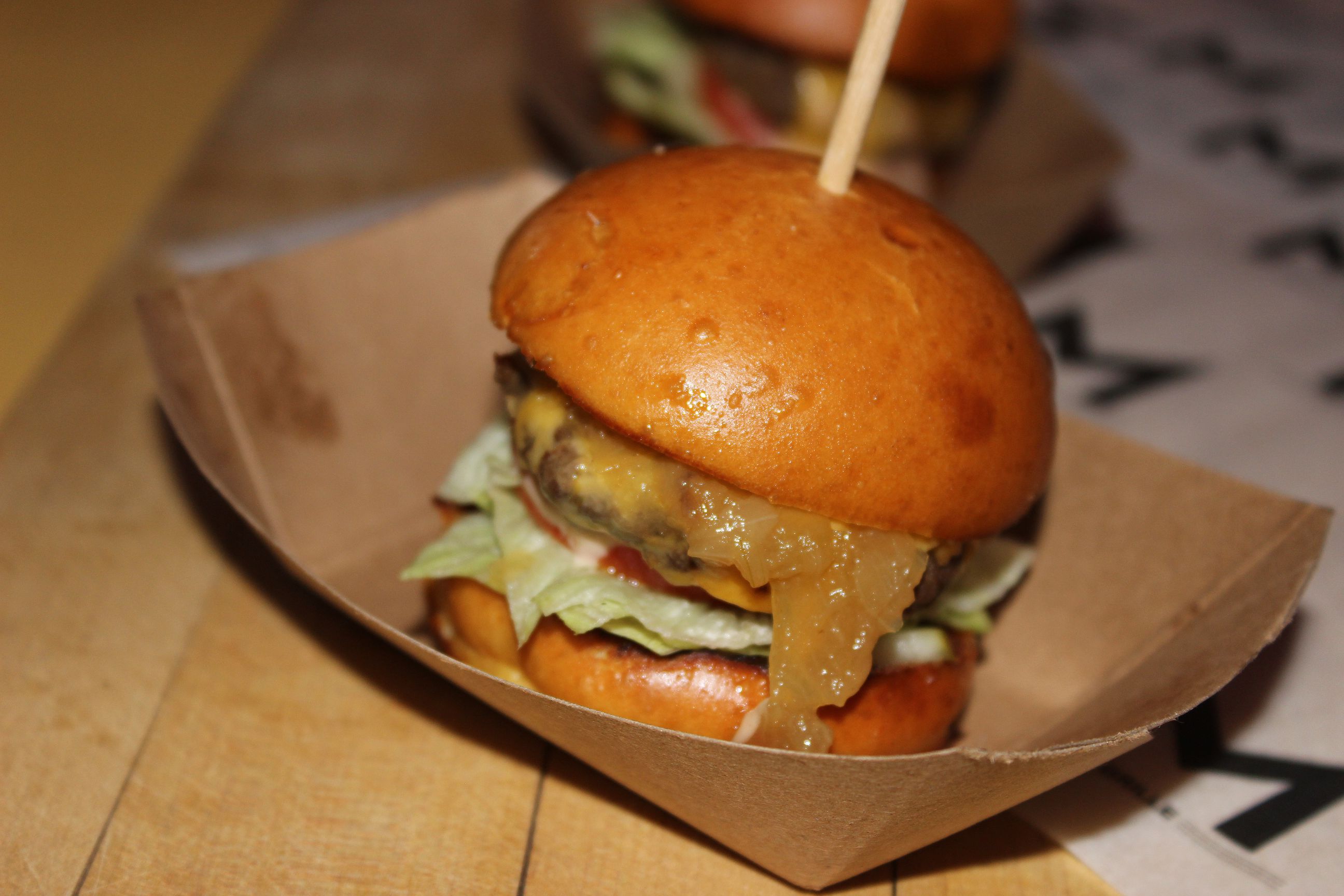 The Coffee Shop: "Malagueta Pepper Pastrami Taco and Jack Cheese with Root Vegetable Slaw"
The Pavilion: "Shrimp Crudo with Avocado, Heirloom Tomato & Spicy Aioli with Micro Greens"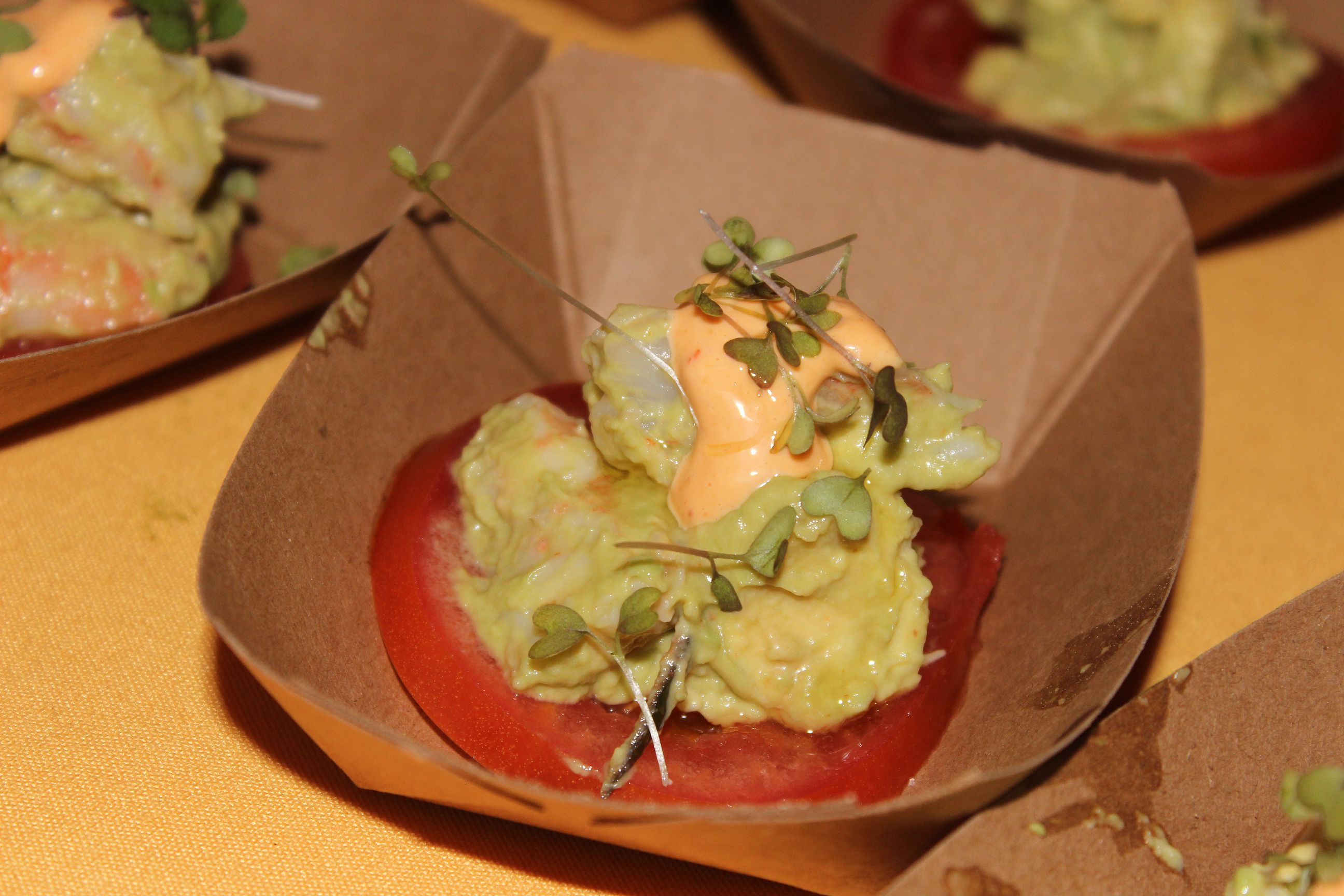 Adalya: "Yellow Heirloom Tomato Gazpacho" & "Celery, Hummus, White Fig & Sea Salt"
Javelina: "Lamb Barbacoa Tacos with Goat Cheese Queso & Pickled Onions on Flour Tortillas"
5 Napkin Burger: "Short Rib Tostada"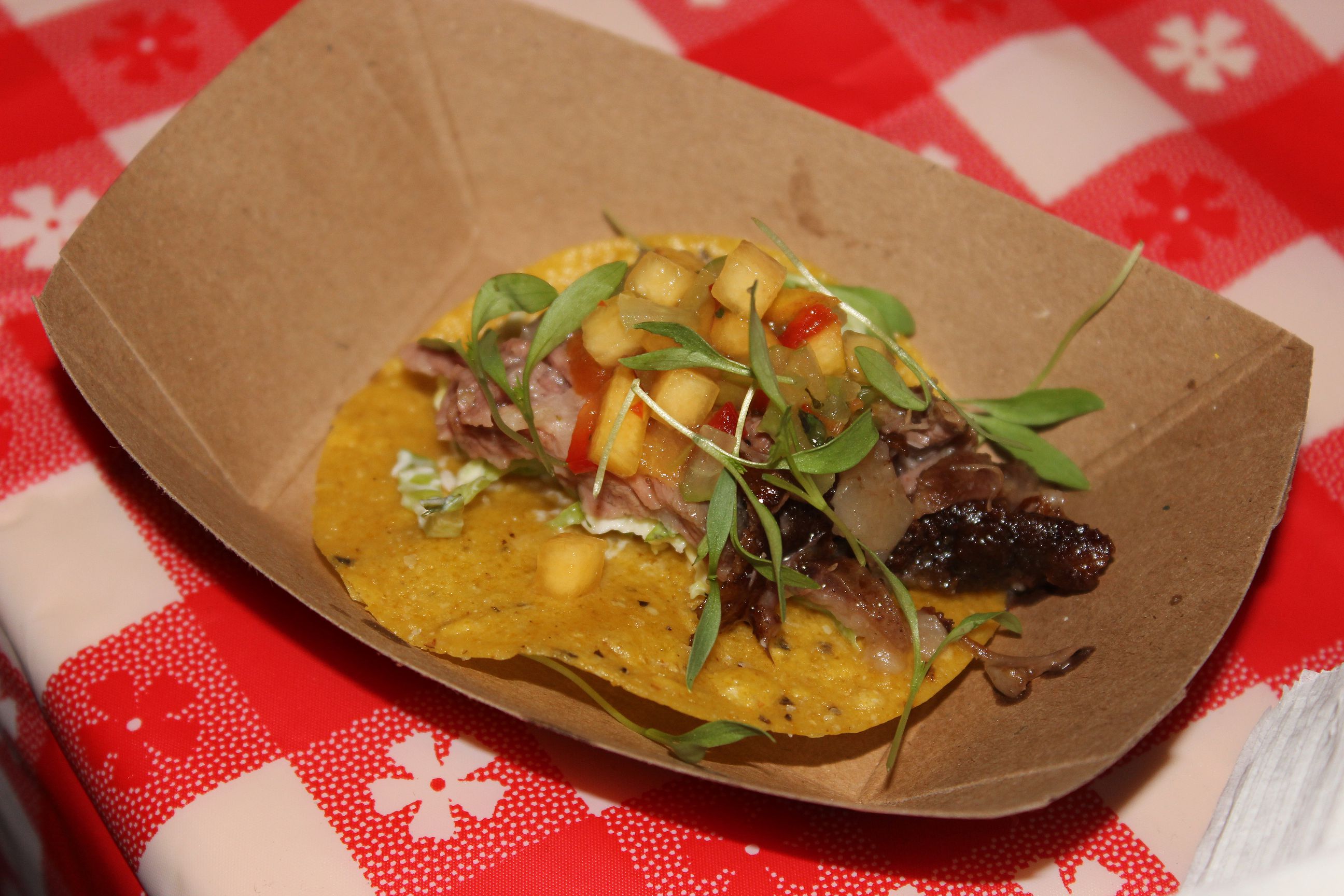 Black Barn Restaurant: "Curried Cauliflower with Cilantro Raita, Toasted Pine Nuts & Pickled Raisins"
Cevich: "White Fish Ceviche with Mango Soy Ginger Sauce, Red Peppers, Carrots, Scallions & Cilantro"
Knickerbocker Bar & Grill: "T-Bone Steak"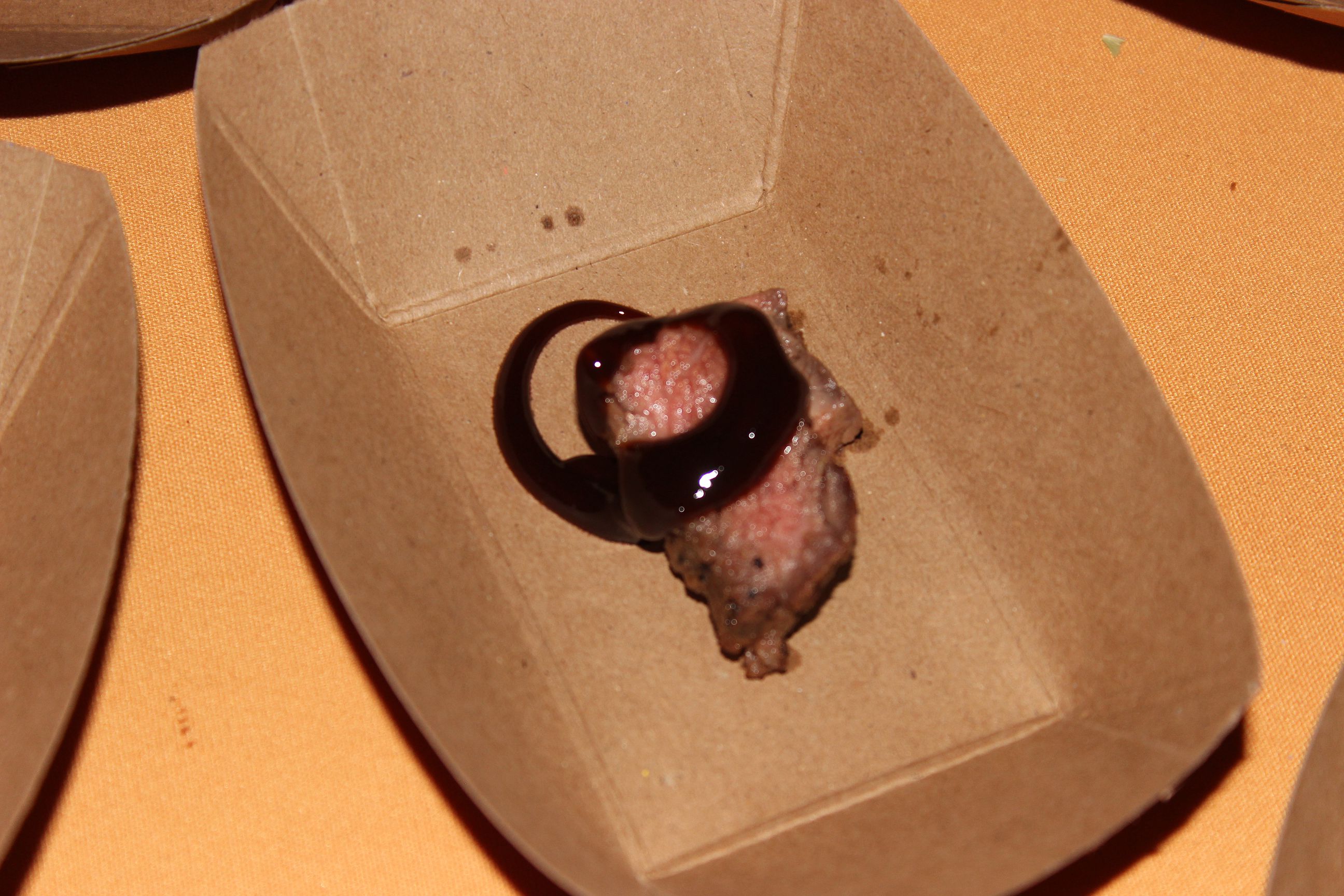 Related Articles
Share
About Author
(0) Readers Comments