Blog: Abbi Jacobson at Strand Bookstore
With the release of "Color This Book," Abbi Jacobson has turned from co-creator and co-star of Comedy Central hit show Broad City to established author — of a coloring book. Releasing a similar version with a San Francisco theme, Jacobson's artistry captures many of New York City's iconic staples from the Statue of Liberty and The High Line to Artichoke Pizza and Grand Central Station. Though she fancies the book as ideal for children or for parents visiting a big city looking for a souvenir, the coloring book is about as close to G-rated material as Jacobson gets. Tuesday evening, the actress was joined by comedienne Susie Essman for a candid conversation at the legendary Strand Bookstore where the pair touched on the recently released book, the ascension of Broad City and the challenges of bringing a sitcom to air.
Following a particularly heavy thunderstorm, a few hundred guests packed their way inside of Strand's Rare Book Room, resulting in a hot and sticky standing room only space for most on hand. Perched on a slightly raised stage, Jacobson and Essman sat comfortably in two leather chairs chatting for nearly an hour with audience questions peppered in at the tail end. The pair recounted the ideas that initially spawned a hit television show- Broad City conceptually began as a 34 episode web series, was then transitioned to a live adaptation at the famed Upright Citizens Brigade, and was then tabbed by Amy Poehler who produces the show for Comedy Central. The successful ten episode stint was immediately renewed for a second season, leaving a flustered Jacobson with only a single day between editing season one's final episode and commencing on writing a sophomore season.
With both seasons now under her belt, Jacobson- with partner and co-star Ilana Glazer- is just finishing up the final writing touches on the show's third which she claims, has been the hardest to write. For much of the conversation, Jacobson is genuinely in awe of her current stature, a result of both the large crowd that's been assembled to see her in person and the fact that she's on stage with Essman, a long-time stand-up and actress on Curb Your Enthusiasm. (Essman also plays Glazer's mother on Broad City.) Much like her character on the show, Jacobson seems entirely comfortable in her own skin, cracking jokes fairly often despite looking back in wonderment as to how she's made it to this point.
Despite this new-found fame however, Jacobson never seems to take herself too seriously. The 'Follow the Fun' mentality that was initially ingrained in her days at UCB seems to have carried over into the show's production, which though carefully scripted, definitely lends itself to its characters abilities to stay loose. While she fielded most questions honestly, she did manage to dance around a rumored movie script that she and Glazer are currently writing for FOX- though she indicated that it's being written for two 'really famous people' and that the pair will not be the film's main focus.
Long time fans were certainly appeased with the informational nuggets gleaned from the Broad City related portions of the chat- her real life best friend is named 'Bevers,' who happens to be the show's grotesque main antagonist, Season 2′s "Knockoffs" (the one with 'pegging') is considered by Jacobson to be the best they've ever done, there has been some thought given to producing an entirely animated episode of the show. Following the conversation, fans lined up with books in hand for a brief meet and greet with the actress herself, a thrill for those of us in attendance who marvel at the comedic and human foibles about a girl living as an everyday New Yorker, to whom we can somehow all ridiculously relate.
- Jane Van Arsdale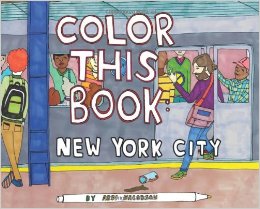 Related Articles
Share
About Author
(0) Readers Comments