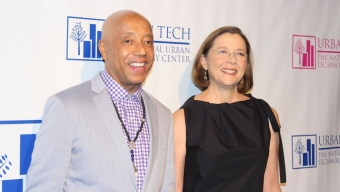 To commemorate its 20th anniversary, The National Urban Technology Center (or Urban Tech) would host a gala and awards dinner on Wednesday evening at Gotham Hall. The evening, appropriately titled 'Breaking Barriers,' is annually the nonprofit group's primary New York City-based fundraiser with donated proceeds utilized to forward the organization's initiatives- namely, through education, leadership and mentoring programs geared toward assisting underprivileged youths. With an extensive network of participants, Urban Tech has managed to reach upwards of 500,000 people in more than 100 schools and 40 states- and in celebration of two decades of success, the organization welcomed in some very special honorees for the affair.
More than 300 guests would be in attendance inside of Gotham Hall's massive circular space. An impressive collection of silent auction items would line the walls with designer jewelry, hand bags, sports memorabilia and exclusive trips tempting guests to fork over some additional cash in the name of a good cause. Celebrities like The Real Housewives of New York City star 'Countess' LuAnn de Lesseps , Z100′s Shelley Rome, pianist Chloe Flower, E! News Correspondent Alicia Quarles, model Chris Collins and actress Leslie Lopez (Starz' POWER) each took turns walking on the red carpet before the eventual arrival of the guests of honor.
CBS2 anchor Maurice DuBois would serve as the evening's emcee, presenting awards to the 2015 gala honorees and keeping the program moving along smoothly. Following a fun performance by the cast of Sesame Street encouraging guests to participate in the event's 'Text-to-Pledge' platform, it was time for the presentation of awards. For their documented philanthropic works and community activism, media mogul and business icon Russell Simmons would be given the "Visionary Award," legendary actress Annette Bening would be granted this year's "Humanitarian Award" and Douglas McNeely of BlackRock would be named the "Community Leadership Award" honoree.  Bening perhaps put the evening best in perspective when she remarked "Technology is a way to unlock the potential of what is uncovered"- a sentiment wholeheartedly endorsed by McNeely- "Thanks to Urban Tech, we are breaking the barrier."
With a full open bar and dinner service, the evening's program also featured a full-on fashion show, where models on the catwalk would showcase the designs of Keith Lloyd and guests were encouraged to bid on a custom suit made by the designer. To no surprise, it was Bening herself that took home the eventual prize, honored to play a part in the evening's success and giving the suit graciously to husband Warren Beatty, also on hand. To conclude, Urban Tech founder Pat Bransford would humbly and graciously thank the sizable crowd for being in attendance, grateful for the success of the nonprofit to date and looking forward to the next twenty years as the organization continues to spread its wings in the name of improving digital and emotional literacy in young people.
- Alexandra Fetsey
Related Articles
Share
About Author
(0) Readers Comments