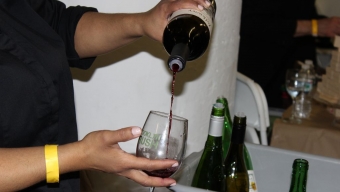 A preponderance of distracting sporting events throughout the day on Saturday would fail to keep throngs of wine enthusiasts from heading out to Sunset Park Brooklyn. The sizable Industry City would play host to two sessions of the Brooklyn Crush Wine & Artisanal Food Festival, a spring edition that would cater to both the passionate and the casual wine drinking crowd. On the heels of a sold out afternoon session that saw a lengthy line of folks extending from the building's front door, the three hour evening session was noticeably a bit tamer but equally as satisfying.
There were plenty of things for guests to get excited about as the 8pm session kicked off inside the industrial factory space. Music from guitarist Joe "JJ" Sansaverino filled the air above the 22,000 square foot of space as a sea of guests filed inside each grabbing a commemorative 'Brooklyn Crush' wine glass to house their pours. Once inside, attendees would be able to feast upon a cornucopia of delicious items to pair with their wines. Fresh cheeses, salted charcuterie, fruits, nuts, breadsticks and more awaited each set of hungry hands at different tables placed around the room. Thin slices of medium rare steak and caramelized onions were also being served as guests seeking some heartier fare were more likely to be satiated.
Our glasses were outstretched as we approached the array of different wines from different regions that awaited us. Perhaps most appealing to us is the fact that the wines being shown are wide reaching and are not tethered to a singular part of the world, so that we're able to enjoy a wine from Italy, New Zealand and Argentina all at the same little table- allowing us to compare and contrast the different varietals immediately. In that vein, we sipped on reasonably priced table wines like the 2013 Podere La Berta's "Sangiovese" and a 2012 Bodeags Hermanos Pecina – "Senorio De P. Pecina Cosecha," each of which retails for less than $17, and each were deliciously medium bodied red wines that would pair perfectly with a hearty rice or pasta dish.
Though a fair amount of wines were international imports, we also tasted some local flavors as well courtesy of Long Island's North Fork. Palmer Vineyards poured at least four of their portfolio's wines that we tasted, our favorite of which was the 2014 "Albarino." With a climate that mimics that of Spain, it's the area's only 100% albarino offered and the white wine was entirely unique- deliciously ripe and crisp with citrus notes pouring out through its finish. We also really enjoyed the whites from Jamesport Vineyards' also in the North Fork. Their 2013 "Sauvignon Blanc" was less buttery than we're used to and also a bit fruiter, with a pungent pineapple evident in its nose. Its tropical flavor profile left us longing for warm weather and sipping this wine at a beachfront setting- super clean and delicious.
Following our next stops for a bubbly pour of Trecase "Prosecco DOC" extra dry, a decadent sip of Stephen Ross Wine Cellars' 2013 "Pinot Noir" and a stop at Brooklyn Oenology Winery, we explored some of the vendors selling their wares on hand. From seasoned grilled chicken courtesy of Babunya's Gourmet Spice to fiery hot sauces from Heartbreaking Dawns, we chatted up a variety of local vendors working diligently to innovate and market their brands. Fortunately we made a final stop at Little Bird Chocolates where founder Corey Meyer was showcasing three different styles of their chocolate covered candied jalapenos. Each blend, offered in either milk or dark chocolate, would increase in its level of spice. Bagged up as "Fire Bark" or "Fire Bites," the combination of sweet chocolate and fiery jalapeno was deliciously original and had us reaching for our wallets at the very first taste.
As the clock approached the witching hour and the affair neared its conclusion, we made sure to stop by Barefoot Wines for some pours of their uber-affordable selection of bubbly as well as New Zealand wine Otto's Constant Dream, a 2013 "Sauvignon Blanc" of which we've become big proponents. The team at New York Wine Events perpetually hosts seamlessly run and interactive affairs that cater to expert and novice wine drinkers alike and this one was no different. There's no pretension here- just some light and delicious eats and some two hundred different wines for you to wet your whistle and enjoy.
- Dave Gendelson
Related Articles
Share
About Author
(0) Readers Comments