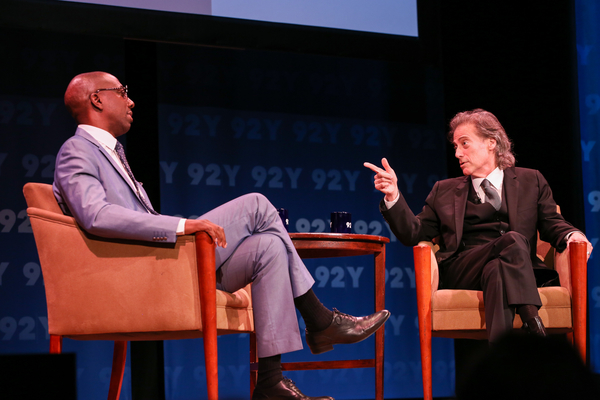 (Photo Credit: Michael Priest Photography)
Although it had been repeatedly clear that the pair had never shared any screen time together, fans of HBO's "Curb Your Enthusiasm" were undoubtedly thrilled for a mini show reunion of sorts inside of 92Y's Kaufmann Concert Hall on Tuesday night. Gathering to promote the newly released hardcover book entitled "Reflections from Hell: Richard Lewis' Guide On How Not To Live," the well-traveled stand-up joined fellow comedian JB Smoove for a 75 minute discussion replete with wild swings of topics both light-hearted and personal. The discourse would become a love affair of sorts as the pair would extoll each other's virtues and styles of comedy as the disjointed conversation would often eventually result in raucous laughter amongst the awaiting audience.
Though the focus on the book was often shrouded by chatter, the premise of "Reflections" is a marriage of Lewis' wildly neurotic thoughts paired with the dark drawings of artist Carl Nicholas Titolo, a long time friend of the comic. The one-liners, while often shocking, are also eye-opening providing but a glimpse into one of the most original and entertaining comedians of the last three decades. Surviving the likes of drug addiction and alcohol dependency, Lewis has never been short on material, resulting in his almost unparalleled longevity- and a rightful place on GQ Magazine's list of the "20th Century's Most influential Humorists."
With so much to say, JB Smoove is probably better suited as a subject than an emcee. Though they often talked over each other, the pair's admiration for each other's unique skills was immediately evident. Delving into more serious topics like inherent racism, religion and addiction, both Lewis and Smoove showcased a far deeper realm of thought than their turns on "Curb" would otherwise have you believe. That said, they spent much of the bantering session playing the part of their characters. Lewis' wild gestures were on full display as he worked through the physical expression of his thoughts- much like his stand-up typically unveils. Smoove's improvisational skills similarly seemed to suit him for this setting, as he preferred to riff with Lewis rather than pose questions in a standard format. The conversation often ran into different directions allowing the evening to be more of a performance than a standard chat.
Despite their differences in upbringing, the pair, as many other comedians can attest, seem to be kindred spirits around the art of stand-up comedy. Their mutual respect and appreciation for Larry David was a subject of continual repetition, though fans will be disenchanted to hear Lewis discuss the show in the past tense- a potential indicator that a 9th season of the show may not be coming after all. Tuesday night's conversation allowed fans of the show- and comedy in general- to witness two experts in their craft having a candid discussion that was everything that a comedy act is supposed to be. It made you think some and it made you laugh a great deal. And from two of the genre's most identifiable and respected acts, that's really all one can ask for.
- Dave Gendelson
Related Articles
Share
About Author
(0) Readers Comments