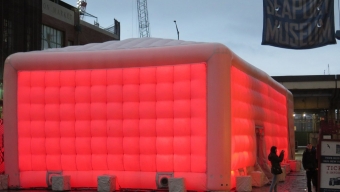 Hundreds of New Yorkers assembled at the South Street Seaport on Saturday over the course of five action packed tasting sessions. Though a bit unorthodox, the aptly titled 'Broth Fest' would transform portable pop-up space, the SugarCube into a mobile soup kitchen of sorts for any locals willing to pony up a $33 ticket price to indulge in the warm comforts of some delicious and piping hot broths. Attending the 4:30pm session, we joined some likeminded eventgoers by sipping on the various broths and in doing so blew our recommended daily allowance of sodium right out of the water.
If you think that a festival that serves to celebrate broth sounds mundane, don't. It's the perfect comfort food for the winter that we've all just endured- whether it's the more traditional variety or that with a unique flourish that several were showing off at the first annual affair. And of course getting buzzed on the Brooklyn Brewery bottles being served amid the backdrop of music spun by DJs AndrewAndrew and heartjacker and live band Sylvana Joyce and The Moment surely didn't hurt either.
With nary a minute of the ninety to spare, we arrived at the outdoor venue, dressed up with bright pink lights despite being overshadowed by a particularly dreary evening. The inflatable space, resembling a child's Moon Bounce, was both inventive and festive for the event and though the session was certainly well attended, it managed not to be overly crowded despite the limited space inside. With beer in hand, we quickly began making the rounds among the vendors which included: Katz's Deli, Belle Reve, Baz Bagel + Restaurant, Caracas Arepa Bar, Spur Tree, FAME and Harlem's Bone Deep and Harmony.
To no surprise, it was the broth from Katz's that was the most flavorful as we returned for roughly four helpings. Honorable mention goes to Caracas Arepa Bar, whose 'Sancocho with Beef Shank' was littered with the likes of culantro, yautia and yucca- all of which made us just about have a gustatory orgasm. A special thanks also goes out to Belle Reve for spiking their broth with copious amounts of whiskey. Unfortunately, we encountered one vendor who would only let us sample a broth if we downloaded their iPhone app- to which we politely declined.  All in all, three beers, a few shots worth of whiskey, a dozen cups of broth, and about 2000 milligrams of sodium later and we were done for. But 'Broth Fest' 2015 was certainly worth both the reasonable cost and the shlep out to the South Street Seaport. If they come back in 2016, you'll find us comfortably nestled right back inside of the SugarCube.
- Colby Lopez
Related Articles
Share
About Author
(0) Readers Comments