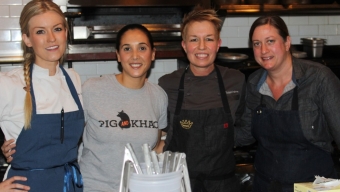 Blog: COCHON555 Dinner Series - Root and Bone
Friday night marked the return of one of the winter season's most highly anticipated and highly acclaimed weekends. The annual COCHON555 Tour has for years mixed savory swine with enthusiastic eaters, making New Porc City one of its primary stops en route across the country. Kicking off the 2015 pig centric festival in style, five of Manhattan's most esteemed culinary creators converged in the East Village as part of the COCHON Chef's Course Dinner Series. And to the surprise of no one, the results were inventively delectable.
Since opening in 2014, Root & Bone has emerged as one of the most sought after restaurants in Manhattan and as such, the space was a particularly suitable host site for the five course dinner, spread amongst just thirty lucky diners. Though the festival's grand cooking competition takes place on Sunday, the lavishly prepared dinner was far more relaxed for the notable chefs involved and perhaps more importantly, served as an educational introduction to farm-to-table cuisine and sustainable fare. Guests were treated to a literal smorgasbord of appetizing eats immediately upon entering the cozy and casual restaurant. Salty slices of aged "Proscuitto di Parma" and "Pickled Deviled Eggs" paired particularly well with refreshing "Sweet Tea Bourbon" cocktails mixed specifically for the affair.
Once dinner was slated to begin, COCHON555 founder Brady Lowe welcomed the now seated dining room to the restaurant before introducing the participating chefs to the wide-eyed audience. Each of the five portions would be paired with hand-selected Wines of Germany with each course seemingly surpassing its predecessor. Although Chef Elizabeth Faulkner (formerly of Krescendo) is perhaps most recognized as an acclaimed pastry chef, she was tasked with preparing the evening's first course. Fittingly, Chef Falkner plated a dollop of sweet 'Levain Glace,' best described as ice cream, as a garnish for her perfectly cooked "Fennel Scented Pork Belly." Deliciously salty and succulent, the pork was complemented by a vinegar-forward pickled salad that added a much needed fiery kick on the back end.
Pig & Khao's Chef Leah Cohen was up next, plating two different pig parts with her own authentic twist. Utilizing "Smoky Braised Pork Cheeks" and a "Crispy Pig Ear and Herb Salad," Chef Cohen made use of both textures admirably. Each tender cheek morsel pulled apart with the slightest touch of one's fork. Laid atop a creamy and rich bed of polenta, the savory serving was enhanced by the subtle sweetness of a fig pork jus that lay underneath- while the crunchy contrast from the bits of pig ear proved equally as tasty. It should be noted that although each course was definitively hearty, each was perfectly paced over the course of the three hour dinner so that diners were never made to feel overwhelmed by the dishes in front of them.
The "2011 Thorle Pinot Noir" proved to be our favorite wine of the evening, paired alongside Chef Missy Robbins' (formerly of A Voce) memorable offering. Leveraging her Italian roots, Chef Robbins served a simplistic pasta dish rife with outstanding flavors. Using farm fresh San Marzano tomatoes and mouthwatering hunks of guanciale, her al dente "Pasta" was lacquered in plenty of traditionally inspired red sauce and sprinkled with oregano leaves to round out the dish's outstanding flavor profile. Just as we thought we had been completely satiated, the main course was about to be served and Root & Bone's Chef Janine Booth unleashed an entire arsenal of masterful preparation. The "Whole Pig Porchetta" was plated with a cavalcade of homemade sides from thin and fluffy "Johnny Cakes" to "Grilled Corn on the Cob" with a creamy bread puree. Meanwhile, the "Rainbow Root Slaw" made with sprigs of dill and plenty of onion, was amongst the finest that we've ever tasted. The crunchy, flavorful slaw brilliantly complimented the generous portion of tender pink pork meat brined in a crispy sassafras.
Though the use of pig certainly was prevalent in each of the first four courses, who knew that Chef Mame Sow of The Cecil would be able to utilize pork in her serving of dessert? Sweetened milk ice cream surrounded a "Fried Pain Perdue" (think French toast, but thinner), accompanied by a pig ear confit which were scattered atop the dish. The true standout here was the "Hibiscus Thai Chili Jam" which was equally sweet and spicy, bringing together each of the elements cohesively. And deliciously.
The COCHON Dinner Series showcased a marvelous array of talented chefs using pork to highlight their inventive styles of cooking in a particularly intimate setting. More importantly though, the evening provided a glimpse into the community of chefs, where relationships are being fostered around using quality ingredients and local agriculture, which in turn, allows eaters to be making healthier choices. And on this night- and for the remainder of this weekend- we can thank our four legged friend the pig for that.
For more information on the COCHON555 Tour and Dinner Series, and to see what other cities the Tour plans to visit, click here.
- Alexandra Fetsey
 Food Photos from COCHON555′s Chef's Course Dinner Series at Root & Bone
Chef Elizabeth Falkner: "Fennel Scented Pork Belly, Pickled Salad and Grilled Levain Glace"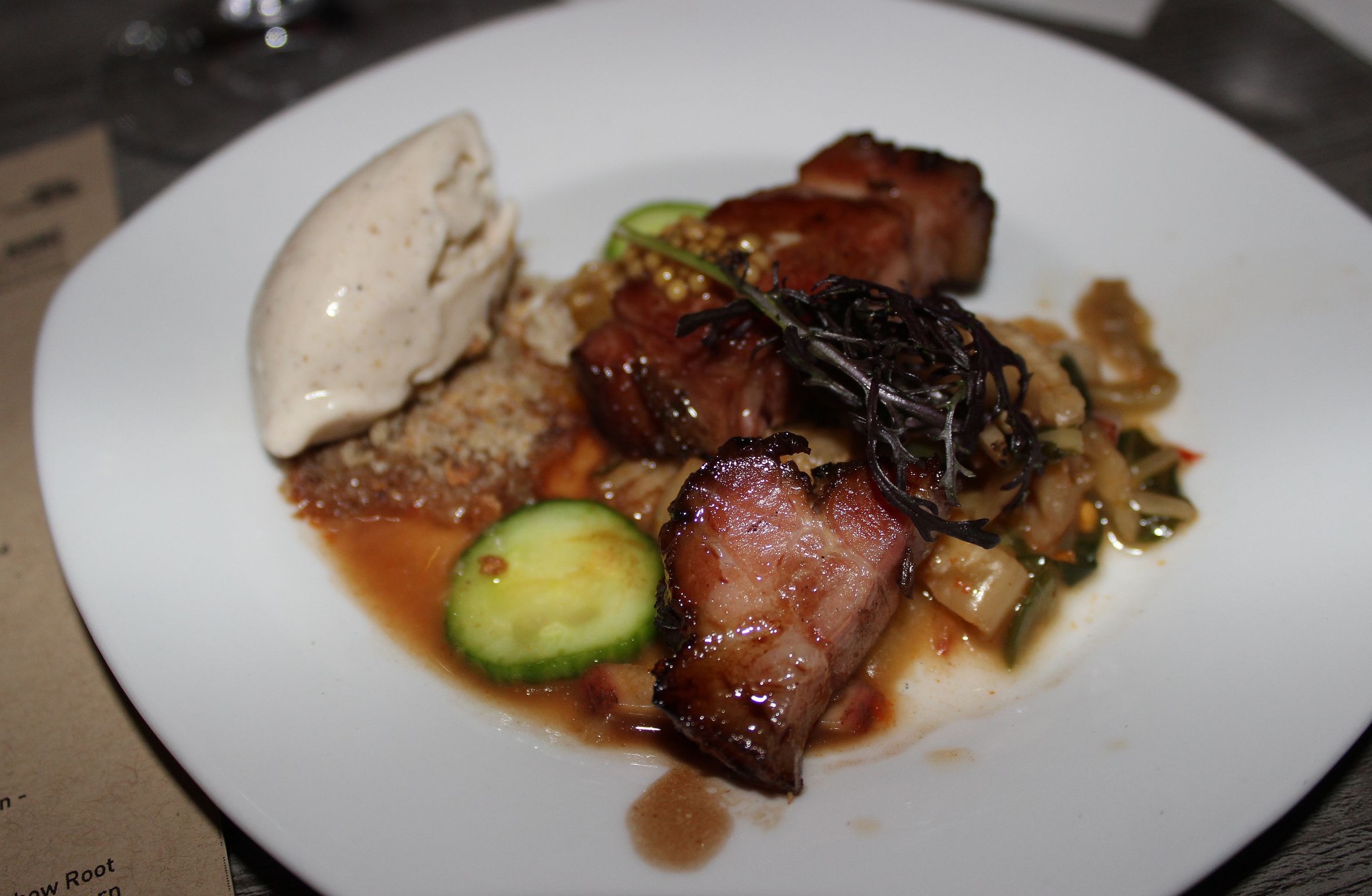 Chef Leah Cohen (Pig & Khao): "Smoked Braised Pork Cheeks, Polenta, Crispy Pig Ear and Herb Salad, Fig Vincotto Pork Jus"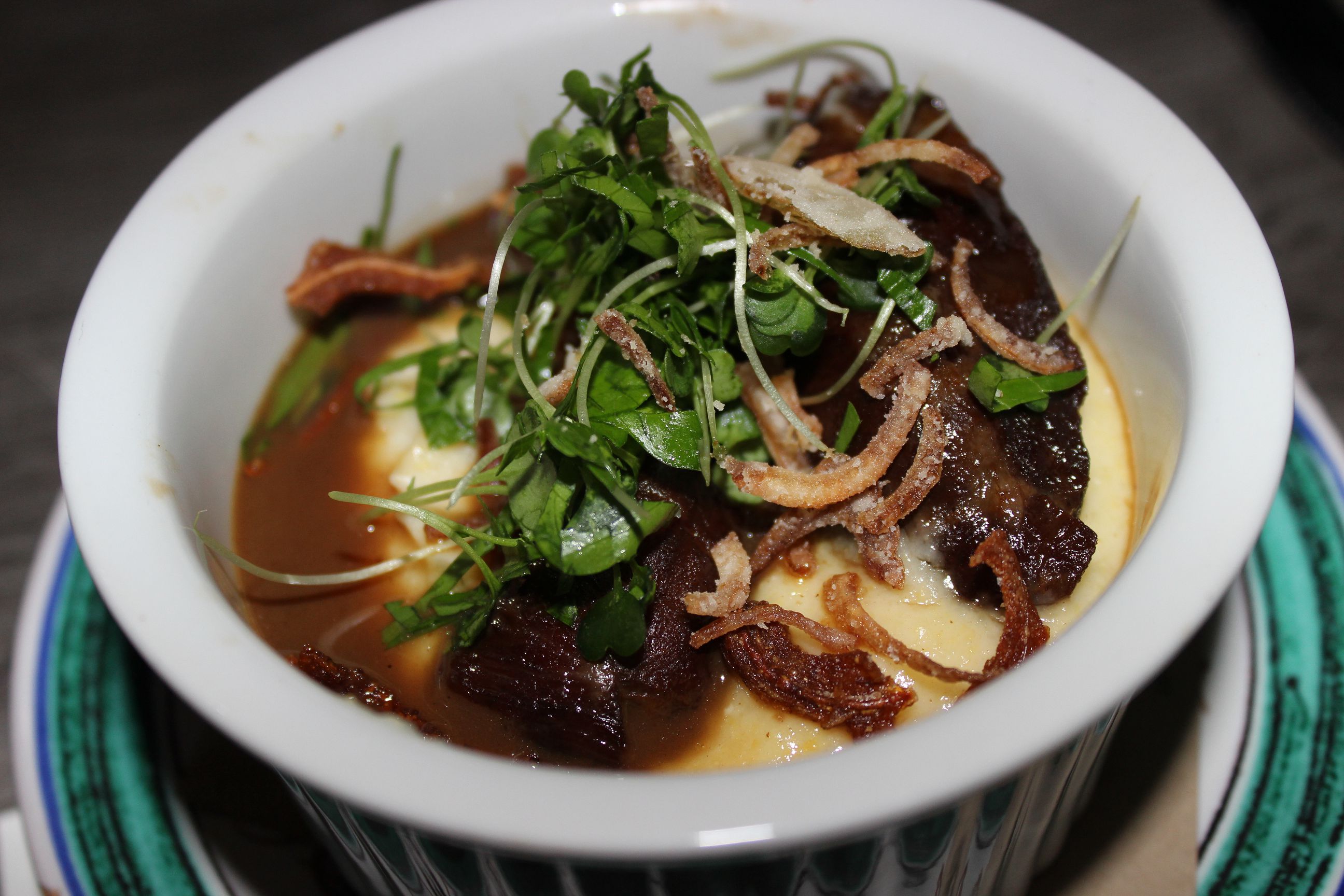 Chef Missy Robbins: "Pasta, Guanciale,Chilies, San Marzanos"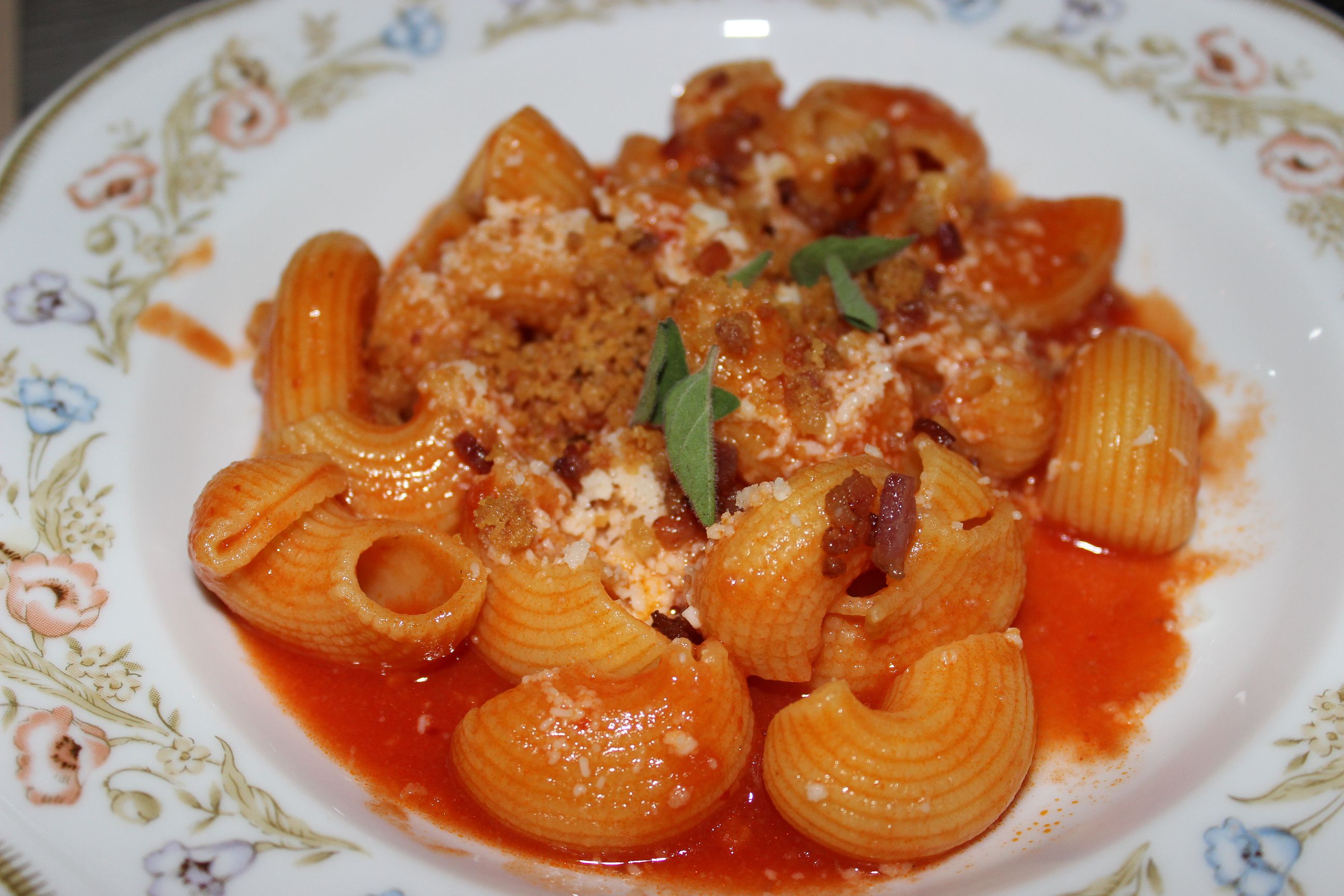 Chef Janine Booth (Root & Bone): "Crispy Sassafras Brined 'Whole Pig Porchetta' with Johnny Cakes, Rainbow Root Slaw, Pickles and Barbeque with Grilled Corn on the Cob with Crispy Hominy & Corn Bread Puree"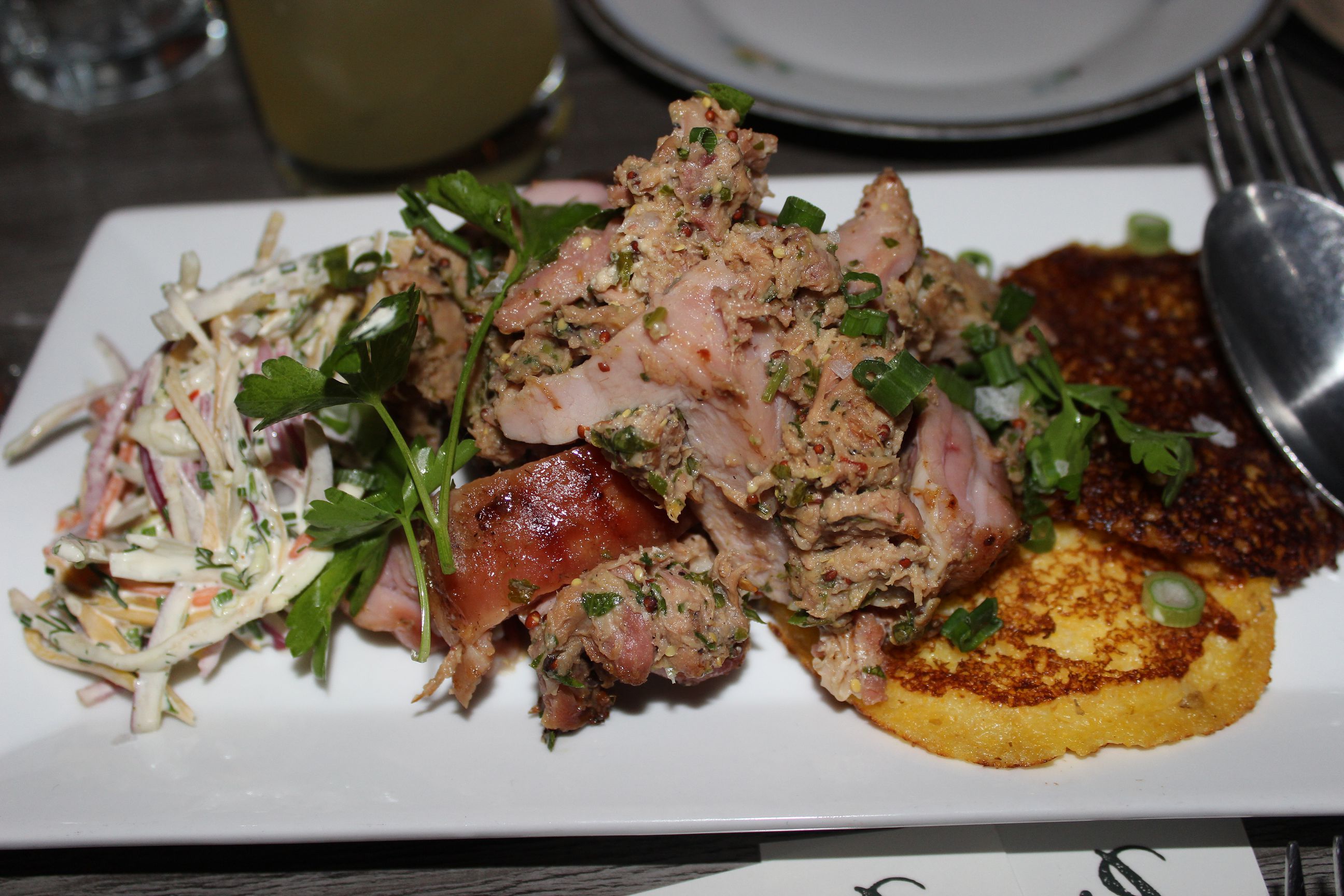 Chef Mame Sow (The Cecil): "Fried Pain Perdue with Confit Pig Ear, Hibiscus Thai Chili Jam and Sweetened Condensed Milk Ice Cream"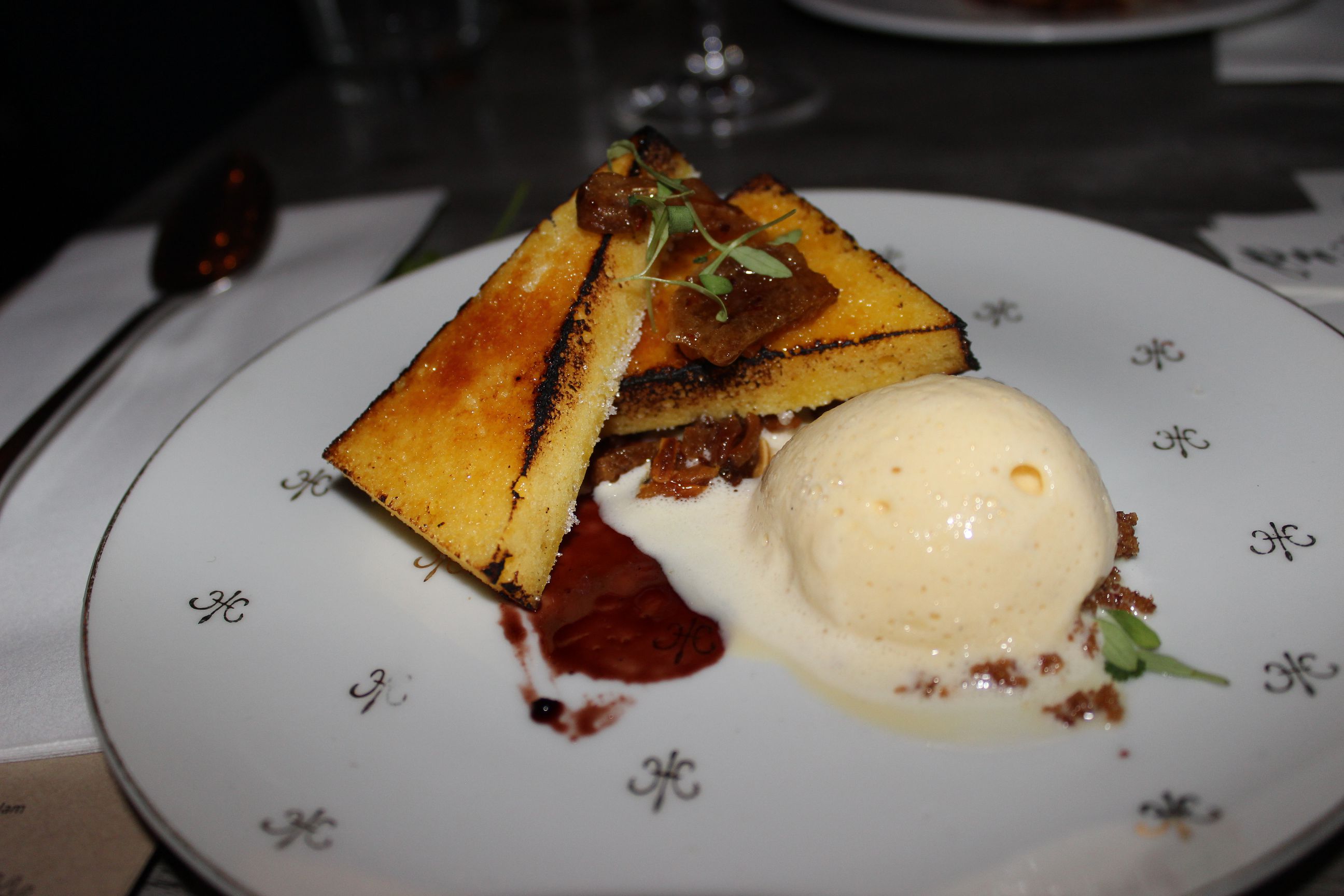 Related Articles
Share
About Author
(0) Readers Comments