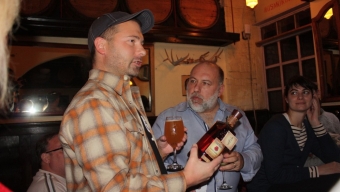 Blog: Cassoulet Cook-Off at Jimmy's No. 43
A cassoulet is a specialty casserole – made up of white beans, meat, and duck or pork (and is some cases – both) fat, and all mixed together and prepared in a slow-cooker. Originally conceived and made popular in the south of France, the tradition today remains alive and well evidenced by the East Village's Jimmy's No. 43 and Sunday afternoon's 7th Annual Cassoulet Cook-off.
The friendly competition between amateur and professional cooks was appropriately hosted in the winter season with the day's proceeds to benefit the GrowNYC Greenmarket program. The local haunt was predictibly crowded for good reason as hungry guests happily squeezed through the space in order to taste each of the different and hearty takes on this celebrated dish. Almost immediately, the aroma of the different dishes being served entranced us toward the back of the restaurant where the many tasting stations were situated.
The judging panel, which host and restaurateur Jimmy Carbone himself described as one of their most diverse ever, was made up of Andrew Gottlieb, a previous Cassoulet Cook-Off winner, Le Rivage Chef Paul Denamiel, Fiorella DiCarlo of the blog 'Fiorella Eats,' and Gina Hamaday, freelance food writer and former editor of Food and Wine Magazine. Candidly, the panel had a fairly difficult decision on their hands in selecting the day's finest cassoulet. The guests meanwhile were each given a vote for the 'People's Choice' winner, but most seemed satisfied in tasting their way around the room at their leisure.
Utilizing all local products, Clare Hartten of Flying Pig Farms served up the crowd's eventual favorite with chicken braised in duck fat from Hudson Valley Ducks, chicken stock from Flying Pig and white beans from Lakeview Farms. Preparing a cassoulet with a cornucopia of meats like smoked pork, kielbasa and sausage, Hartten's serving, which cooked for more than ten hours, was overloaded with beans and generously doused in bread crumbs, adding a nice textural component to the piping hot serving. Each of the ingredients complimented each other admirably making this flavorful cassoulet the hands-down 'People's Choice' winner. The collection of judges meanwhile would select Jimmy's No. 43′s own house cassoulet as the day's winner- though after tasting the dish, nobody would be questioned for bias based on taste alone. Chef Michael Garcon used a more traditional recipe to put together their offering, replete with hearty beans and savory pork that delivered a nice spice-filled kick with each savory forkful.
From Sandra Rerecic's 'Croation Style Gulas' mixed with sauerkraut, utilizing a recipe and an actual pot passed down from her grandmother to the unique 'Green Chili Cassoulet' prepared by Chris Livingston, made with New Mexico Hatch Green Chili peppers to Riley McCormack's exceptional 'New Year's Cassoulet' made with black-eyed peas, the seemingly simple dish varied greatly from table to table, giving attendees a vast selections of tastes from which to choose. The 7th Annual Cassoulet Cook-Off presented by Jimmy's No. 43 surely didn't disappoint with warm and savory plates being handed out inside- a welcome respite from the chilly temperatures taking over New York City in the dawn of 2015.
- Jackie Benavides
Related Articles
Share
About Author
(0) Readers Comments