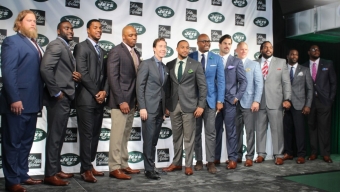 There hasn't been much to celebrate for New York Jet fans in 2014- ask our beat reporter Jordan Rubenstein. But on the heels of Sunday's decisive victory over the Pittsburgh Steelers, spirits were especially high coming into Monday evening's charitable Jet-focused affair, emanating this year from the 54th floor of Four World Trade. The downtown setting provided picturesque views of Manhattan, while some of the City's finest restaurants would assemble to serve tasty dishes as football fans swarmed their favorite New York Jets.
The annual "Taste of the Jets" would provide an opportunity for fans to interact with some New York Jets- past and present- while taking in a player fashion show sponsored by Saks Fifth Avenue, imbibing on a fantastic open bar and enjoying plenty of delicious fare from some of New York's most acclaimed chefs. Player representatives like Nick Mangold, Demario Davis and Muhammad Wilkerson would greet the media initially, just as fans began filing into the lavish space. Meanwhile, the restaurant staffs were putting the finishing touches on their servings as they prepared to feed the hundreds of guests in attendance. Jet legends like Chad Pennington, Wesley Walker and Greg Buttle paced around the room, posing for pictures and signing autographs for excited fans, while the members of the New York Flight Crew cheerleaders followed suit.
While we've got photographs of each of the delicious dishes being served, there were certainly some standouts. Restaurants in and around Manhattan like Delicatessen (a superb "Roast Pumpkin Soup with Short Rib and Marrow" from Chef Michael Ferraro), Tao (a crunchy "Tuna and Lobster Taco" from Chef Matt Hughes), Hometown Bar B Que (a savory "Smoked Brisket Slider") and surprisingly, from Jersey City's Battello (Chef Ryan DePersio's "Shrimp Chowder with Orzo") satiated our hunger pangs in brilliant fashion. We'd be remiss not to mention participants from Dos Caminos to Lavo, Lure Fishbar to Bodega Negra, Dizzy's Club to STK Midtown- each of whom worked diligently to feed the masses during the event. And just about everything that touched our tongues was noteworthy.
As the evening progressed, guests crowded around the makeshift stage in anticipation for the fashion show where players like Quinton Coples, Eric Decker, Michael Vick, Willie Colon, Kyle Wilson and Nick Folk joined the aforementioned others on the catwalk. The evening's emcee and voice of the Jets Bob Wischusen would then host a live auction that would raise tens of thousands of dollars for the Food Bank for New York City, the affair's charity partner. Philanthropic attendees would take turns bidding on unforgettable experiences like Super Bowl tickets, dinner at Rao's with Nick Mangold and the opportunity to travel on the team charter to Miami and attend a Jets-Dolphins regular season game in December- all in the name of a good cause. From the delicious eats to the celebrity players in attendance to the beautiful cheerleaders- there was a good deal to distract guests during the 2014 "Taste of the Jets" from the team's actual record on the season. But the evening's charitable focus superseded all of that and made the $375 ticket price well worth the cost of admission.
- Dave Gendelson
Food Photos from "Taste of the Jets 2014″

Bodega Negra: "Sesame Tostada with Seared Tuna, Chipotle Aioli, Avocado & Shallots"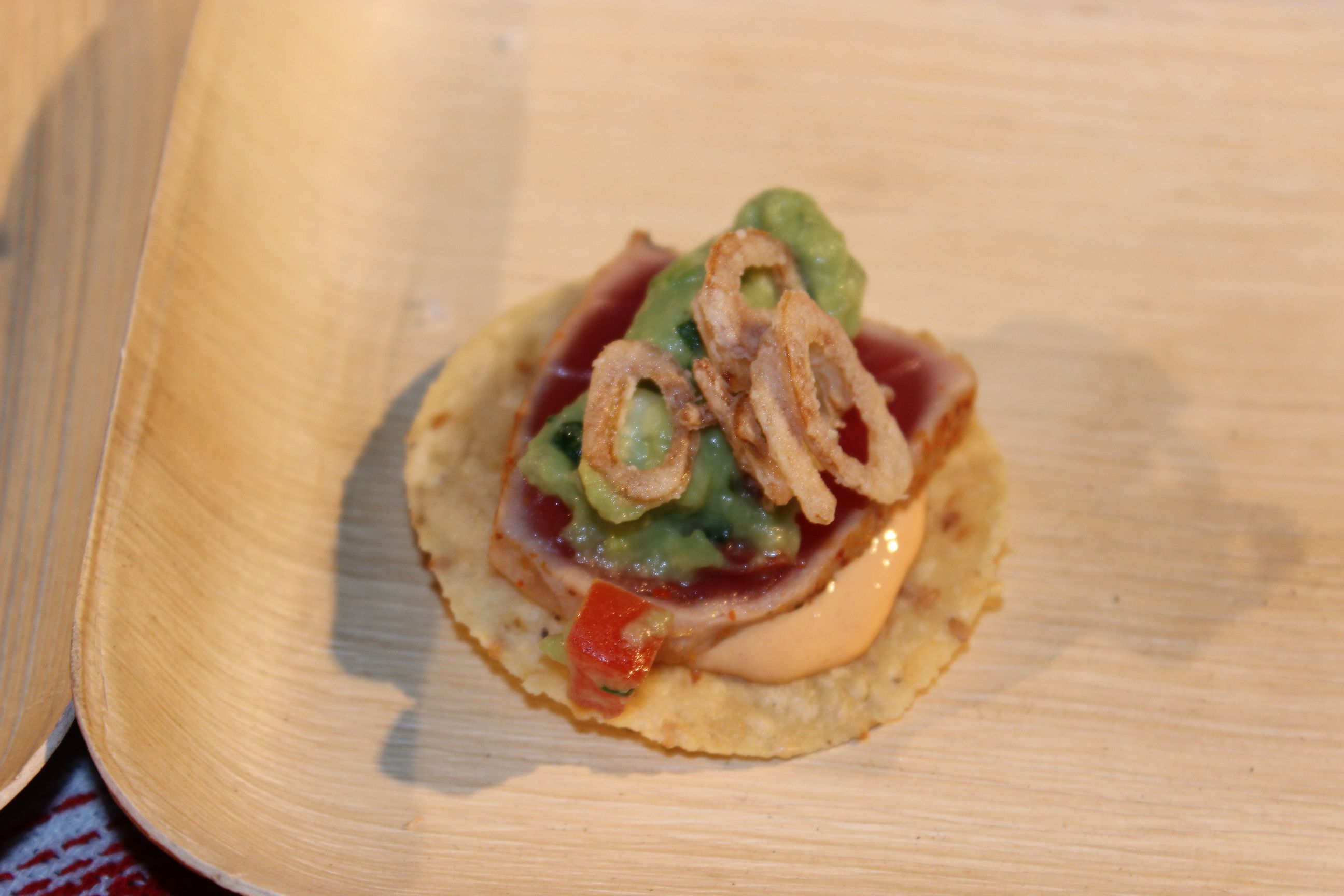 Calandra's Bakery: "Homemade Brownies with Fresh Whipped Cream"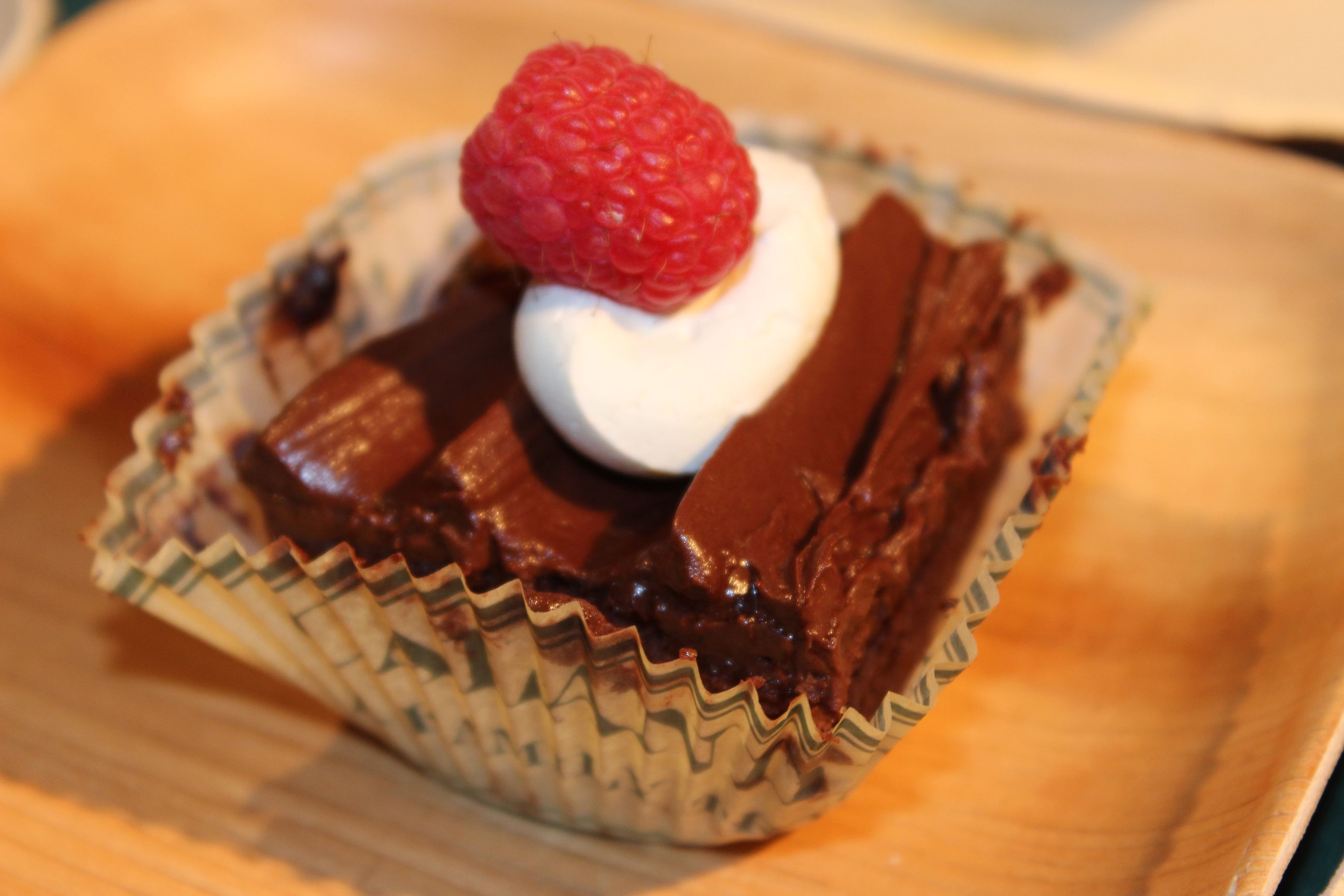 Carlo's Bakery: "Black & White Signature Cake with Chocolate Fudge"

City Crab and Seafood Company: "Cajun Lobster Rolls"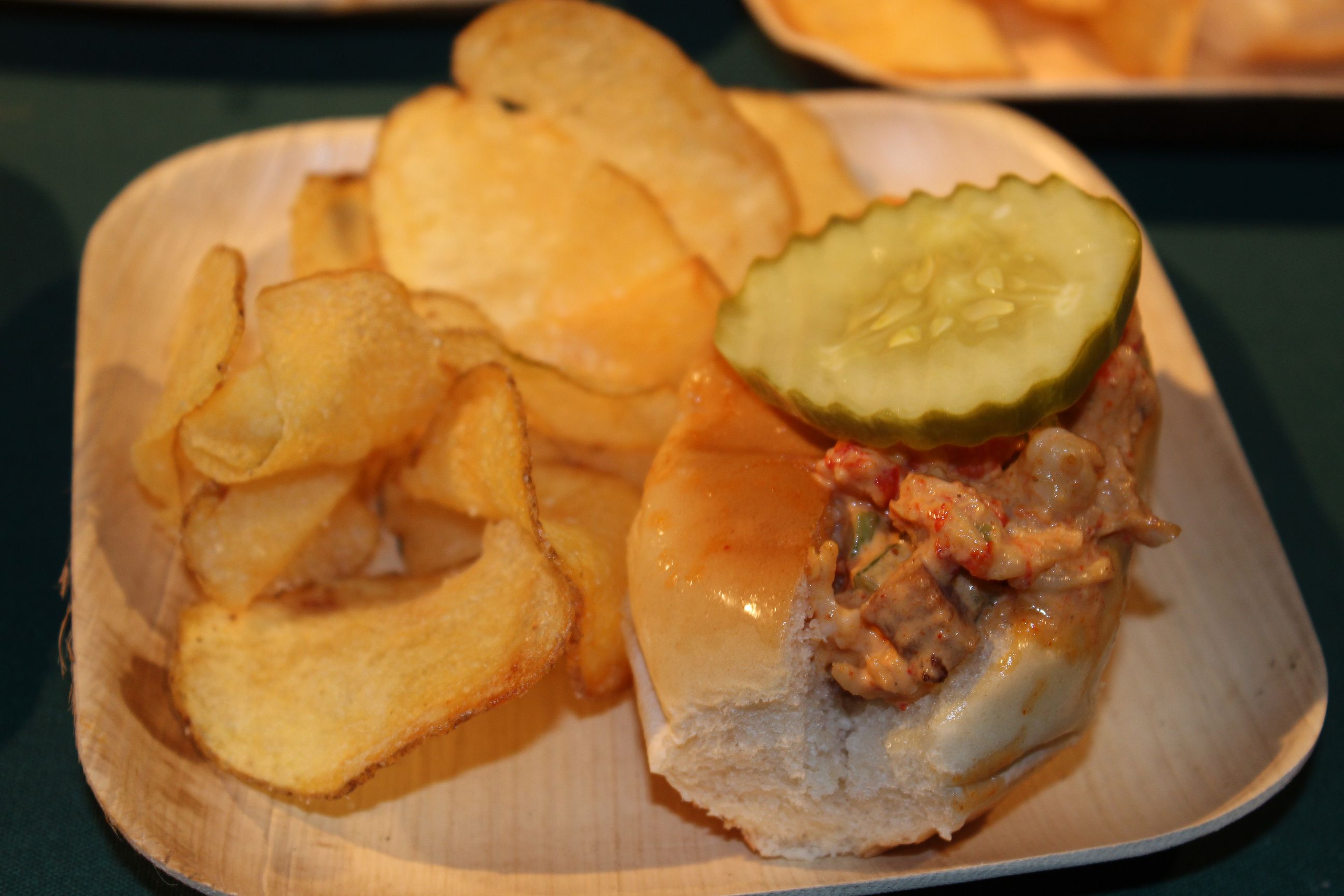 Coriander Modern Indian: "Cilantro and Mint Chicken with Tamarind Plum Chutney"
Tavern on Jane: "Raspberry Habanero Wings"
Lugo Cucina Italiana: "Lugo Meatballs Pomodoro"
Institute of Culinary Education: "Caramel Soup with Creme Fraiche Caviar, Candied Pecans and Apple Cider Sorbet"
Delicatessen: "Roast Pumpkin Soup and Braised Short Rib and Marrow"
STK Midtown: "Beef Tartare, Black Truffle Aioli, House Made Chips"
Crystal Springs Resort: "Slow Cooked Beef Short Rib, Smoked Tomato 'Catsup,' Caramelized Onion & Pumpkin Puree"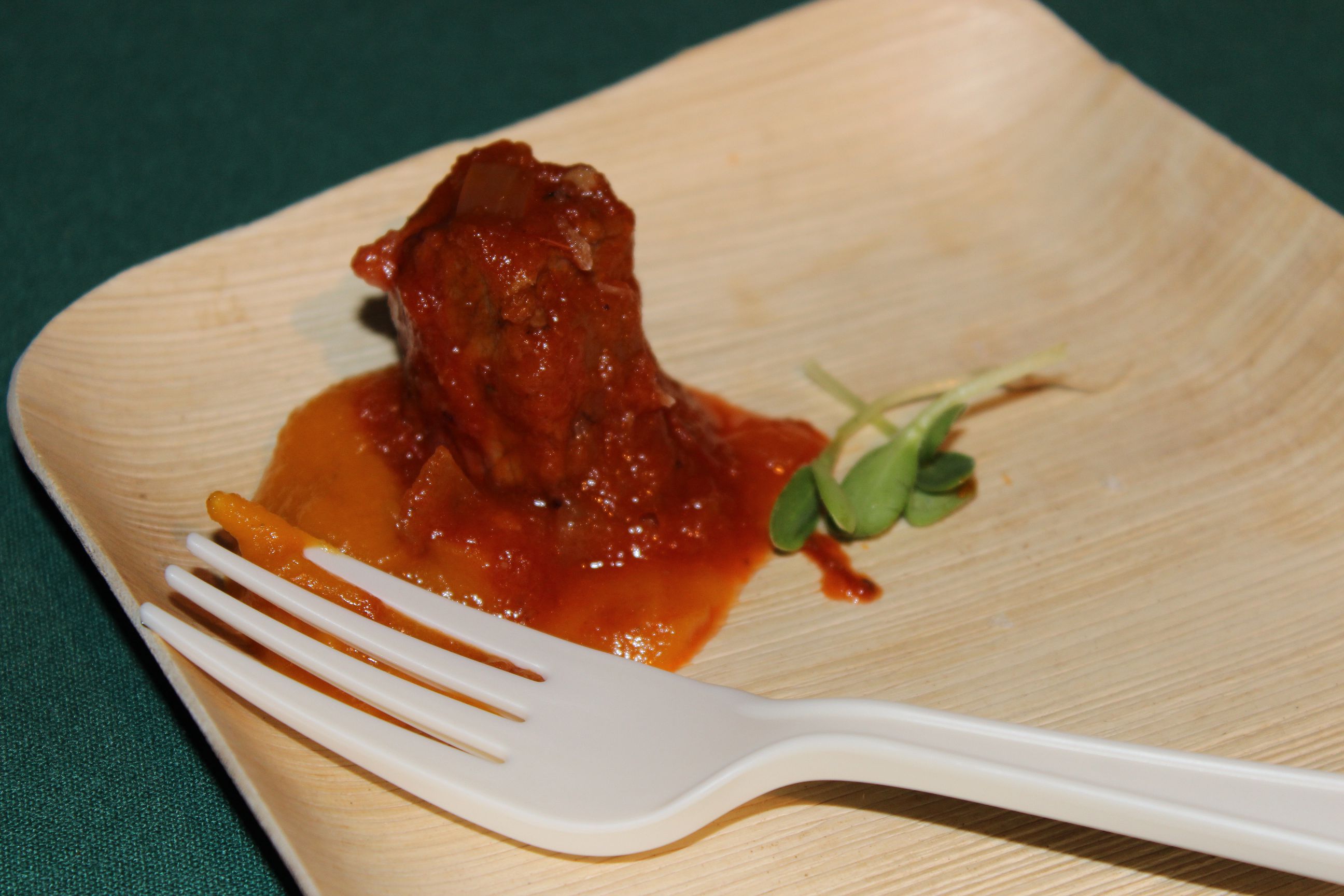 Tao: "Tuna and Lobster Tacos in Wanton and Taro Shells"

Lavo: "Mini Meatballs"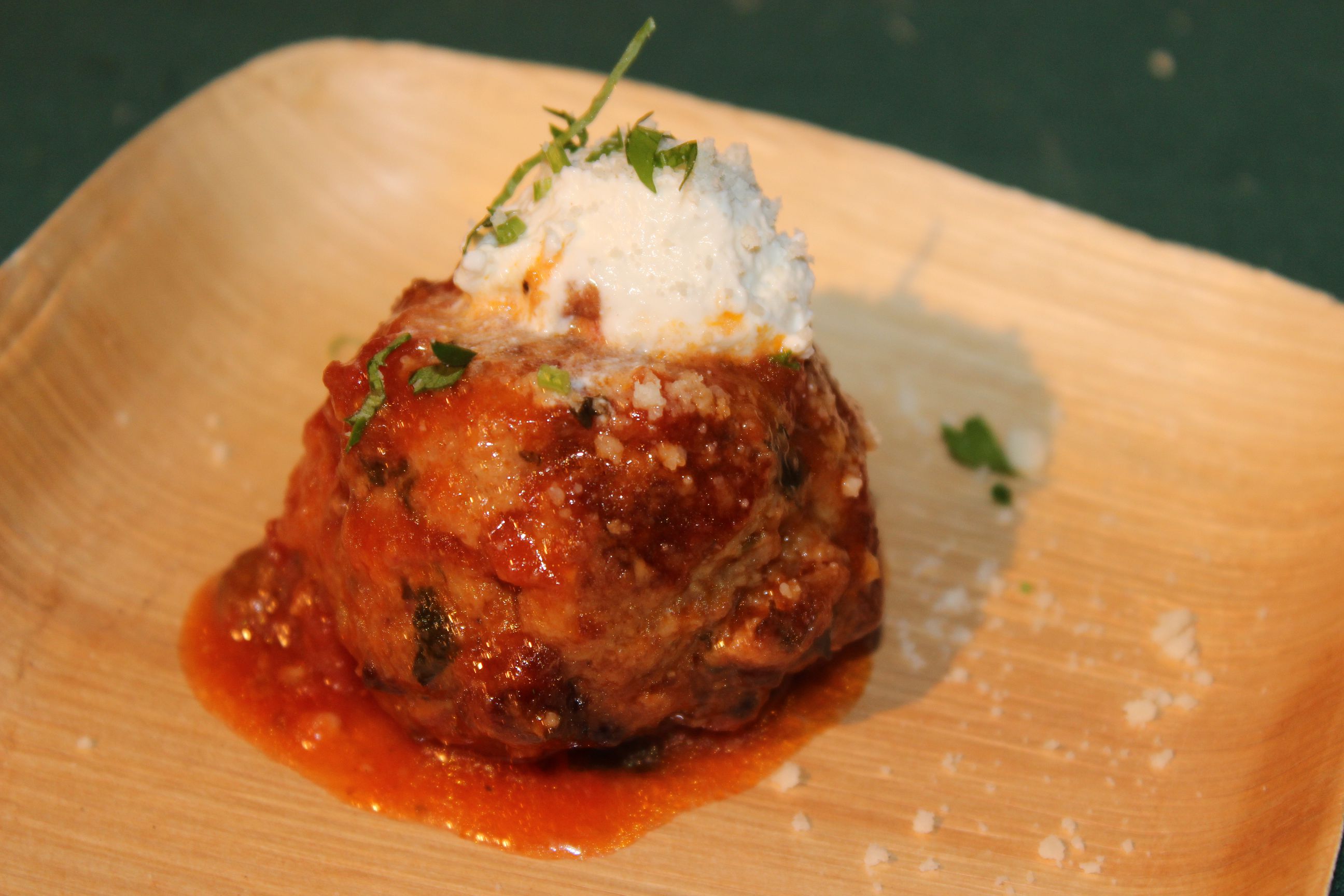 Dos Caminos: "Autumn Berry Guacamole"
Lure Fishbar:  "Shrimp Ceviche, Avocado Mousse, Fresh Tortilla Chips"

Emma's Ale House: "Mac and Cheese"
Hometown Bar B Que: "Smoked Brisket Slider"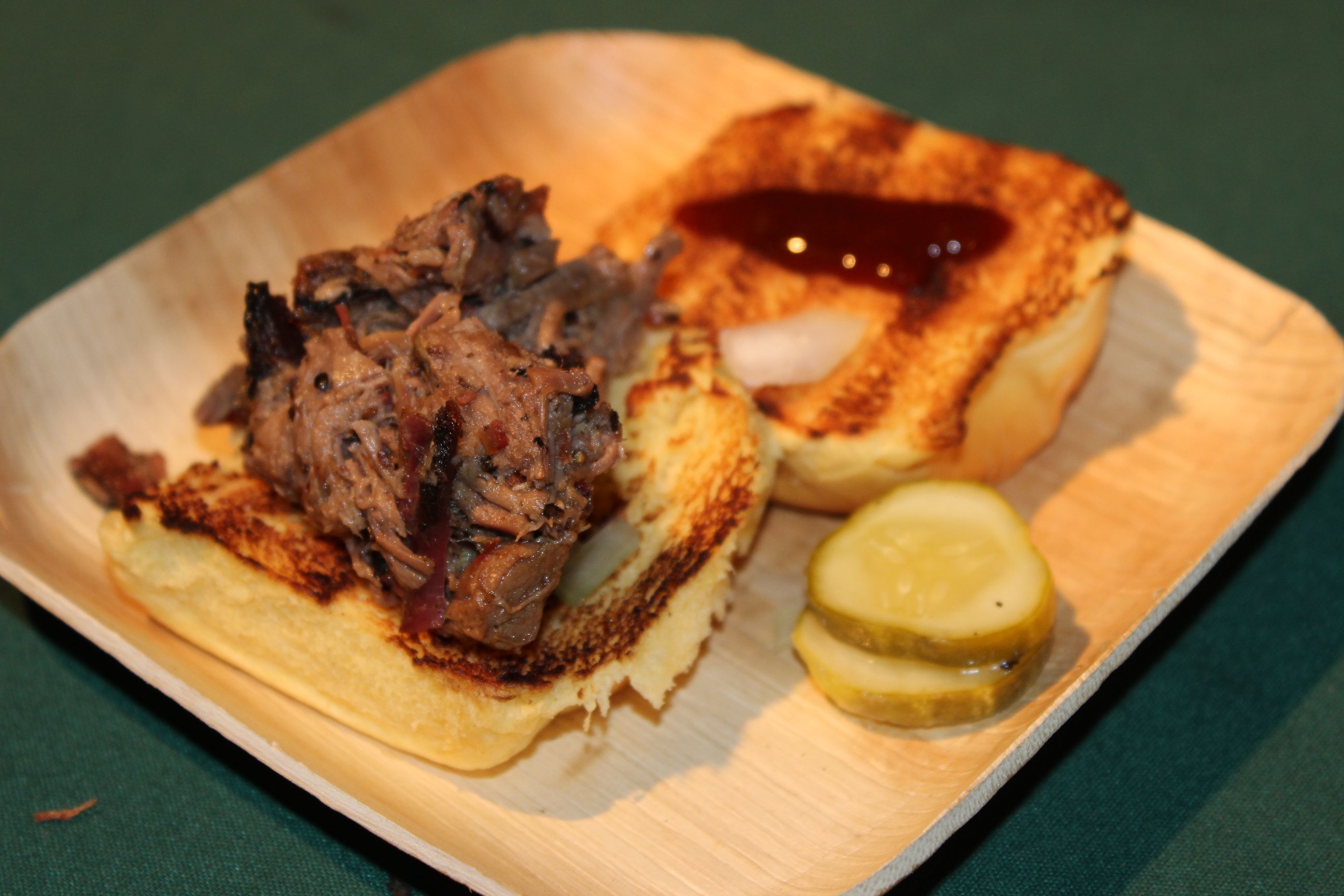 Dizzy's Club: "Bourbon Glazed Baby Back Chili, Kale Slaw, Jalapeno Remoulade, Corn Bread Cracker Crumble"
Battello: "Shrimp Chowder with Orzo and Oregano Crema"
Related Articles
Share
About Author
(1) Reader Comment