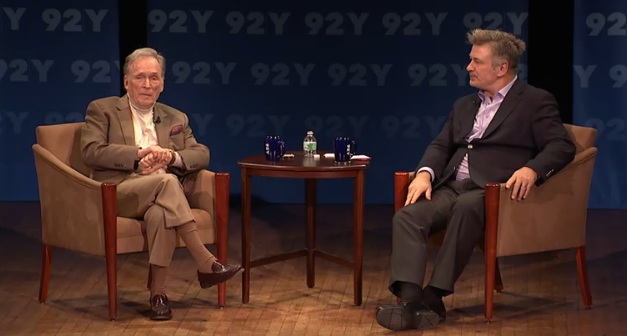 Children of the 1980′s aren't likely to be as familiar with the name Dick Cavett as the baby boomers that were fully grown by the time "The Dick Cavett Show" aired in the early 1970′s. But the lesser known contemporary to the likes of Johnny Carson and Merv Griffin would host a show on television and radio that would span three decades, even hosting The 1970 Primetime Emmy Awards as a reflection of his celebrity at the time. He's been involved in some of the most uncomfortable and pivotal moments in the history of the American talk show and Tuesday evening, Cavett would grace the stage at the Upper East Side's 92Y to promote the release of his latest book "Brief Encounters: Conversations, Magic Moments, and Assorted Hijinks" (October 28). With a foreward written by The Tonight Show host Jimmy Fallon, the book would recount some of Cavett's reflections upon a career that would serve as an understated but highly regarded precursor for the late night talk show hosts that would follow in subsequent decades.
To effectively moderate the evening's candid conversation, famed actor Alec Baldwin would be tasked with keeping Cavett's stories on track and for ninety minutes the pair shared in a good deal of laughter along with an older-skewing audience as the host recalled some of his fondest memories of his years in the limelight. Just shy of his 79th birthday, Cavett remains razor sharp with his wit being as quick as his memory. The pair detailed Cavett's humble beginnings, where he claimed that his "highest ambition was to be a guest on a talk show- then go back to Nebraska and say that 'I made it.'" But after matriculating at Yale University and following stints at Time Magazine and as a talent coordinator (see segment producer) on The Tonight Show with Jack Paar and a writer for Johnny Carson, Cavett was given a hosting opportunity for his own show back in 1968- one that would span five different networks and last until 1996.
Baldwin to his credit was perfectly suited to handle hosting duties for the chat as both a pop culture and television historian but also as a performer, where his sarcasm and exaggerated gestures translated well to the jam packed auditorium space. With questions listed on his cell phone Baldwin pressed Cavett on the 'realness' of the guests on his show- whether it was easy to tell who was being themselves and who was portraying the person that they hoped they'd be perceived as. Cavett recalled stories about Hollywood legends like Richard Burton ("For five enthralling minutes, he talks about being a drunk"), Marlon Brando ("He must be one of the most complex men ever"), John Lennon ("He was accessible. John was that way with me. I wanted to make him laugh for some reason" and "He was a great guy and thanks to our insane gun laws, he is no longer with us"), Lucille Ball ("[She] sent two hours of tape cassettes about what to talk about. Other people would just come in") along with tales involving Johnny Carson, Frank Sinatra, John Wayne, Stan Hardy, Woody Allen and Groucho Marx.
The pair fed off one another spontaneously and despite barely taking time to plug Cavett's new book, the conversation seemed to be derived from the many pieces of candor disclosed in "Brief Encounters" from the host's lengthy career. Politcally, Cavett continually seemed to knock David Frost's interview style, (Cavett was specifically mentioned by name by President Nixon on the Watergate Tapes) criticized our nation's gun laws, and reminisced about some of the more tension filled segments from his show's history- namely Georgia Governor Lester Maddox and NFL player/activist Jim Brown in a heated debate over segregation and the death of fitness guru J.I. Rodale, which occurred live on his show- one which never made it to air as a result.
Mostly though, the conversation was a light-hearted one- Cavett's fond recollections about music notwithstanding– "I didn't give a damn about rock music"- despite having hosted the likes of Jimi Hendrix, Janis Joplin and The Rolling Stones on his show. The evening's highlight however occurred as Cavett remembered an evening in 1973 as Marlon Brando broke the jaw of photographer Ron Galella, who had secretly followed the pair to a New York City restaurant. Baldwin, noting his own troubles with paparazzi joked "God that sounds awful" before comedically looking out toward the crowd. And without missing a beat, Cavett chimed in "The nice thing is that there aren't people around like that anymore." It was among the evening's most well received moments that captured the comedic timing and relationship between two iconic figures in pop culture over the past half century.
- Jane Van Arsdale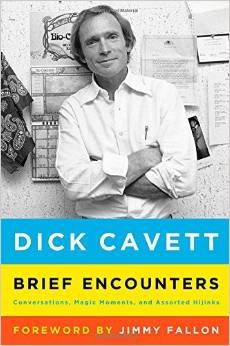 Related Articles
Share
About Author
(0) Readers Comments