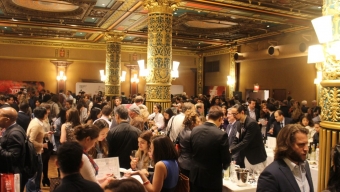 Some of the most exquisite wines in the world come from the multitude of regions in Portugal and fittingly, the best of the best would be poured on Wednesday evening inside one of Manhattan's poshest venues. The Prince George Ballroom plays host to events like charity benefits and weddings on most nights, but the lavish space would welcome Wines of Portugal into New York on this night to celebrate their annual consumer "Grand Tasting." For two full hours, hundreds of guests would work their way around the room- from table to table, region by region- to experience all of the excellent styles of reds, whites and dessert wines that Portugal has to offer.
Though the country is just the seventh largest producer of wines in the world, the region's windy coastlines coupled with high temperature summers make Portugal ideal for producing both complex white wines and light bodied reds. The spectrum of different wines was fully on display as we entered the Ballroom, a respite from an otherwise rain soaked evening. Inside, many of the wineries were wrapping up the day's trade event as they sought out a local importer to bring some of their tasty varietals stateside. Once checked in, guests were handed a commemorative booklet and a pen to track their favorites, take notes and hopefully remember some bottle names for future purchasing.
The affair's 6pm start time did not afford most attendees the opportunity to grab dinner and as such, a sea of vulturing hands perpetually grabbed at the likes of "Mini Cheeseburger Sliders" and "Pork Belly Kebabs" just as soon as the serving staff emerged from the kitchen with trays of food. The back of the room was similarly mobbed as guests swarmed the food table, piling high plates of fresh cut vegetables, charcuterie, cheeses and flatbreads- effectively staging a base for the copious amounts of wine pours that they were anxious to sip upon. With our glasses empty, we began approaching the friendly representatives at each table- some of whom were pouring as many as ten different wines into the outstretched glasses of awaiting thirst-mongers.
That said, the "Grand Tasting" was a far more tasteful event than it was a frenzy. The well dressed and mostly polite roomful of guests spent considerable amounts of time chatting with the producers as some of the more casual drinkers aimed to get a better understanding of the elements of Portuguese wines. Though we're most familiar with the Vinho Verde and Douro regions, we sought out some distinctive pours from areas more alien to us and almost immediately, we stumbled onto some wines from Alentejo. Covering roughly a third of the country, the southern region is making a name for itself with its table wines and the nicely balanced "Pimenta Preta Red" from Herdade de Sao Miguel was among our early favorites. Priced at just $12, the easy drinking red bottle was deliciously understated- dark and toasty without being overly spicy. Similarly tasty, the 2012 "Aventura" also from the 'Vinho Regional Alentejano' was a fruit-forward, equally balanced red that was both well concentrated and bursting with ripe berries.
With a repeat trip to the cheese table now behind us, we grabbed generous pours of the outstanding "Domini Plus 2011″ from Jose Maria da Fonseca (Douro) which had an exceptionally long finish, the densely rich Dao Sul "2009 Cabriz Reserva Red" (Dao) and the firm black fruit flavored 2012 "Palestra" (Douro)- a veritable steal at just $8.99. With more than 300 wines being sipped and swirled all around the room, it was impossible to savor them all in just two hours. Among the remaining highlights, we supremely enjoyed Bairrada's dry wines like the Dao Sul "2011 Quinta do Encontro Q do E Bical", Dao's vanilla hinted 2010 "Barao de Vilar Proeza" and the wrapped packaging and smoky profile of Feuerheerd's 2012 "Douro Anchor Red" and have added them to our must find lists. Simply put, the team from Wines of Portugal does a masterful job of presenting delicious and affordable wines, versatile enough to pair with almost any dish- but certainly tasty enough to enjoy on their own.
- Dave Gendelson
Related Articles
Share
About Author
(0) Readers Comments