(All photos courtesy of Stephanie Pearl Photography)
This past weekend was a special one for the staff here at LocalBozo.com. With the help of some tireless workers, talented chefs and a crowd thirsty for some of the City's best eats, our first ever #BrunchBash sold out far in advance of Sunday afternoon's affair. With more than 150 guests filling the Studio Arte space in the Garment District for two full hours, the #BrunchBash would bring forth some truly eclectic dishes from New York City's most reputable and popular brunch restaurants.
(Guests filing into #BrunchBash and Bartender Linda Lou Sarris smiling for our cameras)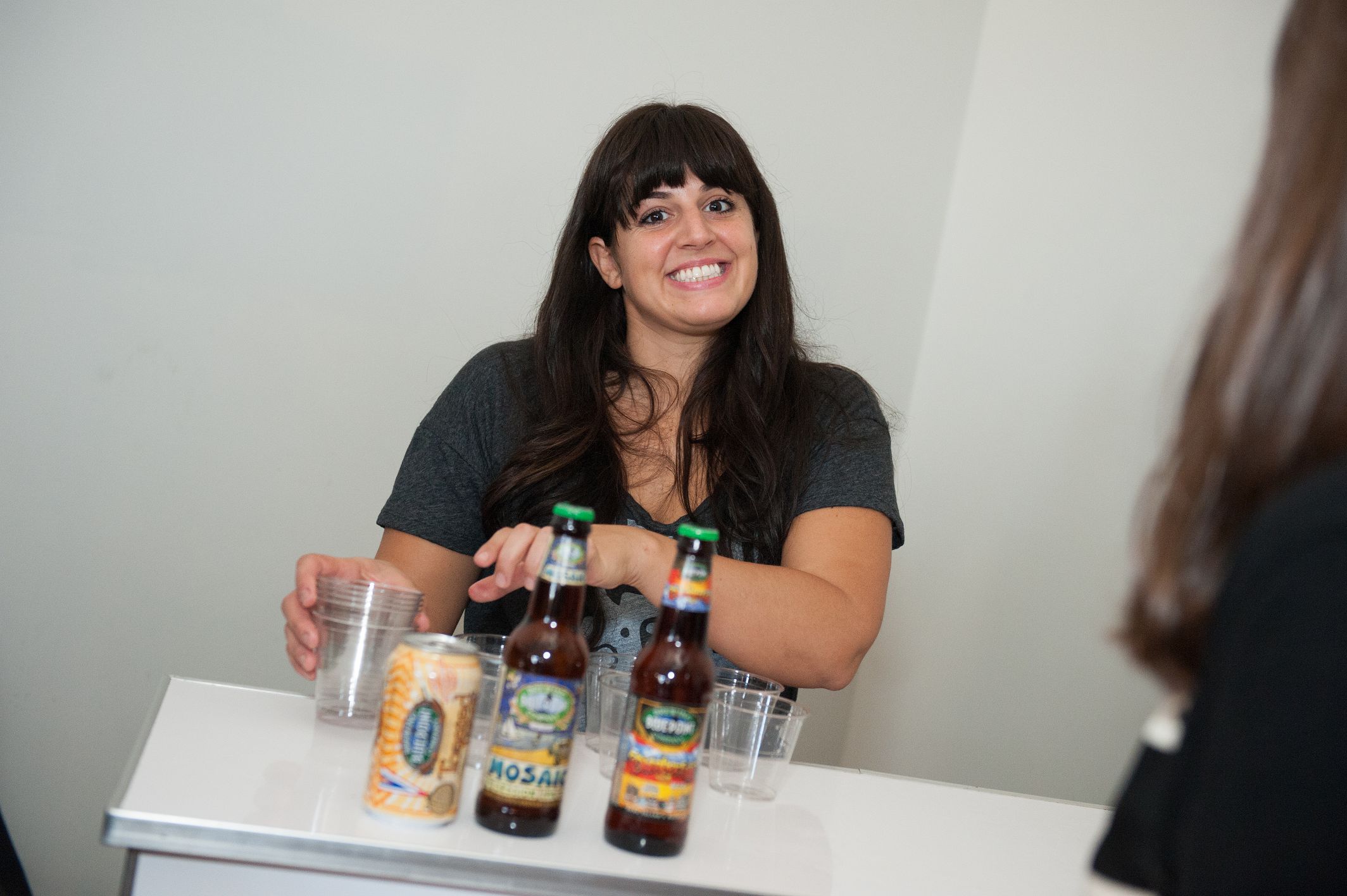 Pours of Tutela Prosecco filled champagne flutes in the exclusive VIP annex of the Studio Arte space, where freshly shucked "Wild Blue Island Oysters" would be sliced and served courtesy of the uber-friendly purveyor from Eddie Oysters. The VIP portion would kick off a half hour early, welcoming the 50 VIP guests to enjoy each dish before the remaining crowd would arrive. And almost immediately, the incredible smell of piping hot food filled the air inside of the 17th floor loft space in mouthwatering fashion.
(Louro Chef David Santos preps "Belly Goat Sliders" while Burke & Wills' Chef Rodrigo Nogueira preps his B.E.L.T Sliders)
Dozens upon dozens of guests filled in the remaining space as the clock struck noon, but the event was never overly crowded and wait times for the different dishes proved to be non-existent. In one corner of the room, the day's lone bartender Linda Lou Sarris (@lindalounyc) was happily doling out refreshing pours of #BrunchBash-Osas and #BrunchBash-Drivers to the outreaching hands of guests on hand, between cracking open bottles of Alphabet City Brewing Company's "Easy Blonde Ale" and three of Blue Point Brewing Company's tastiest beers- of which the "Mosaic IPA" proved to be the most popular. Modernized Italian hotspot L'Apicio was serving their "Bloody Mary" just steps away, reinforcing the belief that no brunch is complete without the tomato juice staple- and their subtly fiery and strong vodka drink proved essential to guests' enjoyment of the afternoon.
(The Black Ant's bucket o' grasshoppers & L'Apicio's "Bloody Mary")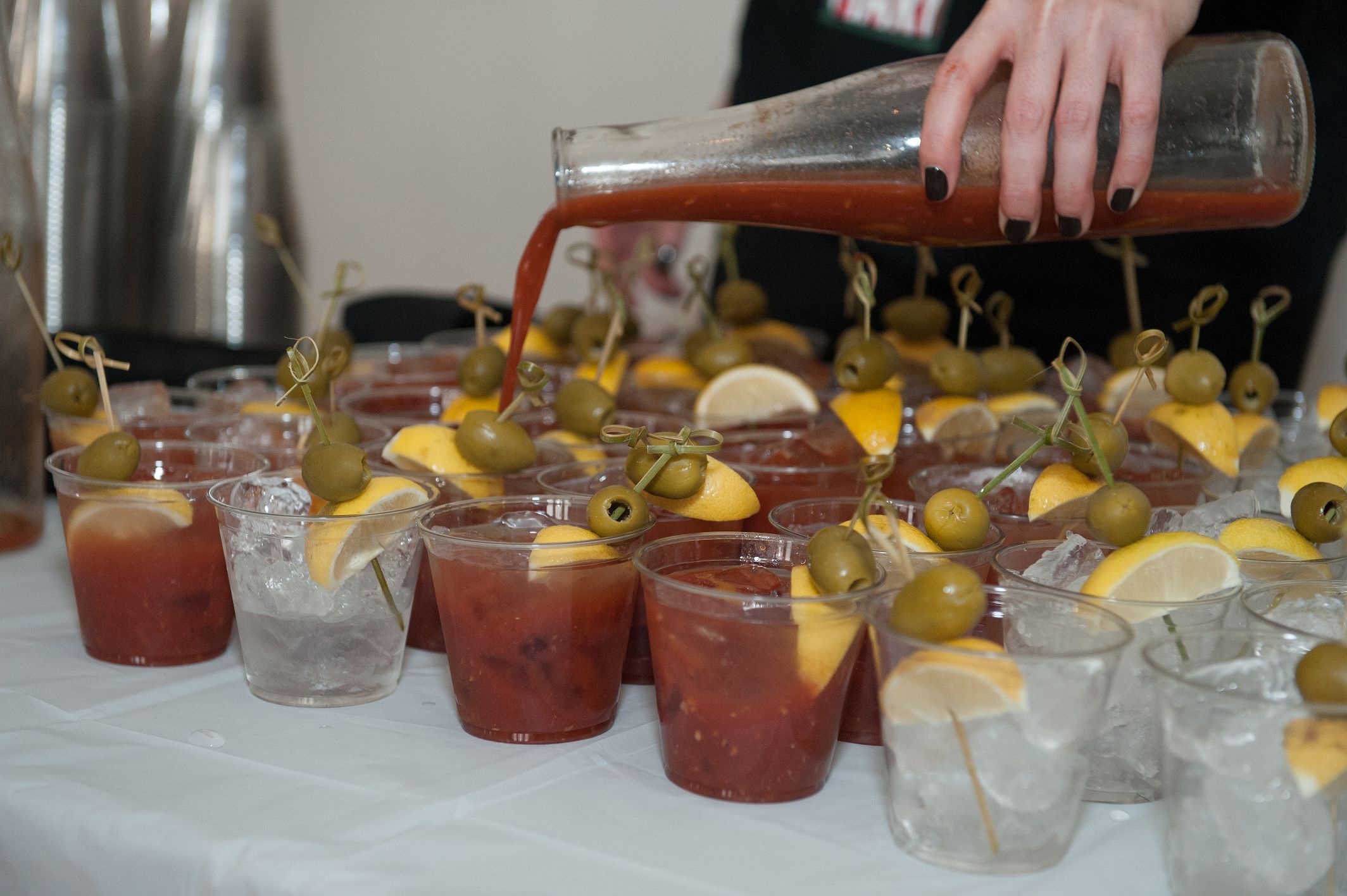 With the room now full, guests would parade around the room grabbing each generously portioned dish and chatting with each table's chef and staff before digging in for their initial bite. The Black Ant's "Duck and Eggs" dish proved to be a huge hit with guests who marveled at the heaping portion of grasshoppers used to garnish the otherwise beautifully plated combination of duck sausage and quail eggs. Others were wooed by the likes of the "Belly Goat Slider" courtesy of Louro's Chef David Santos, smothered with creamy goat cheese atop the deliciously seasoned thick patty. Poco meanwhile, was the first to completely run out of food as their hearty helpings of "Lobster Mac & Cheese" just failed to make it to the afternoon's finish line due to its popularity.
(The team at Schiller's Liquor Bar prepping their "Huevos Rancheros")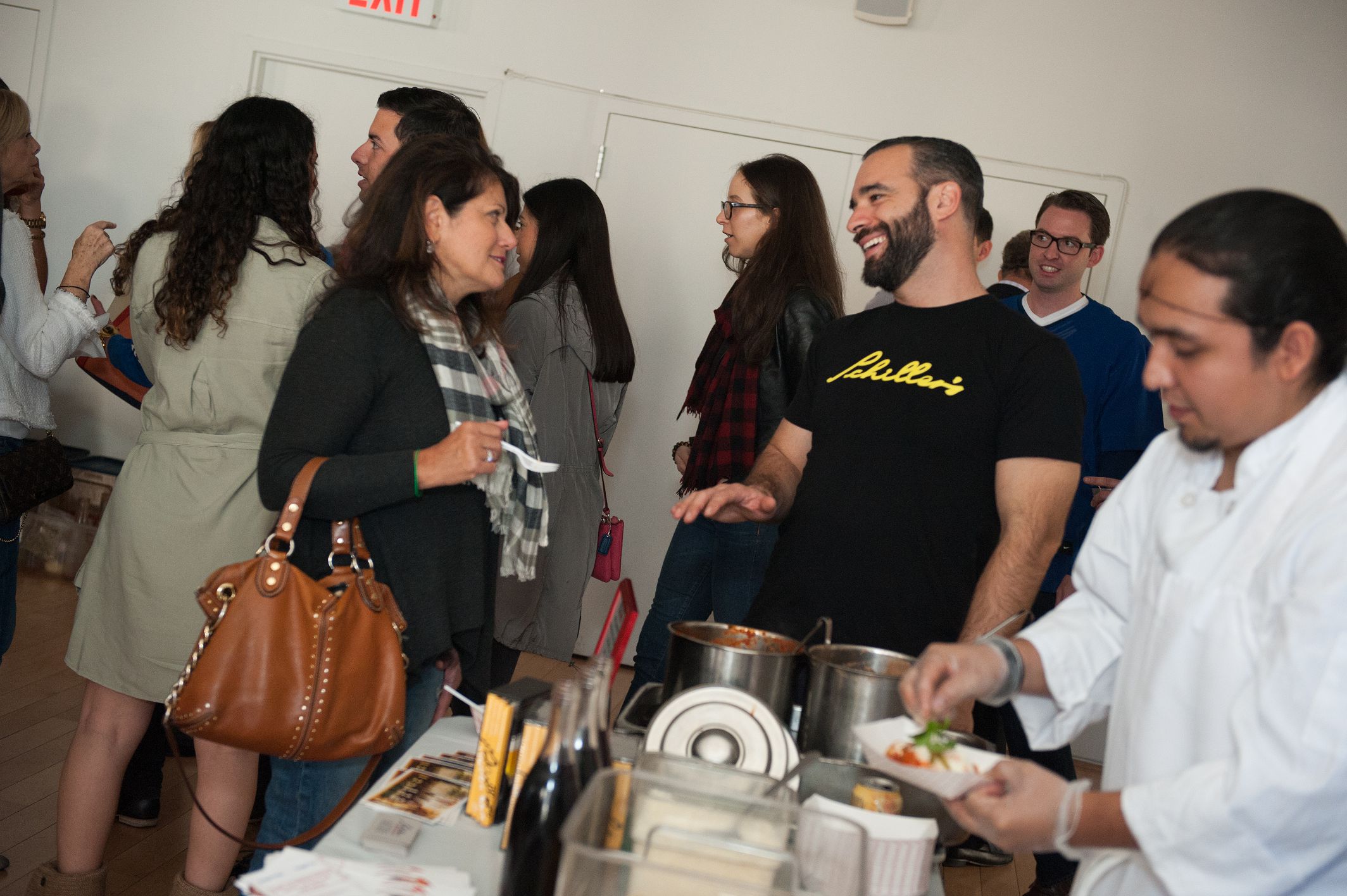 Are we biased? Certainly. But you'd have a hard time finding a prepared dish on Sunday afternoon that wasn't exceptional. Chef Jonathan Wu (Fung Tu) served an outstanding array of "China-quiles" smothered in Sichuan pork sauce that was clearly the day's spiciest dish. The friendly staff at Burke & Wills' rich "B.E.L.T. Slider" paired pork belly and fried egg in between a fresh and fluffy bun for an inventive take on a traditional brunch dish. Even typical brunch fare was delectably transformed by the teams at Schiller's Liquor Bar (a masterful take on "Huevos Rancheros" atop a fresh corn tortilla and decadent queso blanco) and Lexington Brass, where Chef Cesar Gutierrez crafted a cheddar cheese biscuit laden "Eggs Benedict" with some of the tastiest maple glazed bacon being the dish's key ingredient.
Though the sold out affair was certainly a boon to expose our readers to some of the City's tastiest restaurants, our charity partner in nonprofit organization KEEN New York was the biggest beneficiary at the #BrunchBash. With the help of silent auction donations from the likes of The Meatball Shop and Bubby's, Flute Bar and Uncle Jack's Steakhouse, Beer + Buns and Edible Magazine, BK Beef Jerky and the folks at NYCcraftbeerfest.com and local sports teams like the Yankees, Jets and Giants, our guests helped to raise a whopping $1,200 over just two hours- all of which goes toward KEEN's programs and initiatives.
It is with our sincerest appreciation that we thank the eight restaurants that chose to participate in our first ever #BrunchBash on Sunday, the staff and team on site and at Studio Arte for making the day a complete success and to the many readers that purchased tickets to attend that reinforced our love for New York City and doing what we love to do. Here's to the first of many- and thanks for coming along for this ride with us.
- Jane Van Arsdale
LocalBozo.com's 2014 #BrunchBash: The Menu
Lexington Brass
Chef Cesar Gutierrez
Eggs Benedict – Cheddar Cheese Biscuit, Maple Glazed Bacon, Poached Egg, Charred Onion, Hollandaise Sauce
The Black Ant
Chef Mario Hernandez
Duck and Eggs – Duck Potato Hash, Fried Quail Egg, Chile de Agua Salsa, Duck Sausage, Queso de Rancho, Chicharron
Burke & Wills
Chef Rodrigo Nogueira
B.E.L.T. Slider – Pork Belly, Fried Egg, Arugula, Tomato
Poco
Lobster Mac & Cheese Served with Lobster, Shell Pasta & Poco's 3-Cheese Blend
Louro
Chef David Santos
Belly Goat Slider – House Blend Goat Burger, Pork Belly, Goat Cheese, Pickled Onions, Tomato Marmalade
Schiller's Liquor Bar
Chef Shane McBride
Huevos Rancheros – Two Eggs Over Corn Tortilla with Refried Pinto Beans, Queso Blanco and Ranchero Salsa
Fung Tu
Chef Jonathan Wu
China-quiles – Crunchy Yucca Chips Smothered in Sichuan Pork Sauce atop Chinese Steamed Eggs
L'Apicio
Chef Gabe Thompson & Joe Campanale
L'Apicio Bloody Mary
 **VIP EXCLUSIVE**
Eddie Oysters
Eddie Casiano
Wild Blue Island Oysters
Related Articles
Share
About Author
(1) Reader Comment