Twelve of the country's most innovative artisan mixologists converged at this weekend's New York City Food Network Wine and Food Festival on Saturday afternoon. Joined by the cast of celebrity chefs from CHOPPED, the "Best Bloody Mary Brunch" emanated from the New York Hilton Midtown bringing together hundreds of hungry guests and dozens of restaurants whipping up delectable brunch dishes to pair with an array of Bloody Mary selections. Each guest would be given red tokens to vote for the day's finest concoction- and the opportunity to pose for selfies with the collection of chefs on hand for the festivities.
The spacious ballroom quickly filled up following the day's 12:30pm start time, where tables were positioned around the room to dole out tasty food samples and delicious Bloody Mary pours ranging from fiery to sweet with some of the most unique garnishes you've ever witnessed. The $150 ticket price was well worth it for the 2.5 hour affair, which ensured that no guest would leave unfulfilled considering the number of purveyors assembled during the course of the afternoon. Entrants filed in from the likes of Pennsylvania, Tennessee, Massachusetts and Colorado to have their cocktail tasted as the fight to be crowned the Bloody Mary champion was certainly competitive depending upon which style was to your liking.
New Yorker Emmi Soelsi representing Sons of Essex delivered "Maggie's Bloody Bowery," an intensely spicy offering with jalapeno, sriracha, tobasco, chili powder and spicy mustard and garnished with a cooked shrimp and a gherkin. Colorado's Alex Marvin meanwhile, served his "Ain't No Thing but a Chicken Wing" packed to the brim with stuffed olives, celery and a boneless buffalo wing courtesy of Buffalo Wild Wings. From vegetable assortments to biscuits to thick cut bacon, the garnishes were certainly garish- but in the end, the afternoon was about the taste of the drink itself. For our money, Florida's Josh Hernandez's "Havana Mary" was the day's finest with its gazpacho-like consistency pairing a mango puree with Cuban coffee, lime juice and serrano chiles together excellently. Saul Good (Kentucky) was our runner up with a yellow "Heirloom Tomato Bloody Mary," equally as refreshing, with a salted rim to give a satisfying kick to the blend of Absolut Peppar and Absolut Cilantro.
Once the space was sufficiently filled, guests swarmed to the front of the stage to pose for pictures with many of the introduced members of CHOPPED- namely Aaron Sanchez, Maneet Chauhan, Scott Conant, Chris Santos, Alex Guarnaschelli, Marc Murphy, Geoffrey Zakarian and Ted Allen. While each mixologist was also introduced to the crowd, the rest of us took advantage of the shorter lines and began grabbing some of the day's best eats from around the massive space. Though we've got photos of all the delectable fare below, savory highlights included Miss Elisabeth's Catering's "Brisket on a Biscuit," Michael's' "Bulgogi Steak Taco," Dinah Surh's "Korean Sweet and Spicy Bacon BLT," and Kin Shop's "BBQ Steamed Bun." And let's not forget Dizzy's Club Coca Cola with their eclectic "Crispy Chicken and Waffles" atop a sweet dollop of blueberry glaze- a perfect pairing given the appropriate setting.
After awhile, the seemingly neverending run of thick tomato juice can be a bit overwhelming and though we were forced to raise the white flag, we managed to hang around long enough for the winner to be crowned. Texas' David Wakefield's "A Bloody Beaux Thai" was crowned the day's winner, combining an epic collection of flavors from mustard to pickle juice, creole style hot sauce to celery salt in distinctive fashion. Though his drink was among the last ones we sipped upon, it was hard to argue with the people's decision for perhaps the day's most well rounded Bloody Mary. Whether guests attended to hob-nob with celebrity guests, to taste a sea of tasty dishes or to get an early Saturday Bloody Mary buzz on, there was plenty to keep everyone in attendence captivated from start to finish. Our only gripe is that we weren't handed any Prilosec on our way out the door.
- Jane Van Arsdale

The Bloody Mary Entrants
"Garden Bloody Mary Blend" – Irene Moretti, Pennsylvania
"Ain't No Thing but a Chicken Wing" – Alex Marvin, Colorado
"The Hell Mary" – Arley Howard, Massachusetts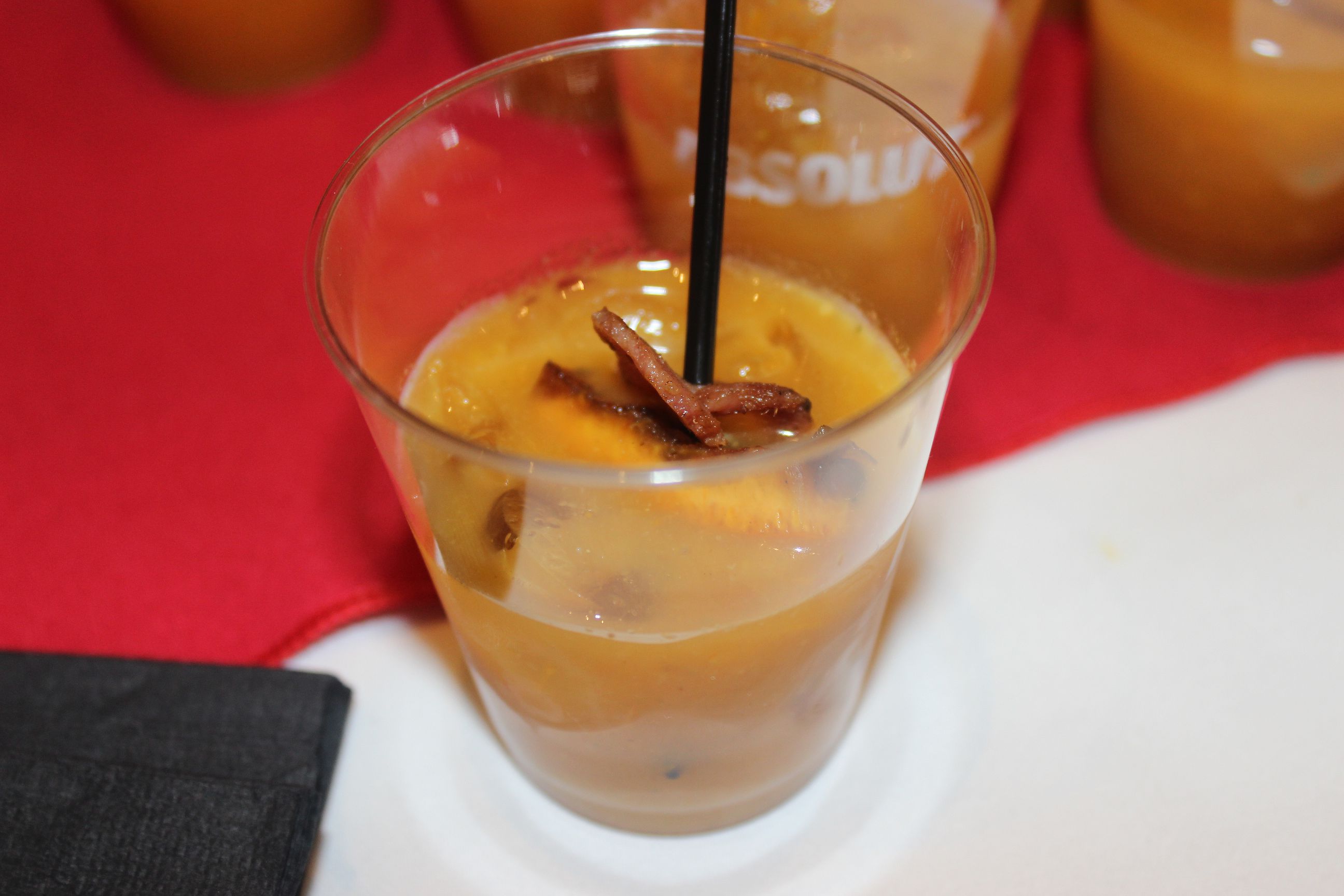 "Uber Miguel" – Gabriel Camp, Tennessee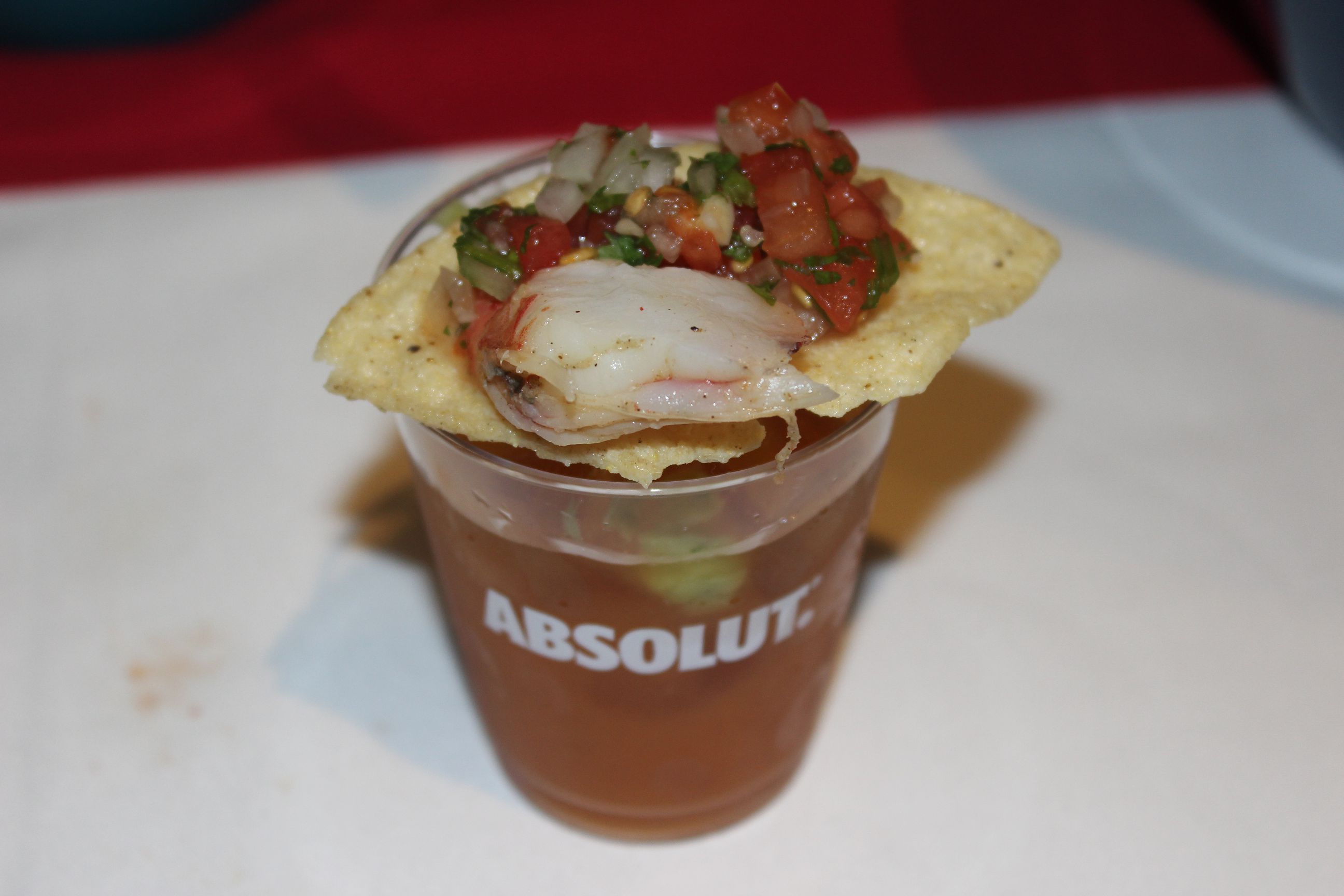 "Maggie's Bloody Bowery" – Emmi Soelsi, New York City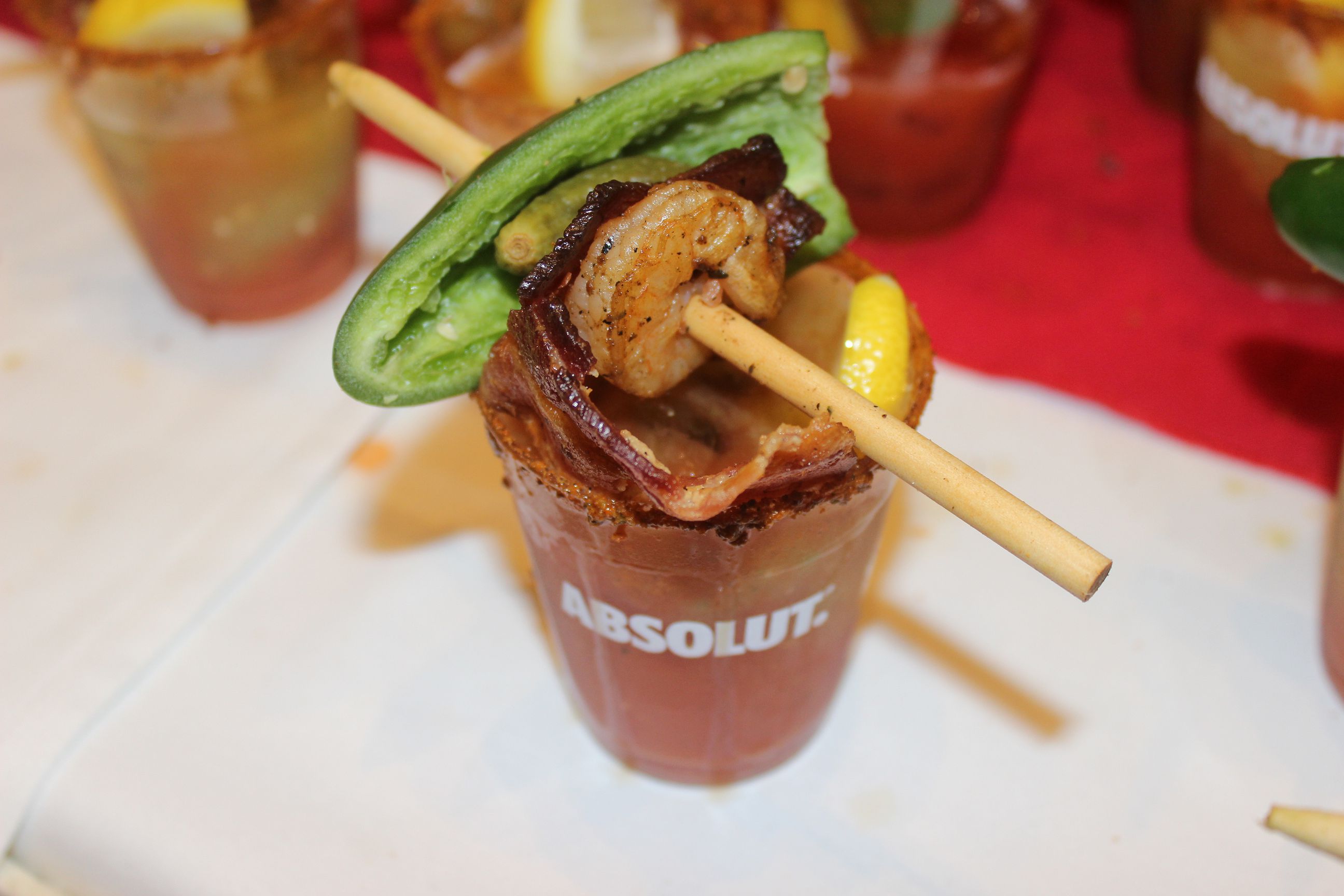 "Duffy" – Marty Duffy, Iowa

"Verde Mary" – Melanie Glueck, Louisiana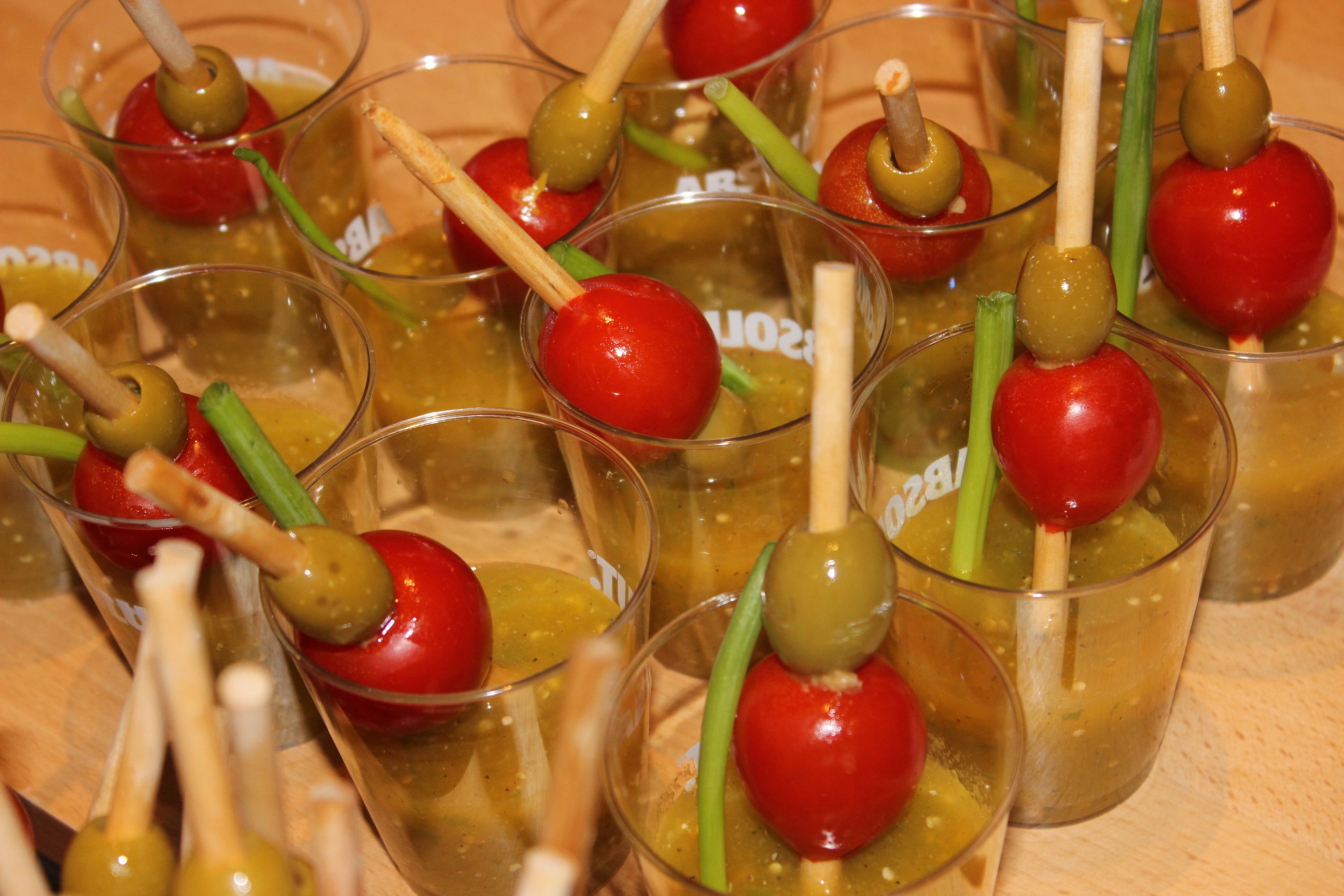 "Havana Mary" – Josh Gonzalez, Florida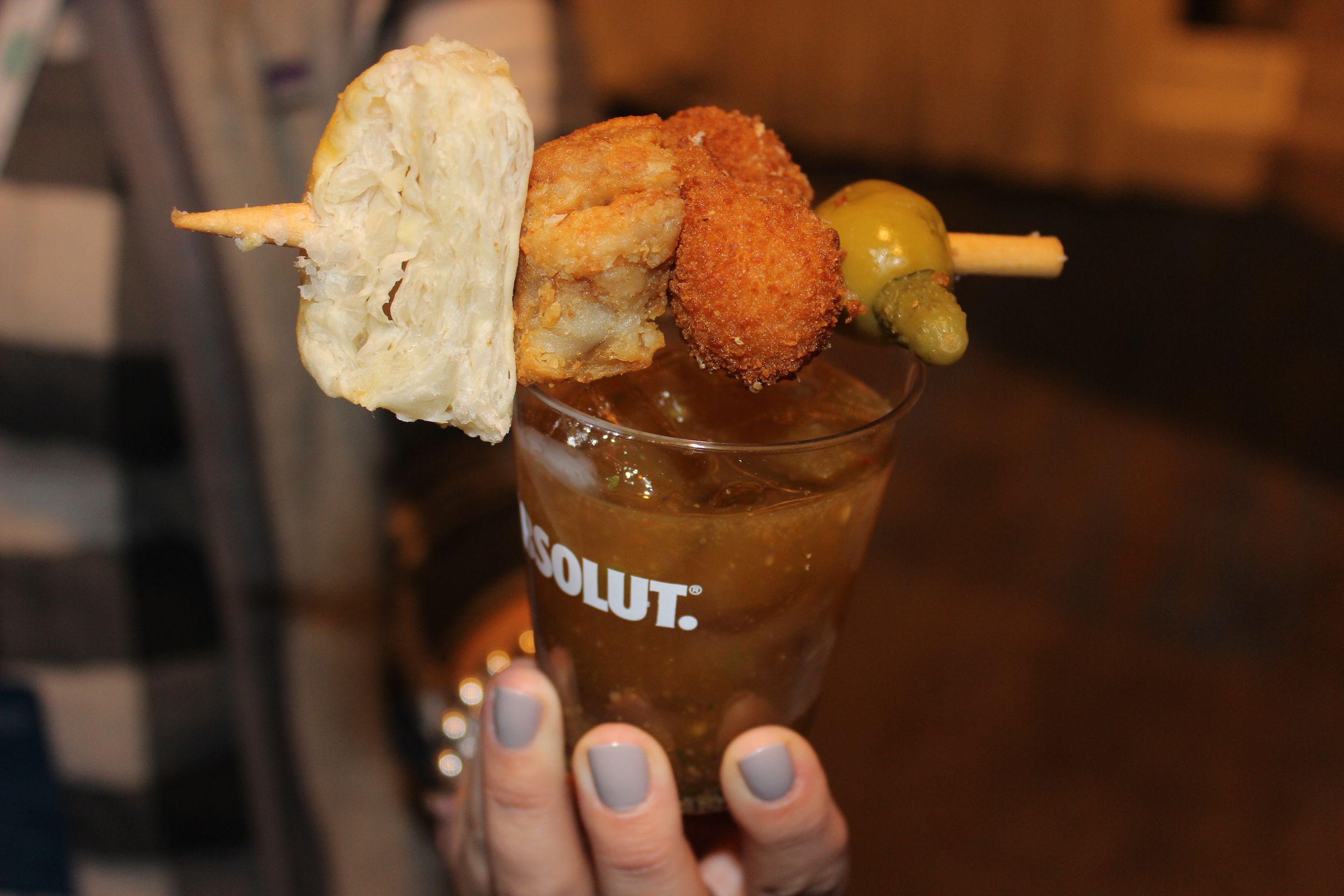 "Yellow Heirloom Tomato Bloody Mary" – Jeffrey Mayer, Kentucky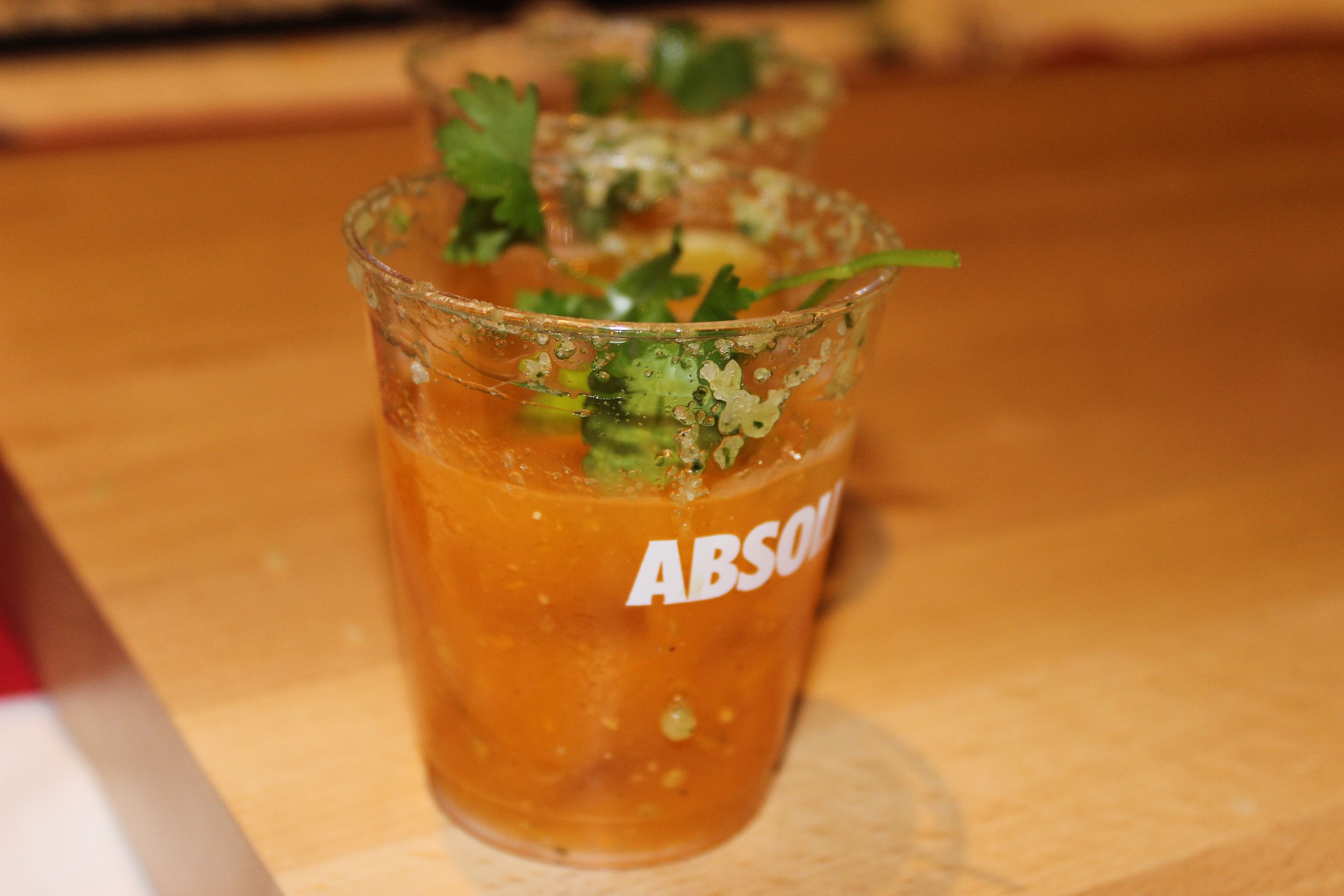 "Bitter Mary" - Jessica, Indiana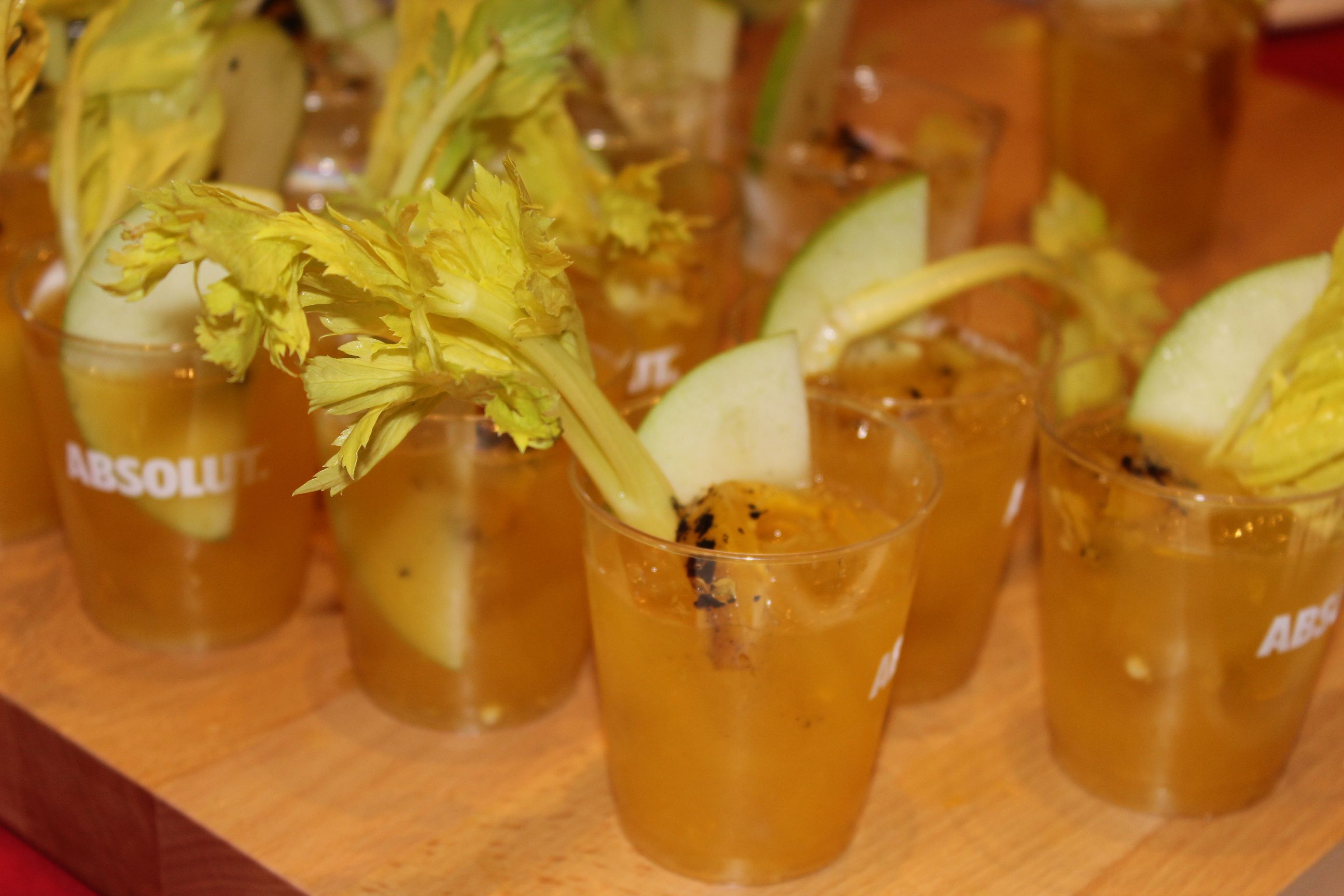 "A Bloody Beaux Thai" – David Wakefield, Texas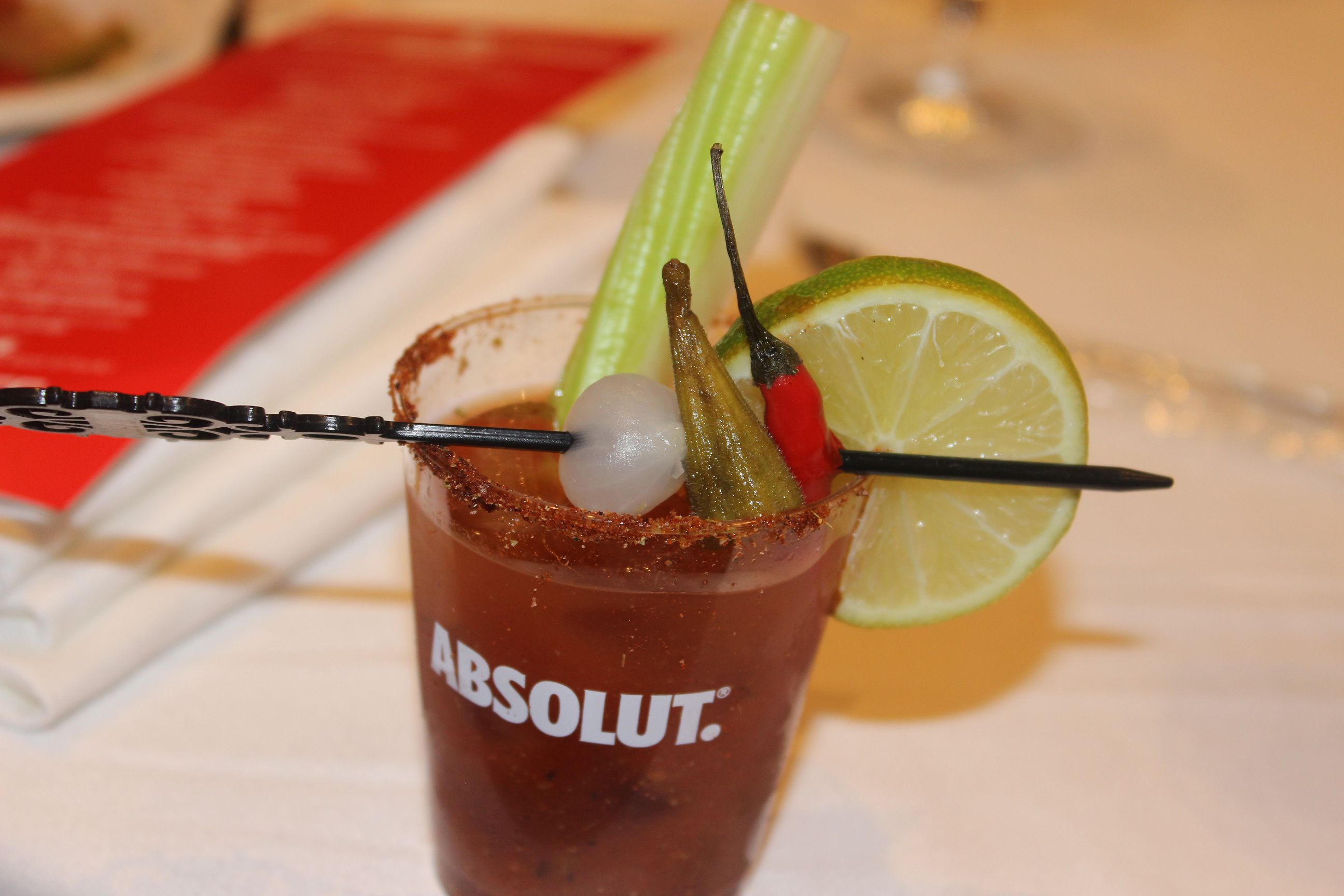 Food Photos from the 2014 "CHOPPED: Best Bloody Mary Brunch"

Fabrica: "Absolut Bloody Mary Salad"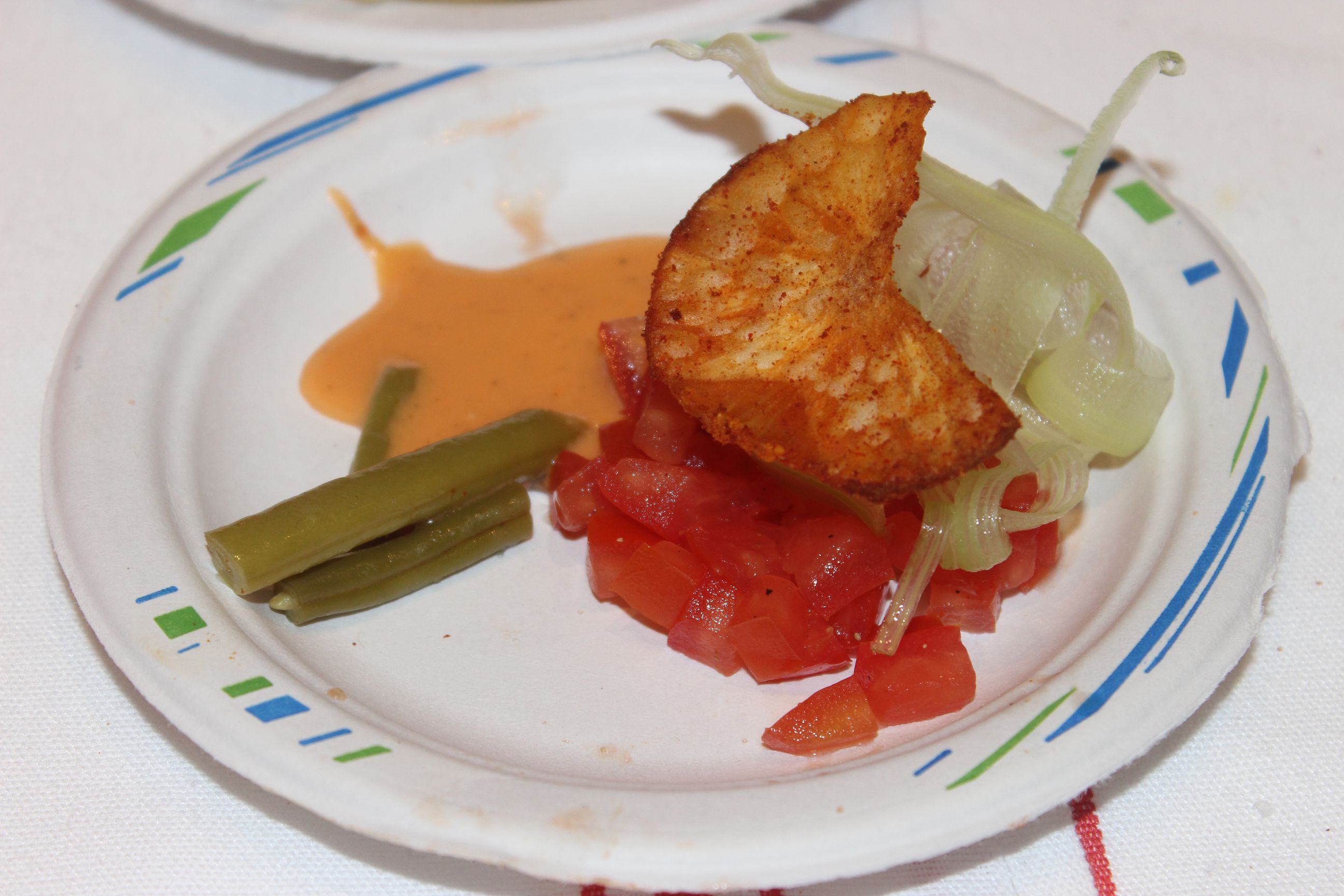 Kin Shop: "BBQ Steamed Bun"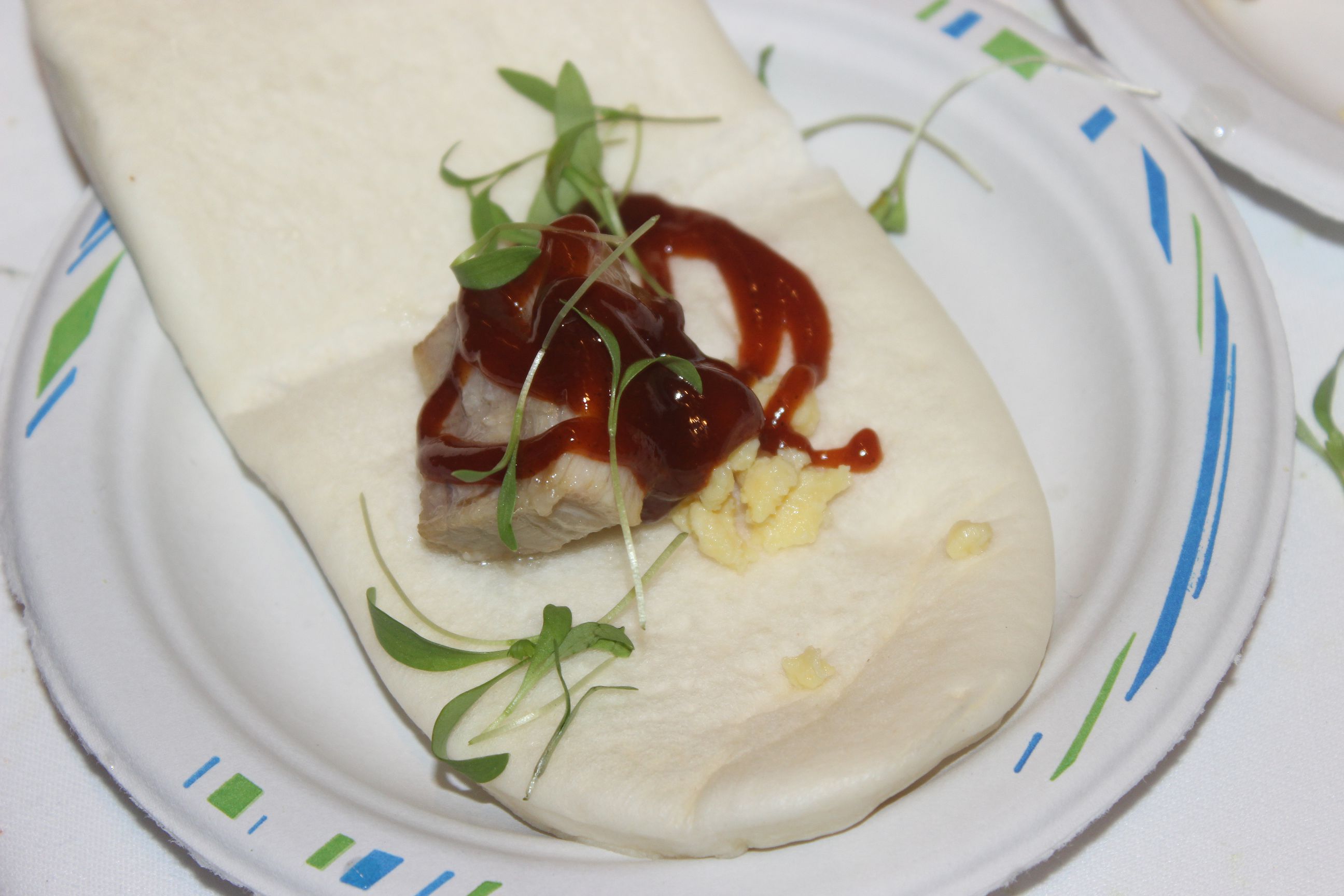 Paulette Goto: "Brioche French Toast"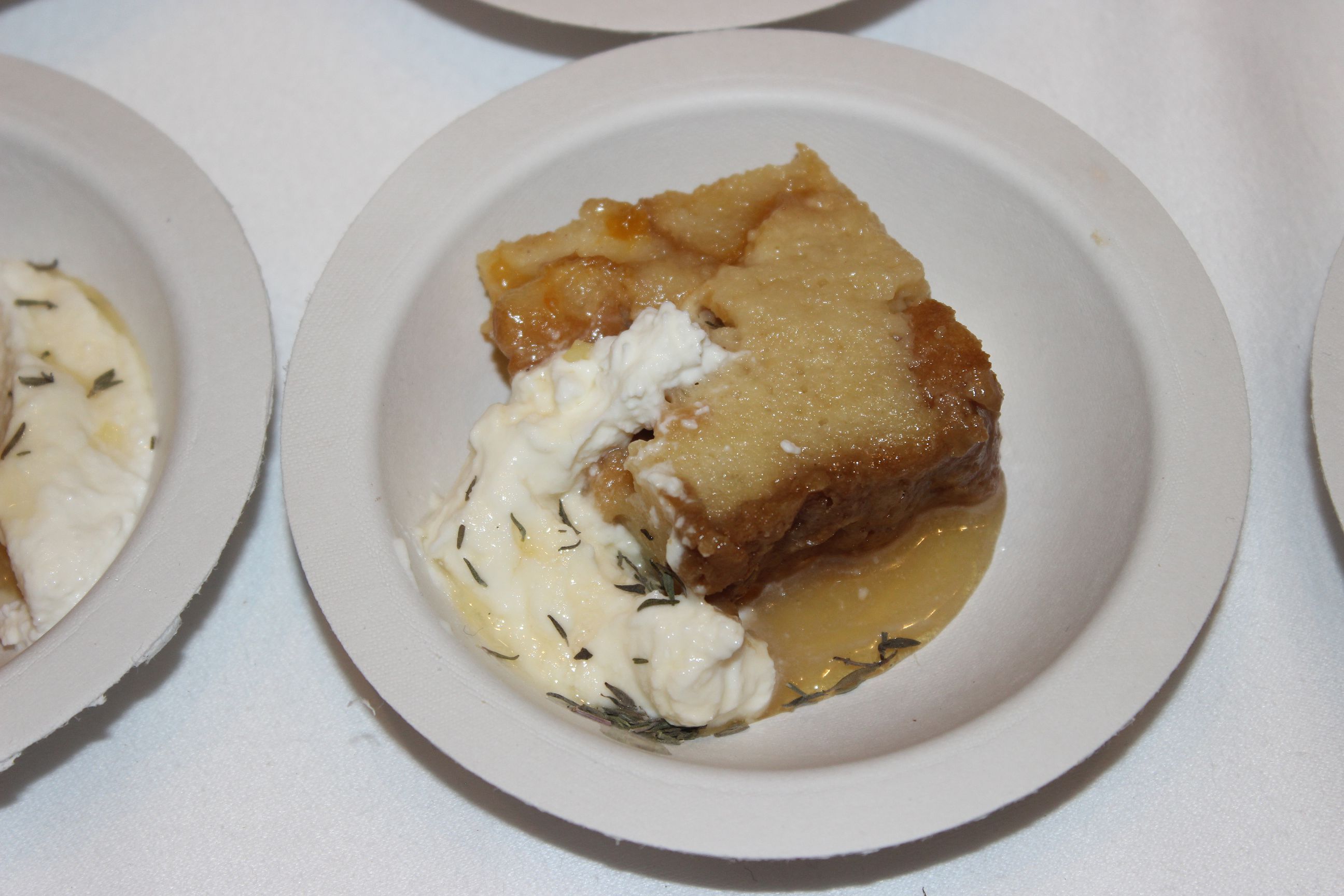 Miss Elisabeth's Catering: "Brisket on a Biscuit"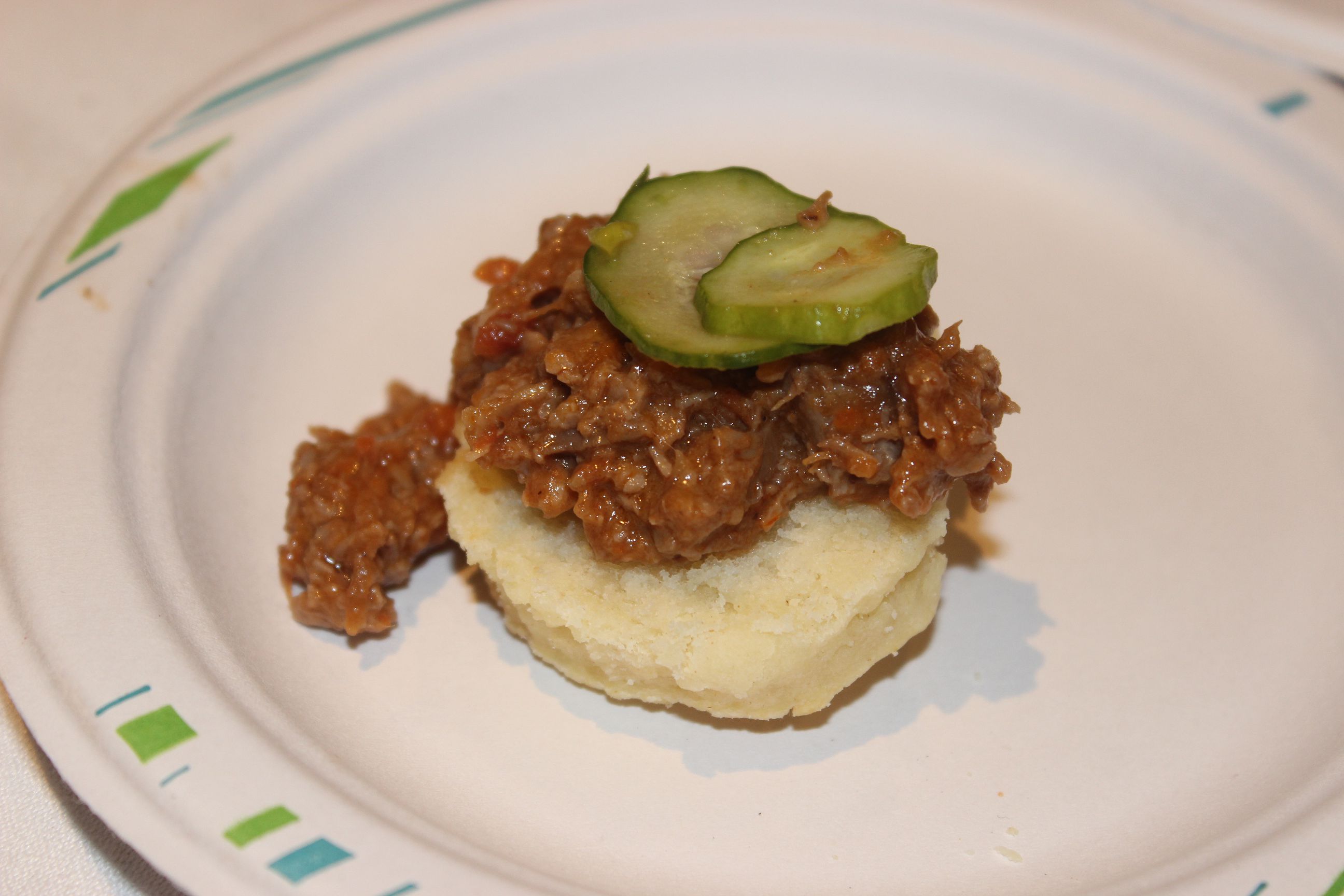 Michael's: "Bulgogi Steak Taco"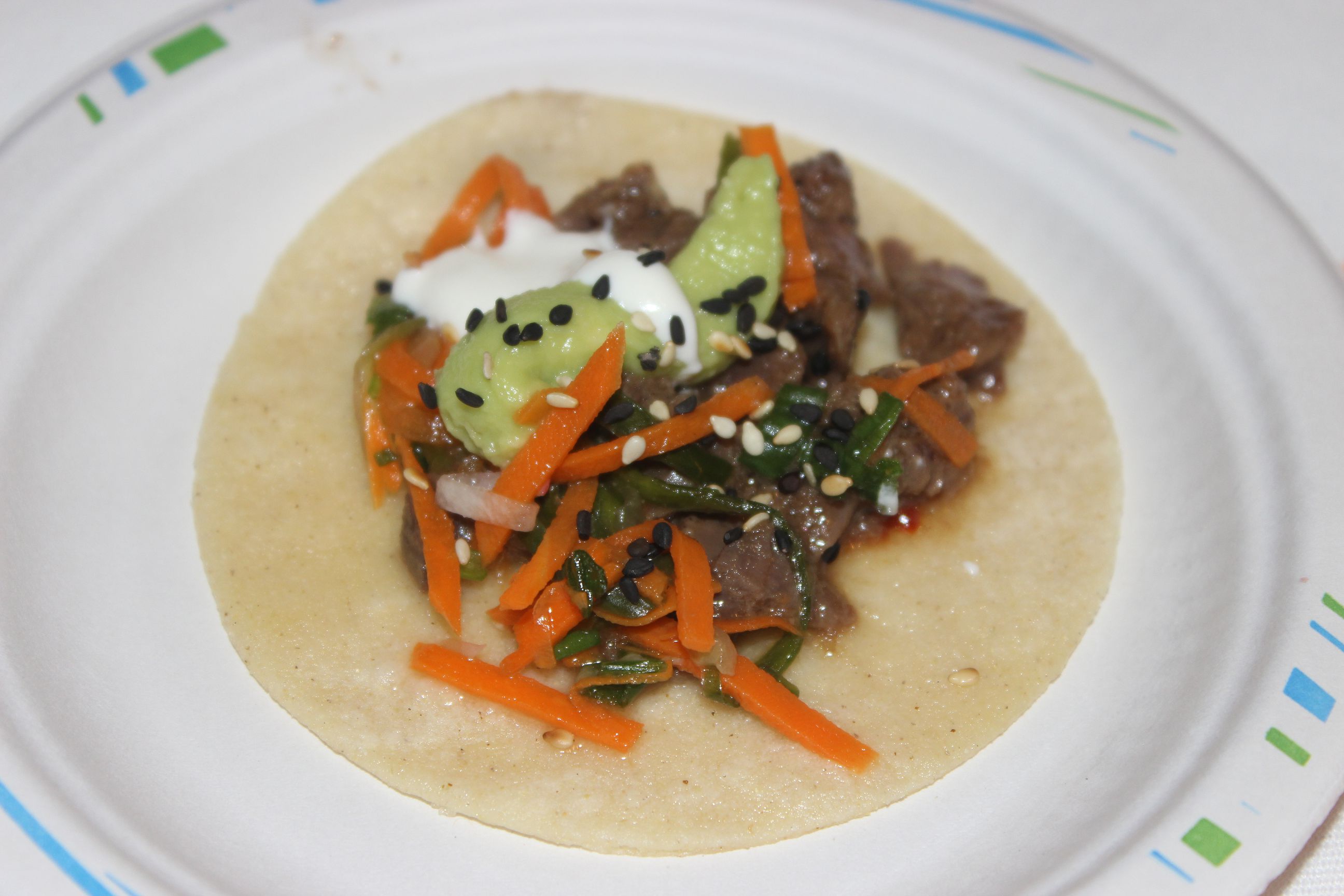 Dizzy's Club Coca-Cola: "Crispy Chicken and Waffles"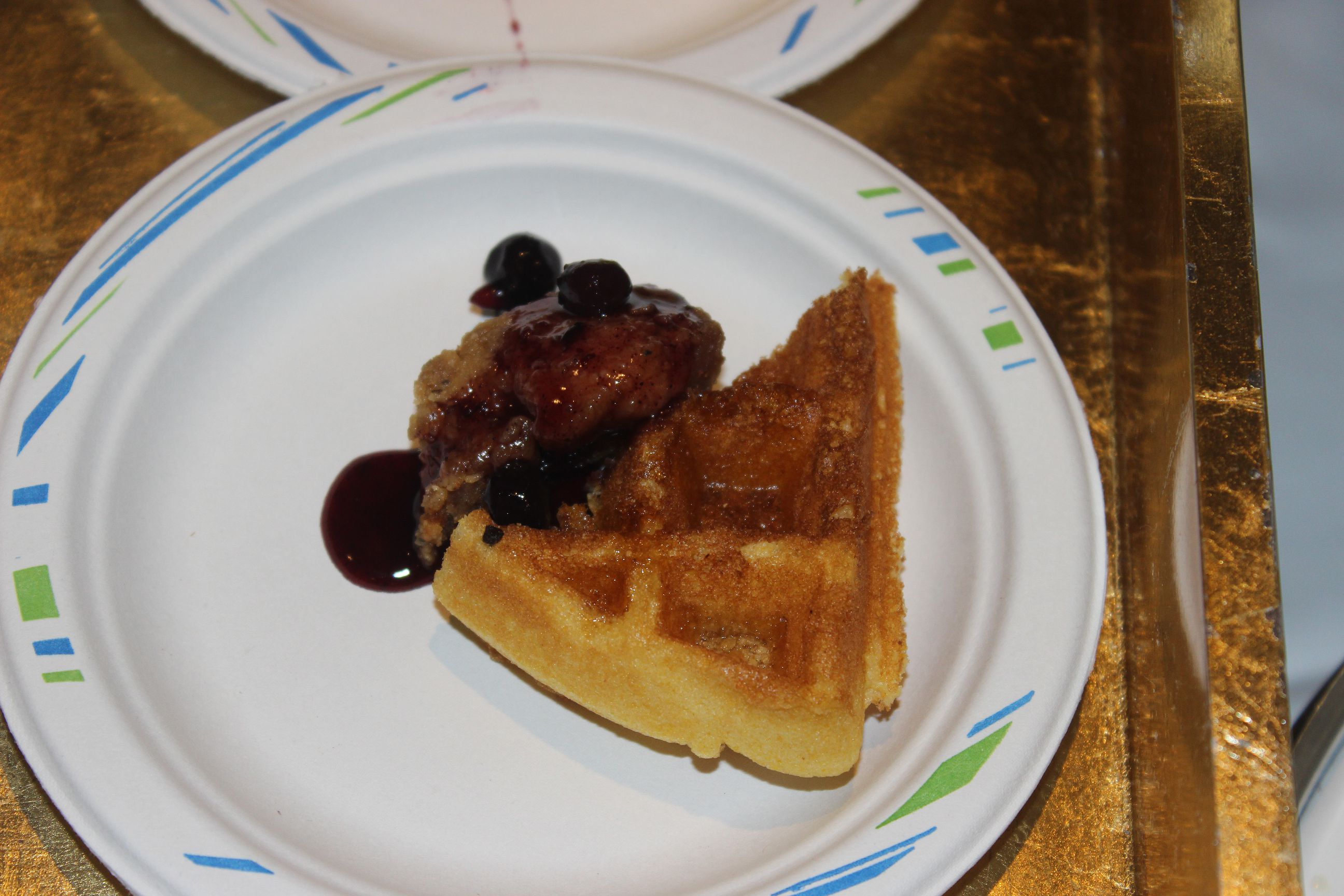 Chal Chilli: "Crispy Paratha, Braised Lamb Ragout, Pickled Shallots"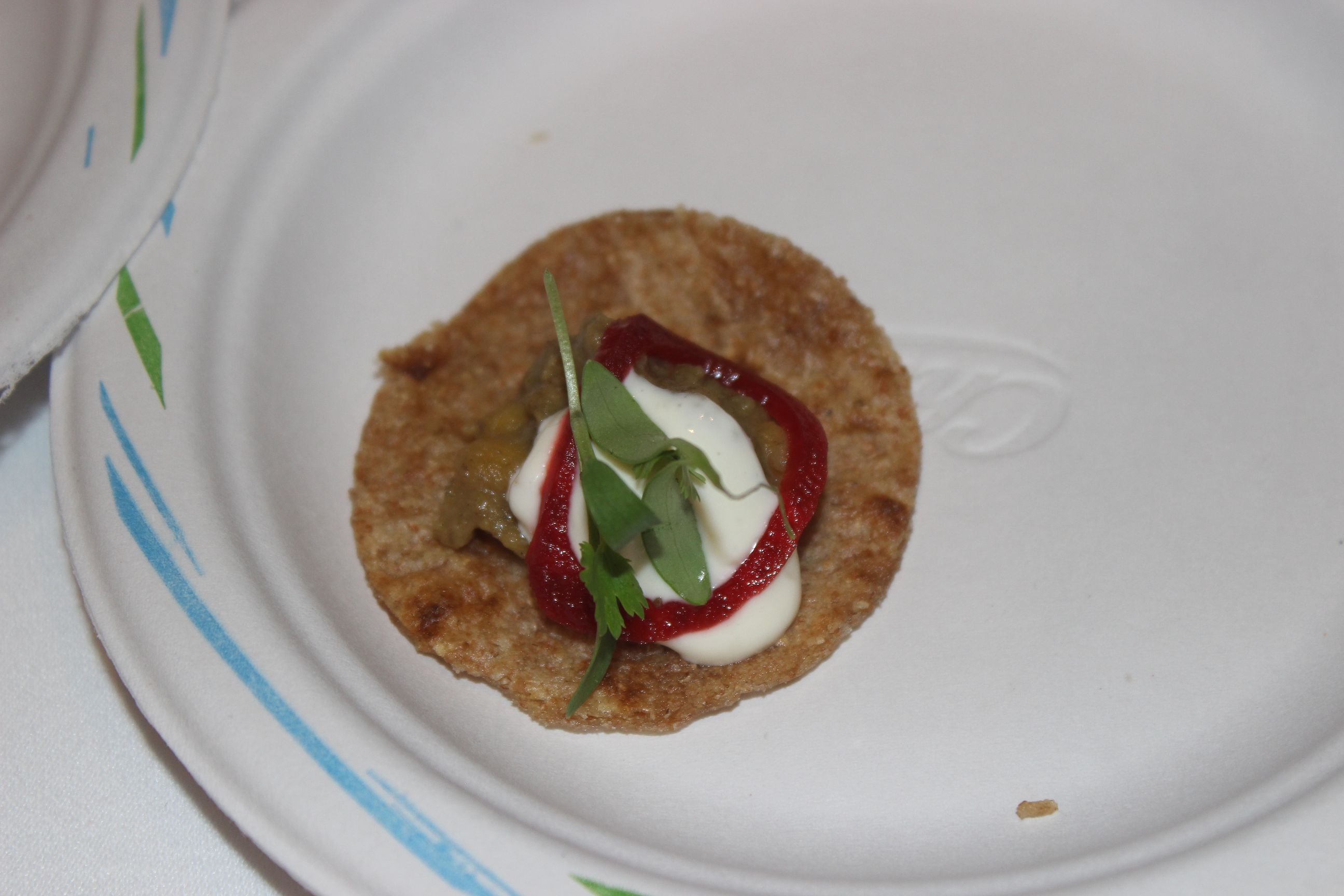 Itskale: "Itskale Nachos"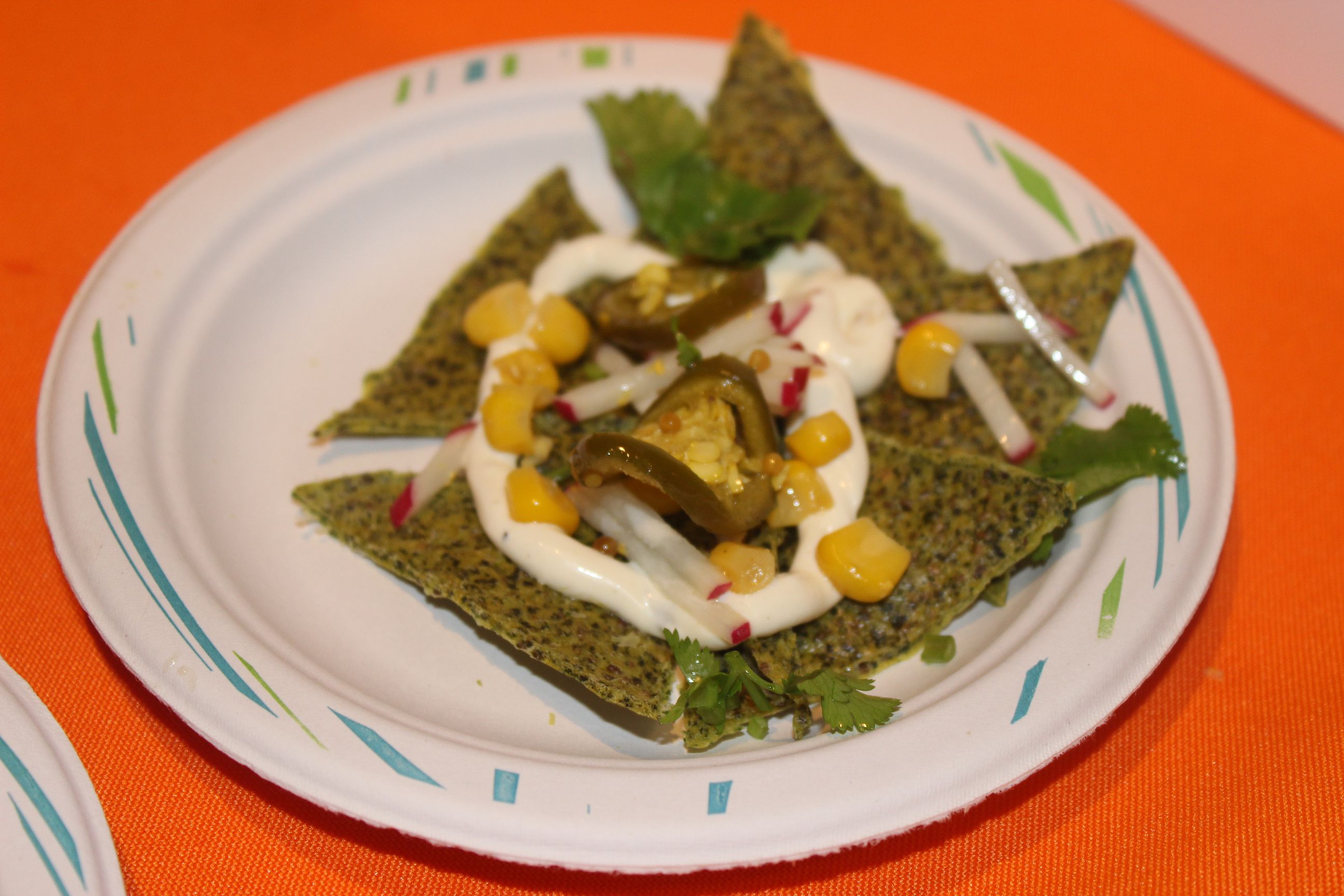 Dinah Surh: "Korean Sweet and Spicy Bacon BLT"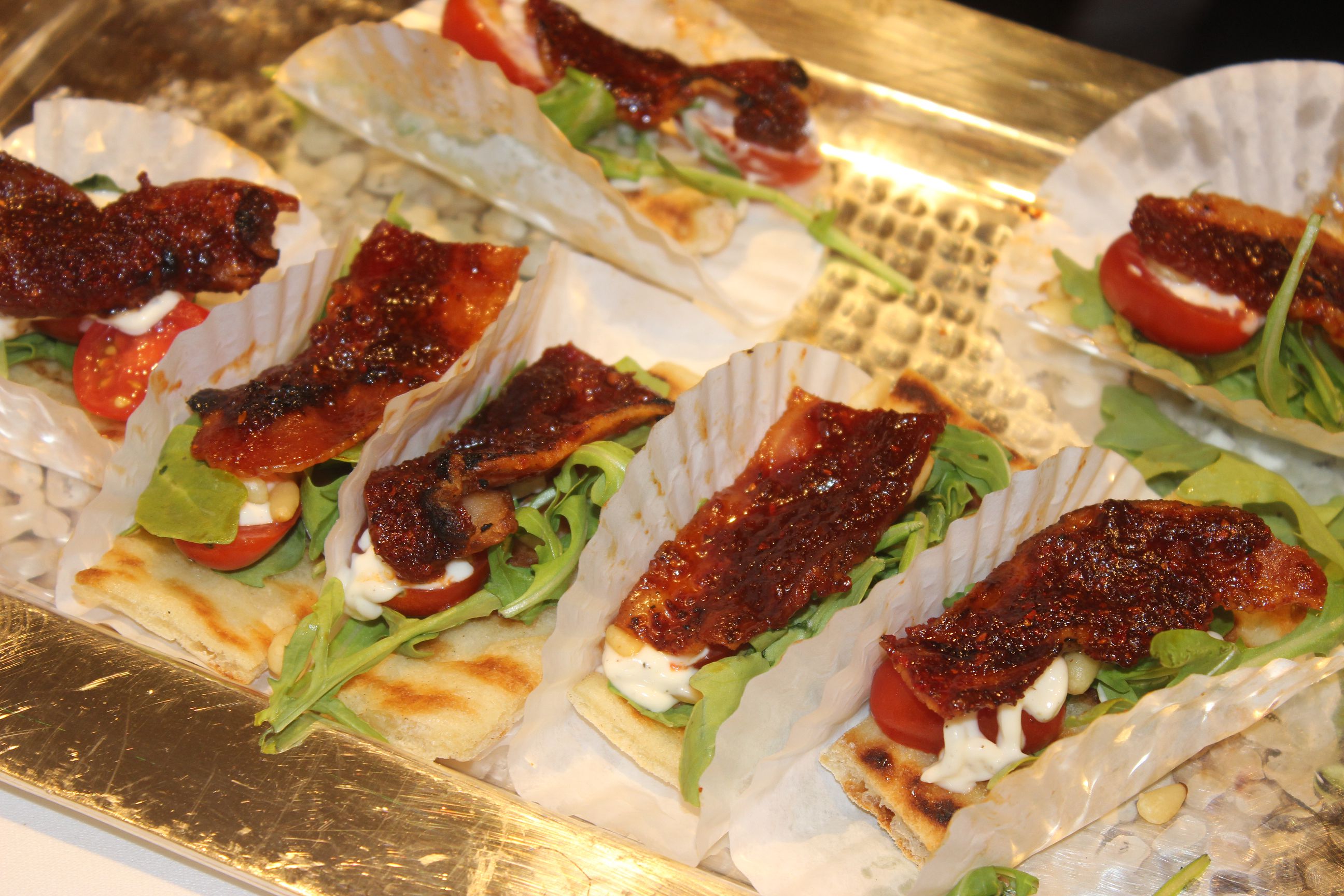 Leske's Bakery of Bay Ridge: "Peanut Butter Cheese & Chocolate 'Cup' Doughnut" & "Absolut Raspberri Cream Doughnut"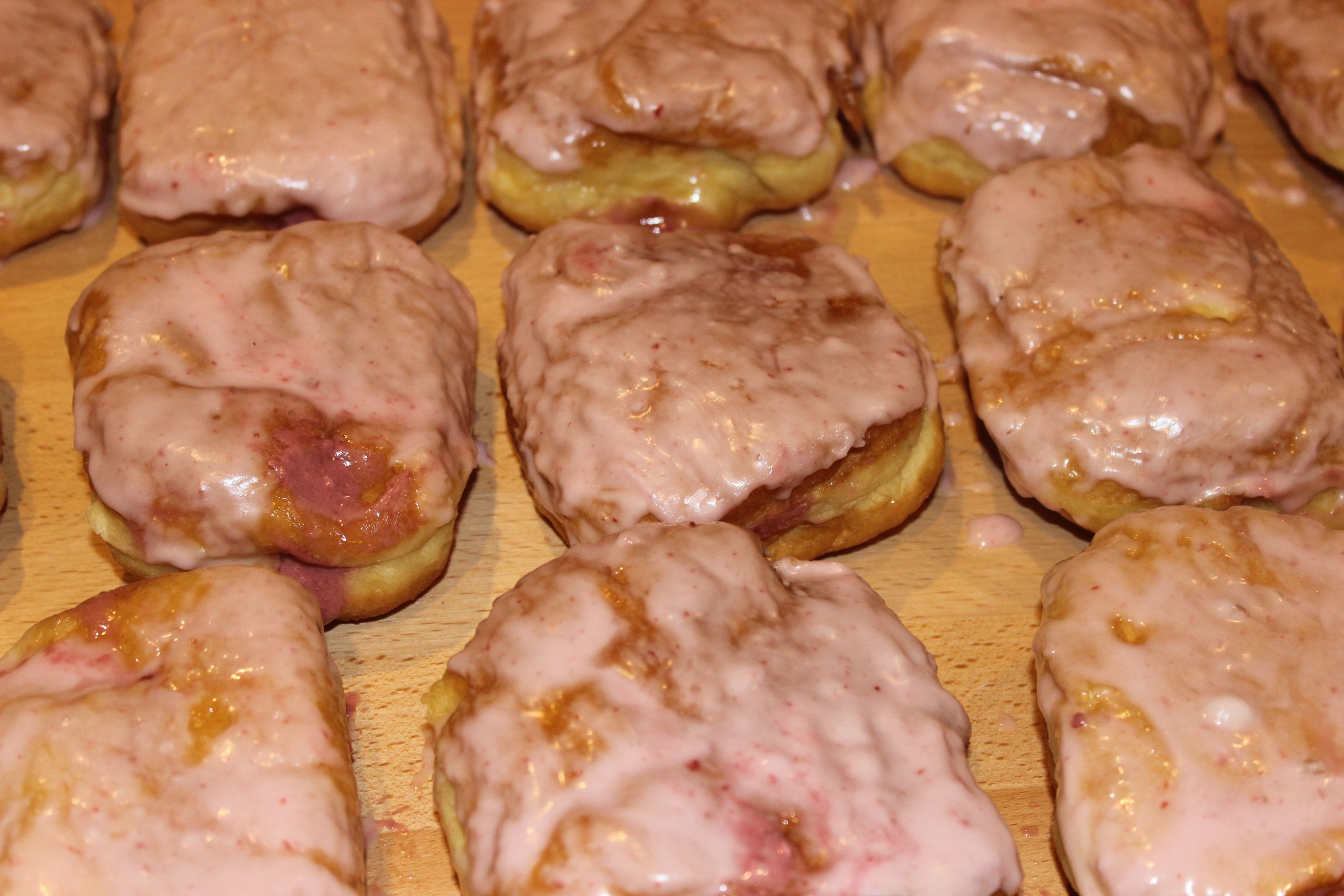 Canlon's Restaurant – "Quiche Jeannie"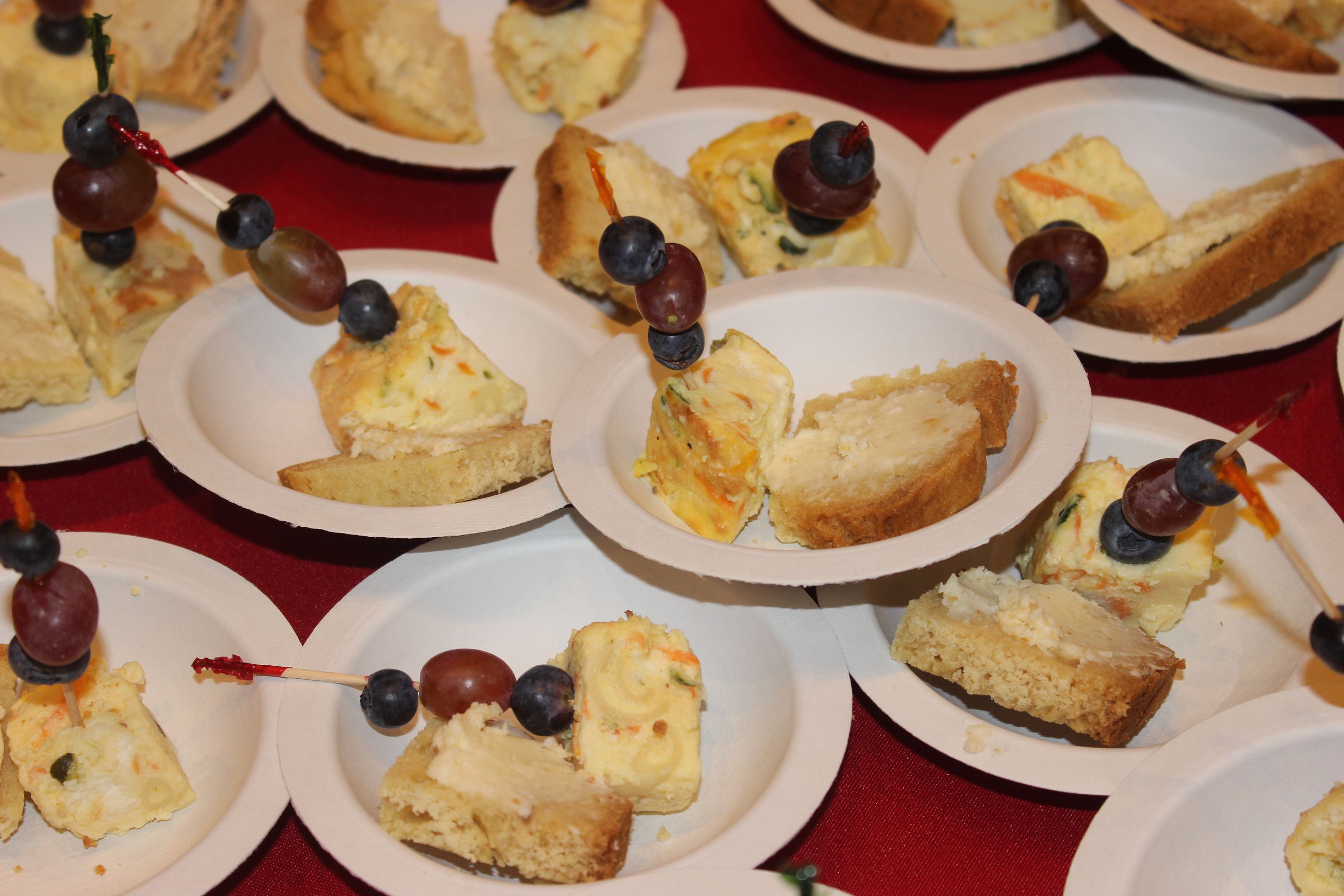 Firehouse Chef – "Salmon Cakes"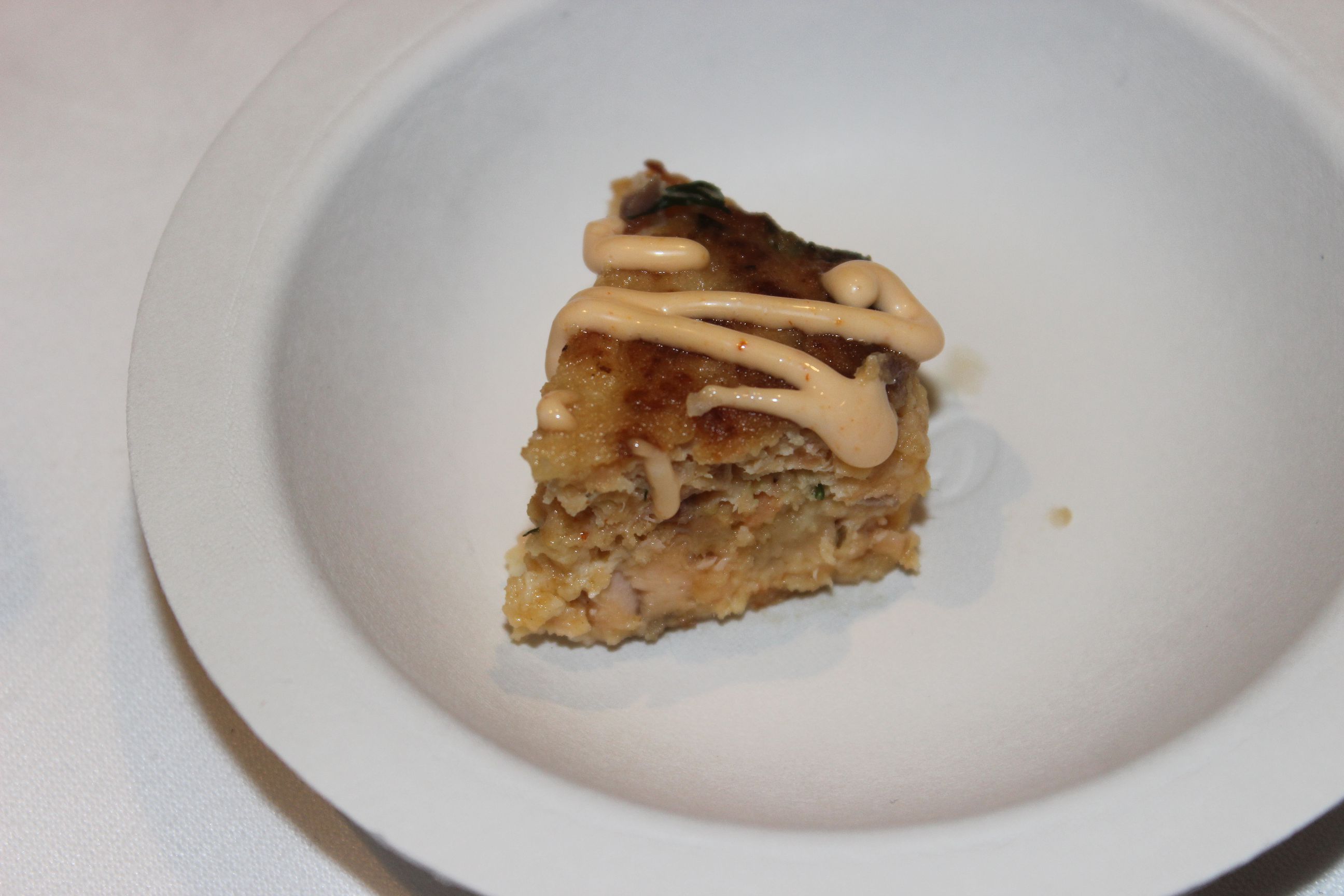 Cook-Life Catering: "Salted Cod Brandade"
Related Articles
Share
About Author
(2) Readers Comments