It's estimated that the $400 'Gourmand Ticket,' the most affordably priced to Wednesday evening's posh "Bid Against Hunger" event, would provide food for upwards of 1,500 impoverished New York City children. With that in mind, it's a bit difficult to truly put the $418,000 raised over the course of the evening's live and silent auctions into proper perspective. Hundreds of philanthropic guests with sophisticated culinary taste flocked to the Financial District's Pier 39 space for the fall season's most grandiose and spectacular food tasting extravaganza to benefit City Harvest.
More than sixty (60!) of New York City's most recognizable chefs and their restaurants were positioned around the massively spectacular venue, replete with a spacious VIP area and private bungalow seating for some of the more generous donors to enjoy some of the affair's prestige. The 20th Annual event would be poised to break 2013′s record breaking fundraising efforts, where $1.3 million would support the delivery of more than five million pounds of food to hungry New Yorkers in need. And as any City resident knows, the easiest way to tap into our wallets is to head straight for our stomachs.
For four hours, a sea of guests filed into the Basketball City space- most of whom were forced to take a deep breath to take in the sights and smells that surrounded them. An erected stage that would house the evening's live auction would sit behind the ornately designed bar doling out some of the Manhattan's finest craft cocktails- both seemingly overshadowed by the endless dessert station that would play host to some of the City's masters of sweets from Francois Payard to Mast Brothers Chocolate to Gramercy Tavern's Miro Uskokovic. Meanwhile, placards exhibiting each of the silent auction lots would be placed upon walls for guests to peruse while volunteers paraded around the room with iPads to encourage attendee bidding all evening long.
Tackling all of the food on hand- especially considering the caliber of participating restaurants- would be no easy task. Familiar faces were sprinkled around the room as Food Network personalities Ted Allen and Chef Geoffrey Zakarian flanked Altamarea Chef Michael White in the VIP section, Chefs Marc Murphy and Anne Burrell posed for pictures in the Chef Selfie Booth and legendary Le Bernardin Chef Eric Ripert graciously worked the room, chatting casually with friends and attendees. But once the gawking finally subsided, it was time to taste some of the evening's dishes cooked up by the City's finest collection of chefs in recent memory. While we've provided photos of just about each restaurant's offering below, some shone well above others.
Despite the absence of Andrew Carmellini on site, it's no surprise that The Dutch would be serving one of the evening's most elaborate and inventive dishes. Their "Rabbit Popover" utilized a soft fluffy bread to house a piping hot broth enriched by chestnuts, hard cider and a touch of mustard. The rich thick liquid lacquered the bread entirely and paired exceptionally well with the soft juicy hunks of tender meat that lay over on top. Had the dish not been so hearty, we may have been able to return for a few repeat visits- but we thought better of doing so. Speaking of generous portions, the Upper East Side's T-Bar Steak & Lounge was handing out plates of "Yellowfin Tuna Tartar" stacked high with an ample dousing of soy, ginger and sesame to subtly flavor the fresh pink fish. More experimental eaters may have been surprised to find a plate of snails at "Bid Against Hunger," but the undeniably delicious "Snails 'Marchand De Vin'" from French Louie plated atop creamy grits and house cured bacon was phenomenal. Rounding out our favorites, while a trip to Le Bernardin might be reserved for only the most-special of special occasions, Chef Ripert's "North Carolina Red Shrimp" dish ensured no ingredient would go unnoticed. From the dollop ginger-red wine sauce to the slices of green papaya to the small bed of red rice, the two bite sample was particularly revelatory of the restaurant's esteem and of the celebrity chef's masterful mind.
Those fortunate enough to have access to the VIP section meanwhile, were lavishly rewarded with some of the evening's most memorable fare. First, Le Cirque's incredible "Pheasant Ragout" was decorated with a touch of white truffles and sided by a steamed butter cake. The thickly sliced meat was drowned in a savory broth that paired brilliantly with the sweetness of the warm cake and decadent truffle. Next, the aforementioned Chef White similarly utilized white truffles in an absolutely delectable "Scallop Crudo." Paired with celery root, the conglomeration of flavors and textures meshed together perfectly, reminiscent of our first trip to his restaurant Marea, where this type of fare seems to be served in similarly flawless fashion. Finally, we'd be remiss if we failed to praise Chef Gabe Thompson of L'Apicio who's seasonal "Squash Salad" brought together charred radicchio and hunks of pancetta beneath thin shreds of sharp pecorino cheese exquisitely.
We chatted briefly with a multitude of friendly chefs on hand from Leah Cohen (Pig & Khao) to David Waltuck (elan) to Amanda Cohen (Ditch Plains) to Bill Telepan (Telepan) to a freshly mohawked Marc Forgione (American Cut) between grabbing cocktails from the likes of Raines Law Room, Clover Club and The Eddy, whose "Mont Blanc Cooler" was the evening's most refreshing highlight. Strip House's "Charred Wagyu Strip," Barbounia's "Grilled Octopus," Rao's "Meatballs with Maranara," and Marc Forgione's American Cut's inventive "Shriimp and Popcorn Grits" were other standouts among a multitude of tasty dishes. Whether the room filled with tastemakers were overwhelmed by the endless array of incredible fare or touched by City Harvest's unparalleled initiatives to feed New York's homeless, the 20th Annual "Bid Against Hunger" certainly seemed to strike a chord with the hundreds of assembled guests on Wednesday evening. The single night affair would raise a whopping $1.4 million for the organization- a new record, resulting from the generosity of New York City's most respected chefs and and the selflessness of its many citizens.
- Jane Van Arsdale

Food Photos from the 2014 City Harvest "Bid Against Hunger"

Picholine: "Wild Mushroom Escabeche, Cauliflower Crema & Woodland Granola"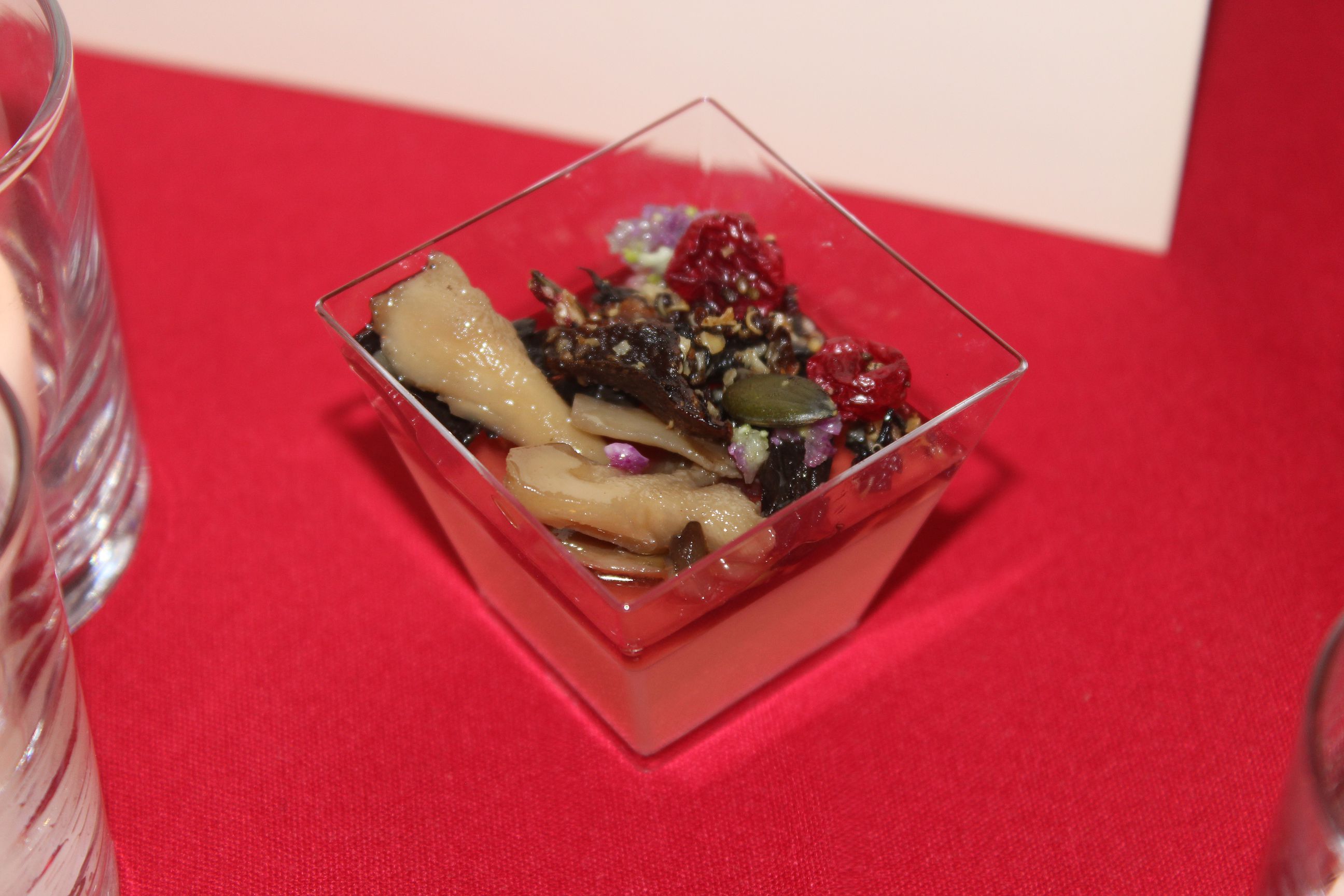 D'Artagnan: "Coco Tarbais Beans & Duck Bacon Salad"

Tessa: "Braised Pork Cheeks with Pecorino Polenta"

Qi: "Wild Ginger Curry with Kanom Jiin Noodle"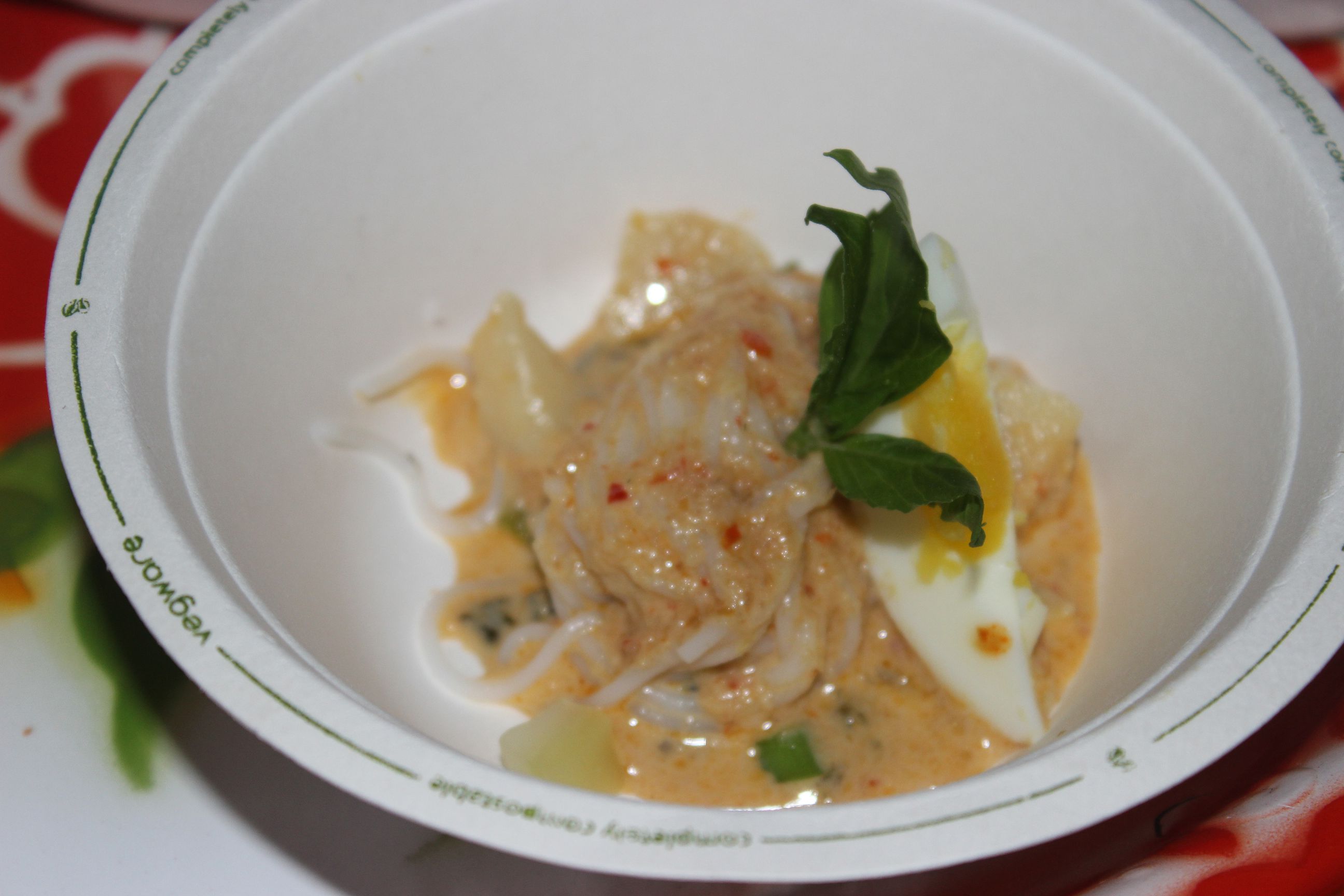 Hecho en Dumbo: "Flautas de Barbacoa"
Oceana: "Smoked Mackerel Toasts"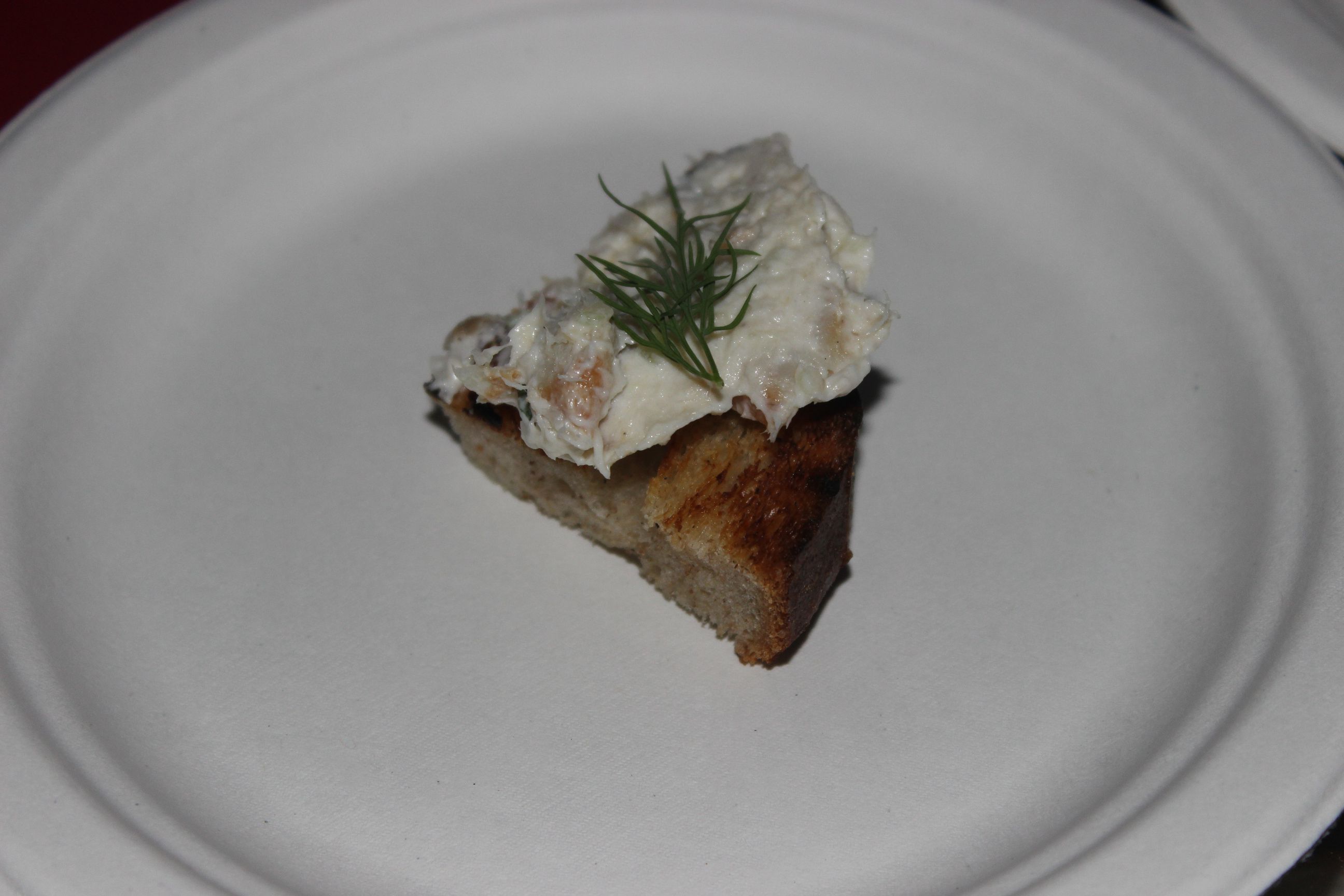 The Lambs Club: "Steak Tartare with Gochujang & Pickled Mustard Seeds"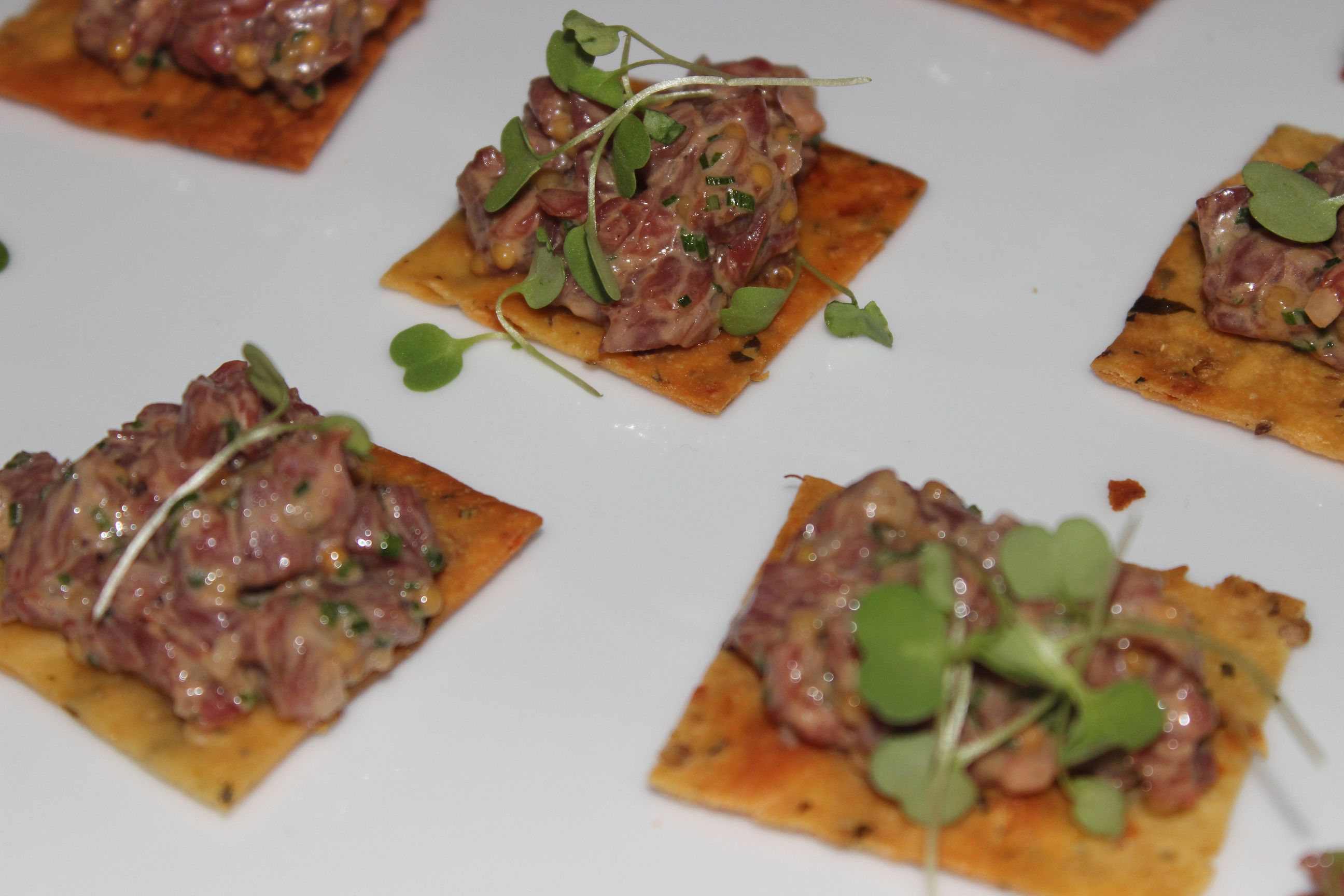 Betony: "Smoked Nduja with Pickles & Herbs"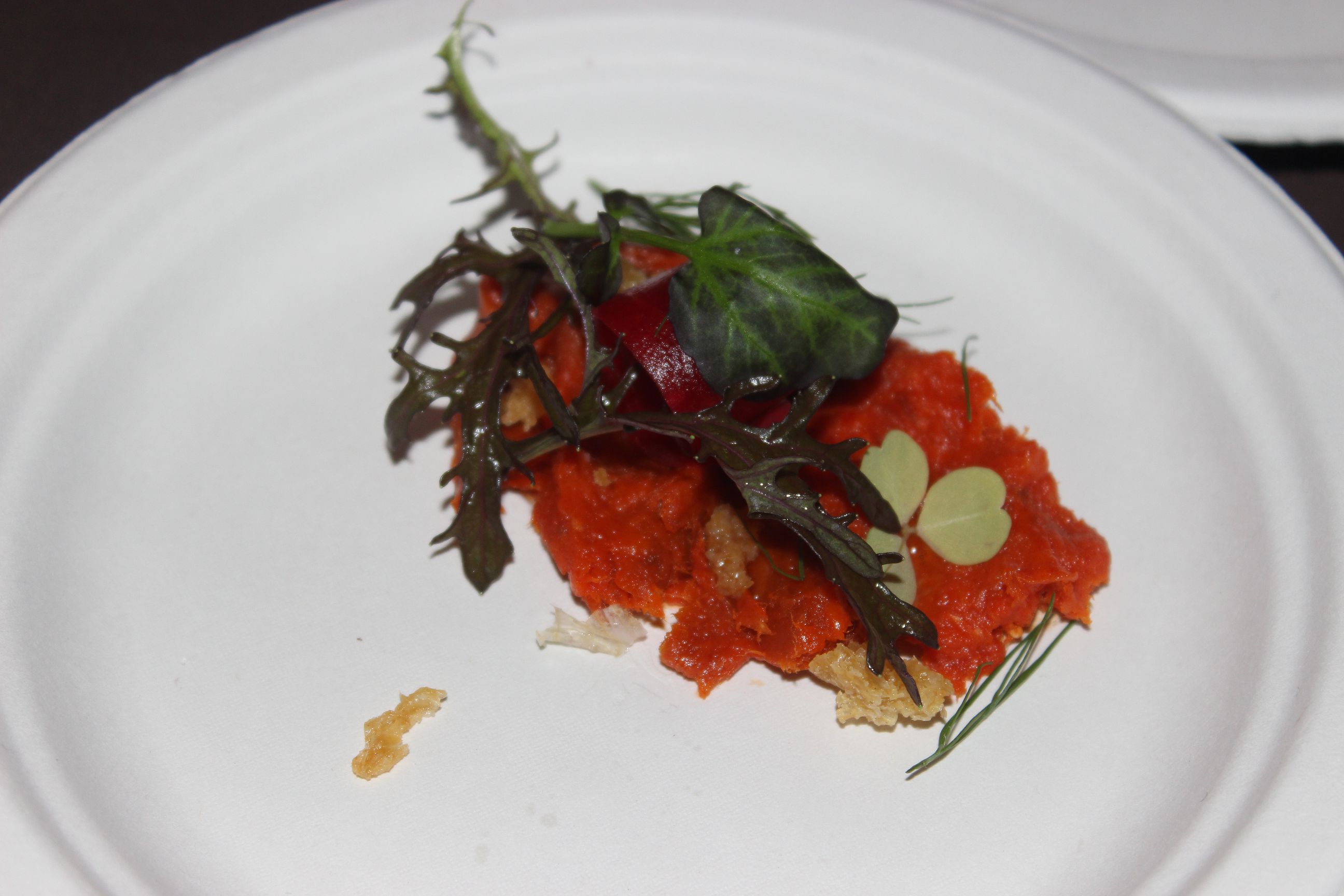 Le Bernadin: "North Carolina Red Shrimp with Red Rice, Green Papaya Salad, Ginger-Red Wine Sauce"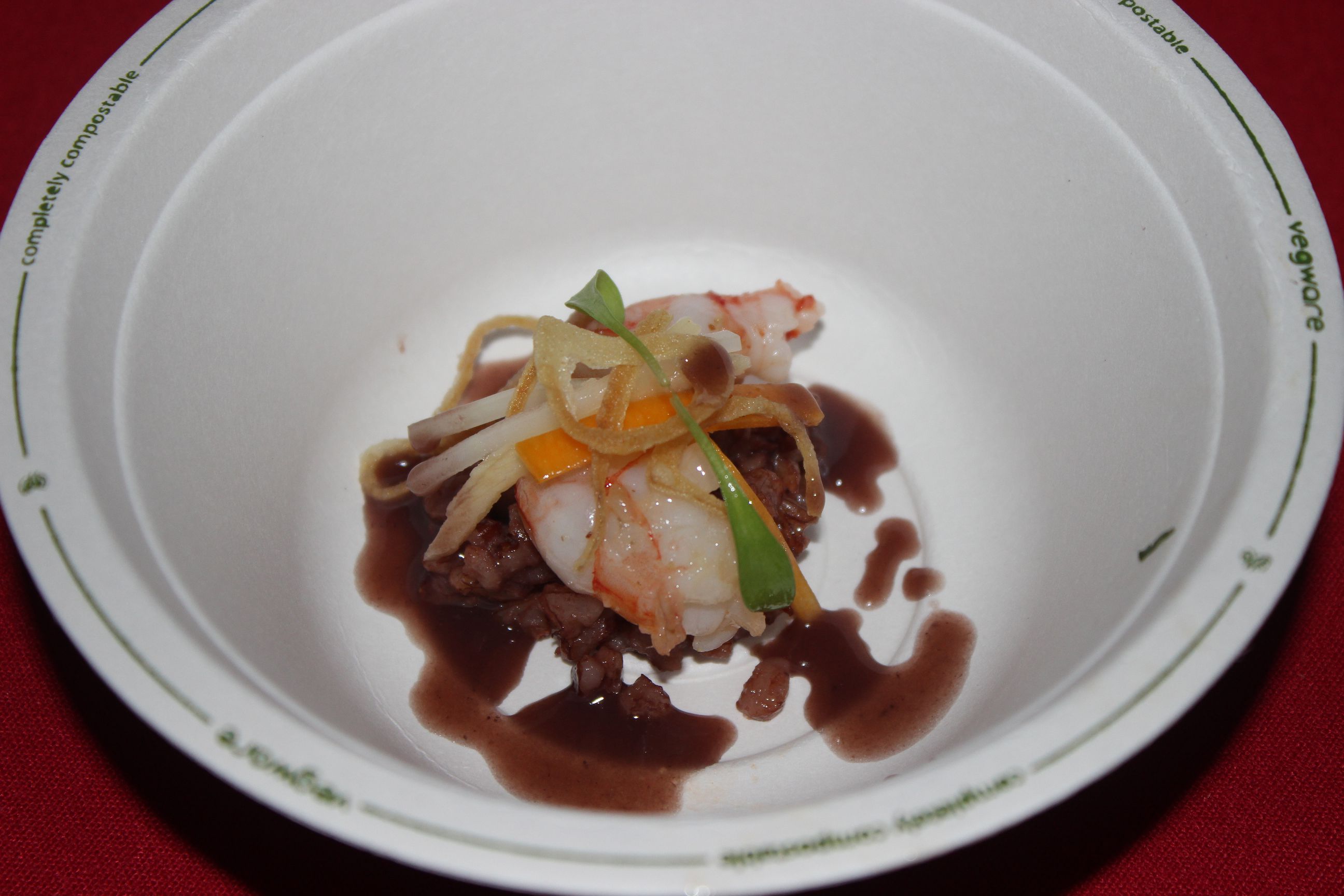 Dos Caminos: "Roasted Pumpkin Empanadas with Canela Crema & Salted Pepitas"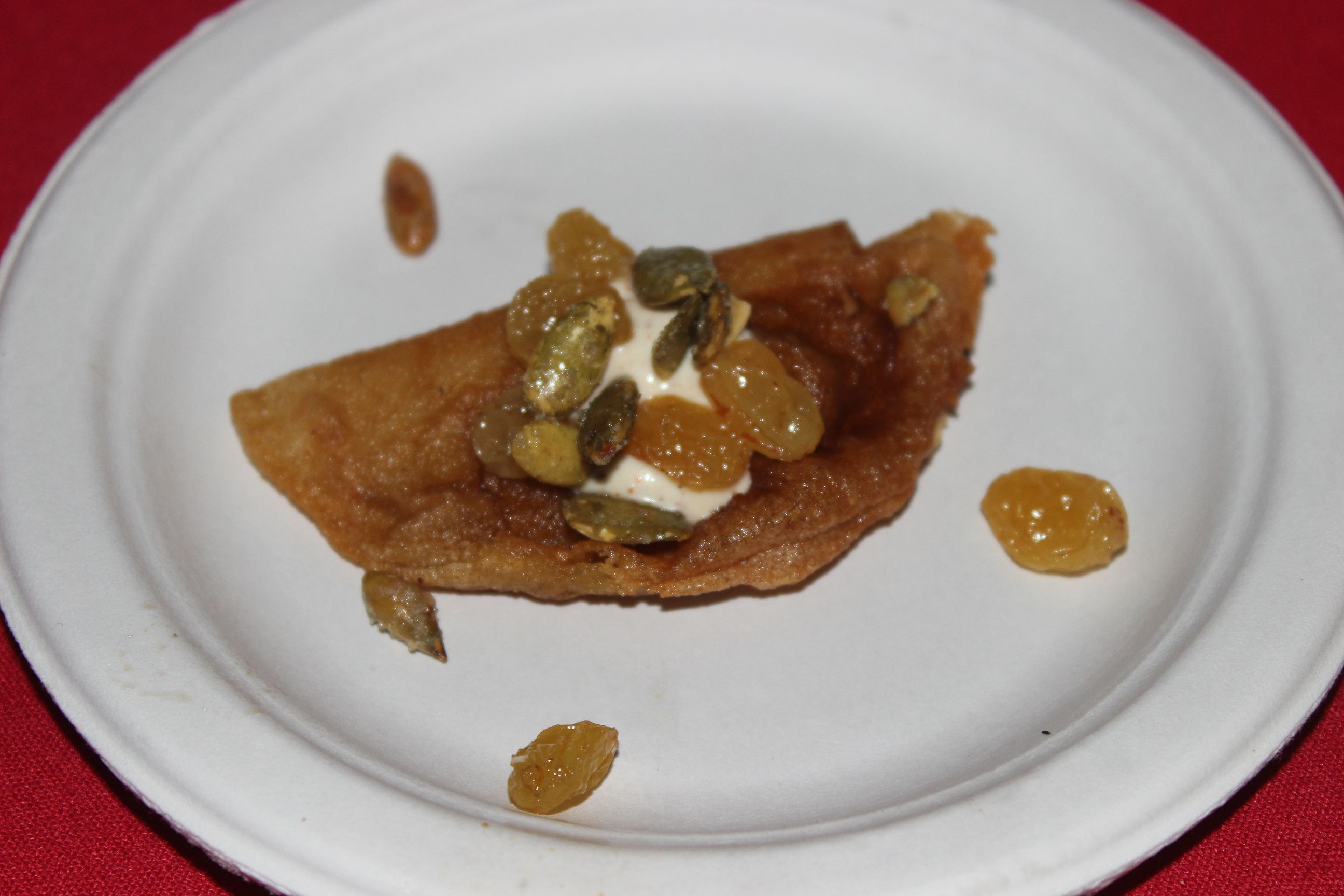 Toloache Thompson: "Salmon Taquitos with Sweet Onion Citrus, Charred Habanero & Avocado Puree"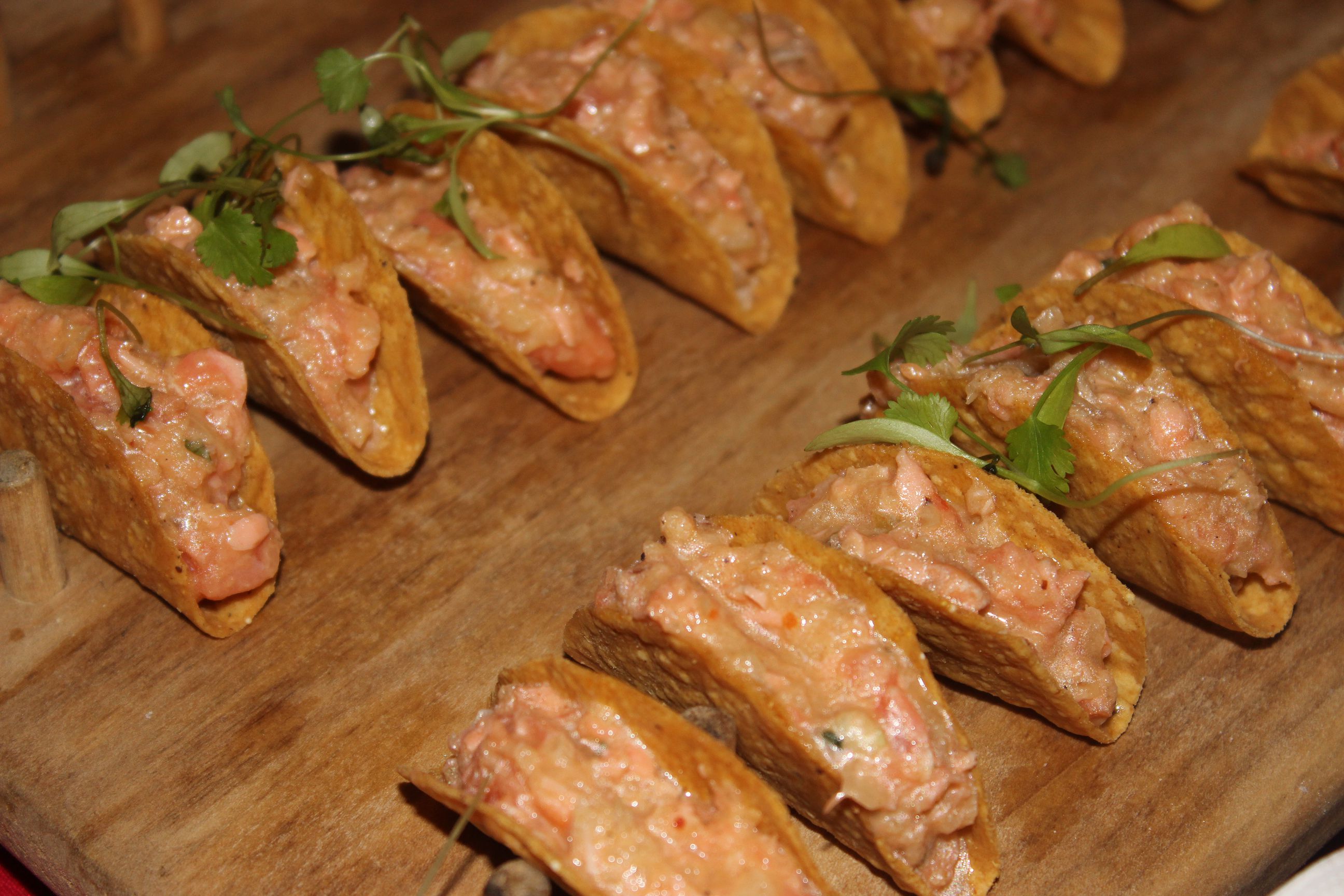 Butcher Bar: "Meat Candy (Double Smoked Beef Burnt Ends)"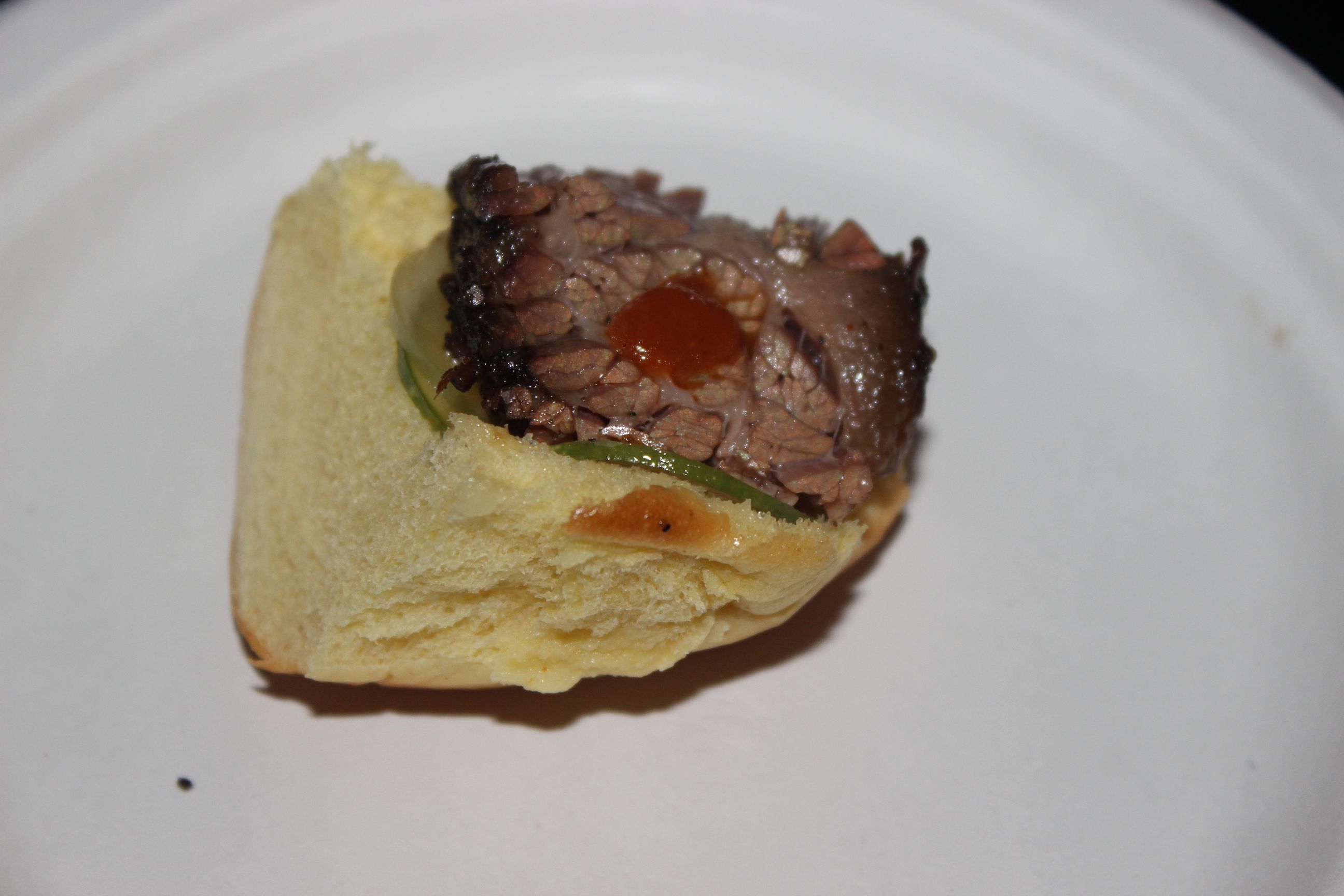 Acme: "Smoked Fish Taco with Pickled Vegetables"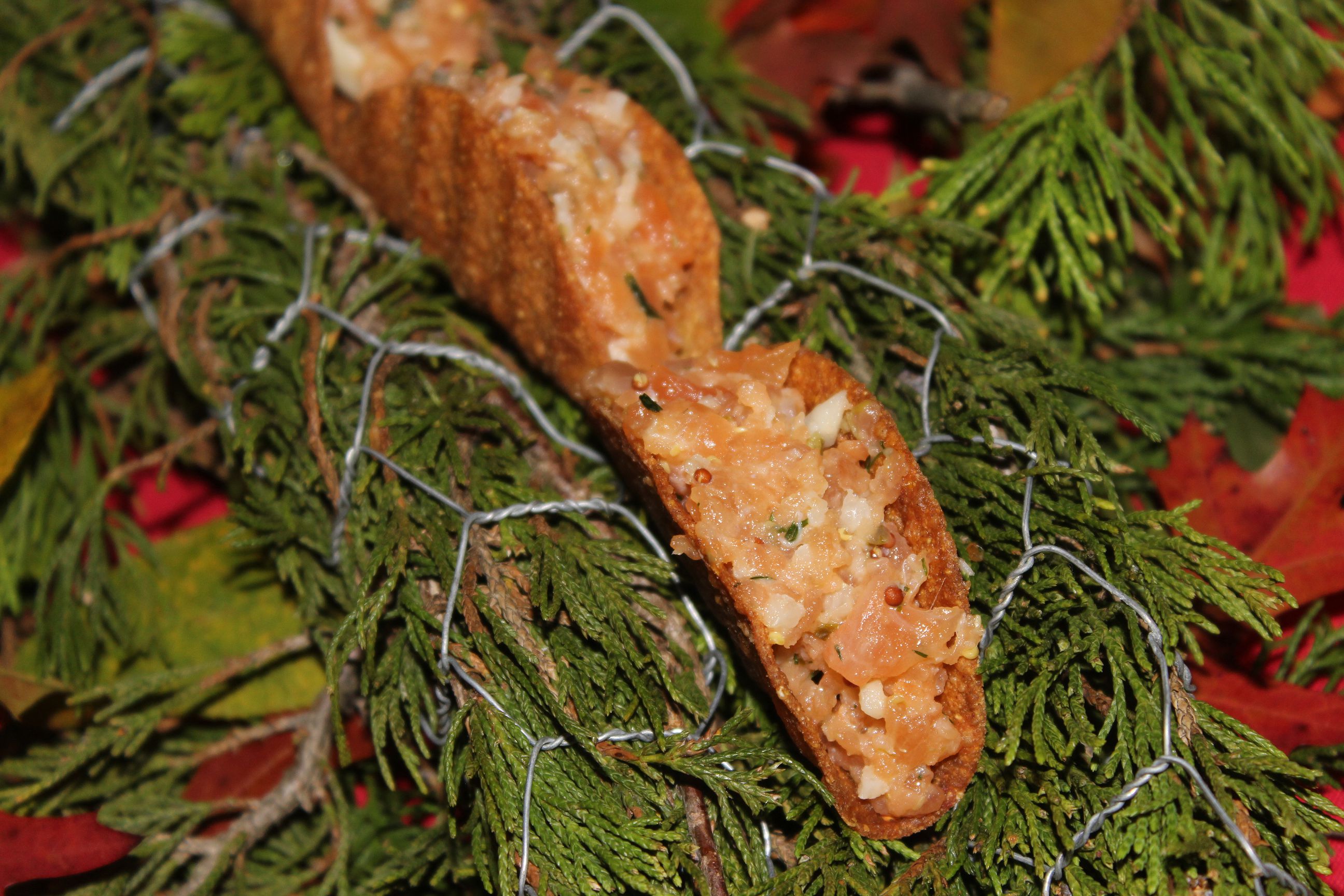 Allswell: "Cotechino with Sweet & Sour Onion"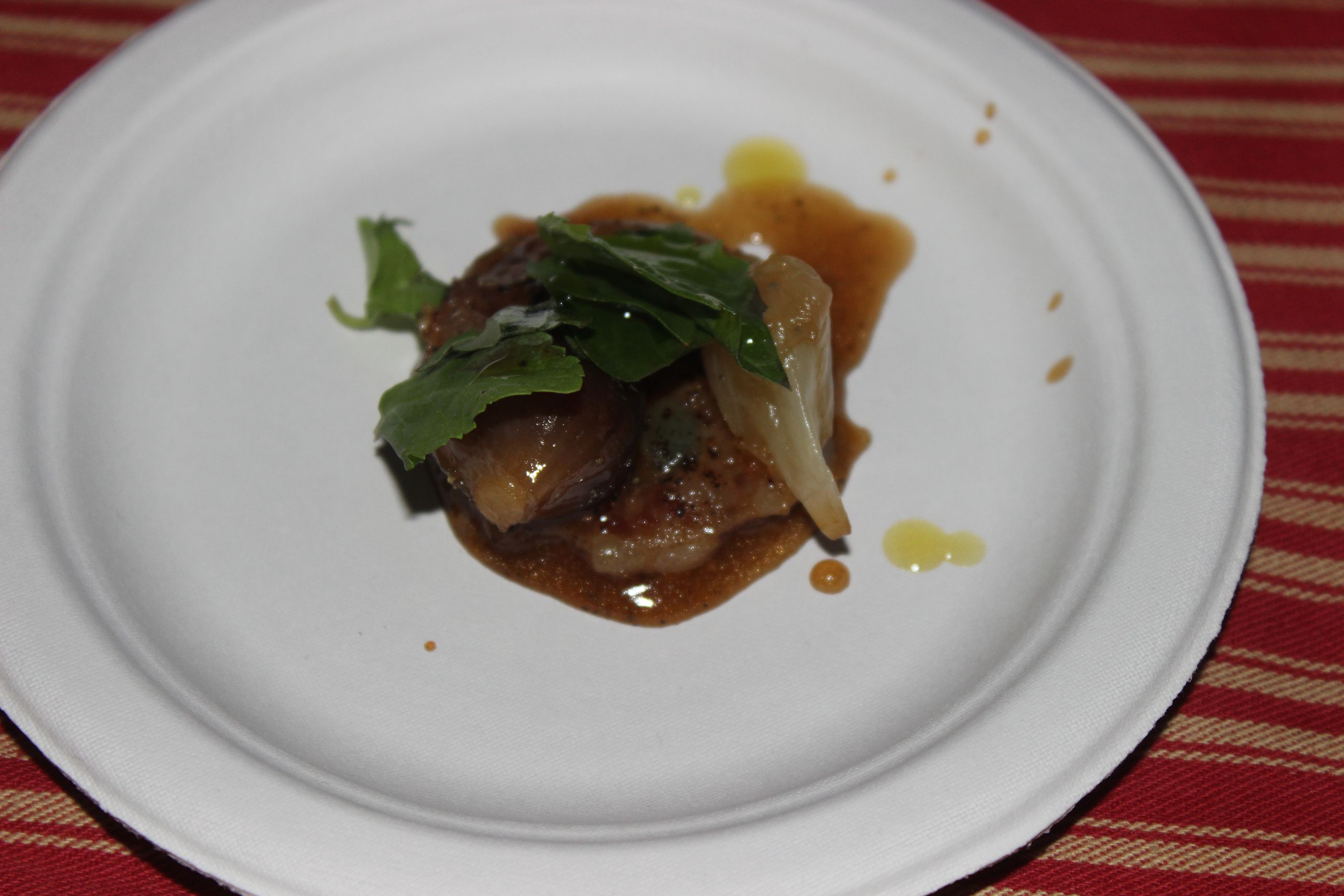 Strip House:  "Charred Wagyu Strip with Roasted Parsnip, Pickled Mustard Seeds, Soy Caramel"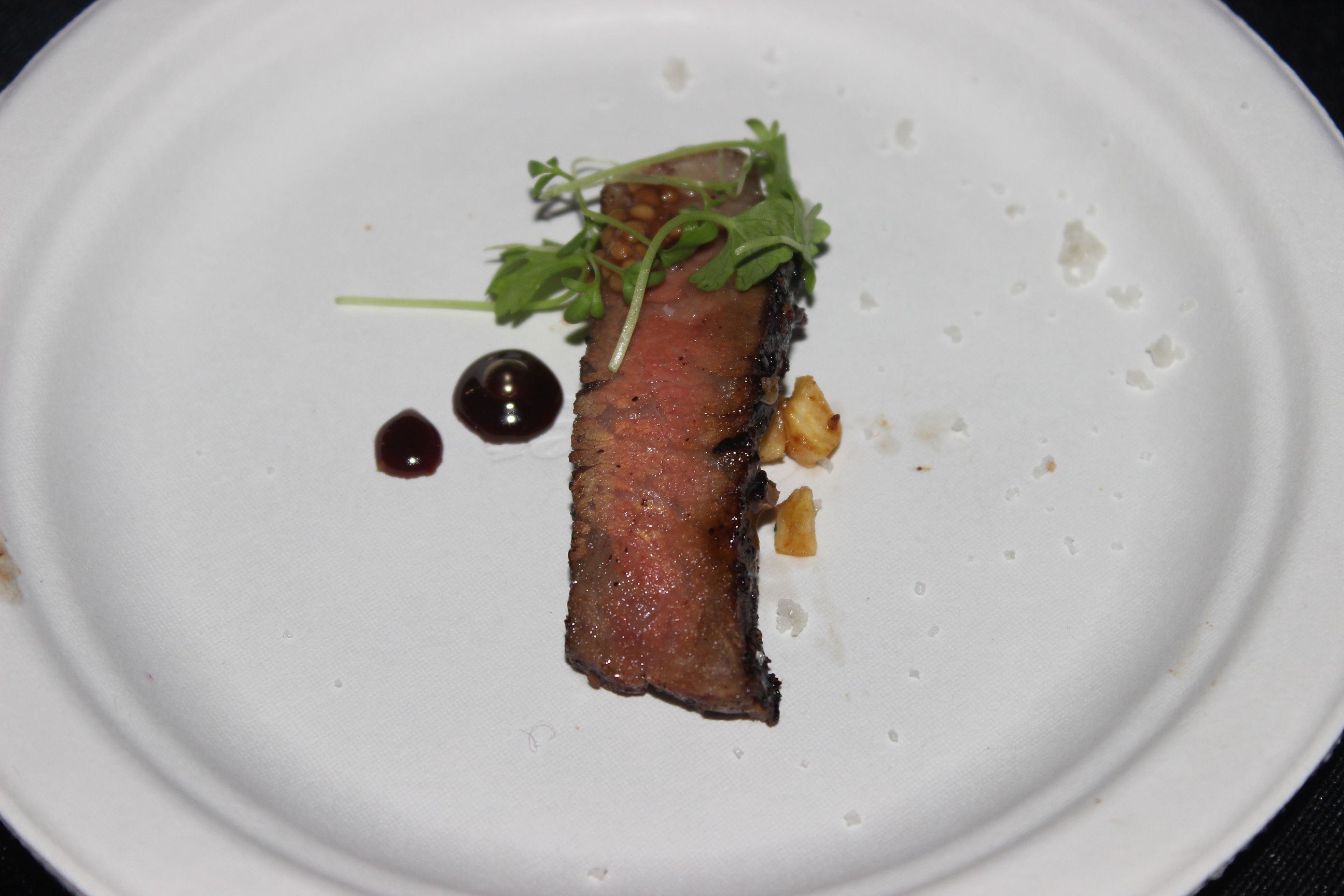 T-Bar Steak & Lounge: "Yellowfin Tuna Tartar with Soy, Ginger & Sesame"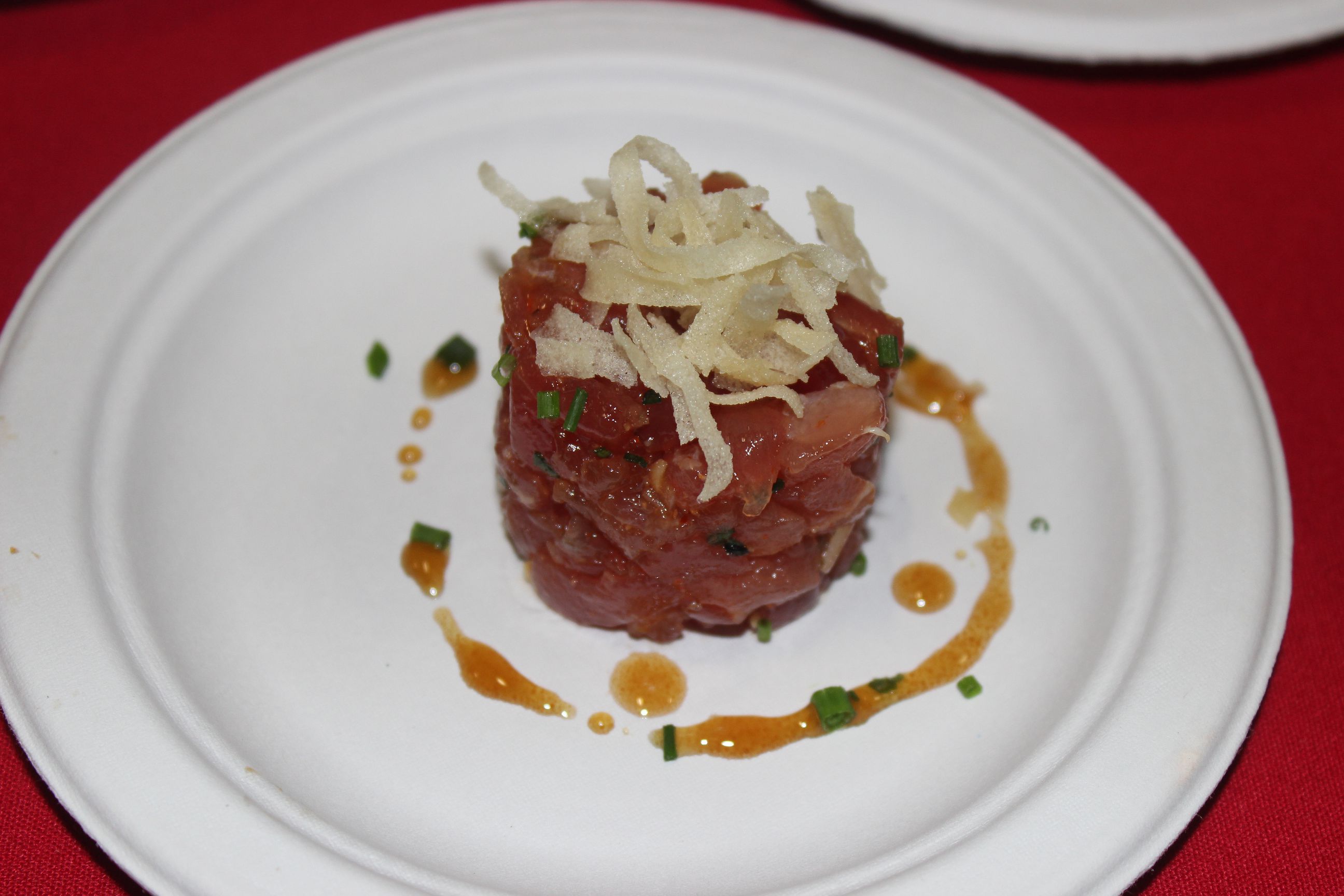 The Regency Bar & Grill: "Herb Crusted Lamb Loin with White Bean & Green Salad"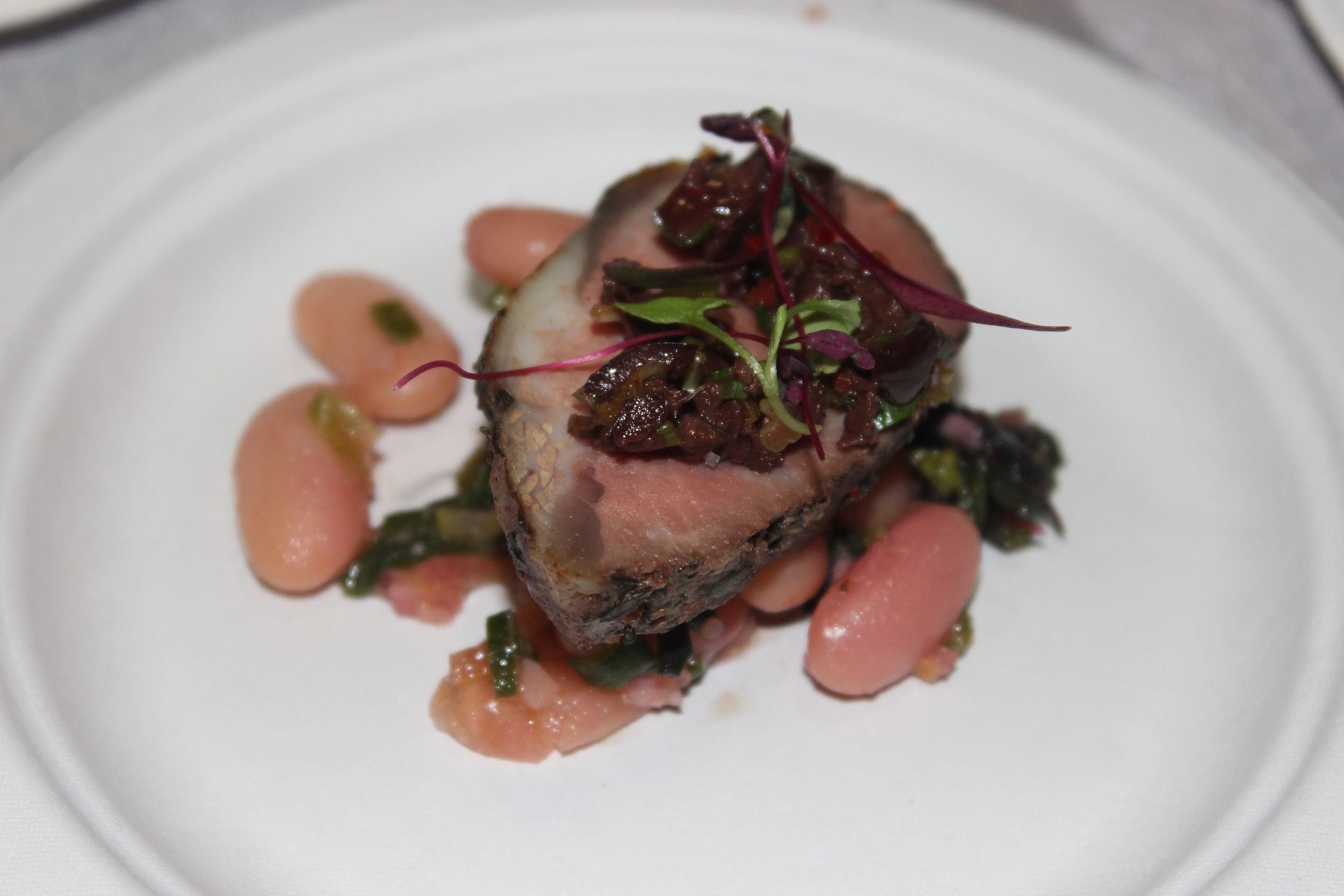 Red Rooster & Ginny's Supper Club: "Pot of Spice-Braised Short Rib with Beef Heart, Coconut & Flatbread"
Serafina Restaurant: "Ravioli filled with Baby Spinach in a Butter-Sage Sauce"
Benchmark Restaurant: "Cherrywood Smoked Baby Back Ribs with Spicy Pickled Watermelon"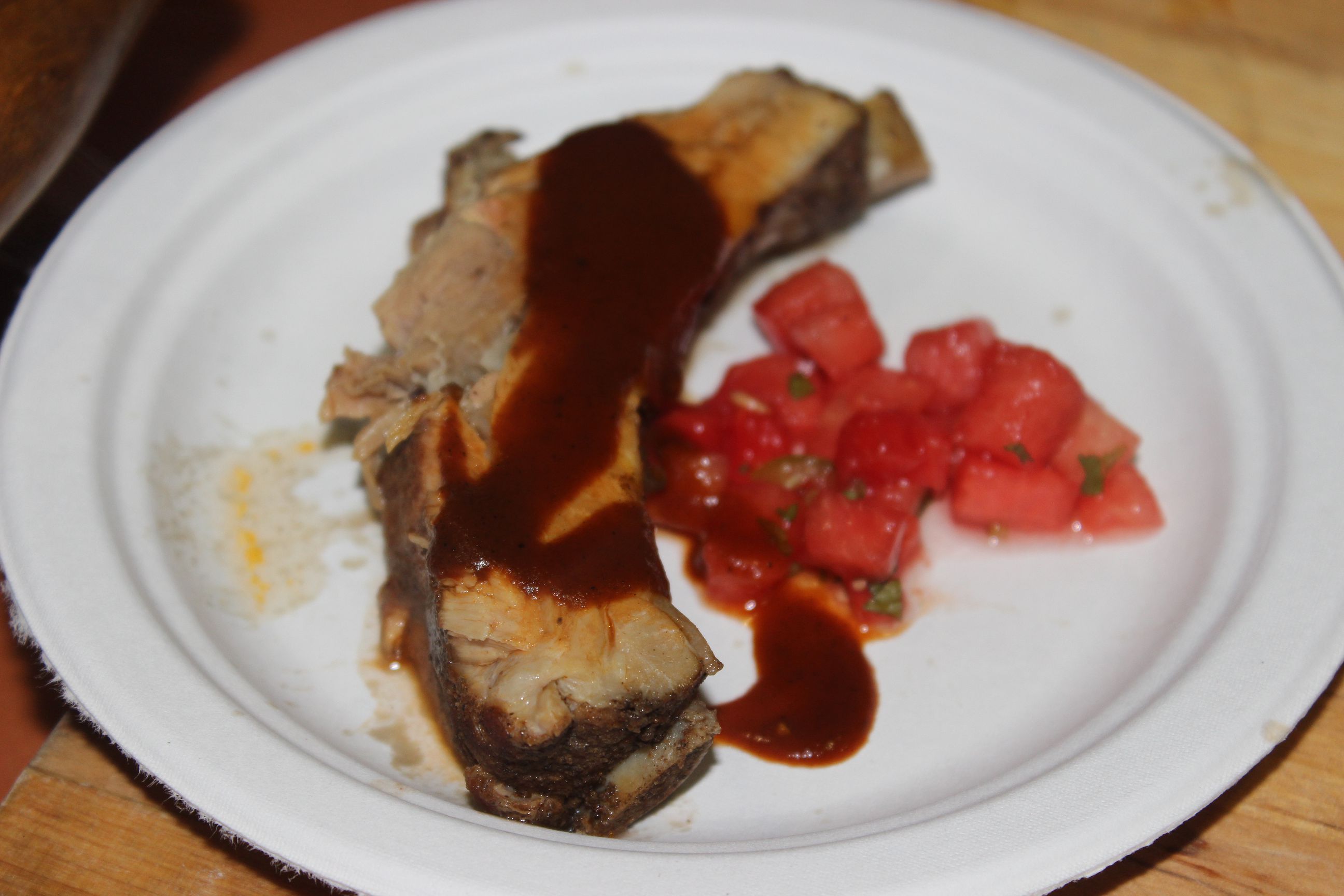 El Colmado: "Fabada (Fabes Beans with Autumn Vegetables & Serrano Ham)"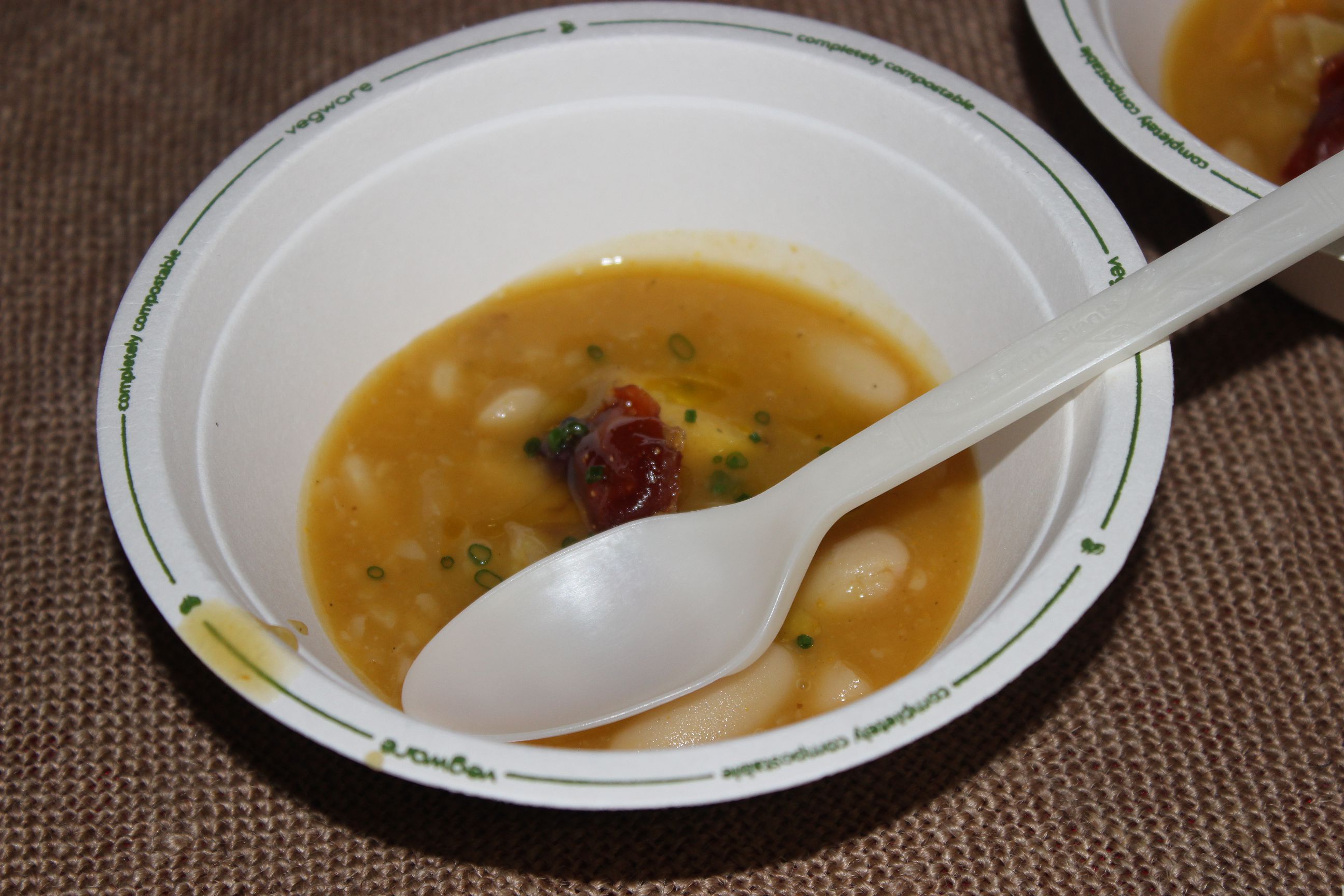 French Louie:  "Snails 'Marchand De Vin'"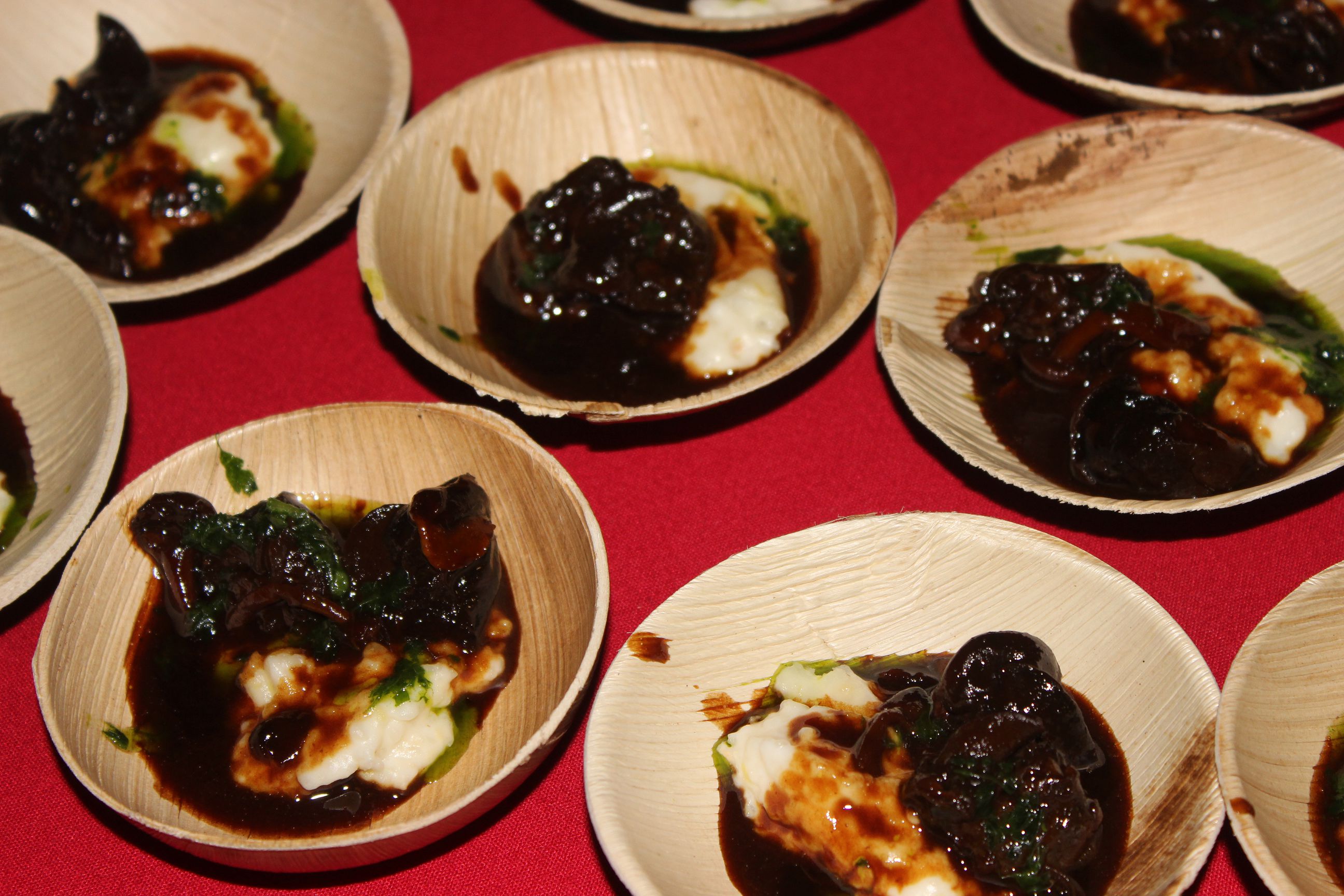 City Winery:  "Roasted Heirloom Carrot & Buffalo Mozzarella Crostini"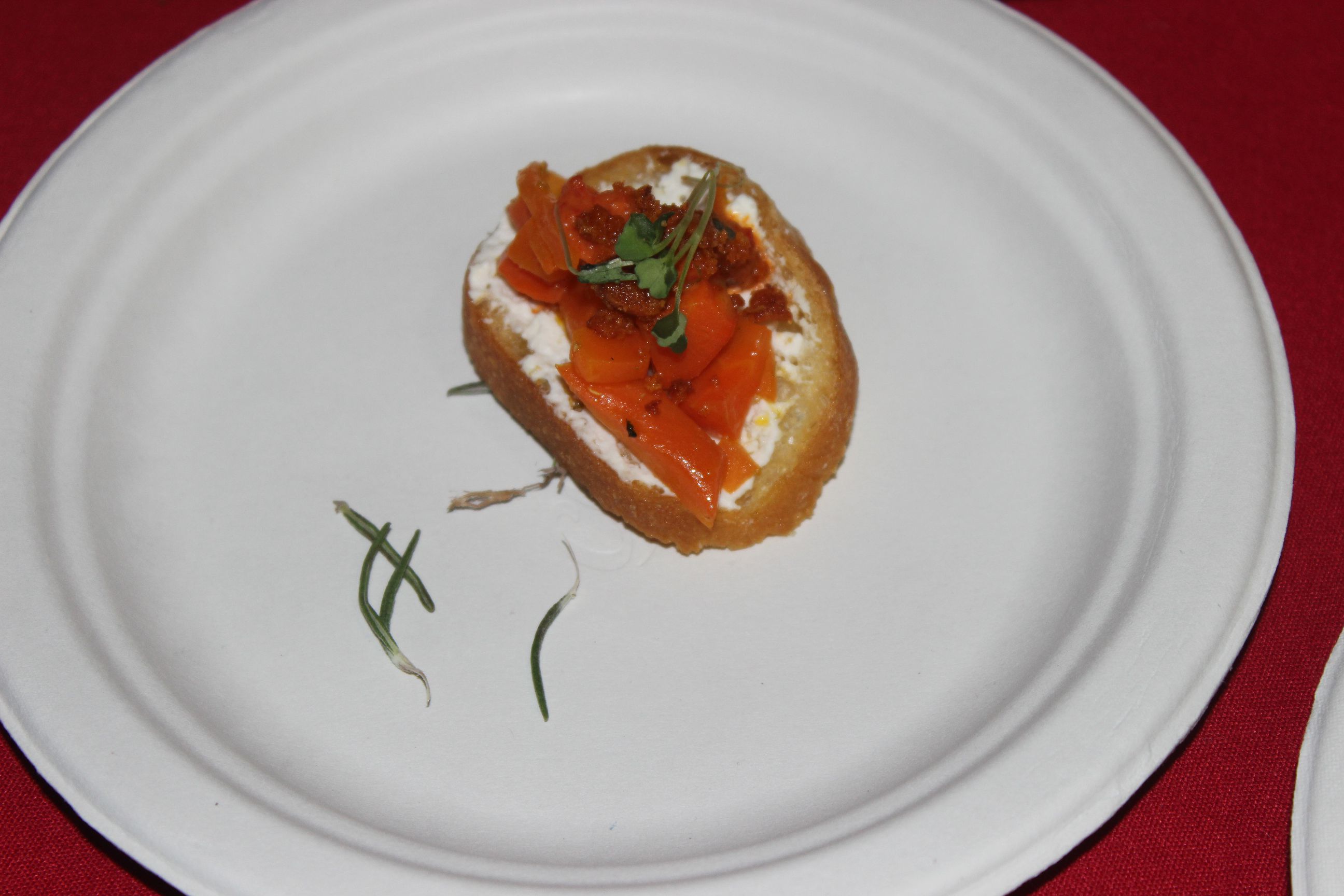 Great Performances:  "Seared Scallops with Pear Puree, Smoked Bacon & Pickled Apple"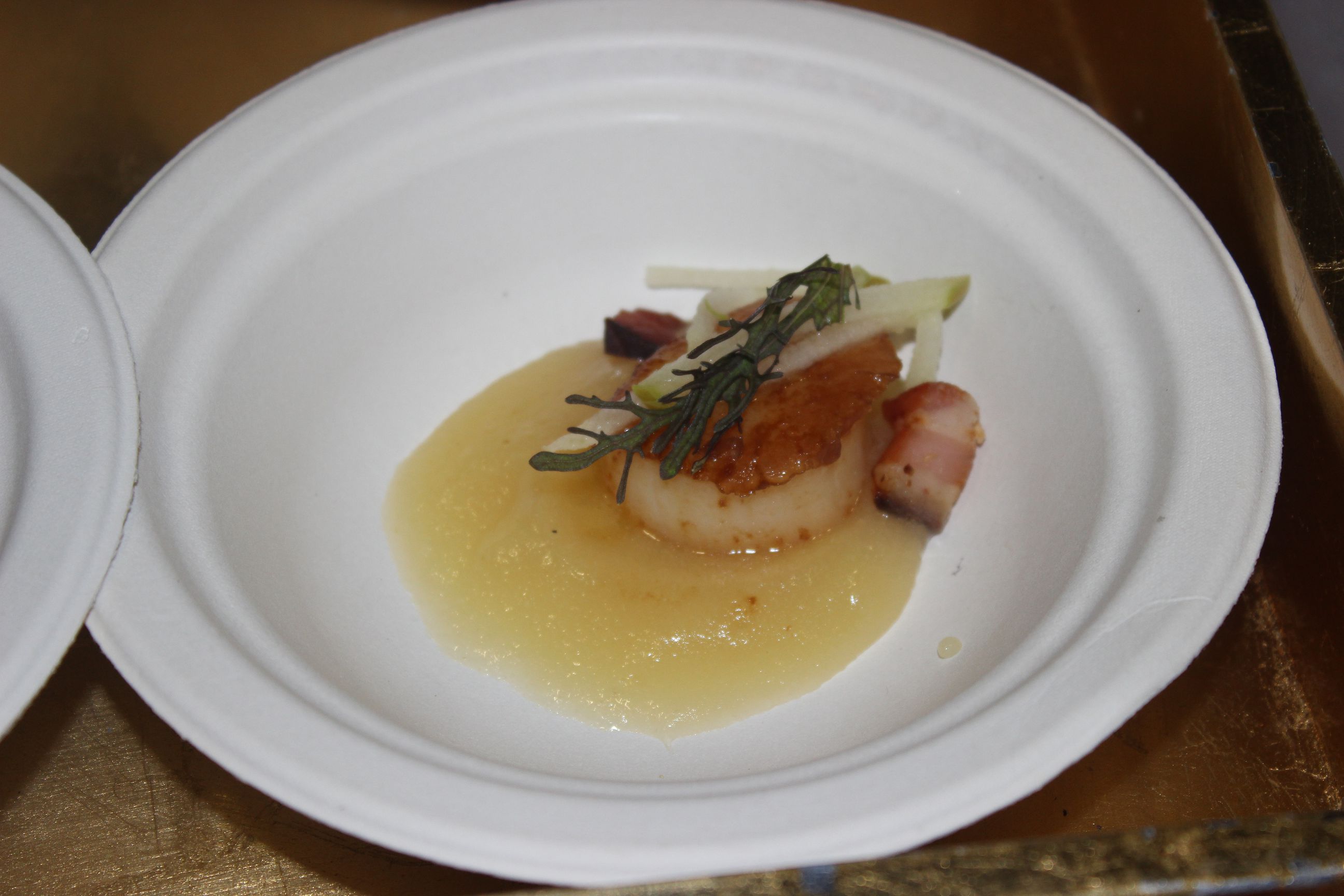 Barbounia:  "Grilled Octopus with House-Made Hummus, Cilantro, Jalapeno, Quail Egg"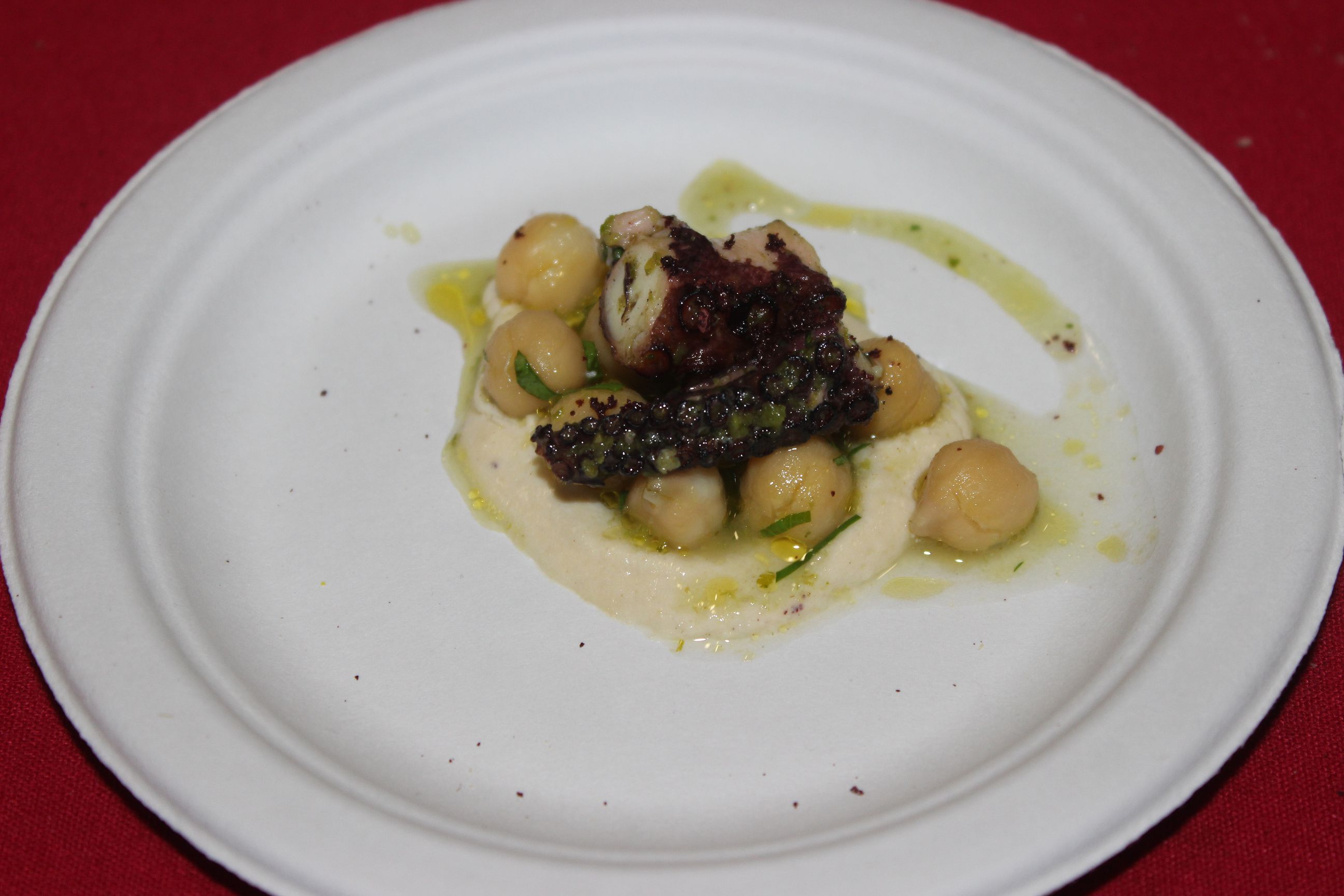 Salumeria Rosi:  "Selezione di Salumi"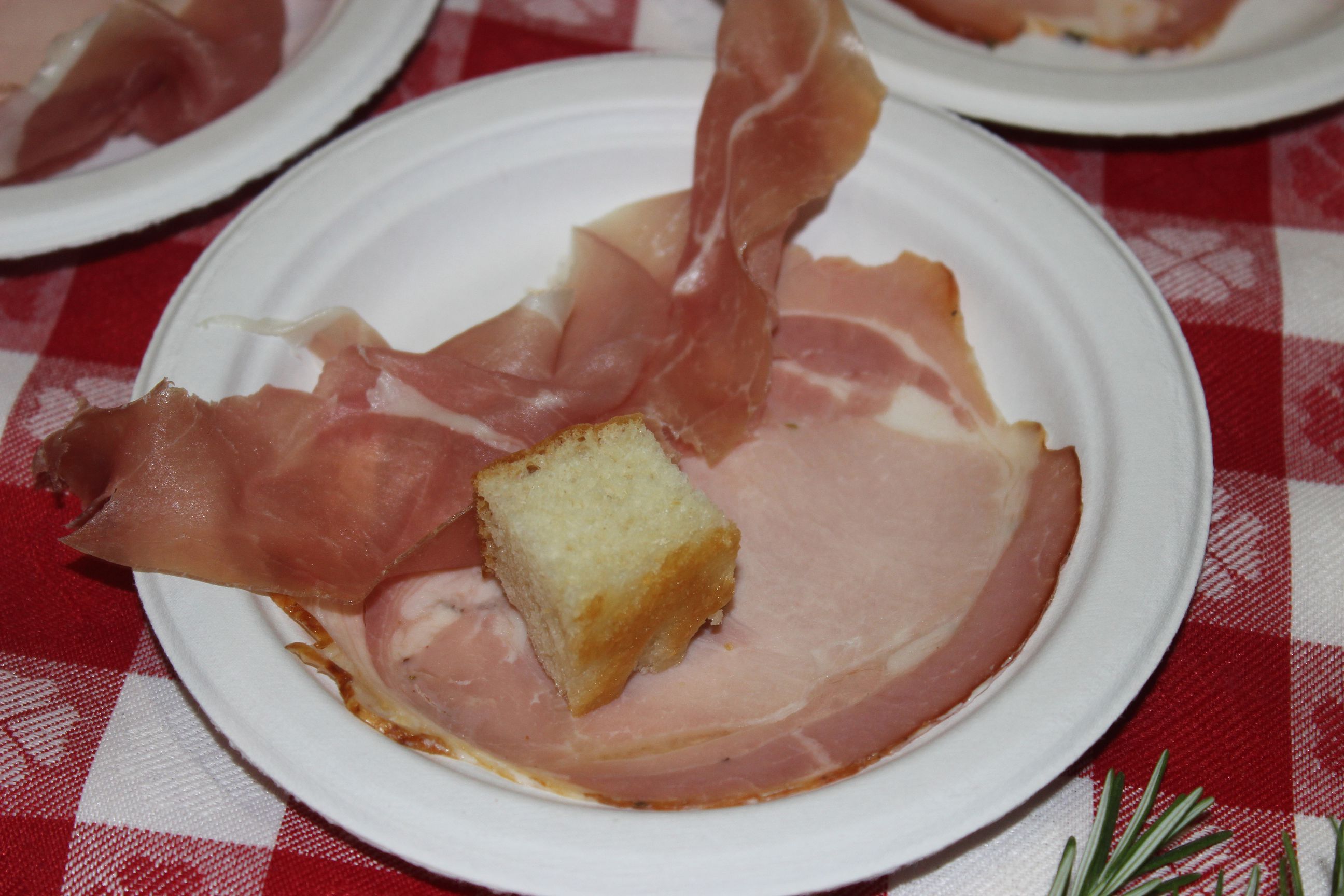 The Gander:  "BBQ Brisket with Jalapeno, Mustard Crema & Pickled Apple"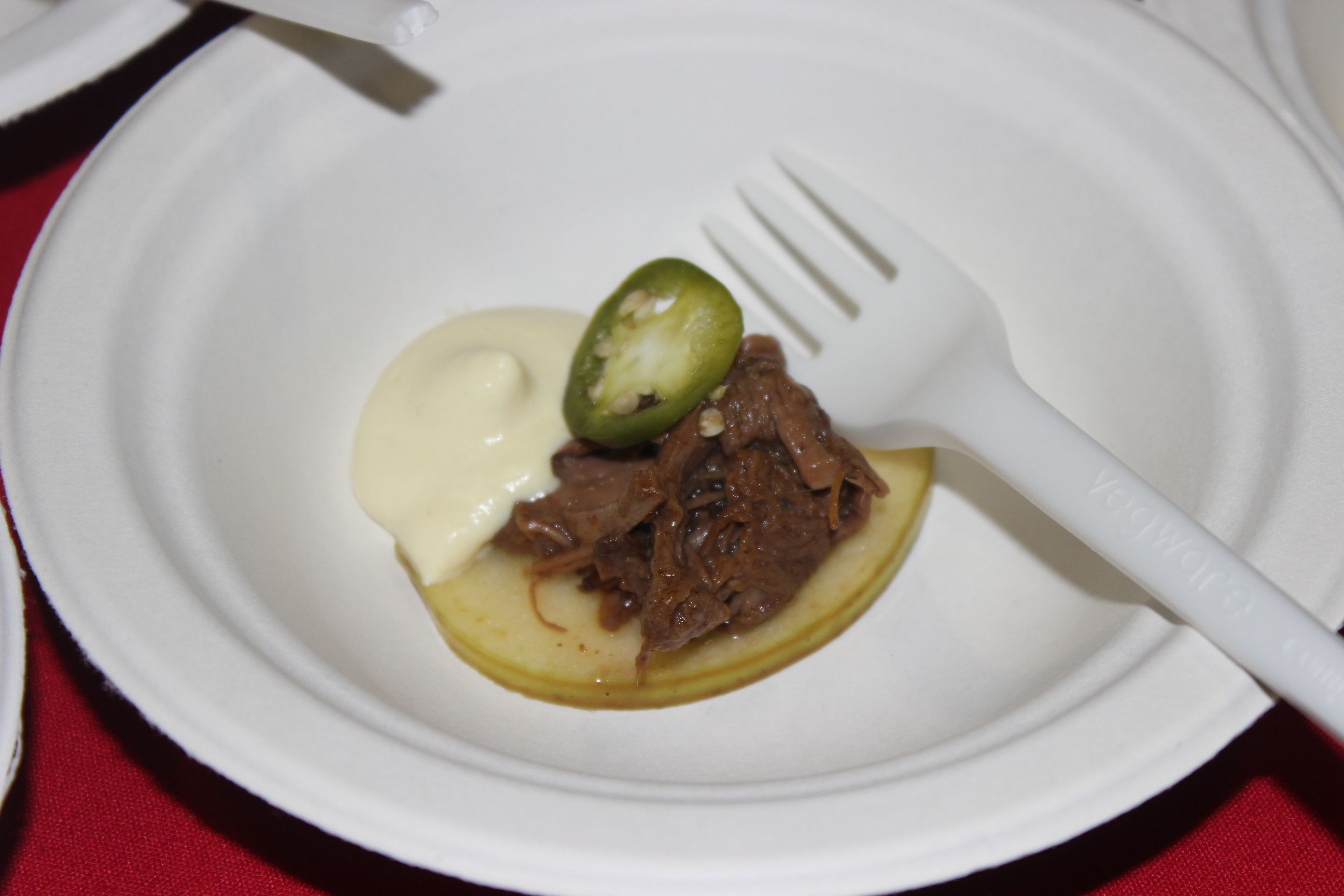 Ed's Chowder House:  "Ed Skuna Bay Salmon Burger with Garlic Aioli & Pickle Pepper Relish"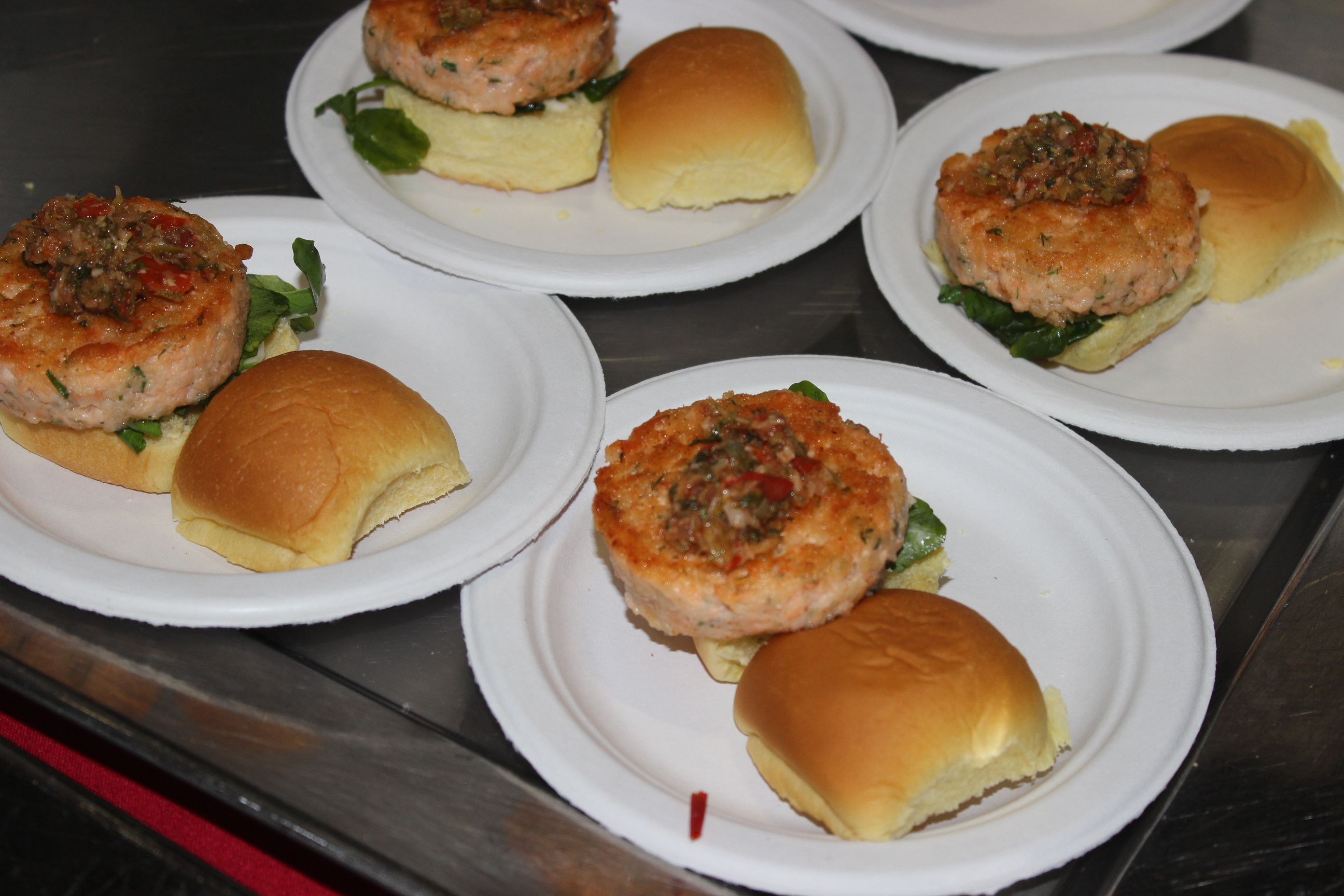 Balaboosta:  "Vegetarian Eggplant Crostini with Herb Salad and Silan"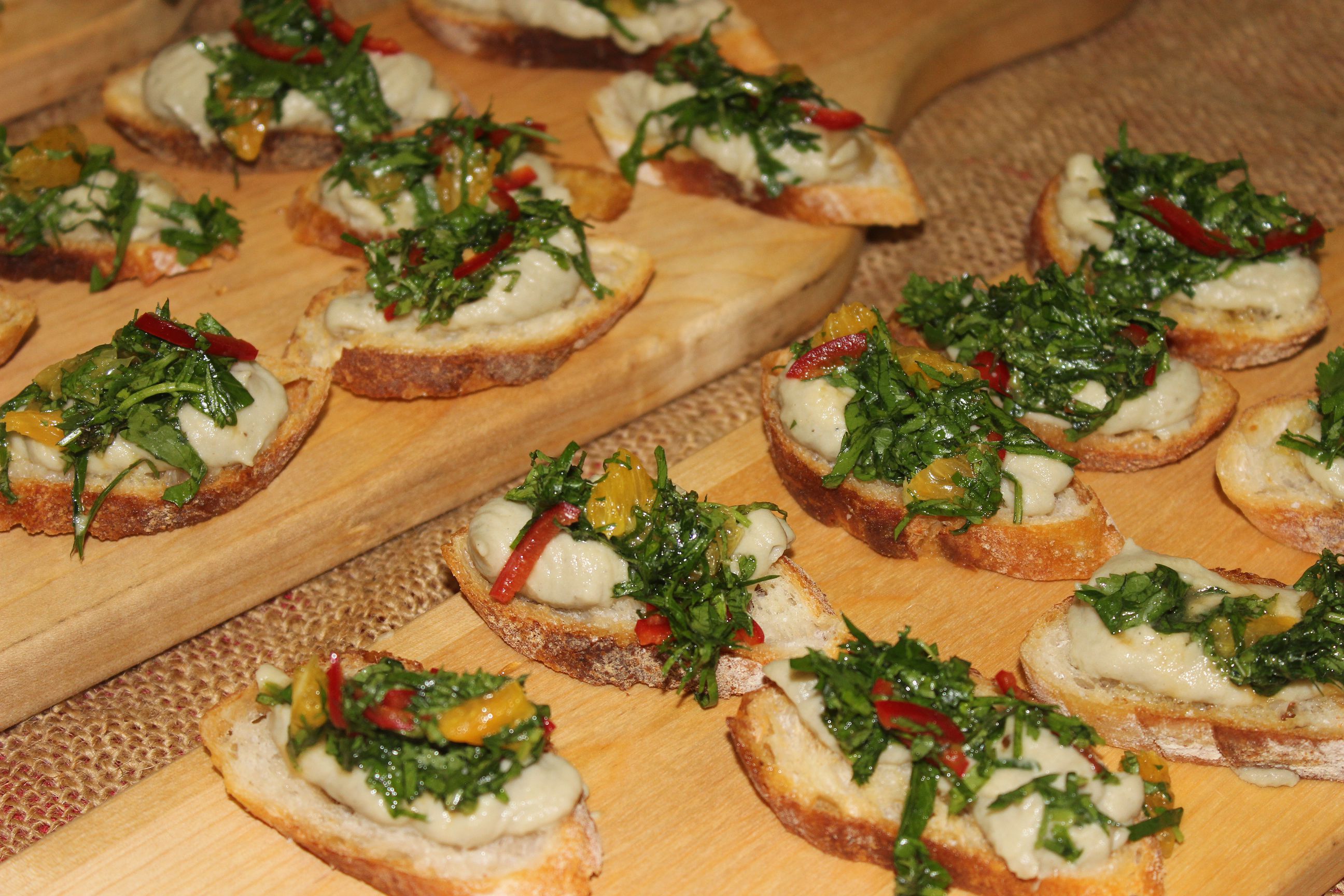 The Dutch:  "Rabbit Popover with Hard Cider, Chestnuts & Mustard"
Barchetta:  "Crudo – Market Selection"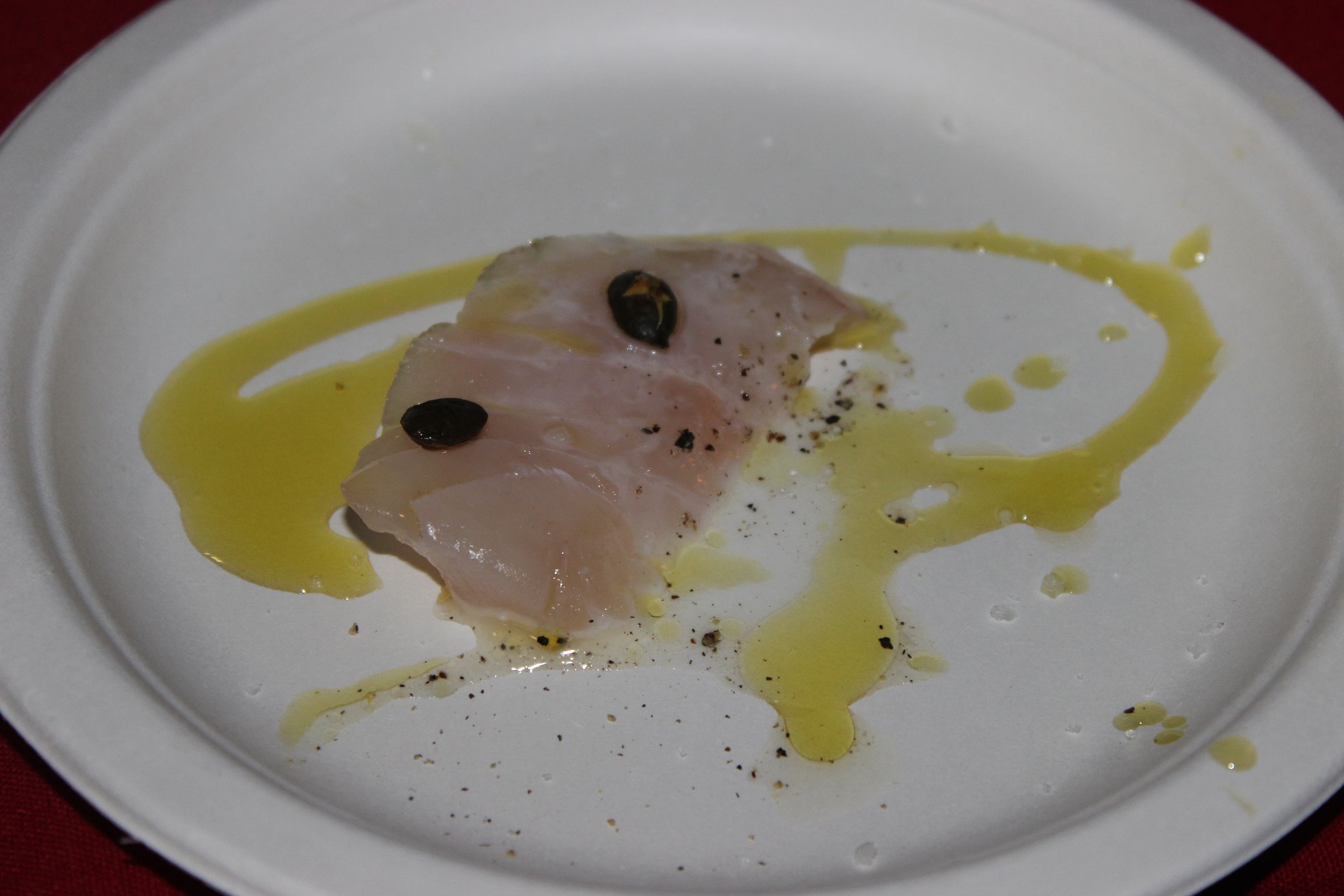 Emily:  "Smoked Pork & Duck Rillette Toast with Jam & Pickles"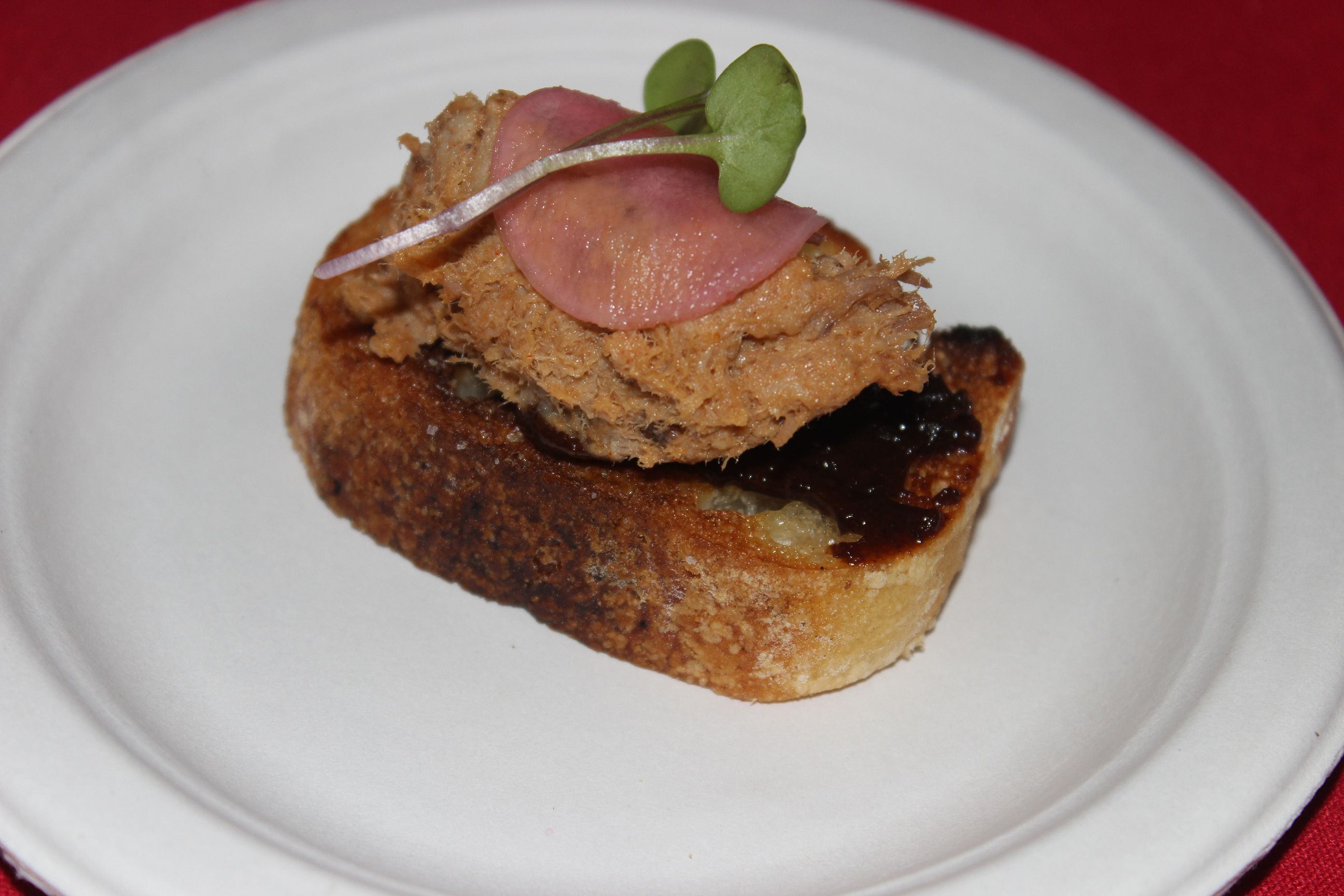 Marc Forgione American Cut: "Shrimp and Popcorn Grits with Sorghum & Amber"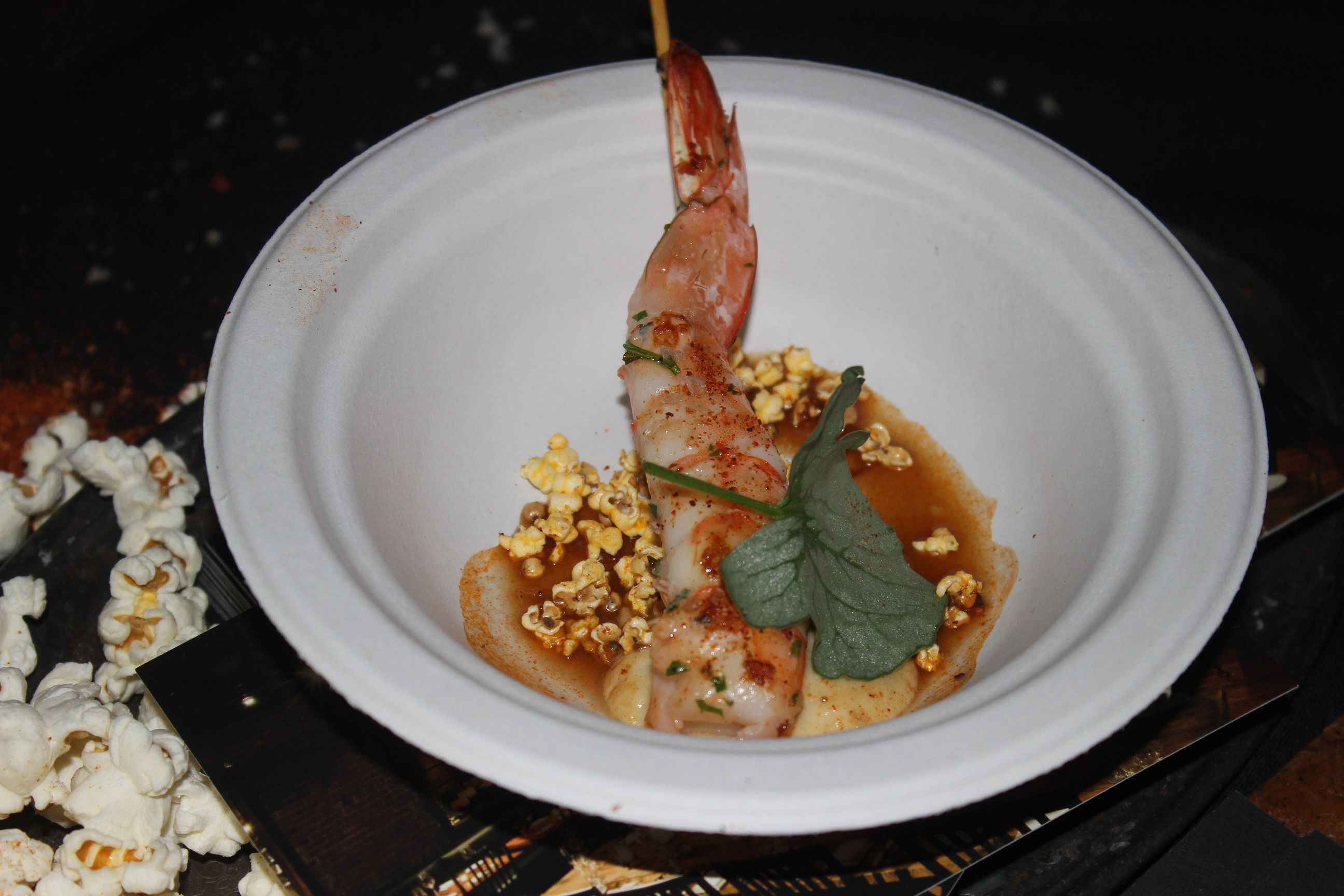 Landmarc:  "Pumpkin Bisque with Chorizo & Pepitas"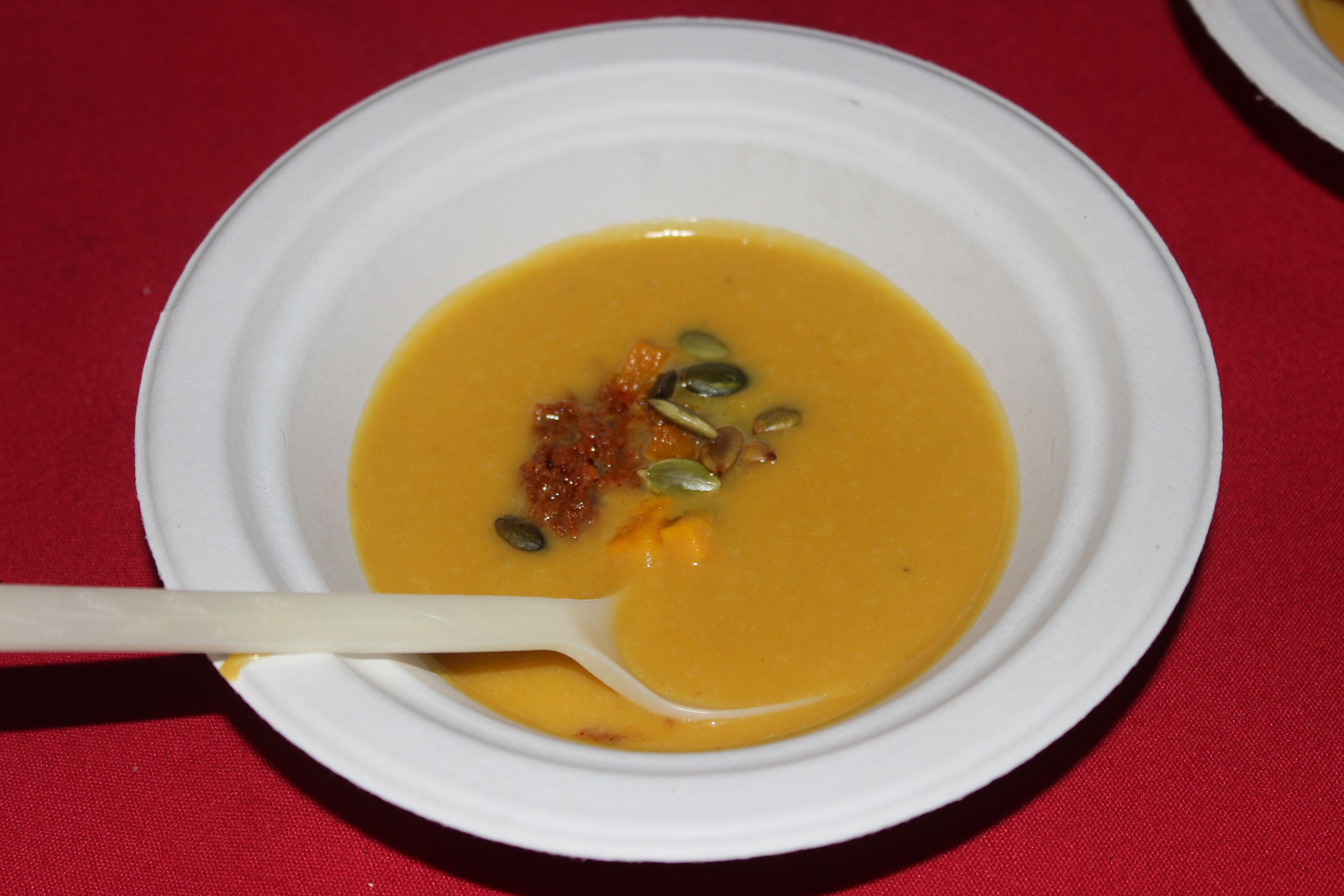 Frankies 570 Sputino:  "Braised Lamb Shoulder with Citrus Gremolata over Kabocha Squash"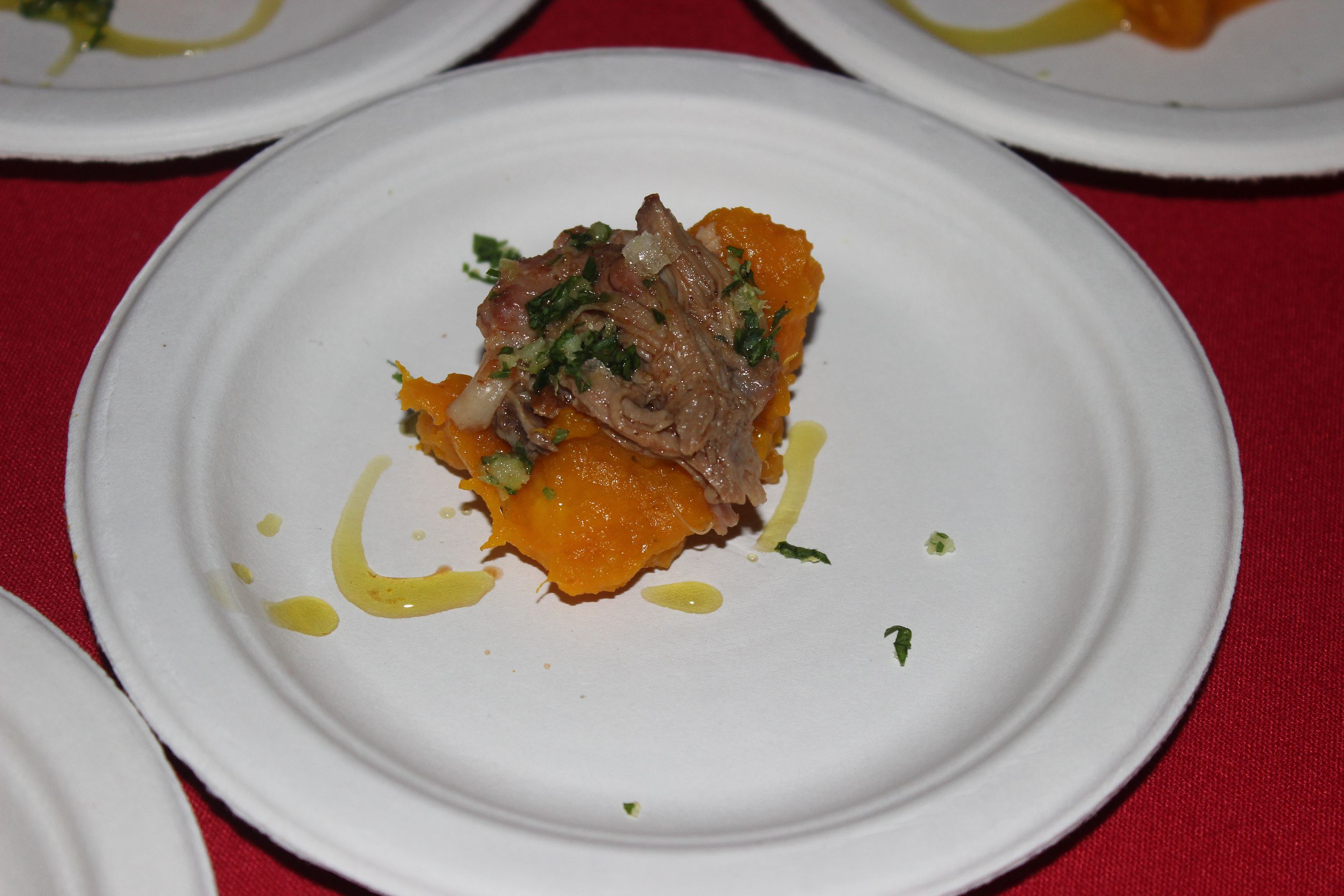 Dinosaur Bar-B-Que:  "Mini Pulled Pork Sliders"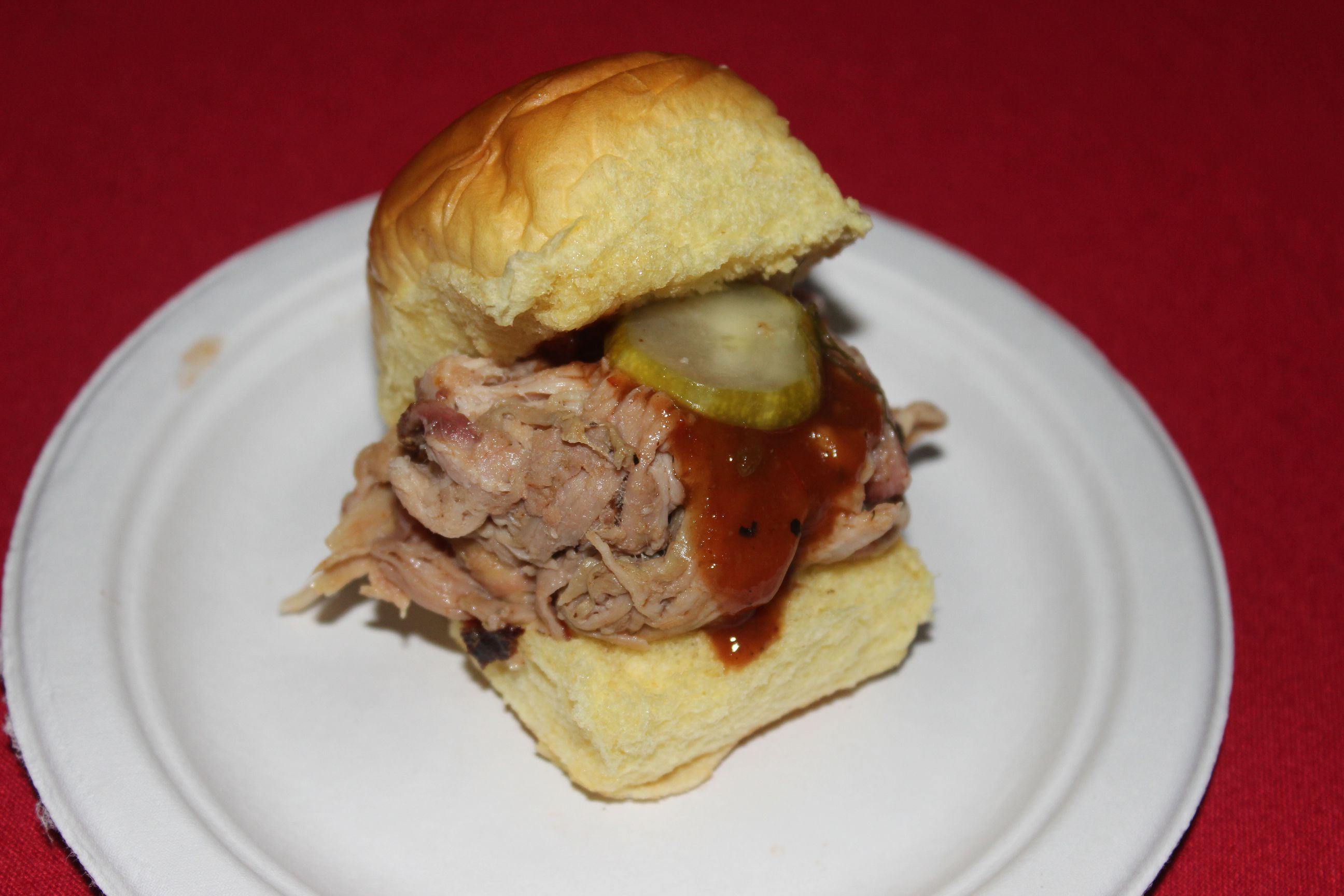 Pig and Khao:  "Rice Noodles with Fish Curry"
Ed's Lobster Bar:  "Mini Lobster Rolls"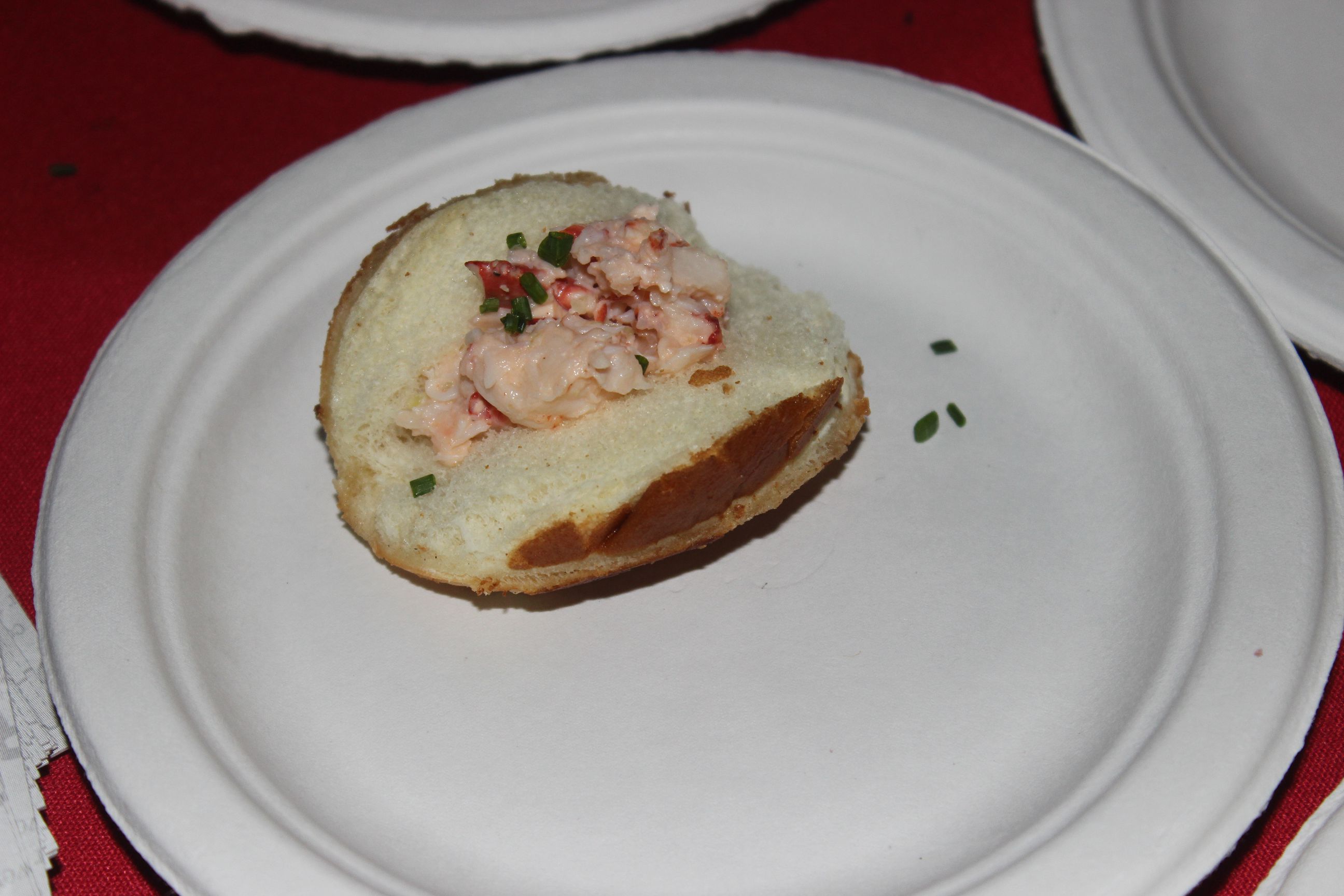 Hudson Valley Foie Gras:  "Torchon of Hudson Valley Foie Gras with Dried Fruit Chutney"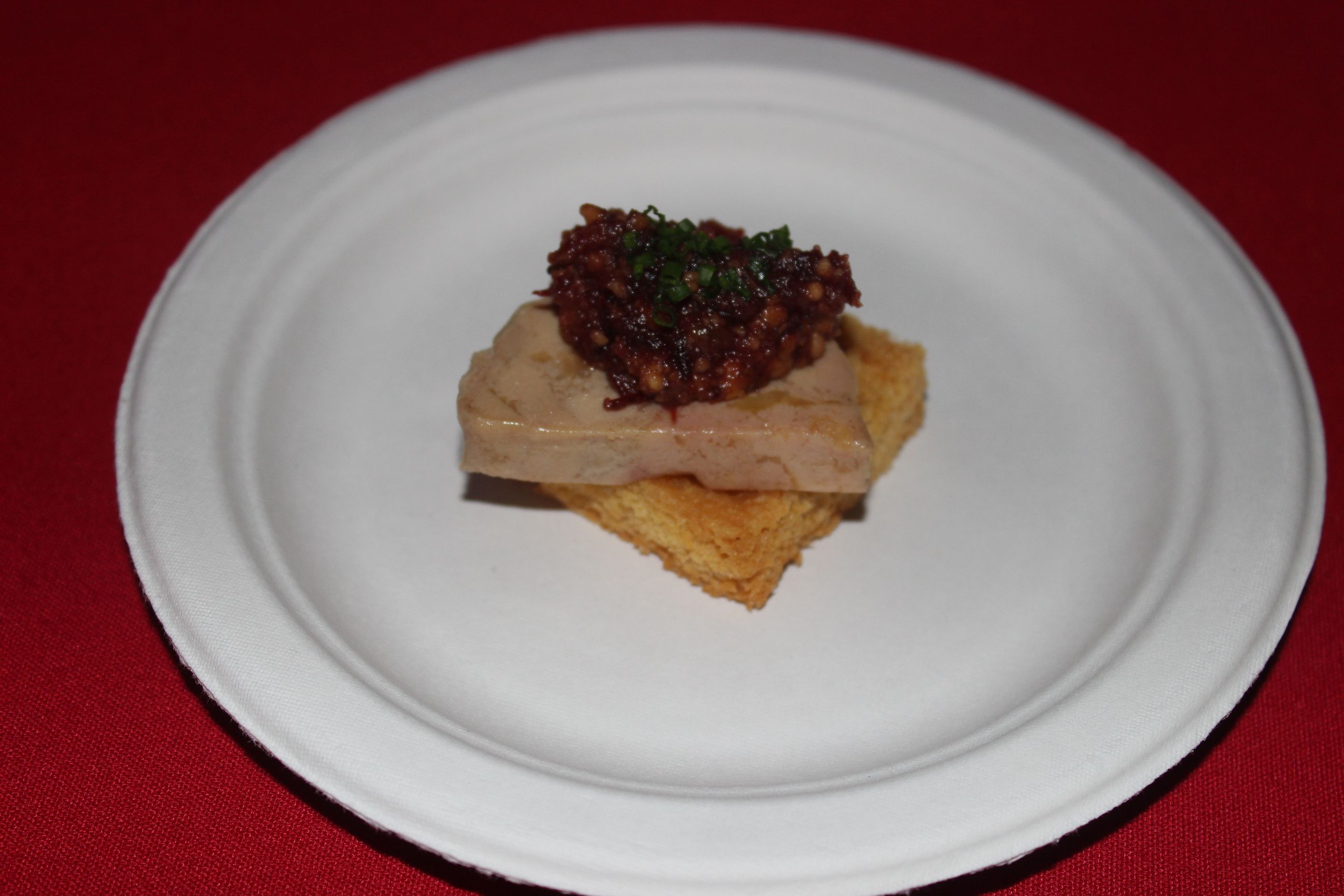 Telepan:  "Cape May Salt Oysters with Cucumber Herb Mignonette"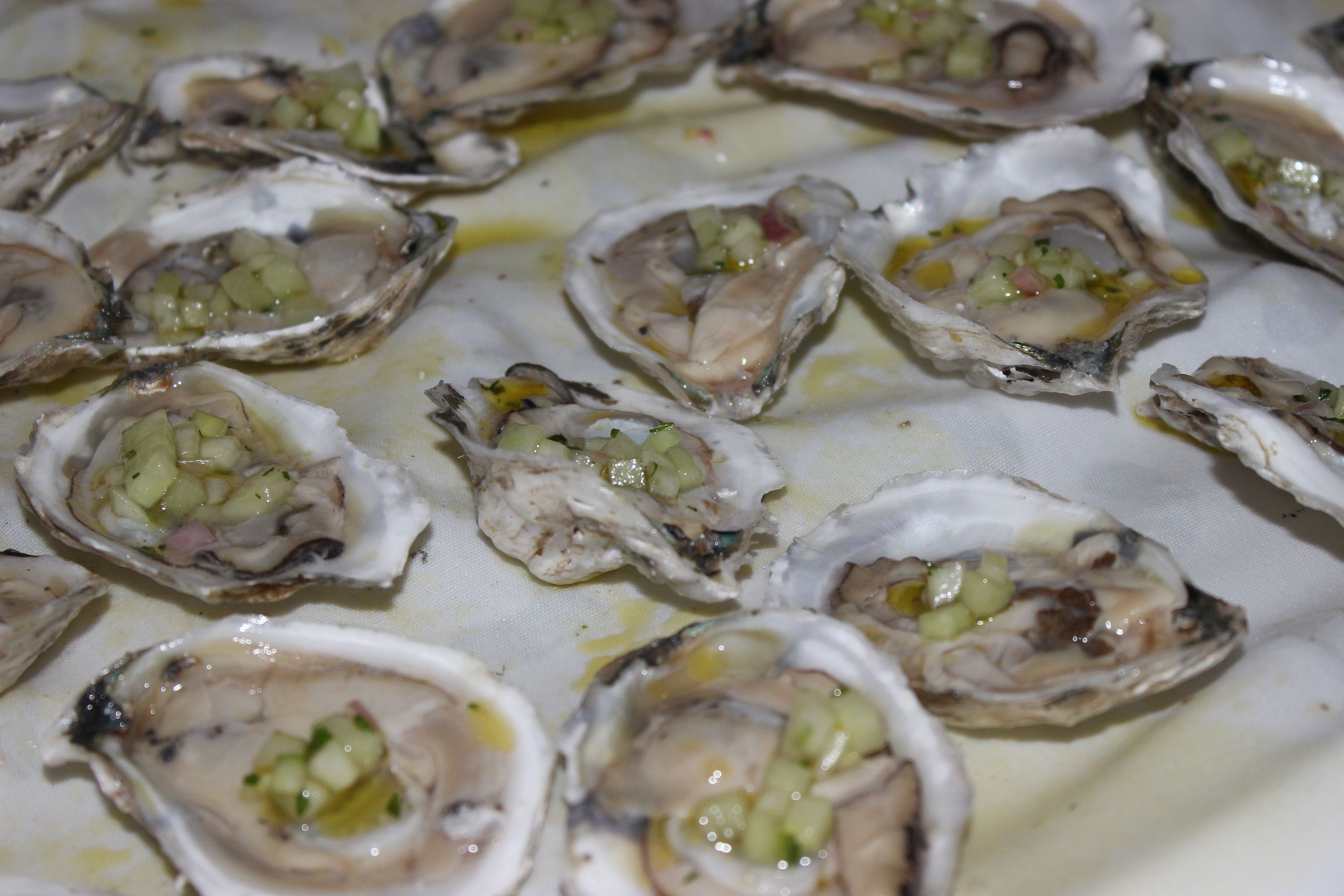 Rao's:  "Anna and Frankie's Meatballs with Marinara"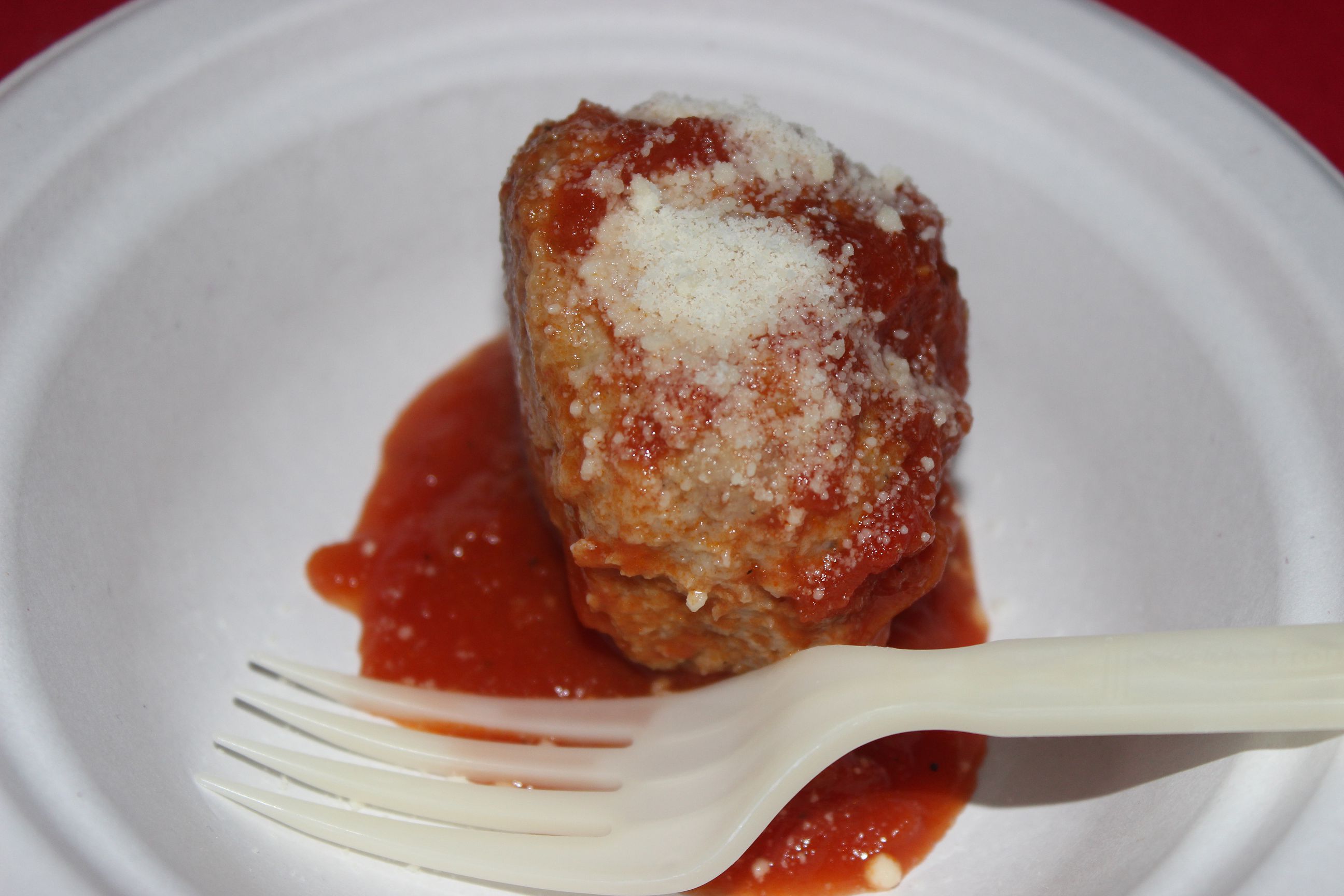 The Stanton Social:  "BBQ Mole Beef Cheek Soft Taco"
Asiate at Mandarin Oriental, New York:  "Smoked Trout Mousse"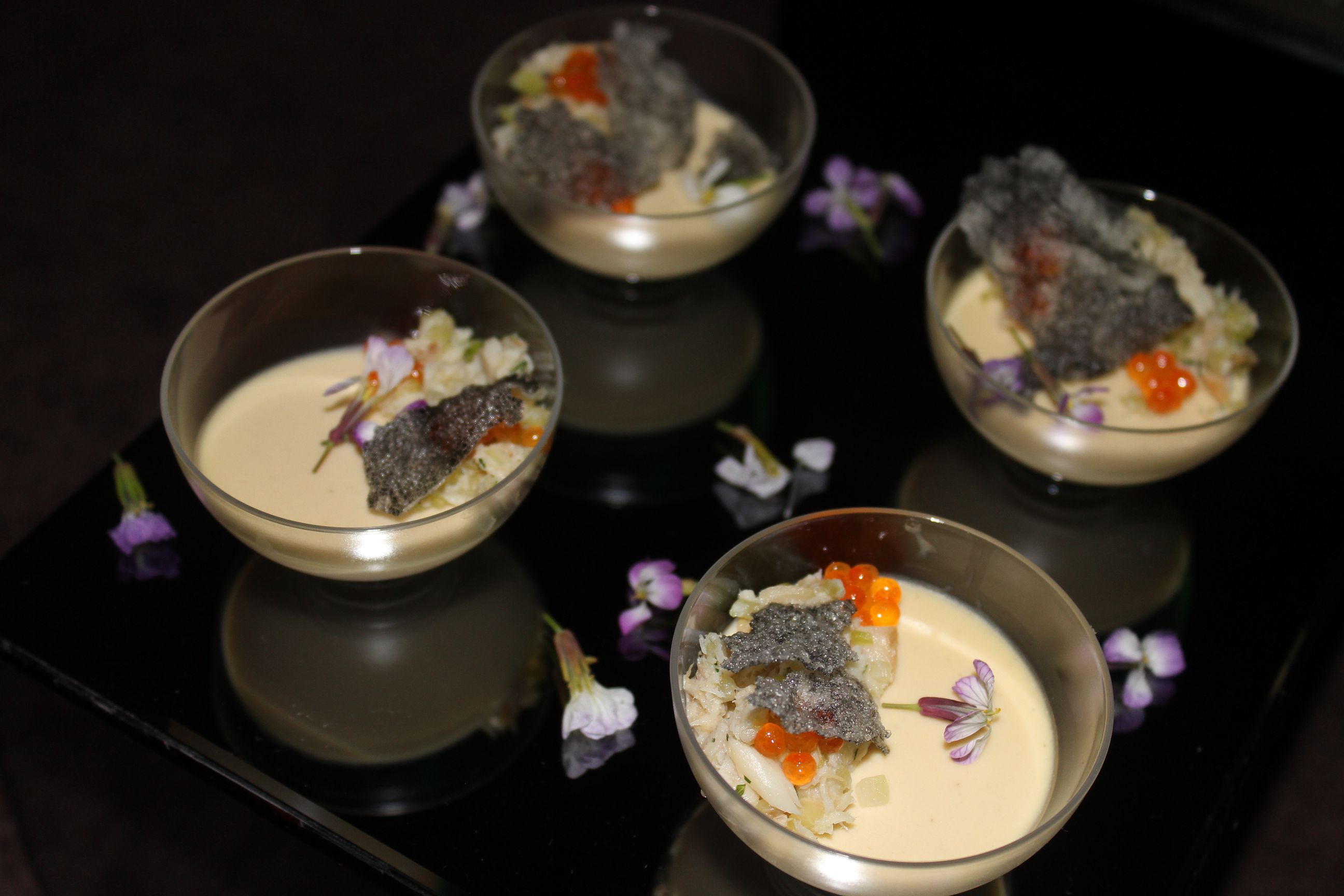 Wallse:  "Crispy Cone with Smoked Trout & Cucumbers" **VIP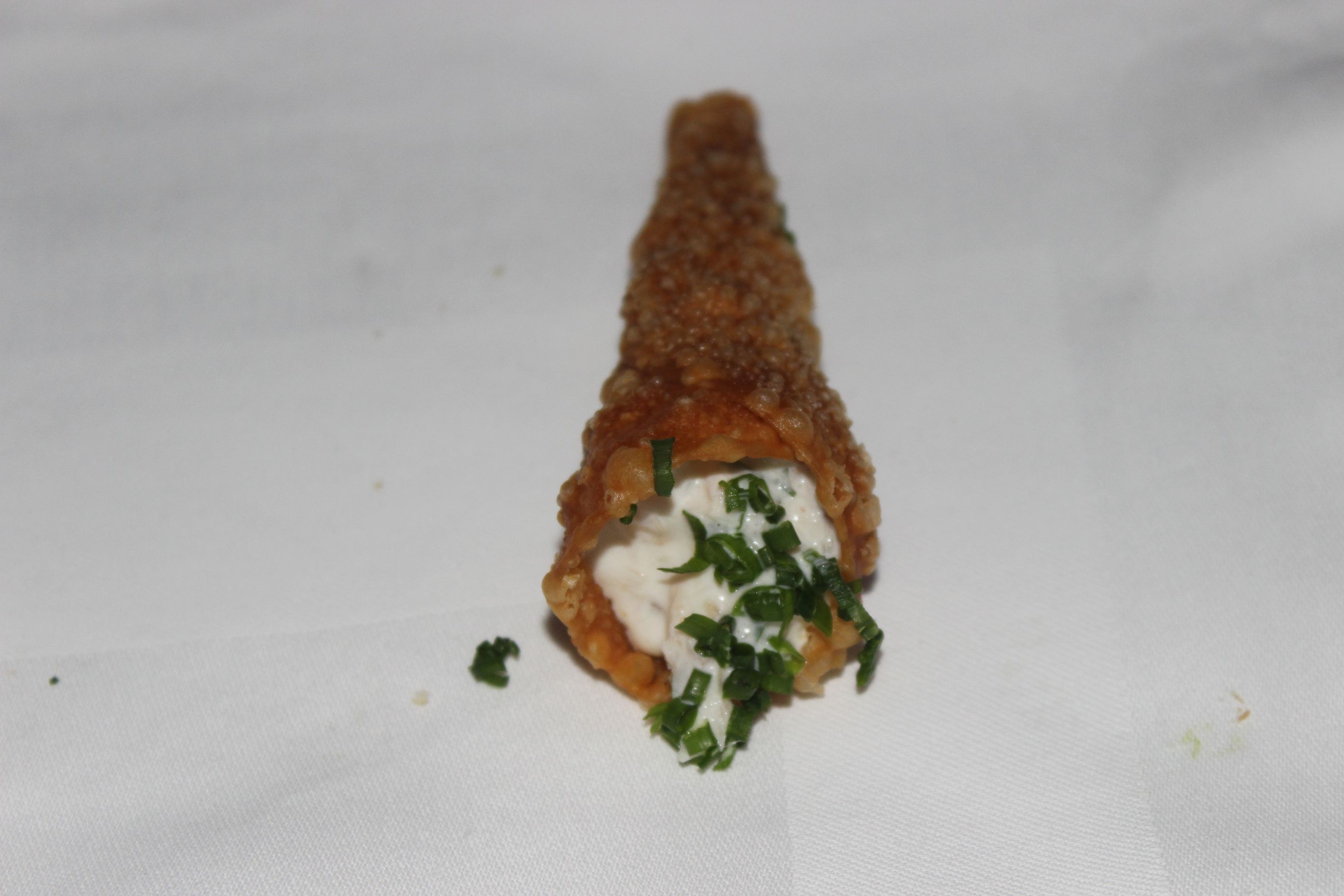 Altamarea Group:  "Scallop Crudo with Celery Root & White Truffles" **VIP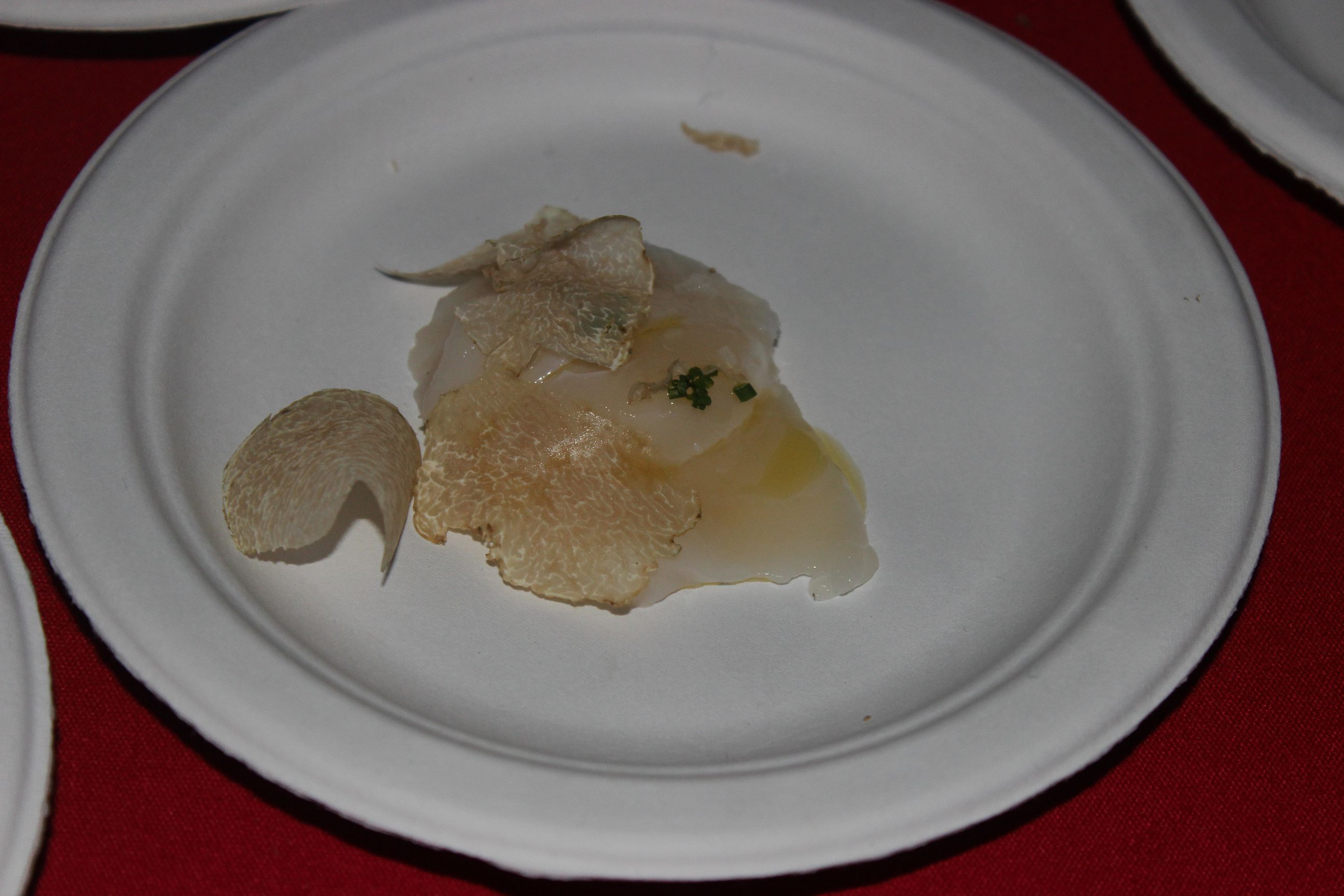 L'Apicio:  "Autumn Squash Salad with Pancetta, Pecorino & Charred Radicchio" **VIP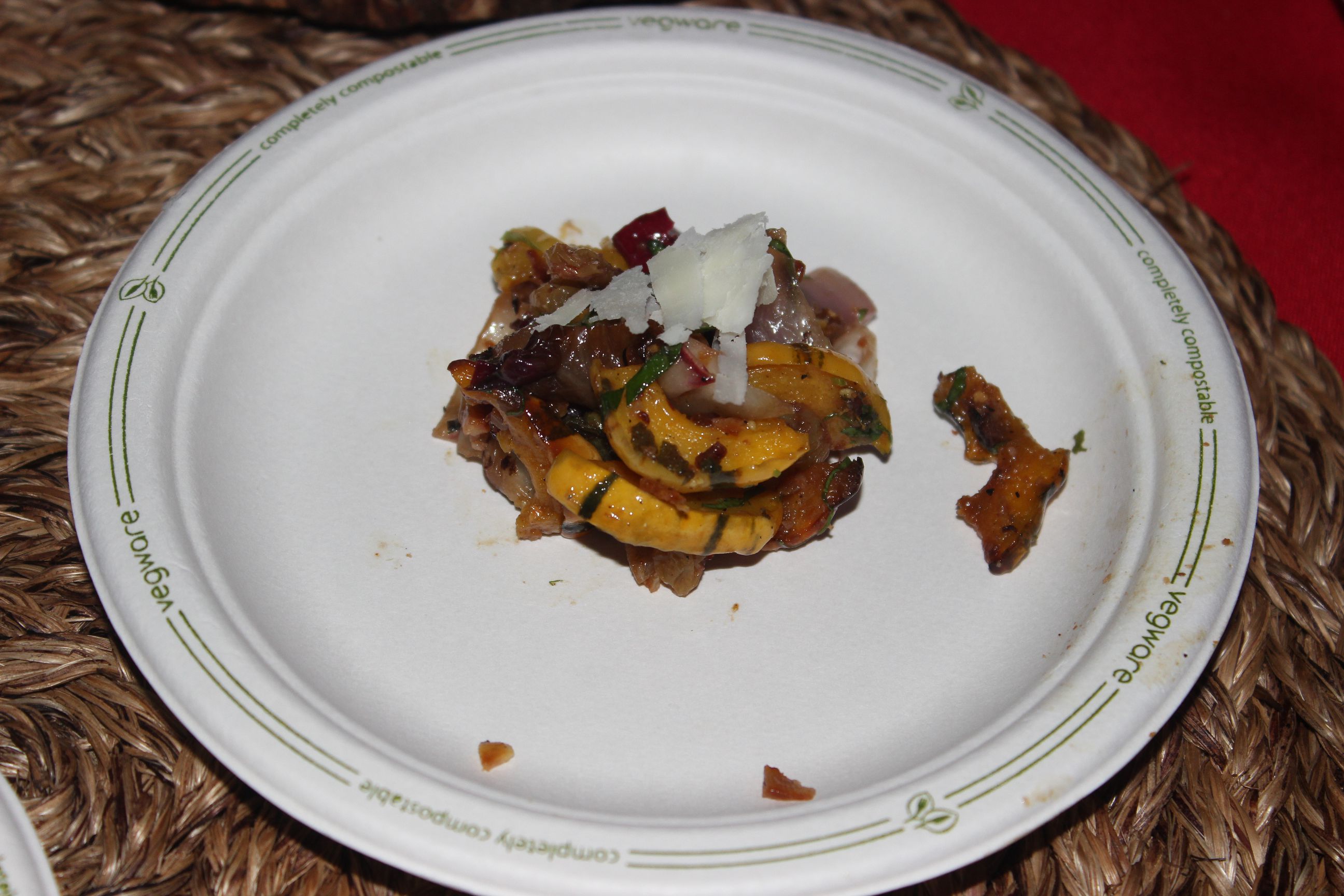 Le Cirque:  "Pheasant Ragout with Steamed Butter Cake & White Truffles" **VIP

Elan:  "Sea Urchin Guacamole"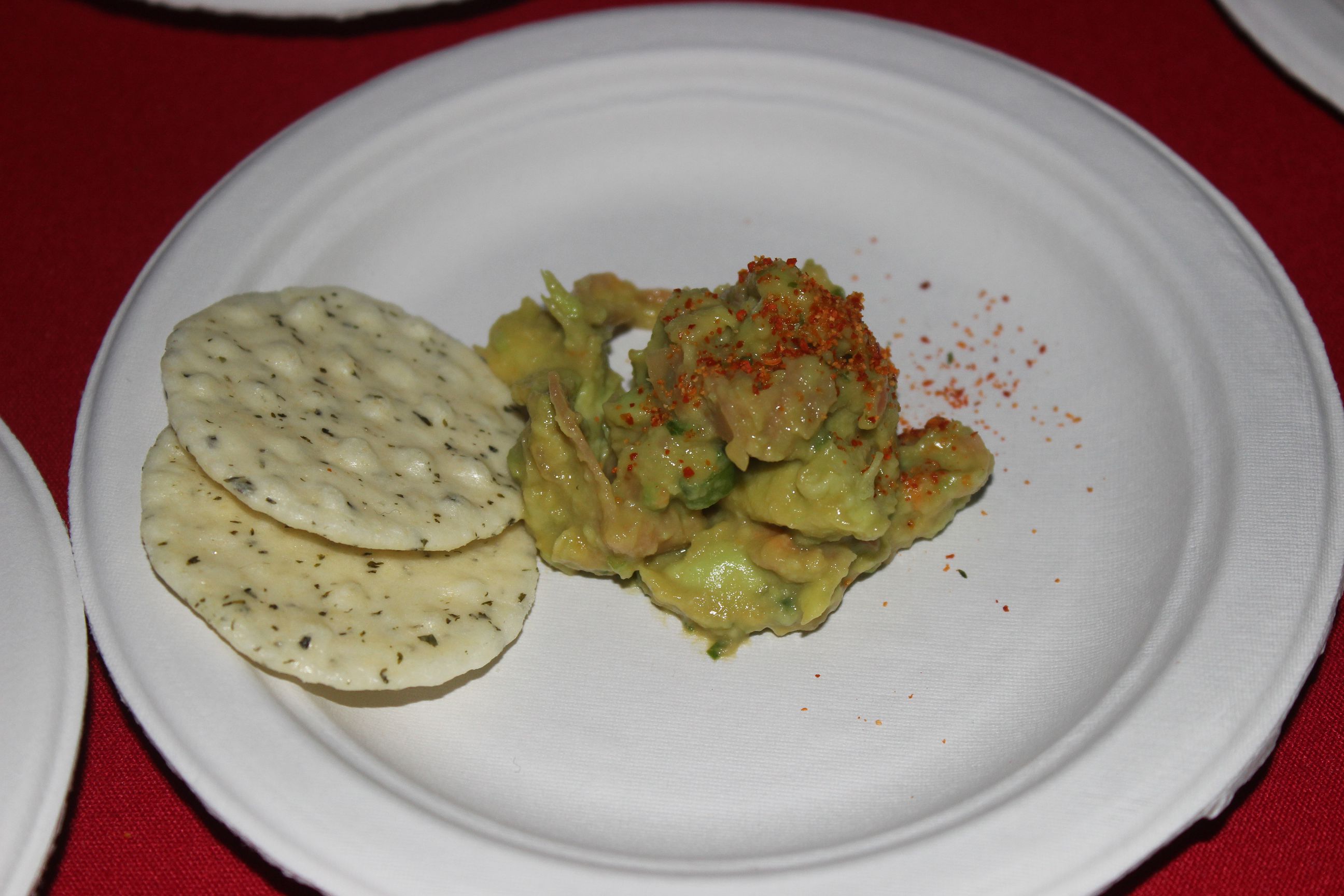 Dirt Candy:  "Broccoli Hot Dogs with Salt & Vinegar Broccoli Rabe Chips"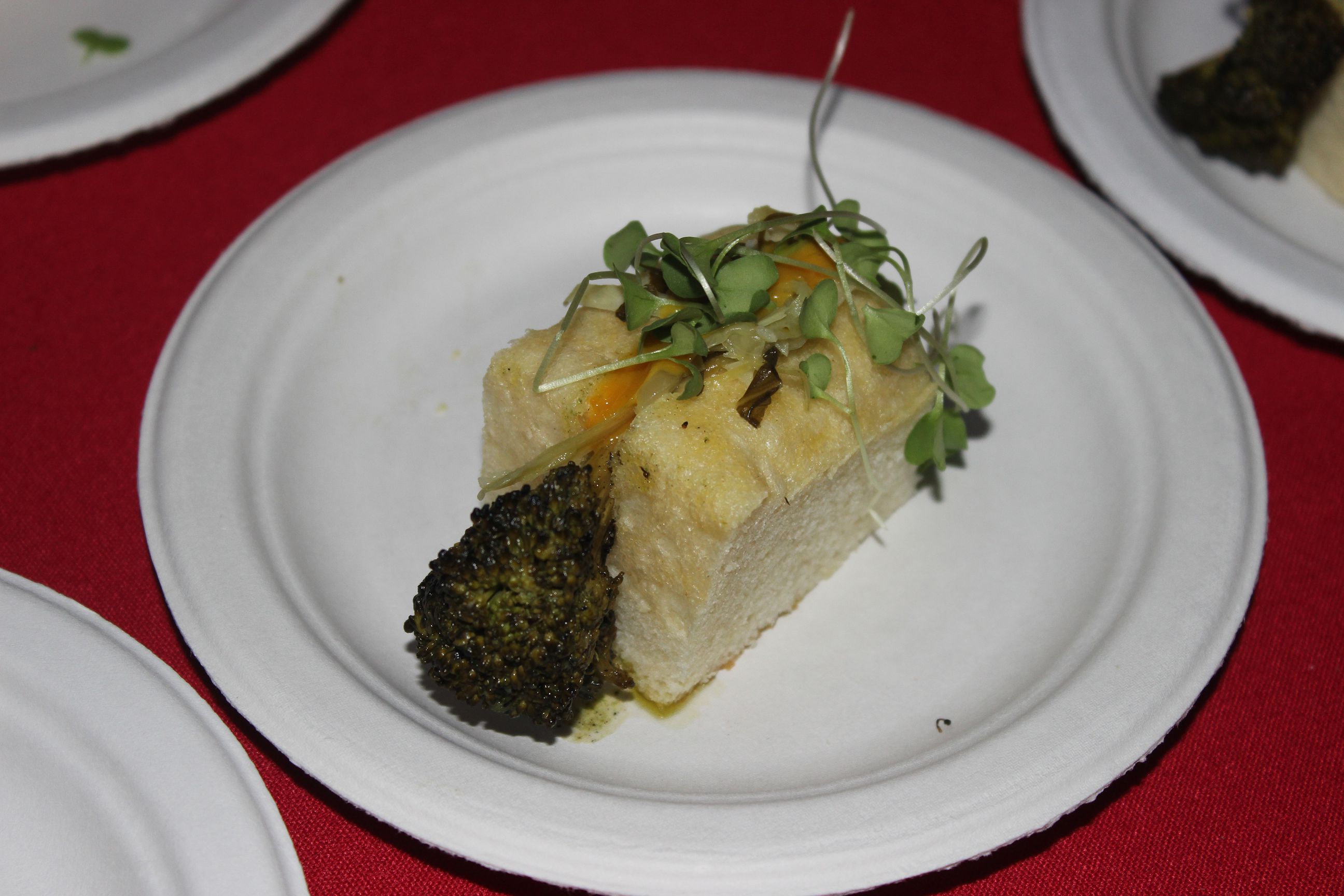 Tribeca Grill:  "Chipotle-Rubbed St. Louis Ribs with Health Slaw"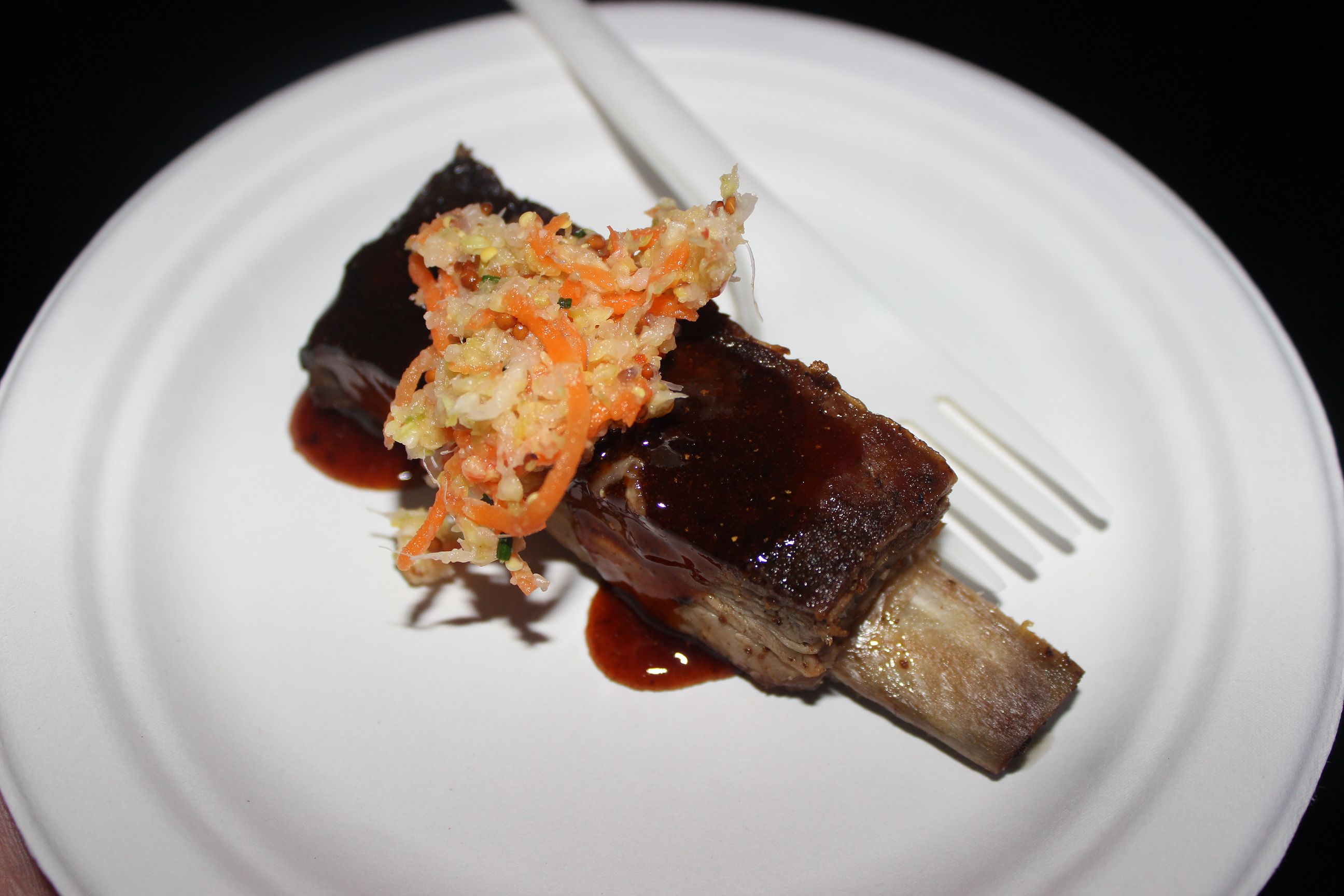 Amstel Burger Bar & Beer Garden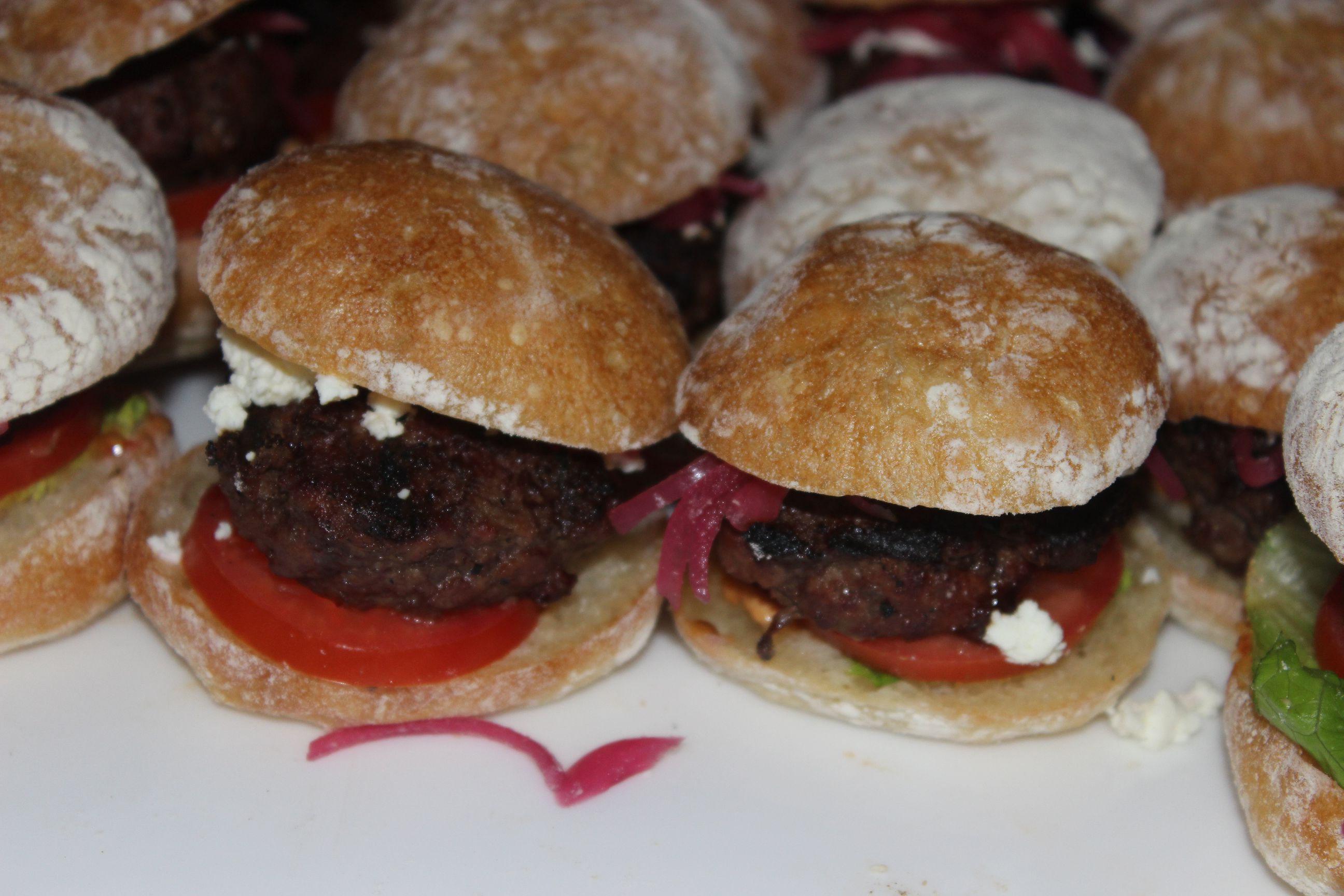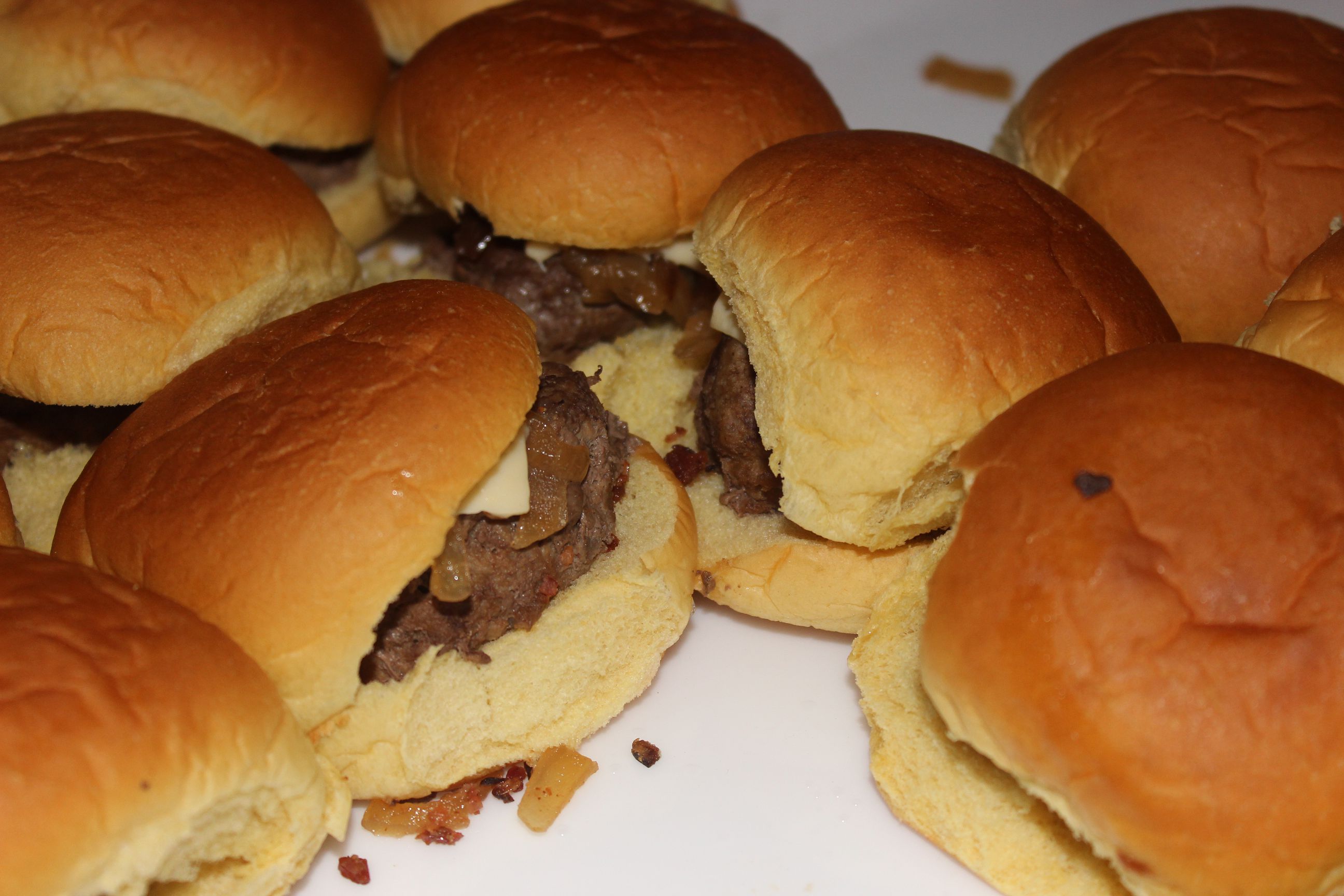 The Eddy:  "Mont Blanc Cooler"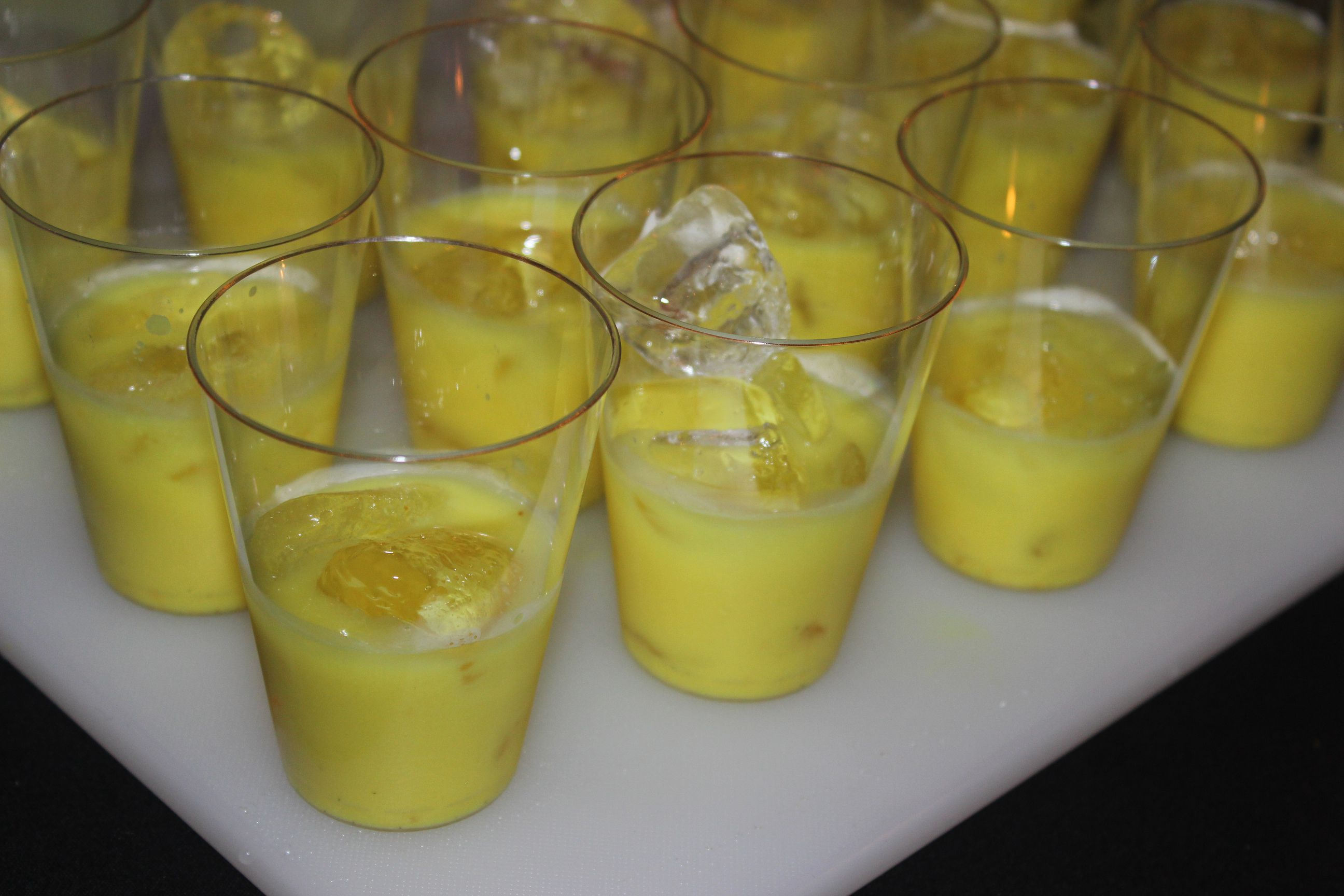 Murray's Cheese:  "Selection of Murray's Exclusive Cave Aged Cheeses"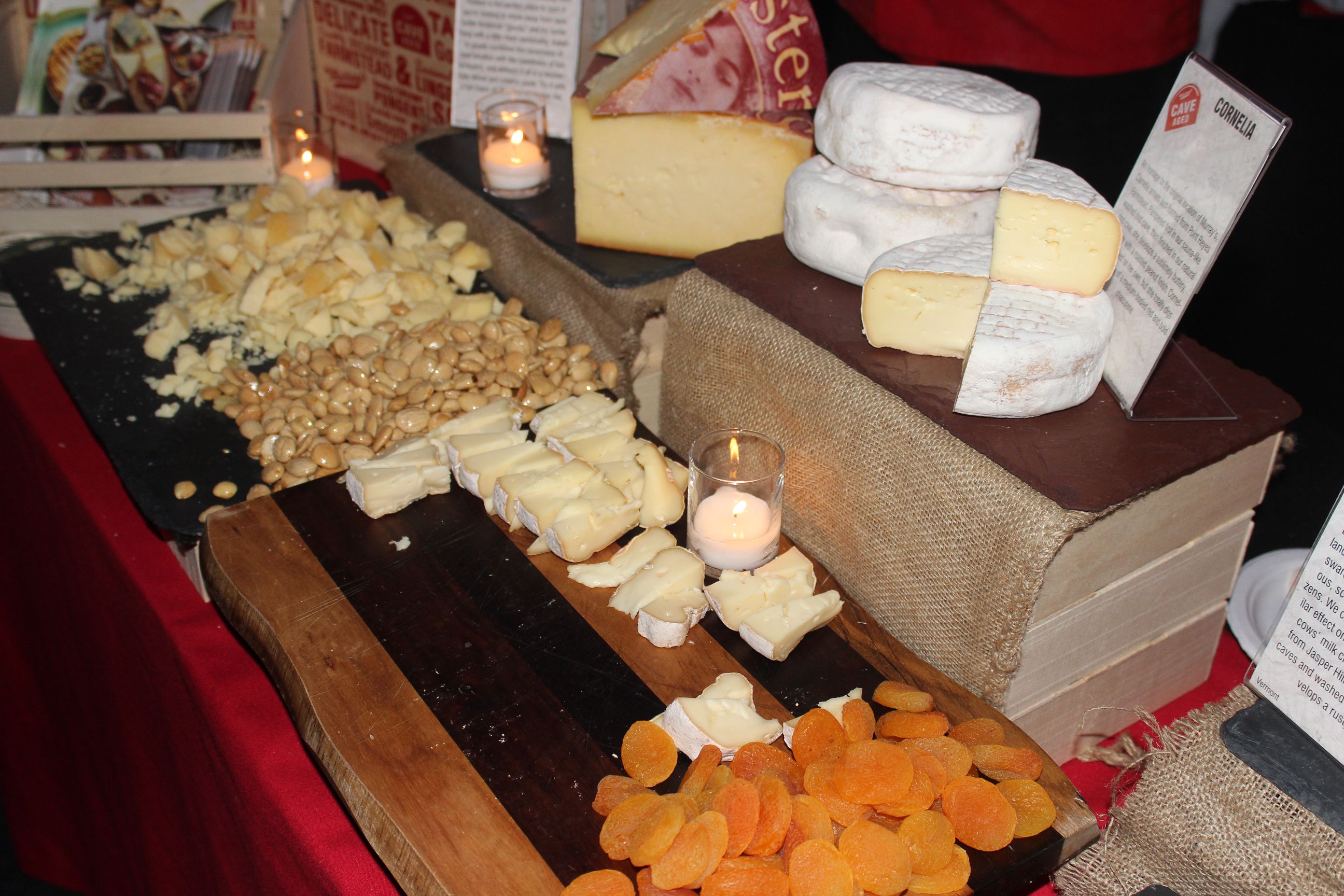 Related Articles
Share
About Author
(1) Reader Comment