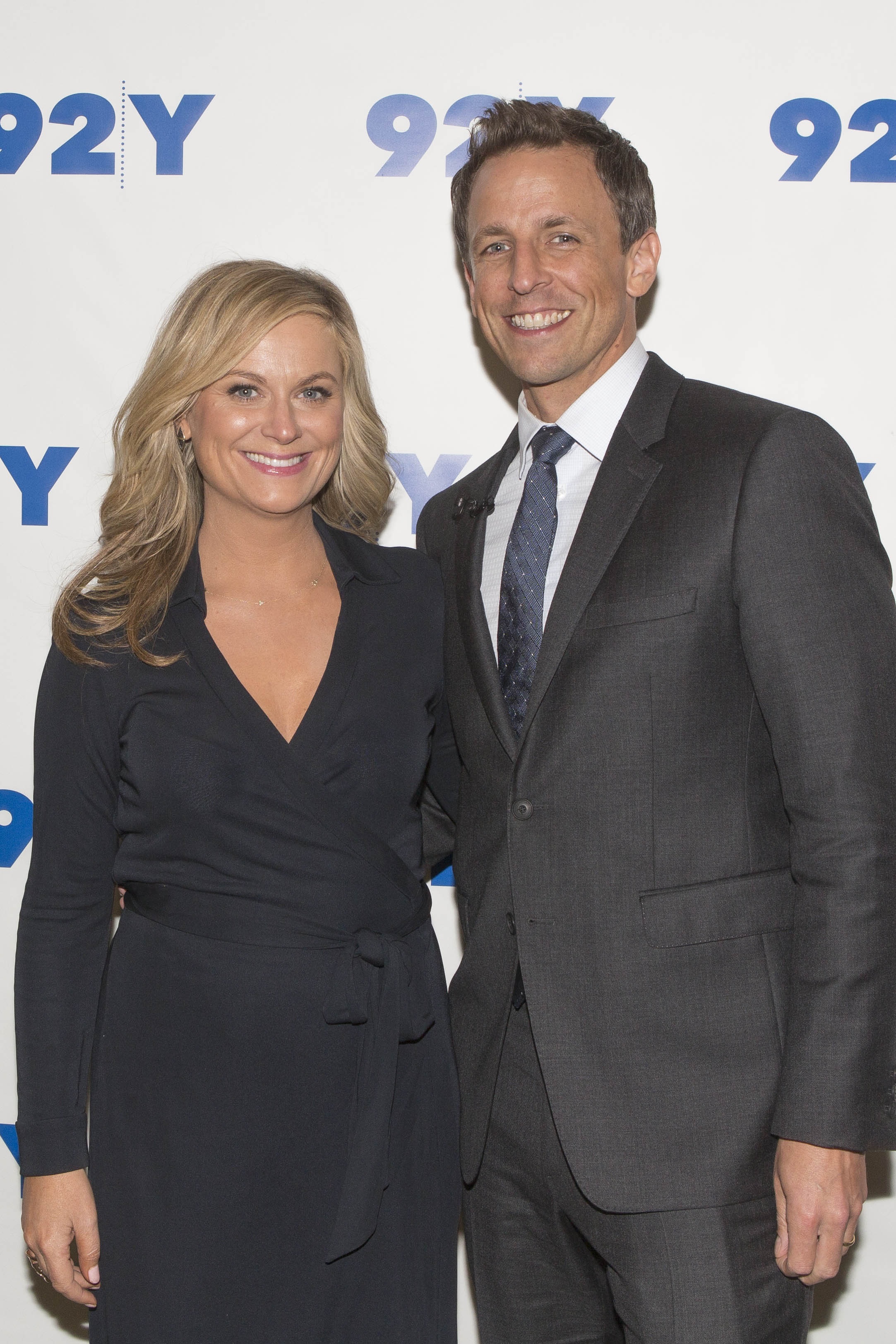 (Photo Credits for this piece: Joyce Culver)
In the midst of a full-on media blitz to promote the release of new autobiography "Yes Please," two of present day comedy's most celebrated and praised personalities joined forces inside of the 92Y auditorium on Tuesday evening. "Late Night" host and former Saturday Night Live head writer/performer Seth Meyers flanked actress and new author Amy Poehler ("Parks and Recreation") for a candid 75 minute discussion about the funny lady's comedic history, personal life, her fondest SNL memories and the amount of material that went into the writing of her newly released book.
Meyers jokingly began the dialogue in disbelief that the pair had sold out the 92nd Street space, noting "The highest we ever dreamed was the 72nd Street Y." Conversationally the discourse was kept entirely light throughout, like two close chums letting the rest of us into the room to eavesdrop on their humorous back and forth antics. But the two friends constantly fed off each other, perhaps harkening back to their improvisational pasts and giving us but a glimpse of the star power that both seemed to show off early on in their careers that earmarked them for greatness. Though both rose through the ranks from the same Chicago improv troupe and began together at SNL shortly after September 11th, 2001, Meyers stuck around for 13 years, while Poehler left after seven. As her run on "Parks and Recreation" is set to conclude after this year- amazingly, the show's seventh- just as Meyers is settling in as host of his own late night program- it's a fitting coincidence that through all the sketches, late night writing sessions and awards show hosting jobs that each have worked through, their paths find them back here in New York City, still intertwined in the very fabric of names like Fallon, Hader, Samberg, Fey, Armisen and Wiig that share their similar lineage.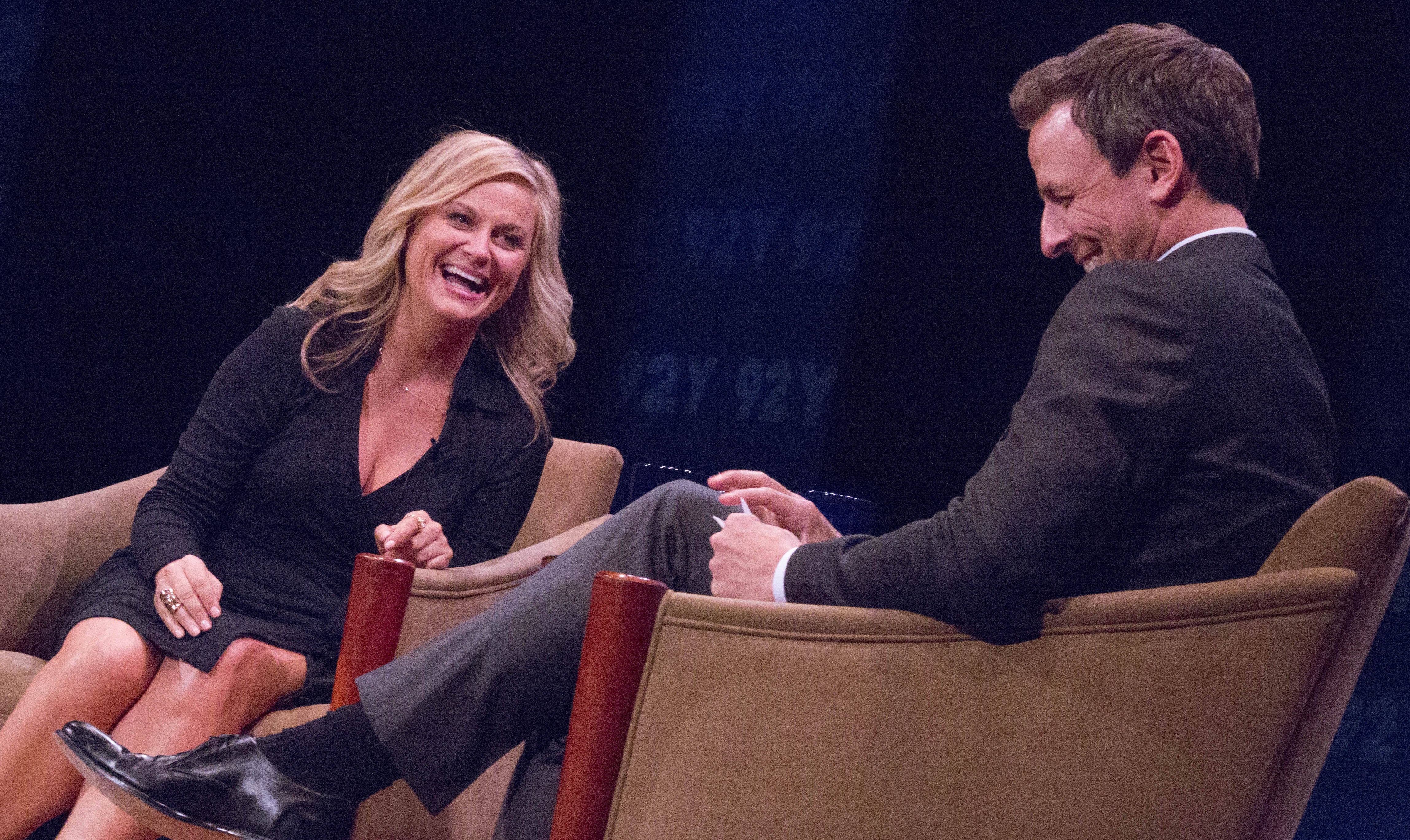 Since her days on SNL , Poehler has clearly become one of America's most beloved actresses.  Her roles in films like "Mean Girls" and "Baby Mama," her stints alongside pal Tina Fey as the celebrated co-hosts of the Golden Globe Awards, and roles on the innumerable television series' on which she's been featured have all been widely lauded. And although she's been snubbed more than a dozen times by the Primetime Emmy Awards, her relentless pursuit of comedic excellence shows no signs of slowing down. Juggling multiple projects may be an issue for the rest of us, but between writing her memoir (at the age of 42!) while working on her sitcom and film products, her philanthropic work with the likes of Worldwide Orphans and her Smart Girls online community, all while raising two young boys- and Amy Poehler's unparalleled ambition and subsequent success makes life look easy for the rest of us.
With guests like Bette Midler, Ilana Glazer and Abbi Jacobson sitting in the audience, the crowd filled the auditorium with uncontrollable laughter for much of Tuesday evening's conversation. We've transcribed a slew of funny and poignant nuggets from the banter below but among the funniest moments occurred as the pair recalled Poehler's OBGYN passing away just days before she was slated to give birth. Recounted Poehler "He was a lovely old man. He delivered Sophia Lauren's babies," before sarcastically bragging "He was familiar with famous vaginas." Meyers, to his credit, played off of Poehler's comedic foibles throughout, often showing off his acerbic and lightning quick wit that seemed to catch the crowd off-guard all evening long. In a day and age where most celebrities are attention starved and ego-driven, it was utterly refreshing to enjoy the presence of two long time friends, who despite their tremendous collective star-power, remain true to themselves and decisively grounded, even though they stand right in the midst of the brightly shining limelight.
Amy Poehler and Seth Meyers Sound Off On….
On her book title "Yes Please": "Saying yes has gotten me to where I am today. Just being open to the possibility of things. Yes is probably my favorite word."
On writing alone: "It's the loneliest creative process I've ever known. It's like 'Oh my God, it's just me.' It's like "I Am Legend"- that's what it feels like.
On re-reading other comedian's books before writing her own: "There's nothing worse than reading something that's great when you're writing your piece of shit."
On what defines success for her: "I think I made it clear in the book- just money and bitches."
On her favorite SNL host: "John Goodman. He actually remembered my name."
On her drunken advice at the after-party to Ashlee Simpson following her notorious SNL performance: [slurring] "It's not a big deal. Nobody cares."
On appearing on SNL with her childhood heart throb Jon Bon Jovi: "He went back into his archives and got his 'Slippery When Wet' outfit and could still fit into it. That's real. He keeps it tight."
On the first 'Debbie Downer' sketch, where the entire cast breaks out in laughter: "It was the perfect combination of laughing, sound effects, camera close-ups, and a circle of people breaking at certain times. That's like Prozac to me, that sketch."
On performing on SNL at 9 months pregnant: "It's really fun to be that pregnant because you freak everyone out."
On 'Parks and Recreation': "I'm so proud of it. It's such a good show."
On the show's finality: "I'm so delighted that we get to give these characters a proper send-off."
On if she could be quarantined with one person: "Dolly Parton."
On the trait that she could steal from Seth Meyers: "I would probably steal your wit. Your sharp wit that is so precise."
Seth's trait that he would steak from Amy Poehler: "You never let a room get down. You are the most buoyant person in any room."
On if she could be the lead in any other show: "'The Wire.' I would play McNulty"
On advice for a 13 year old aspiring comedian: "Copy exactly what the people you like did. That's what I did." Mentioned Bill Murray's career path.
On charitable work: "It's okay to help people for selfish reasons. Whatever motivates you or drives you to be of service to help others, it doesn't matter." To which Meyers quipped, "I doubt the orphans are saying 'I like the toys, but I doubt the motives.'"
On her advice for performers with stage fright: "Start a production company. Hire your friends. And take ten percent of whatever they make."
On Adam Scott (co-star, "Parks and Recreation"): "He's such a good actor that we'll be doing a fighting scene and after I'll be like 'are you mad at me?'"
- Jane Van Arsdale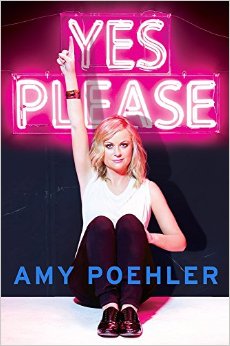 Related Articles
Share
About Author
(0) Readers Comments