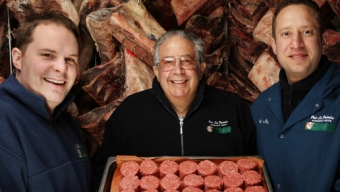 To celebrate the release of their brand new bulbous book which is one part recipes and one part history, the country's most identifiable meat team from Pat LaFrieda Meat Purveyors held an informative chat Tuesday evening at the Upper East Side's 92Y space in the Warburg Lounge. Pat LaFrieda Jr., Sr. and cousin and President Mark Pastore were joined by television personality and famed New York City Chef at Butter, Alex Guarnaschelli for an introspective look at the City's most highly acclaimed purveyor of premium meats. The quartet conversed for more than ninety minutes to the delight of the assembled crowd, all of whom were more than eager to ask questions of the men responsible for growing their legendary American business to incredible heights.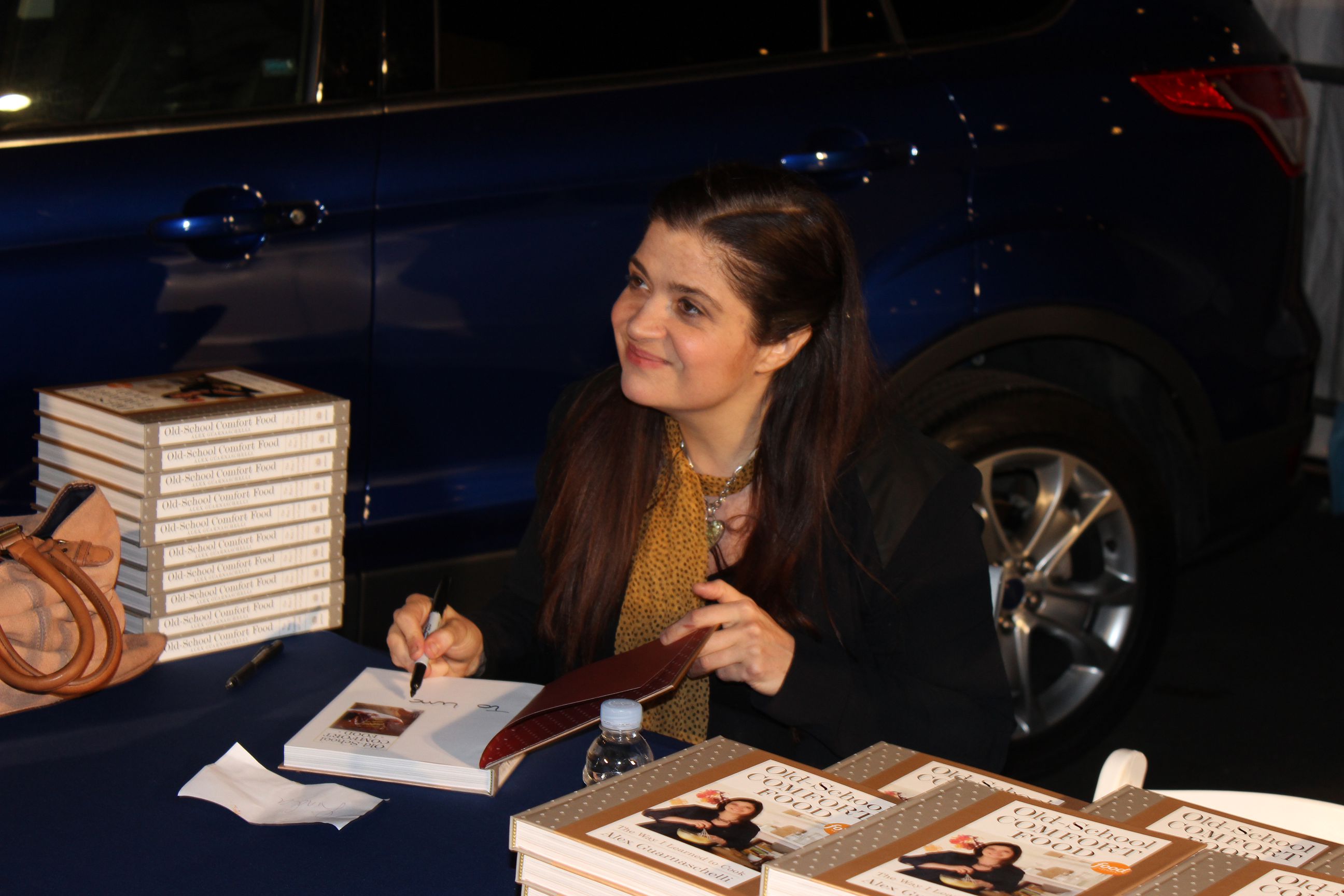 (Guarnaschelli, above from May 2014′s "Comfort Classics")
It would be difficult to move along much further without mentioning the team's new book, aptly titled "Meat." Released just last week, the 250 plus page guide is a massive hardcover encyclopedia which outlines the brand's time honored history from small City based outfit to their recent explosion over the last decade. Intertwined with stories and personal memories are meat-focused recipes from some of the team's favorite notable chefs and restaurants- some of which have even shuttered. With help from the likes of Josh Capon (a repeat winner at the "Burger Bash"), Lidia Bastianich and others, "Meat" is a do-it-yourself guide to preparing restaurant quality fare in your own home- assuming that is, that you start with a quality meat product provided by Pat LaFrieda, Jr., best described as 'The King of Meat.'
Guarnaschelli was an ideal moderator for Tuesday night's panel discussion, often adding in little nuggets from her own upbringing and interesting tidbits about running a Manhattan kitchen. It also helped that it seems she's formed a relationship outside of the kitchen with her meat purveyors- a friendship that's brought her to the LaFrieda holiday dinner table more than once. The (pardon the pun) 'meat' of the conversation though was carried by Pat Jr., a natural orator who more than established himself as the current face of the company. He was joined by his father Pat LaFrieda Sr., whose no-holds-barred approach to the company's history through storytelling made for a large part of the evening's entertainment. As for Mark? His unapologetic candor as a meat-lover (his nickname is 'Mark the Mouth') was rarely outspoken with regard to conversation points like grades of beef, USDA regulations, and the recent uptick in folks with vegetarian and pescatarian lifestyles, but he provided a nice middle ground and different company perspective from someone that doesn't have the LaFrieda surname.
Perhaps most interesting about the evening's candid discussion was a story that overshadows the intricacies solely involved with the meat industry. The conversation and in many ways, the book, were particularly revelatory providing business lessons that can be applied to most walks of life. The ability to overwork and out think the middling middle-men. The ingenuity of staying on top of the next big food craze and in many ways carving out that niche for themselves (see: Shake Shack). The perseverance in overcoming the weight of regulations, red table and obstacles that previously stood in the path of the growth of the premium Pat LaFrieda Signature Blend. It's these character traits that allowed their business to become a brand and their brand to become the featured meat of choice in more than 1200 different restaurants. And their American success story is now captured thoroughly in one hardcover book.
- Jane Van Arsdale
Related Articles
Share
About Author
(0) Readers Comments