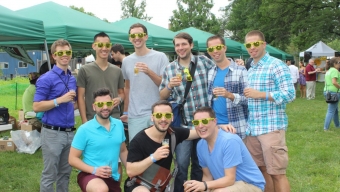 The borough of Queens has been celebrating both the 50th and 75th Anniversaries of the historic New York World's Fair at various events throughout 2014 thus far. The latest, fittingly emanated on Saturday at the bucolic Queens Botanical Garden where a grassy outdoor area would be transformed into a walk around beer tasting over two action packed sessions. Entitled "Taste the World," the botanical brew fest would host more than fifty different craft beers courtesy of twenty brewers over each three hour time slot, welcoming hundreds of thrillseekers out to Flushing. And backed by the music of DJ Ito, even the pressing threat of overcast weather and the ill-advised closure of the 7 train wouldn't deter guests from flocking out in droves.
There were plenty of noteworthy brews greeting us immediately upon our arrival at the Garden's spacious and picturesque grounds- now decorated by a few dozen erected tents to house each sudsy station's offerings. Representatives varied at each brew station from knowledgeable employees of the local distributor to on-site Garden volunteers just doing their part to keep the beers flowing freely into each commemorative three ounce tasting glass. With that in mind, we immediately sought out some of the terrific familiar local brews to get the afternoon session started on the right foot.
Holding up our plastic tasting cups, we immediately admired the golden suds-filled pour of favorite 'Easy' Blonde Ale courtesy of Alphabet City Brewing Company. With it's light and slightly malty nose and drinkable taste, each drop was crisp and refreshing with a balanced finish. The 'Easy' Blonde is a perpetual selection of ours when available at most craft beer bars around Manhattan, it pleasantly, it was equally as satisfying in bottle form. Just steps away, the wildly outgoing crew from Blue Point, the Long Island brewery recently acquired by Anheuser-Busch- was dishing out pours of their "Toasted Lager" and "Summer Ale," which also rank at the very top of our favorite local brews. Candidly, we ping-ponged back and forth between the two breweries for what seemed like a half hour, before making our way to check out the other participants on site.
Fortunately, there was a variety of different ciders for non-beer lovers to enjoy, which is becoming more and more customary at similar beer tasting events. Varieties like the sweet- Original Sin's "Elderberry," the sweeter- Crispin's "Original," and the semi-dry- Doc's Draft's "Hard Apple" all proved incredibly popular alternatives, although Crabbie's, who boasts an 'Original Alcoholic Ginger Beer' garnered much of the day's attention from the crowd of casual drinkers. Whether it was the green Crabbie's sunglasses being handed out to thirsty drinkers or the delightfully refreshing pours of their "Spiced Orange" served with an ice cube and slice of fresh fruit- crowds continually resurfaced after several sweet pours.
Largely unheralded pours like Cisco Brewers' "Grey Lady," Ayinger's exceptional "Brauweisse," and Great South Bay's 'Bloody Blonde,' which paired equal parts of their "Blonde Ambition Summer Ale" and their "Blood Orange Pale Ale," were first time tastes for this outlet and were also memorable ones as the afternoon progressed. Downing a savory crepe courtesy of La Crepe c'est si bon, and some additional pours from the likes of Allagash, Sixpoint, Smuttynose and Abita, and somehow the three hours had elapsed in a hurry. We made sure to scoop up a pair of beer related socks to benefit the Botanical Garden on our way out the door, before scurrying our way through the crowded streets of Flushing and toward our redirected route back home, fully satisfied after having experienced yet another side of our sister borough.
- Jane Van Arsdale
Related Articles
Share
About Author
(0) Readers Comments