Blog: Mac Daddy 2014 at Openhouse
Whether it's utilized as an indulgent side dish, a cold weather main course made by your mother or inventively created by a culinary genius here in New York City, macaroni and cheese seemingly works anywhere. On Saturday afternoon, six local restaurants tried their hands at a friendly competition of inspired cooking hosted at the clean setting of downtown's Openhouse Gallery. Sponsored by Time Out New York, the first ever "Mac Daddy" would crown the City's best maker of mac & cheese and all bets were off as guests swarmed each of the eight hour long sessions spanning the entire day.
Armed with an empty plate and an orange ping pong ball with which to cast their vote, attendees filed into the bi-level gallery space in anticipation of a day of gluttony- an hour long event filled with unlimited food tastings, two beers a piece courtesy of Goose Island and of course, plenty of copies of Time Out New York for guests to take home with them. With sternos set up atop each table, the friendly vendors all worked hard for each vote, taking plenty of time to chat up guests and serving generous portions of seemingly limitless fare. If each dish tasted as delicious as the entire room smelled, then we were certainly in for an array of delectable eats.
Though it's a difficult dish to screw up, no mac & cheese is necessarily created equal, evidenced by the inventive takes being dished out on Saturday's early evening session. However, we began with perhaps the day's most traditional offering, where Mable's Smokehouse out of Williamsburg was plating some no-frills Velveeta style elbows of "Creamy Mac & Cheese." Since Mable's is among Brooklyn's top barbecue purveyors, their dish was more of a side, eschewing any additional experimental accoutrement that would shift focus away from their meaty cuts of brisket and ribs that they've become some famous for slicing. Similar in taste profile, Kutsher's Tribeca's "Cheesy Spaetzel Kugel" was soft, pilloughy and smooth- like a silky potato salad only made with homemade German noodles. Rich and creamy, the dish was among the day's most inventive styles.
Throwing the kitchen sink in their pasta based concoction was Mrs. Dorsey's Kitchen whose "Jalapeno Popper Mac & Cheese" used stuffed shells and actual cream cheese stuffed poppers smothered in bits of Parmesan and blue cheese and decorated in Italian seasoning. Fortunately with so much going on, the dish was a literal explosion of flavors with the cream-filled gooey cheese draped over each succulent bite of pasta shells. Though delicious on it's own, MDK was forced to take the runner-up by our tastebuds' vote as Murray Hill's Artisanal Bistro took home the day's championship belt. The mixture of melted oozing mountain cheese with a savory short rib marmalade was so utterly scrumptious that their offering felt like a full meal in and of itself. Artisanal's canister was overloaded with orange ping pong balls from previous voting sessions and with good reason. Topped with crunchy panko bread crumbs, the dish was incomparable in both texture and in flavor. That's not to say Brooklyn Mac's "The Red Hook" (with smoked Gouda and fresh bacon) and "Kings County" (with American and cheddar cheese) varieties or S'Mac's "Nepoletana S'Mac" weren't mouthwatering additions to the mac & cheese fray. But Artisanal's was simply that outstanding.
You know that whenever Openhouse Gallery hosts a food tasting event, there's a good chance you'll have to cancel your dinner plans. Though there were just six entrants into the 2014 "Mac Daddy" competition, there was no shortage of outstanding comfort fare to choose from. Unfortunately, only one winner could be crowned- but tell that to the hundreds of patrons that visited the Gallery space throughout the day that managed to leave completely stuffed on pasta and cheese creations courtesy of some of New York City's best preparers of said food. Although Artisanal reigned supreme when all was said and done, each of the six restaurants were deserving of considerable praise for their efforts.
- Dave Gendelson
Food Photos from the 2014 "Mac Daddy" presented by Openhouse Gallery and Time Out New York

Mrs. Dorsey's Kitchen – "Jalapeno Popper Mac & Cheese"

S'Mac – "Napoletana S'Mac"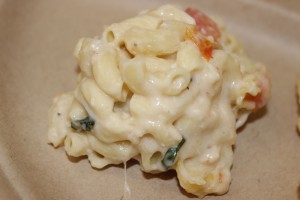 Mable's Smokehouse – "Creamy Mac & Cheese"

Brooklyn Mac – "The Red Hook"

Kutsher's Tribeca – "Cheesy Spaetzle Kugel"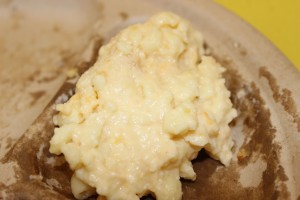 Artisanal – "Artisanal Mac & Cheese with Short Rib Marmalade"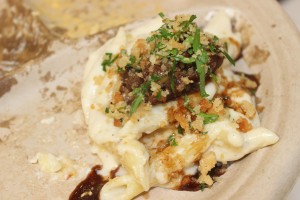 Related Articles
Share
About Author
(0) Readers Comments