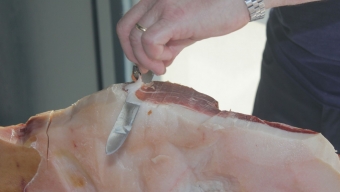 Blog: Ham and Cheese Party at The Ides
Only in New York- where the rooftop bar at Brooklyn's poshest hotel overlooking the Manhattan waterfront would have to play second fiddle to a small culinary gathering. Such was the case at Williamsburg's Wythe Hotel on Monday evening as the sizzling summer sun blazed down upon the faces and shoulders of Happy Hour guests stationed in the outdoor patio of The Ides, one of the many uber-cool gems inside of the hotel. Inside however, the bar would host a small "Ham and Cheese Party," a gratis sampling of tasty bread, charcuterie and cheeses from local purveyors.
Rustic slabs of fresh bread were thickly sliced into bulbous hunks of "Sourdough" and "Michle" (half white-half whole wheat) varieties courtesy of She Wolf Bakery, long a staple of local greenmarkets and suppliers at the likes of local Brooklyn establishments like Reynard, Achilles Heel and Diner. Meanwhile, Vermont's Cellars at Jasper Hill Farm were doling out three distinctive cheese samples to patient packs of folks lending their ears to learn a bit about the processing and maturation of each. The "Alpha Tolman," a soft almost nutty style, the "Bayley Hazen Blue," a creamy, sharp yet balanced style of blue and the "Harbison," a cheese with a decadent and spreadable texture that made for ideal pairing with the aforementioned breads.
No combination of cheese and loaf is complete without the requisite helping of meat- and in celebration of "Ham Independence Week," the team from Iowa's La Quercia was on hand slicing out fatty cuts of four different styles of ham. Their signature "Lomo Americano" was a salty cured delicacy- a cocoa and pimenton rubbed pork loin with white fatty deposits beautifully meshing with a darker red meat than we're used to seeing in each circular cut. Slices of acorn fed proscuitto were stripped directly from a massive hunk of pig and placed directly on serving boards for guests to grab.
Though the event was slated to last three hours, it was hard to stick around all that long for fear of being greedy. Nevertheless we loaded up some makeshift ham and cheese sandwiches, grabbed some refreshing pours of Brooklyn Brewery's "Summer Ale" prepared just minutes away in their North 11th Street facility, and headed to the rooftop to enjoy the remaining sunlight from Monday night. Though there wasn't enough food to entirely appease our appetites, the event was 100% free to attend and allowed us to sample some tasty farm fare and learn a little bit in the process. Only in New York.
- Jane Van Arsdale
Related Articles
Share
About Author
(0) Readers Comments