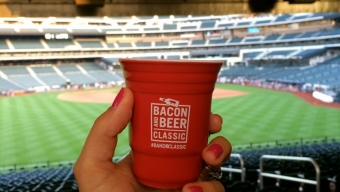 Depending on your perspective, some might describe the perfect summer day as a cloudless sky with waves rushing upon a beach somewhere. But for a few thousand New Yorkers, a perfect summer day could be found on Saturday in Queens, filling up on bacon inspired dishes and enjoying the refreshing taste of cold, perfectly crafted beers. The Beer and Bacon Classic hosted their one-of-a-kind event at Citi Field, home of the New York Mets, with two incredible sessions filled with suds and swine. Over 150 breweries and restaurants participated to keep the crowd at bay offering up an array of unique bacon dishes and a variety of crisp, cold brews.
Local breweries representing each of the five boroughs as well as some from as far away as California setup shop to serve the thirsty masses. Our first stop of course, was at Brooklyn Brewery for a glimpse of their outrageous "Brooklyn Blast." Their big IPA boasts citrusy notes and an unmistakably delicious hoppy bitterness which combines to make this beer an absolute heaven for all hop heads. For a quintessential ballpark snack, we found that this cold brew paired nicely with the "baCorn," a bacon caramel popcorn mixed with spicy Spanish peanuts.
We found some seriously unique beers among a crowd of dozens of sudsy choices. One of the more interesting was the "Dead Rise Old Bay Summer Ale," from Flying Dog Brewery in Maryland. This fun twist on the summer ale was sure to appease all Marylanders and New Yorkers alike and their brewery rep couldn't stop the flow of beer into each awesome, ceramic red tasting glasses. While most Marylanders would have enjoyed this beer with a table full of blue crabs, this ale was a perfect match for the "Bacon Cheeseburgers" from F. Ottomanelli Burgers and Belgian Fries. The fresh, right off the grill bacon burgers served in bite sized patties drew some of the biggest crowds among a field of competition.
One of the most creative spins on bacon inspired dishes that we stumbled upon was a "Chicken Liver and Bacon Mousse" topped with shallot marmalade and house pickles from Brooklyn haunt Hunter's. The creamy and sweet combination of flavors proved an excellent pairing to some of the heavier beers being poured. Moreover, Murray Hill beer bar Taproom No. 307's similarly brought a savory "Thick Cut Bacon with Cherry Ale Glaze" that was drowned in a rich blue cheese sauce. Covered in salty bacon breadcrumbs, the creaminess of the blue cheese sauce and the hunk of fresh pork was an ideal combination with Victory's "Dirt Wolf" double IPA. For something a little less potent, the Victory "Summer Love Blonde Ale" was equally noteworthy as a more approachable brew for casual beer drinkers. Whatever your beer of choice, both of these amazingly intriguing bacon masterpieces were a hit with beer lovers during the course of the evening session.
When all was said and done, the Bacon and Beer Classic brought out beer lovers from each borough out to Flushing for a remarkable tasting experience. Aside from enjoying some new beers from the likes of Broken Bow Brewery, Schlafly Beer, Harlem Brewing Co, and Trout Town, the inspired and inventively prepared bacon dishes surely satiated the hundreds of hungry pig eaters at each session. We know a success when we see one, and Saturday at Citi Field was marked by a Sunday morning wake up where we found that we had actually been branded by a black-ink inspired tattoo- Bacon and Beer style.
- Dave Gendelson
Related Articles
Share
About Author
(0) Readers Comments