It was a full on celebration of the senses on Friday night as the sights, sounds and smells emanating from the chic lounge space at Tribeca 360 were authentically indicative of the fun and festive Caribbean lifestyle. The 2014 Caribbean Week New York culminated in an all out party with live music, decadent fare, delicious drinks and an end of the night dance party that allowed the hundreds of folks in attendance to let their collective hair down. The now annual "Rum & Rhythm Benefit & Auction" returned to the trendy downtown loft space which provides panoramic views of the big City. And as the sun began descending upon the picturesque waterfront, the evening inside was just getting started.
The four hour festival kicked off at 6:30pm and much as you'd expect to find shortly after arriving at a Caribbean destination, guests were handed refreshing cocktails as soon as they stepped off the elevator and were welcomed with the sounds of island music being performed by a live band. While the participating countries put the finishing touches on their prep-work, we joined other likeminded attendees in glancing over the array of silent auction items which ranged from rum-related gift baskets to multiple night stays at ritzy island residences. Almost immediately, we grabbed some Appleton Estate rum and ginger-ale from the nearby bar and began making our way around the room.
Now in full disclosure, LocalBozo.com was an official media sponsor for "Rum & Rhythm 2014″ and while our views are typically unbiased, it was difficult to find much to complain about on Friday night. The festive music made for an ideal backdrop as each table doled out generous portions of eclectic fare. While it's easy to lump in the participating countries underneath the relatively broad Caribbean umbrella, each country's cuisine was particularly distinctive. Having grown up on the east coast, I can't recall a time where "Souse" was on the menu when my mother was in the kitchen. But the clear, chilled broth with pickled pig trotters (feet) was an absolutely delicious offering from Antigua, where we also enjoyed some made to order "Chicken and Pork Tacos," a crunchy deep fried "Island Wonton" with shrimp and a "Fish & Fungee" plate served in a makeshift sardine can.
We also made several trips to the St. Vincent and the Grenadines table, where Chef Kamal Rose was doling out some excellent "Pork Sliders" lacquered in a subtly sweet guava barbecue sauce. The freshly sliced cucumber added a textural and temperature contrast to the fatty cut of thick cured meat. Between tables, we alternated between some Blue Curacao cocktails, beers from Carib Lager and Banks Caribbean Lager and El Dorado Rum infused drinks- the summery "Varanda Cooler" with white rum, lemonade and fresh mint was particularly refreshing; there were plenty of options stationed in every nook of the space to ensure that guests would have no issue in finding something to eat or drink.
The friendly culinary staffs representing each country were pleasantly outgoing as they handed out full plates of food. At Jamaica, we indulged upon some spice-kicked "Jerk Wings" and a tender "BBQ Rib," while Barbados and talented Chef Creig Greenidge's "Pumpkin Fritters" and savory "Fish Cakes" drizzled in a sticky orange sauce, paired excellently with his Caribbean style "Mac and Cheese." Just as we had grabbed our third or fourth succulent mini "Chocolate Rum Cream Cups" filled with El Dorado "Demerara Rum Cream," we realized that the sun had entirely set, the lights were turned up and the house DJ began working a lively mix of Caribbean style music that brought folks of all ages out to the dance floor- where the party would remain for more than an hour.
In the end, we ate, we drank, we danced and we discovered- all in the good name of the nonprofit group the Caribbean Tourism Organization, who not only encourages travel to the region, but also funds scholarships and study grants for underprivileged students in the area who exhibit high levels of achievement. The group, comprised of more than thirty different member countries welcomes luminaries representing each of them to New York City for this special week once a year, where the rest of us get the opportunity to revel in the many time honored traditions that embody Caribbean life. And with tickets affordably priced at just $100, the annual Rum & Rhythm Benefit & Auction gives every New Yorker the opportunity to experience the Caribbean culture without having to venture all that far from their very own neighborhood.
- Jane Van Arsdale

Food Photos from Rum and Rhythm Benefit and Auction 2014

US Virgin Islands: "Red Grout with Guava Lemongrass and Rum Soaked Raisins"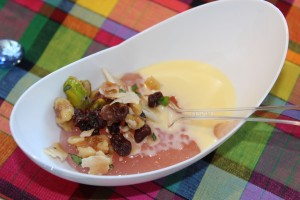 Grenada: "Conch Salad with Red Pepper Flakes, Celery, Cilantro" & "BBQ Ribs with Yellow Rice"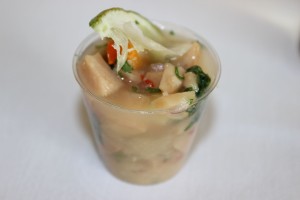 Antigua & Barbuda: "Chicken Tacos & Pork Tacos" and "Island Wontons"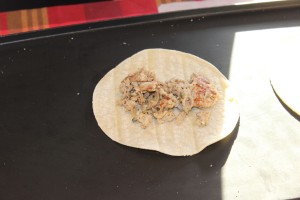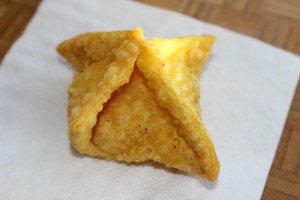 "Souse- Pickled Pig Trotters in Clear Broth" & "Fish & Fungee"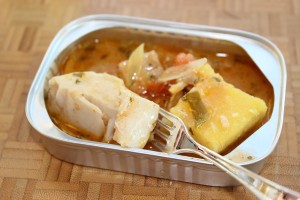 St. Vincent & The Grenadines: "Pork Sliders with Guava BBQ Sauce" & "Conch Ceviche"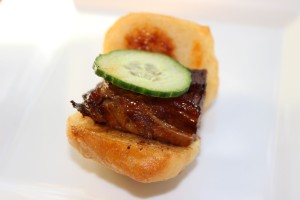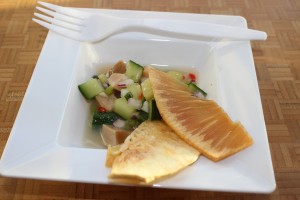 Jamaica: "Fried Conch, Rice and Beans, Jerk Spiced Chicken Wing, BBQ Ribs, Pineapple Salsa"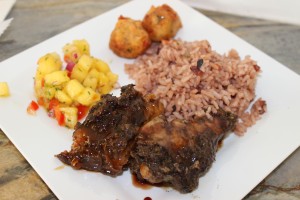 Barbados: "Pumpkin Fritters, Fish Cakes with Orange Sauce, Mac & Cheese & Chicken Wings"

Anguilla: "Pan Seared Snapper with Green Papaya Slaw"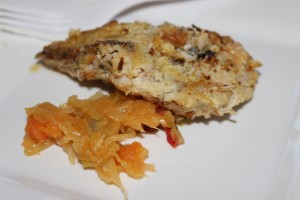 Haiti: "Roast Pork and Plantains"

Related Articles
Share
About Author
(1) Reader Comment