Though a rain soaked Tuesday evening didn't allow us to enjoy the same warm weather outdoor setting that we had in previous years, the 9th Annual "Taste of Long Island City" once again returned to Gantry Plaza State Park to the anticipating stomachs of several hundred guests. Dozens of food and beverage purveyors, beer companies, wineries, dessert makers and local eateries joined together to dole out samples to a sea of attendees underneath a massive tent looking out at the Manhattan waterfront. Celebrating the great local businesses that make up the burgeoning neighborhood, the two hour tasting would serve to benefit The Chocolate Factory Theater, a facility that fosters growth in the local arts movement and is widely considered a development incubator for creativity.
With "White Chocolate" tickets priced at just $60, the smorgasbord of selections to choose from provided a great value for most attendees- though the space underneath the tent was jam packed from the start. Guests were handed a red commemorative t-shirt upon arriving and a special "Taste of LIC Passport" which not only outlined the participants in attendance, but also provides discounts at each place for guests to enjoy- a little incentive of sorts to encourage foot traffic following the event. Surveying the space, we immediately sought out some beers to take the edge off of the overwhelming surroundings. Pours from local breweries like Radiant Pig and Rockaway Brewing Company as well as Samuel Adams and Brooklyn Brewery made traversing the grounds adventurous for us as we stumbled upon different beermakers and conversed about their ingredients. Harpoon's canned "Summer Beer" really hit the spot though, light and refreshing, just as the temperature inside the tent was getting particularly steamy.
With so many different restaurants and styles of cuisine to choose from, we opted to visit some of the more familiar haunts first and craft beer bar and restaurant Alewife became our first stop. With IPA pours from Singlecut Beersmiths, we ravaged their three assorted thick bread crostinis, of which the "Olive Tapenade" was an immediate delicious hit. Speaking of rustic bread, LIC Market's combination of "Cold Tomato Gazpacho" and a slightly crispy slice of Texas-style toast, was also noteworthy as we doused every inch of the hard bread into the sweet chilled soup and lapped up every remaining drop in the diminutive cup.
The event's most inventive offering- to no surprise- came from M. Wells, who aside from shucking a collection of fresh raw oysters, concocted a small savory blend of baby white beets topped with creme fraiche atop a mini-ice cream cone. Though there were certainly more traditional highlights like assorted bruschetta (Masso Restaurant, 51st Bakery and Cafe, City View Racquet Club Bar & Lounge) and sliders (Blend on the Water, Testaccio Ristorante), The Creek & The Cave's "Build Your Own Taco" bar and S Prime Steakhouse's tender "Prime Rib Rolls" were each standouts because of their distinction. We also grabbed a few sliced up "Chicken Paninis" courtesy of Bricktown Bagel & Cafe, who had about a half-dozen different selections from which to choose and headed over toward the stage for some welcoming announcements.
The evening's emcee was once again NYC Council Majority Leader Jimmy Van Bramer who would thank the 2014 participating vendors and the swarms of folks who braved the elements for the annual affair. Meanwhile, as guests would be sipping on wines from the likes of SquareWine & Spirits and Atlantic Wines, they would be treated to a performance courtesy of the Sunnyside/Woodside Girl Scouts who weaved their way through the different throngs of people in choreographed precision. With life raffle presentations and a full silent auction to benefit The Chocolate Factory Theater, there was plenty for guests to feast their eyes upon at this year's "Taste of Long Island City," which was without question the most heavily attended and most grandiose of their events of the last nine spectacular years.
- Dave Gendelson
Food Photos from the 2014 "Taste of Long Island City"

LIC Market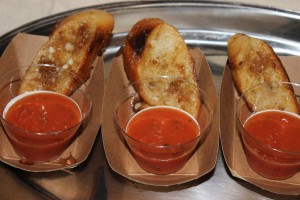 M. Wells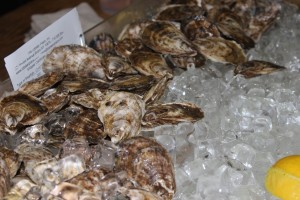 Alewife
Alobar
S Prime Steakhouse

  
The Creek & The Cave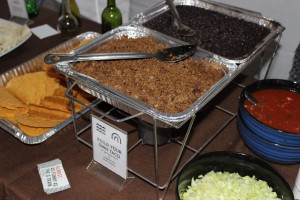 Masso Restaurant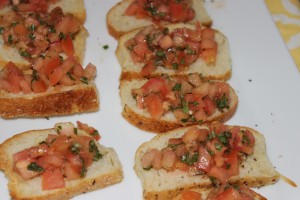 Woodbines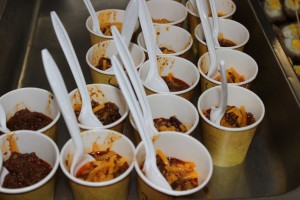 Brooklyn Grange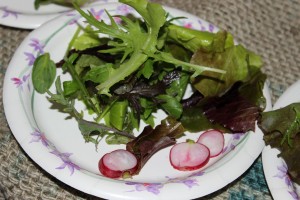 51st Bakery and Cafe

Manetta's Ristorante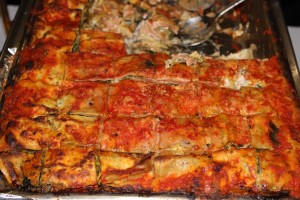 Bricktown Bagel & Cafe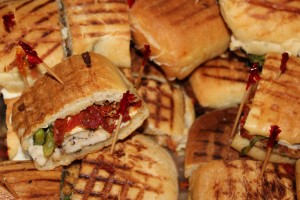 City View Racquet Club Bar & Lounge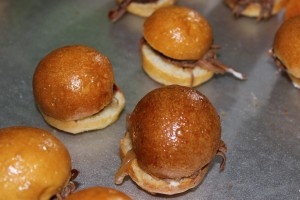 Testaccio Ristorante
Sage General Store

 
Casa Enrique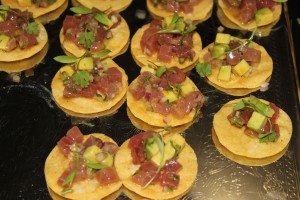 RaR Bar

 
Blend on the Water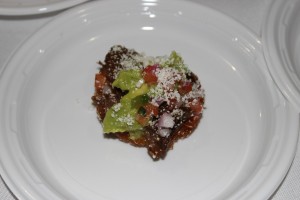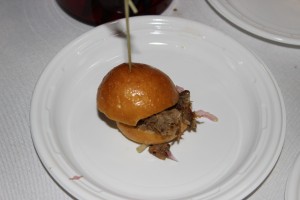 Crescent Grill

Riverview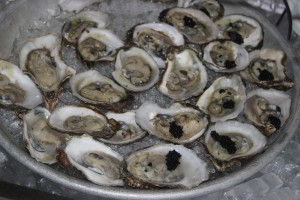 1862 French Louisiana

 
Tournesol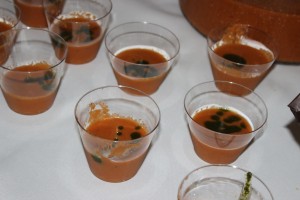 Related Articles
Share
About Author
(0) Readers Comments