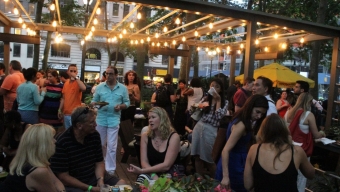 The threat of some minor rain did little to dissuade a few hundred warm weather revelers from descending upon Bryant Park Wednesday night. The Southwest Porch was shut down for a private event as the team from Edible Manhattan joined forces with the 'wichcraft staff to host the "Bryant Park BBQ," an authentic serve-yourself-style grill feast amid the Park's unparalleled outdoor setting.
The "Bryant Park BBQ" transformed the space into a small marketplace of sorts where guests could traverse the grounds and chat with different vendors on hand offering product samples in between stocking up on the spread of assorted eats. But before doing much hobnobbing, it was imperative to jump on the lengthy but fast moving food lines- of which there were a few to grab some taste barbecue fare courtesy of 'wichcraft. Though the sizable plates piled high with "BBQ Ribs and Chicken" were plucked at and polished off quickly, the multiple grills stationed around the park setting allowed them to be steadily replenished. The ribs were lacquered in a subtle 'cue sauce and were surprisingly tender and well seasoned in fall off the bone fashion. Each bone sucking rib was a nice contrast to the moist hunks of chicken, which were traditional, not overly smoky and equally delicious.
To compliment the main course items, each dish was rounded out with a smattering of aptly named "Salt Potatoes" served with butter and sea salt, a "Summer Vegetable Salad" ripe with green beans and pea pods and a "Kale Salad" to round out the healthier sides. 'wichcraft also served trays of fluffy "Corn Bread with Honey Butter" and their "Chocolate Cupcakes," richly sweet with each one donning a 'W' drizzled in white frosting. Though seats were certainly a premium, there was something particularly fitting about enjoying the plate of barbecue staples amid the standing room crowd, chatting with likeminded guests in the hopes that the rain would hold out while also marveling at some of the massive plates of food indulged upon by some others.
Certainly no barbecue or picnic is complete without the requisite pours of ice cold beer and Peak Organic was on site to pour straight from their kegs, while cans of Brooklyn Brewery's "Summer Ale" really hit the spot just as the skies opened up a bit. Guests grabbed for their umbrellas- though nobody really seemed to mind all that much- and still managed to sample some "Original Beef Jerky" from Slant Shack as well as some delicious cocktails from purveyors like Tuthilltown Spirits, Brooklyn Republic Vodka and Dutch's Spirits, who poured some of the most delicious lemonade we've tasted in recent memory. Granted it was concocted with their incredibly smooth Moonshine, but still.
Unfortunately it seemed that just as the food lines were dying down some, we had reached our fill of barbecue. Sipping on some lasting remnants of "Rose" courtesy of Wolffer Estate Vineyard, the rain eventually would subside and short of some really competitive games of cornhole, the "Bryant Park BBQ" was as casual and relaxed an authentic style barbecue as one can expect to find in New York City, where a grassy field will have to do instead of a beachfront setting.
Edible Manhattan returns with their classic summer event "Good Beer" on Thursday, July 31st at the massive space at 82 Mercer and you can check out some of our coverage from last year's festivities right here.
- Dave Gendelson
Food Photos from the 2014 "Bryant Park BBQ" presented by Edible Manhattan & 'wichcraft

Slant Shack's "Original Beef Jerky"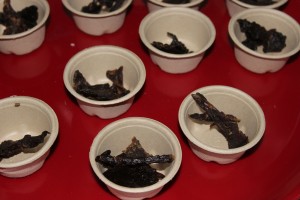 'wichcraft's "BBQ Ribs"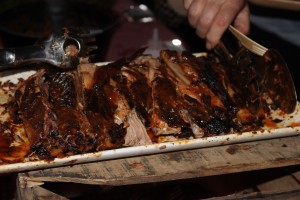 "BBQ Chicken"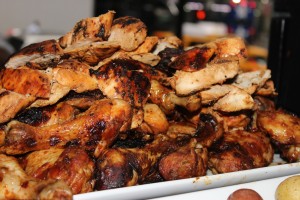 "Salt Potatoes with Clarified Butter & Sea Salt"

"Summer Vegetable Salad with Oregano Vinaigrette"
"Kale Salad with Lemon and Croutons"

"Corn Bread with Honey Butter"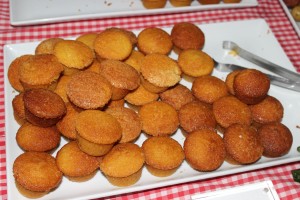 "'wichcraft Chocolate Cupcakes"

Related Articles
Share
About Author
(0) Readers Comments