The frenzy of meat madness that annually manages to bring together thousands of hungry New Yorkers, more than a dozen of the finest pitmasters in the country and forces the closure of several City streets just to harness all of the festivities, once again returned to the space surrounding Madison Square Park this weekend. The two-day "Big Apple Barbecue Block Party" is among the most anticipated food events that graces the City each year, replete with live bands, demonstrations, and all the beef and pig you can handle from every style of American barbecue. And because the event is free to attend, seemingly every local emerges from their domiciles at some point during the weekend to enjoy the festivities, the warm weather and of course, the sights and smells of it all.
With a whopping seventeen different participants, the 2014 event would make picking and choosing which to sample more challenging than ever before. Although there's no cost to attend, lines can pile up early and as veterans of the annual feast, we made sure to find our spots promptly at Sunday's 11am start time, and despite our clever thinking, plenty of folks seemed to have similar plans. Guests looking to taste everything being offered usually purchase the Block Party's "Fast Pass" in advance of the event which accounts for $100 worth of food and grants access to some express lines for tasting. Although even these lines build up, they are sufficiently run to maximize the experience for ticket holders.
Fortunately, we arrive at North Carolina haunt Skylight Inn just in time to witness a live butchering demonstration in preparation for their serving of "Whole Hog." Stunned, we watch the carving knife slice up the full pig, chop it into thousands of tender pork pieces, seasoned and served to us- cracklins' and all- in a bulbous brioche bun. The meat somehow surpasses the incredible smoke filled smell that surrounds us, and each delicious bite, paired with sweet and spicy barbecue sauce literally induces mouth watering. Just steps away, the day's longest line was already building courtesy of the perennial all-star staff at Texas 'cue joint The Salt Lick Bar-B-Que, where half hour waits were fairly routine throughout the weekend. Though the "Beef Brisket & Sausage" platter certainly looked worthwhile, we ventured onward toward some more manageable wait times.
Brooklyn's Hometown Bar-B-Que didn't disappoint with their "Texas-Style Beef Ribs" being the best dish that we sampled all afternoon. Each thickly sliced hunk was expertly seasoned with the marbled burnt ends adding tremendous depth of flavors to the pink layers of meat, served atop a slice of white bread The side of tangy pickle chips was also a much welcomed compliment to the otherwise decadent slab of meat that's got us hankering to finally head out to Red Hook to give Hometown a try. Other local favorites like Dinosaur Bar-B-Que and Hill Country were serving their varied takes on "Beef Brisket" while Blue Smoke offered the day's most distinctive helping with a half-sausage link of "Louisiana Adouille and Chow Chow."
No real barbecue is complete without racks of ribs and fortunately, there were plenty of different shapes and sizes to sample on Sunday afternoon. St. Louis favorite Pappy's Smokehouse paired a full plate of baked beans alongside their "Baby Back Ribs," sufficiently lacquered in a sweet, sticky coating of sauce. Similarly delicious were the "Baby Backs" from Mississippi's Memphis Barbecue Co., and the thick, fatty cuts of "St. Louis-Style Ribs" from Baker's Ribs of Texas with ample rub and minimal sauce coating. Our final stop was at the serving station for Ed Mitchell Que, a long-standing and decorated pitmaster whose "Whole Hog" sandwich was both piled high and highly sought after. Moist, salty and delicious, Mitchell's mastery was evident from the first morsel to touch our waiting lips.
Aside from the swarms of folks drawn to the Madison Square Park event like flies year after year, it's difficult to find flaws in the annual weekend tradition. The "Block Party" has been blessed with great weather in recent years, which only adds to the atmosphere and the pageantry that the event brings with it. Whether from Vegas or Alabama, Mississippi or New York City, it's evident year after year at this grandiose tasting frenzy that Americans love their 'cue. We're just happy to have had the opportunity to taste its wide ranging styles, prepped by some of the country's culinary masterminds.
- Jane Van Arsdale

Food Photos from the 2014 "Big Apple Barbecue Block Party"

Skylight Inn, North Carolina: "Whole Hog"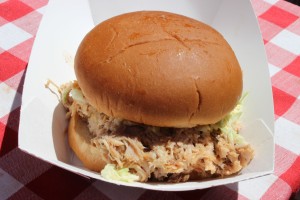 Blue Smoke, New York: "Louisiana Andouille and Chow Chow"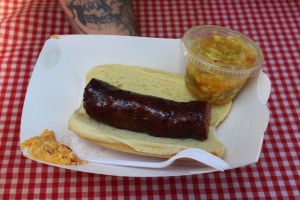 The Salt Lick Bar-B-Que, Texas: "Beef Brisket & Sausage"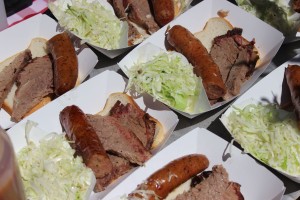 Ubon's Barbeque of Yazoo, Mississippi: "Pulled Pork Shoulder"
Pappy's Smokehouse, Missouri: "Baby Back Ribs"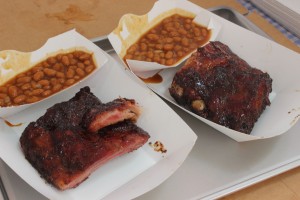 Hometown Bar-B-Que, New York: "Texas-Style Beef Ribs"

Hill Country, New York: "Beef Brisket"

Memphis Barbecue Co., Mississippi: "Baby Back Ribs"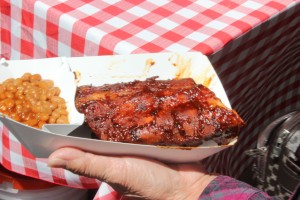 Delaney Barbecue, New York: "Beef Brisket with Sausage"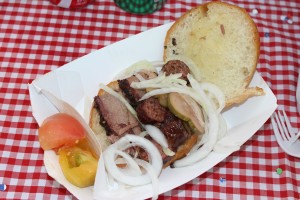 Big Bob Gibson Bar-B-Que, Alabama: "Pulled Pork Shoulder"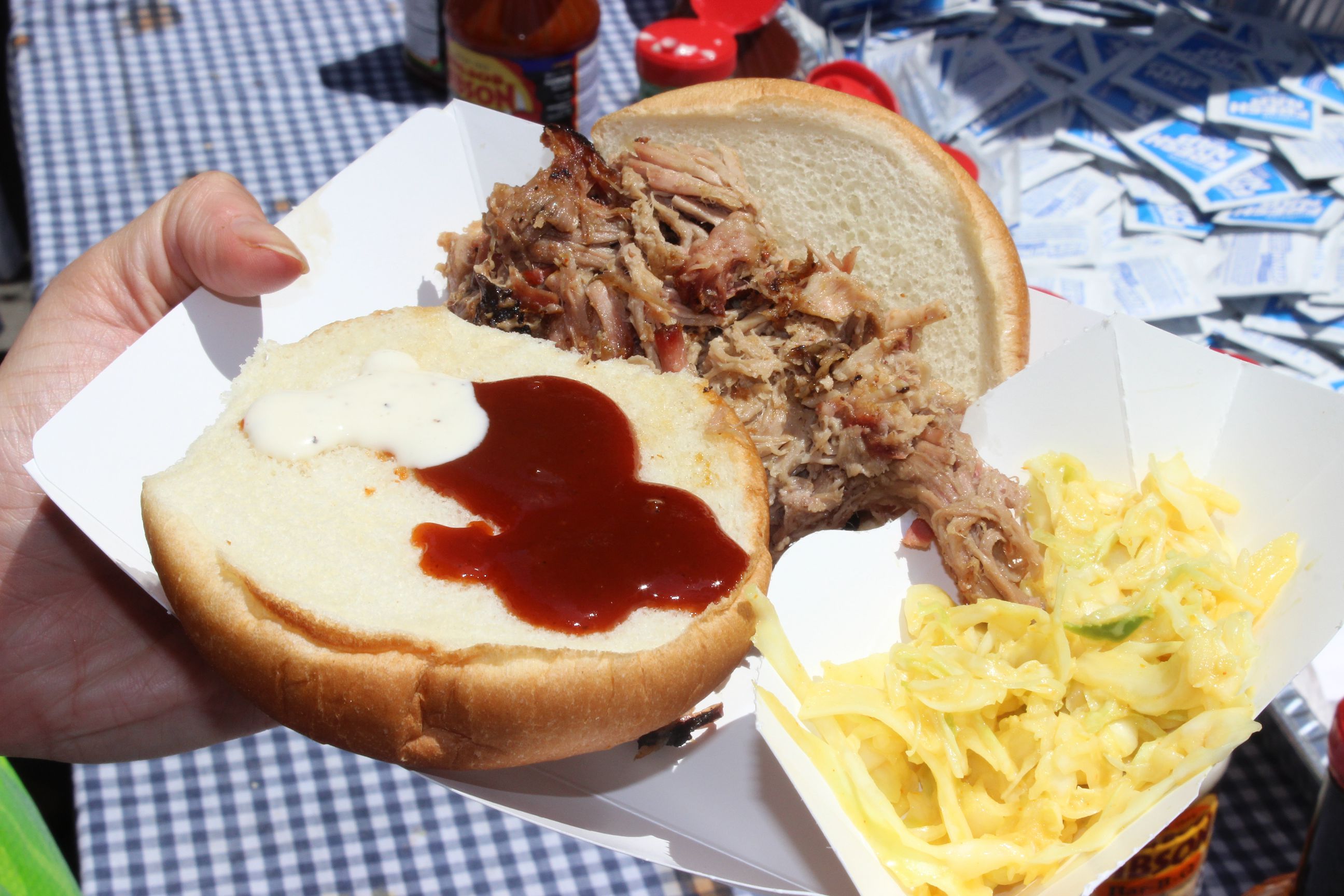 Blackjack Barbecue, South Carolina: "Pulled Pork Shoulder"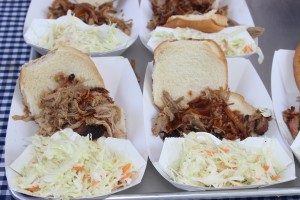 Baker's Ribs, Texas: "St. Louis-Style Ribs"
Scott's Bar-B-Que, South Carolina: "Whole Hog with Cracklins"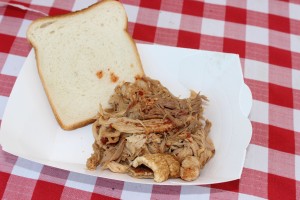 Dinosaur Bar-B-Que, New York: "Beef Brisket"
Ed Mitchell's Que, North Carolina: "Whole Hog"
Related Articles
Share
About Author
(0) Readers Comments